Home

Nazareth Hall
About this Vendor
Making Memories at Nazareth Hall
Nazareth Hall is one of northwest Ohio's most remarkable historical landmarks and one of the area's top-ranking banquet facilities. Sitting upon 37 acres of park-like grounds, Nazareth offers four uniquely designed ballrooms, a charming indoor chapel and serene outdoor grotto for weddings.
Amenities + Details
Amenities
Handicap Accessible

Liability Insurance

Indoor

Reception Area
For more details about amenities, please message the Venue.
Ballroom, Historic Venue, Tented
Bar + Drinks, Cakes + Desserts, Food + Catering, Planning, Service Staff
Contact Info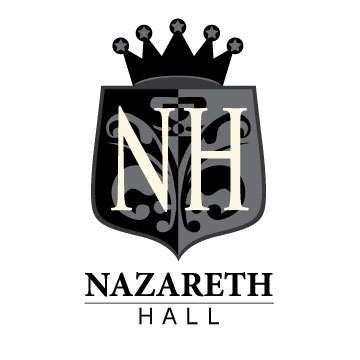 21211 W River Road, Grand Rapids, OH
Exceptional Experience
Reviewed on

11/17/2014
Laura H
I just recently was married and hosted my reception at Nazareth Hall. My entire experience with the staff was phenomenal, from the very first call to the end of the reception! The building and grounds are a picturesque backdrop for any occasion. The staff are friendly and caring, and went above and beyond to ensure my experience was delightful. The food was out of this world! My parents loved the experience so much, they would be ready to host my two younger sisters' weddings there as well! My experience with Nazareth Hall was fabulous. I felt like a queen the entire time. They are worth every penny!
---
Truly Amazing
Reviewed on

9/22/2013
Annie d
I had wanted to get married at Nazareth Hall since I was a little girl and in May my dreams came true. From the moment I started planning with Kevin, to our sparkler exit from our reception, and every moment in between I was completely happy with my experience. It's pricey, but not too far off from anywhere else in the area and they are up front with the costs and work with you. Worth every penny though. They take such good care of you and treat every bride as if they are the only one they are concerned with. My one and only recommendation is if you have your ceremony out on the lawn off Lady Glen like I did, don't get a isle runner. It was a tripping hazard and blows all over the place. That is honestly the only thing I would have changed. It was perfect.
---
Best Place in the Area!
Reviewed on

9/12/2013
Marissa E
I used Nazareth Hall as the location for my wedding reception, having preferred the ceremony to be at my own church. But the intimate chapel and beautiful grotto would be absolutely amazing for a ceremony! And the Hall itself is gorgeous!! The food was delicious as well, I received a lot of compliments on the location and dinner. The service there was extremely helpful and organized. Overall, Nazareth Hall's staff was great to work with and I'd recommend them to anyone.
---
Reviewed on

7/09/2015
Mike M
I want to give Nazareth Hall 5 stars, but there were far too many problems at our reception. Let me begin by saying that this is a gorgeous venue. It's a beautiful campus. And the staff is wonderful. However, the management is suspect at best. Two weeks before the reception, we met with our coordinator and made some changes (i.e. added appetizers, extra 30 minutes for bar and reception, changed salad selection), all of which cost more money. None of these changes were in effect on the day of the reception. The salad was wrong. Servers were supposed to be carrying shrimp cocktail and mac n' cheese bites on trays in the foyer. That didn't happen. We didn't even get those apps until my mother-in-law complained to the staff. They sent the apps out to the tables with the salad. Even though we paid for an extra half hour, the reception still ended at 10, not 10:30. And the cherry on top; our coordinator wasn't working that day and no one could reach her. We told management about the issues that we had and they offered us a refund, which was a small fraction of what we paid for the extras. Needless to say, even though our reception was beautiful, I would not recommend Nazareth Hall to anyone.
---
Our Dream Come True!
Reviewed on

9/01/2014
Mackenzie A
They were very organized and extremely helpful during our whole wedding planning process. Everything went off without a hitch! Our ceremony and reception was beautiful! Thank you Nazareth for making our memories even better than what we hoped for!
---
easy to work with
Reviewed on

8/29/2014
Anne G
Kevin was so easy to work with, always willing to help and very communicative in how things would go. The day of service did not cut the second cake we had, so a few tables did not get cake which was frustrating. The room was gorgeous though and despite the price being a tad high per person, we ended up with fewer people than expected so it worked out. Though it's kind of out of the way, it's a beautiful hall!
---
Seriously the best wedding venue ever!
Reviewed on

8/19/2014
Karleen
I originally chose Nazareth Hall as my wedding venue because of the beauty of the Grotto (just one of their ceremony sites). Then, I fell in love with the Ladyglen East ballroom (just one of their several reception areas). When I learned that they handle almost everything, from the table settings and linens, to the food, to the bartenders and a day of hostess, I was sold! Many brides have something to stress about on their big day. Not me! Nazareth Hall took care of everything. I had not a care in the world on my wedding day, thanks to the folks at Nazareth. I couldn't have imagined a more perfect place for my wedding!! You will not regret choosing Nazareth Hall as your venue!
---
Beautiful location, but a lot of money
Reviewed on

6/25/2014
Riley M
Nazareth is a beautiful place, especially the grotto! Though it is pricey, you get a lot for the price. Unfortunately, we could not book them--they're always booked!--mainly due to the fact that they were out of our budget.
---
Best Venue in the greater Toledo area!
Reviewed on

6/23/2014
emily c
My wedding would have been nothing with out the help from the wonderful staff from Nazareth Hall they literally think of everything! On my wedding day I expected to be running around telling people what to do (like the ushers and groomsmen) the personal assistant that they give you for the day takes care of it all! I literally showed up and got dressed. It was amazing! My husband and I were originally not going to go see Nazareth for the first time because we assumed we couldn't afford it, it was so beautiful! Turns out they are super reasonable and will work with you. I feel so grateful to have had the opportunity to be married at the best place around!
---
Fairytale Wedding
Reviewed on

1/24/2014
Kendra S
There's no question that Nazareth Hall is a beautiful, unique venue and one of the best in the area. But if you're also looking for a top notch service as well, this is also your best bet. We were so pleased with the entire staff at Nazareth Hall--everyone from the Sales/Coordinating team, to the set-up and clean-up crew was extremely polite, accommodating and absolute professionals. They went over and above to make sure our wedding was wonderful in every way. Our amazing hostess was always prepared when we needed her, and our other vendors were familiar with the hall and staff, which made for a worry and stress-free day. If we could do it all over again, we would still book Nazareth Hall without a doubt. We received overwhelmingly positive comments from our guests as well, especially about the food. If budget is a concern, consider a winter wedding--it's absolutely stunning!!
---
Fantastic!!
Reviewed on

9/17/2013
Alison R
My husband and I got married in the Grotto at Nazareth Hall and had out reception in Lady Glen.. It was amazing!! The people there truly do everything to make your day perfect and have it all running like a well oiled machine! We worked with Megan Thomas who helped plan our big day and she was AMAZING. Highly recommended facility!
---
Amazing!
Reviewed on

7/17/2013
Heather D
We held our wedding in the Grotto with our reception at Cadet West. The setting was perfect! The Grotto is beautiful in the summer and Cadet West is always beautiful. We had so many compliments on the venue itself, as well as how helpful the staff were. The chef was very accommodating for our menu. We had tasted a chicken selection at the Bridal Show and fell in love with it. Even though that selection was not on the menu of options for taste testing (it should be!) the chef let us use it as one of our buffet options. This was not the cheapest venue we visited, but by having our wedding on a Friday we were able to make it happen (there is a minimum cost on Saturdays). (We had 140 guests and the cost was about $8000. Still expensive to us, but worth it for the quality of food and the atmosphere.) I was treated well by the staff, who were amazing! Our wedding coordinator made sure that we had everything we needed and helped me with the train to my gown before the ceremony (something dads just don't know how to do). They took my parent's keys and loaded our gifts and decorations in my parents' car at the end of the night. I can't recommend this venue enough! It made our day perfect!
---
Truly a fairy tale location for your wedding...
Reviewed on

7/11/2013
Stacey B
The staff at Nazareth Hall are the best you can get when it comes to planning and executing your wedding! Kevin was excellent and was so helpful during the entire planning process. The cost is extremely reasonable when you consider the beautiful location and the amazing service you and your guests receive. The grounds are beautiful and make a great backdrop for your photos. The reception rooms are equally beautiful and add real class and style to your reception. I had my ceremony in the grotto and it could not have been more perfect! The staff was there for you for everything, including the clean-up (which my parents said was extremely nice and helpful). They are so experienced at this that they were able to offer excellent recommendations for my other vendors as well.
---
Perfect Wedding:)
Reviewed on

6/24/2013
Christy B
We had our wedding and reception at Naz Hall. The staff helped our big day go as smooth as possible! The food was delicious and all our guests had a GREAT time!
---
Wedding Venue
Reviewed on

6/04/2013
Whitney K
I saw my aunt get married here about 6 years ago and knew when it was my turn I would choose Nazareth. I loved that you could do the ceremony, food, decorations all through them! It was easy, stress free and with being out of state they were flexible with meetings. It was the most perfect day! I would highly recommend to anyone.
---
So beautiful!
Reviewed on

5/13/2013
Kate T
The staff is awesome, the building is awesome, the food is awesome! It was nice to be married and have the reception at one place. The building is so pretty so decorating was minimal for us.
---
Beautiful Venue - but expensive
Reviewed on

12/09/2012
Lydia A
The site is beautiful; however I felt for you paid for what you got. The venue is expensive and although they are good, I didn't feel they went above and beyond.
---
Wedding of a lifetime.!!!
Reviewed on

12/01/2012
KATIE R
Beautiful chapel to be married in.An "ABSOLUTELY" beautiful wedding reception in the "Cadet West reception hall.Service was impeccable..The management staff were very professional and everything was done to our satisfaction .Couldn't have been happier.!!! Thank you to the whole Nazareth staff.!!!
---
Amazing!
Reviewed on

11/27/2012
Hannah V
They were so cooperative and understanding. We had to move our wedding date due to deployment orders, and they worked with us every step of way while we changed our minds about when the wedding should be, our budget, and how big, etc. Excellent customer service. They returned phone calls promptly and answered all our questions many times over. I didn't have to worry about a thing on the day of the wedding. They took care of everything. Could not have been happier.
---
perfect
Reviewed on

10/23/2012
Audrey B
Nazareth hall was beautiful and easy. The wedding and reception went smoothly. Hopefully I will be attending more wedding there in the future!
---
Best Ceremony and Reception Venue around!
Reviewed on

10/23/2012
Olya S
NH is the BEST. The location is scenic. gorgeous year-round. The catering is included in the reception fees, very good prices around here being an all-inclusive venue. Staff is very friendly, sweet and understanding. Food got rave reviews from the guests. We had our wedding in the end of Sept and it was GORGEOUS. Had an outside grotto ceremony, (leaves were falling, guests were so impressed) and the reception inside Cadet West, its beauty speaks for itself. check them out and come out and visit, you won't be dissapointed in any way
---
Absolutely Perfect Wedding!
Reviewed on

9/27/2012
Julie M
My husband and I were married at Nazareth Hall in August 2012. I cannot say enough about how amazing our experience was. Like many couples, we spent hours researching to find the perfect place. We had nearly signed paperwork at a different facility when we decided to look at Nazareth. We initially had the misconception that Nazareth was super expensive. It is much more reasonable than we ever imagined. We loved working with Nazareth. Their team is extremely professional and helpful. Every last detail is covered and I really had nothing to stress about on the day-of. We had a beautiful outdoor ceremony in the Grotto and a reception (with amazing food, drinks, and service) in the Ladyglen ballroom. Everything was just perfect!
---
Amazing Venue!
Reviewed on

8/30/2012
Amanda B
Nazareth was amazing!! It was gorgeous and everyone there helped so much! They let me in early because I was extremely worried I wouldn't get all of the decorations up that I wanted and anything I needed or wanted, they tried to get!! The food was DELICIOUS! All of my guests made a comment about the food and they all said it was the best they have had!! The coordinators and the staff make it wonderful! I would highly suggest using Nazareth!
---
Gorgeous
Reviewed on

8/07/2012
Allison D
My guest raved about the beauty of the venue and the food. They could not get enough of it! I must see and a great quality for what you pay!
---
LIKE A DREAM COME TRUE
Reviewed on

8/02/2012
Lynsey S
Nazareth Hall was everything I could have dreamed of and more! From the first time I saw Nazareth Hall, I knew I wanted my wedding to be there. The place is just more beautiful than words can express. It is the closest thing to a castle that northwest Ohio has! Not only is it beautiful, but everything that works there knows that this is your one day, and they treat it that way. They make sure you day goes perfect, and if something is not right, they fix it right then and there! From earpieces to make sure that the groom has left the building before the bride starts to go, to a personal wedding consultant that is by you all day for what ever you need. They help put up and take down decorations, the food is amazing! And you even get to meet the head chef on multiple occasions, he even comes out at the reception to greet you and make sure the food is ok. I could not have dreamed of a better place to have a wedding around here. I had almost no stress that day because they were so wonderful! Also, everyone that attended my wedding could not stop talking about how beautiful it was, and I didn't even have to decorate a lot because the building and rooms themselves are so pretty! I will never forget how perfect my day went because of them and I will always be greatful to them for what they made my day. DO NOT get married anywhere else but here!!
---
Send Message