Home

Nicole Dixon Photographic
About this Vendor
NATURAL WEDDING PHOTO ARTIST
NATURAL WEDDING PHOTO ARTIST Nicole Dixon is a storyteller, an artist, a photographer who seizes the unfolding emotion of your day. With a natural, artful documentary style, she creatively captures ambiance and excitement through stolen kisses, sentimental glances and joyous laughter.
Details
Contact Info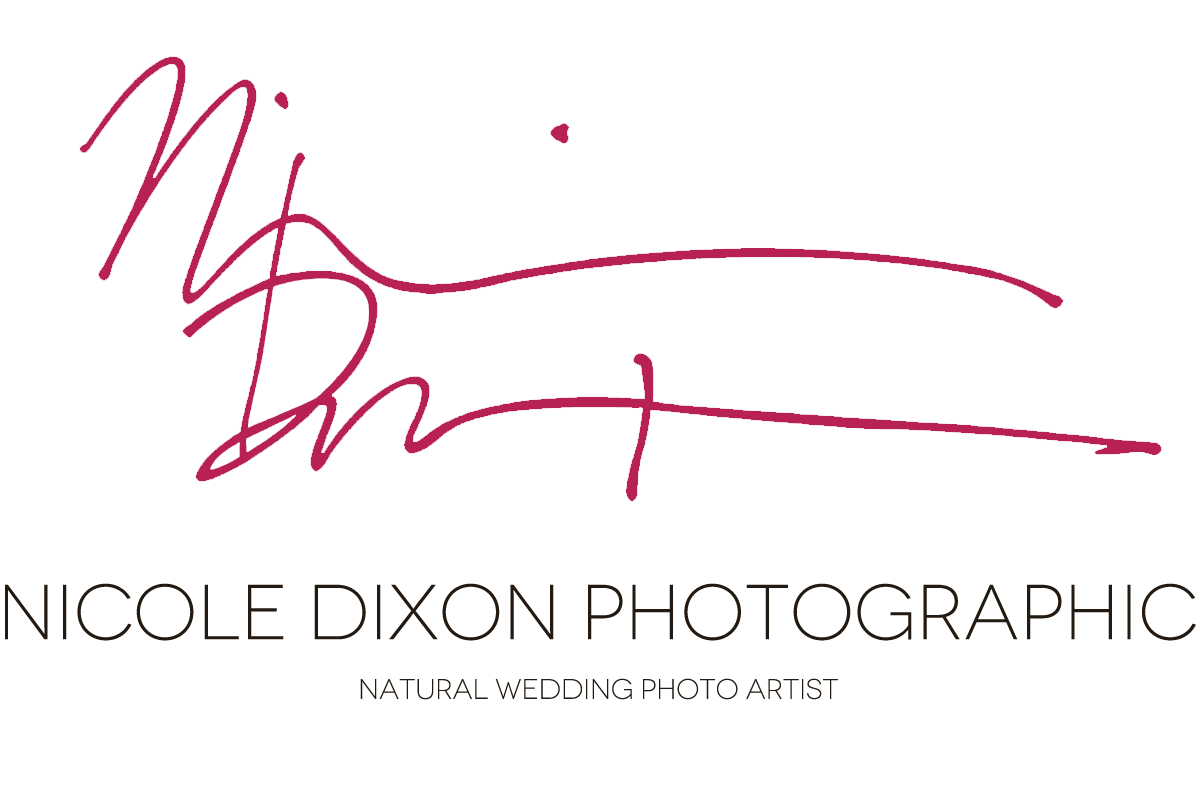 Photographer and Expert Storyteller!
Reviewed on

1/30/2013
Laura P
Nicole is wonderful to work with. She is amazingly talented, and is able to really connect with clients to put everyone at ease. Because everyone is so comfortable, she is able to get in there and capture those moments that you'll cherish forever. On our wedding day, when I walked down in my dress and my dad saw me for the first time, he just happened to be facing the opposite direction. When he turned around, he literally lost his breath and then teared up, walking over to give me a hug. It was so touching, I started to cry too! We didn't even realize that Nicole was there, but she documented the whole thing and when we saw the images I was stunned. They were so beautiful. She can read the light, and photograph at interesting and unexpected angles. Our final images were so unique, I couldn't have been happier with them. Just perfect!
---
A Picture is Worth a Thousand Praises
Reviewed on

9/19/2014
Mollee K
There is something to be said about wedding photographers. Most often, they are complete strangers whom we invite into our life at its most intimate moment. However, unlike the delicious food, beautiful flowers and linens, or the groovy tone-setting music, the pictures you receive act as an eternal reminder of that truly special day. With that said, Nicole and her work is stunning! She was extremely professional and so friendly that we felt we were working with a long time friend. Furthermore, Nicole's ability to capture the moment is incredible. She sees (and captures) everything, but is never seen; and her eye for graceful and organic composition knows no bounds. There is honestly nothing we can say that her pictures don't say better. We feel so fortunate to have found Nicole and couldn't be happier with everything she's done for us.
---
An Ohio Stately Wedding Captured by Nicole Dixon
Reviewed on

9/16/2013
Kelsey W
Like her bio says, Nicole is not just a photographer, but a storyteller. She didn't just take pictures of my wedding, she captured amazing moments, even if they only happened for a second. I was married at the Ohio Statehouse and we held our reception at Ohio Stadium. Both venues provided so many great photo opps, but Nicole's pictures were magical. All of my family and friends cannot stop raving about her abilities and the gift she's given us - a documentary of our best day ever. On top of it all, Nicole is a sweetheart! You couldn't ask for a more pleasant and sweet person to work with during such a stressful and exciting time. THANK YOU FROM MY HEART, NICOLE DIXON PHOTOGRAPHIC! Kelsey Webb WNCI
---
pleasure to work with
Reviewed on

7/21/2015
Julie W
Nicole was so fun to work with on our wedding day. Our pictures turned out great and we got our album so quickly! The quality is remarkable and we are so happy she was able to capture our special day so perfectly.
---
Awesome Photographer
Reviewed on

4/07/2015
Nicole photographed our wedding, and both my wife and I couldn't be happier. She was easy to work with, friendly and made me feel comfortable on our big day. You'll never be sorry if you hire Nicole!
---
Captures emotions with her art
Reviewed on

4/06/2015
My daughter and I interviewed several area photographers for her wedding, and we both knew that Nicole was the one we wanted to photograph her special day. She is wonderful to work with, and very professional. She is very calm, and put everyone at ease throughout the wedding day. She is able to capture the emotions of the moment, and each photograph is a piece of her artistry. We are very thankful that we found Nicole Dixon!
---
Top Notch Photographer right here in OH
Reviewed on

3/20/2015
Emily L
Nicole photographed our Country Club wedding, and we've been so happy with her work that we have used her for other family photos and occasions since then. Looking at the beautiful photos on our walls makes me feel like our wedding had three times the budget that it actually did. She made my very shy groom SO comfortable, and captured the opposite of the 'cheesy' wedding party and bride/groom poses that I was dreading as a bride. Nicole is a lovely person with a very keen artistic eye. I loved that we got a nice mix of posed more traditional family photos requested by my mother as well as the artistic candid style that I was looking for in a photographer. AND, she was a dream in working with all of our other vendors. Great, great, great all around. You will never be disappointed with Nicole.
---
worth every penny
Reviewed on

2/15/2015
Joseph A
Nicole was wonderful to work with, and her photos are all top quality. She was happy to work with our odd schedule, having our ceremony in the morning and reception in the evening. We felt comfortable shooting with her and didn't even notice her and her assistant snapping shots throughout our wedding day! The service is pricey, but her work is superior to the rest. Highly recommended if it fits your budget!
---
Very pricey, fantastic work
Reviewed on

11/11/2014
Gabrielle W
I didn't end up going with Nicole as my wedding photographer (because her package price was more than my entire wedding budget), but I've seen her work and it's absolutely amazing. If I could afford her, I'd have to photograph every important moment of my life.
---
AMAZING photographer!
Reviewed on

9/23/2014
Sara R
I am beyond happy with the pictures we have from our wedding, Nicole is the absolute best! She always made us feel very comfortable and kept it fun! On our wedding day she was there with us every step of the way and captured the best moments! I am so happy we chose Nicole, she is extremely talented at what she does and it shows through her work! We can't thank her enough, we are thrilled with how they turned out!
---
Thank you for the memories!
Reviewed on

9/21/2014
Nicole was incredible! She documented every detail of my daughter's wedding so that we can forever relive the entire evening. My son-in-law sent a card into the dressing room for my daughter. Nicole noticed the card and immediately laid it next to a bouquet and captured a special moment in a beautiful picture. This is why she is so respected by those of us who have used her services. She is a true professional who has the gift of knowing which photos will turn into cherished memories. I am in awe of her skill at capturing people and details and then weaving them into a beautiful story of the wedding. Thank you Nicole!
---
Jackie & Kevin 2013
Reviewed on

9/12/2014
Eva N
Nicole Dixon is an amazing photographer along with her assistant! From the beginning planning process to the end product Nicole was a professional, confidant photographer. She had Jackie, Kevin and myself meet at her lovely home to show us her portfolio and this also gave her a chance to get to know Jackie and Kevin. They instantly liked her. Her packages were diverse (something for everyone) and the payment method was very accommodating to our budget. If I had questions she was always available to communicate. Nicole developed a timeline for the wedding day which was easy for planning purposes. The photos turned out so beautiful. She has a way to capture the person, light, setting! I would suggest Nicole Dixon Photography to anyone planning a wedding, or anyone needing a professional photographer for a special event! I would definitely contract with Nicole again!
---
Totally worth it!
Reviewed on

8/21/2014
Missy H
If you're looking for a photographer who will have fun with you and return amazing photos to you quickly, Nicole is your photographer! She and her assistant shooter both had a great eye and provided us with photos that will last our lifetime. She captured the essence of our day perfectly and I just can't stop looking through the photos.
---
Photography
Reviewed on

8/14/2014
Abbie F
Working with Nicole Dixon photographic was wonderful! Her entire team is so great to work with. They make you feel so comfortable and really enjoy yourself. All of our wedding pictures turned out great! Could not ask for more!
---
No one I would rather trust with life's biggest moments
Reviewed on

9/14/2013
My wife and I first worked with Nicole during our pregnancy and when it came time for our wedding, there was no doubt who we wanted to be the photographer. Our wedding was in North Carolina and as with any wedding planning, we had our fair share of stress and uncertainty. Pretty much all of our guests were coming from out of state so planning all of the ins and outs and accommodations was overwhelming at times to say the least. Nicole however wasn't one of those concerns. She was easy to work with and easy to get everything set up. Working with Nicole is like working with a good friend. My only real concern with pictures was to have something that actually captured us as who we are. I just didn't want the stale posed pictures that look like something you would get at prom. And that is my favorite part about working with Nicole. It didn't matter if it was our pregnant pictures, our birth photos, our wedding pictures, or our family pictures. She always seems to find that way of not only getting great pictures, but also finds a way to capture the personality or emotion of the people in the pictures. And isn't that what you really want anyway? To me the whole point is to be able to look at a picture and have it instantly bring back the emotions and memories of that event so that you get to relive the best and most important moments of your life forever. And that's why there is a print from our wedding and a print from our family session hanging in our living room. And that's also why we continue to go to Nicole for our pictures.
---
BEST of the best!
Reviewed on

9/13/2013
dina g
My experience with Nicole over the years has been nothing short of amazing. She is a true professional in every sense. Her calm and easy personality made us feel so comfortable. My husband and I got married several years ago and our family and friends continue to talk about how wonderful our photos are; still so fresh and modern. Many of them even booked her for their own weddings. And I still refer her to brides all the time. After our own wedding I remember going to see our images after we came back from our honeymoon and crying like a baby as we were reviewing them. It was priceless to us to relive all those moments. My husband was even excited and he's not one to show too much emotion. It was hard to pick favorites but we ended up purchasing a beautiful black leather, classic style album and had our name engraved on it. Another choice I would NEVER change. I encourage every couple to go all out when it comes to the album! We really do look at ours all the time. It's also been really fun to show our daughters. They think its magical to see Mommy & Daddy as a "Prince" and "Princess". When we started having children Nicole began photographing our family too. Now we have a really large collection of beautiful images that tell the story of our family; starting from our engagement. Since our family is still growing we will have many more sessions with Nicole. Its really wonderful to have the same photographer with us for every stage of our lives. In the future we're going to ask her to put together an album with all of our family highlights.
---
Timeless wedding photographs
Reviewed on

9/13/2013
We were referred to Nicole Dixon, and couldn't believe we even entertained other photographers. She was easy to work with as it related to business, scheduling, and special accommodations. We enjoyed her so much, we referred her to another couple and have used her for our first born's first year sessions - which have turned out amazing!! Thanks, Nicole!
---
Nicole is fabulous!
Reviewed on

8/13/2013
Liz B
We had a marvelous time with Nicole as our photographer. Her images are vivid and bright, and she has a very artistic flair! The photographs I have are not like any of the other cell phone or digital camera images snapped by friends and relatives. Nicole not only happily snapped family portraits during the cocktail hour, but took the time to make sure she got every picture my husband and I (and our families!) wanted -- even flustering our wedding planning by sneaking us down the road to capture a few last-minute images we wanted before the reception :) One of the things I especially loved was a free engagement session before the wedding. My husband and I are both Buckeyes and we wanted to drive to campus with our two pups and have pictures taken all over the place -- at our fraternity and sorority houses, at the Oval, Mirror Lake, the Whispering Wall, etc. Nicole happily trekked all over campus with us in the August heat, allowing us wardrobe changes and working with our dogs (one of whom is not the brightest). We promptly received word that all our images were edited and available for our perusal. With Nicole's expert help, we had a beautiful engagement album that we used as our guest book at the wedding! After the wedding, my husband and I wanted thank you cards with wedding pictures on the front. Nicole expedited her already-fast turnaround time so that we could have beautiful images to choose from. It seemed like we had barely placed the order before the thank you notes were delivered on our doorstep! All in all, we had a fantastic experience with Nicole. She is happy to meet in person, chat on the phone, or communicate via e-mail. Everything we have gotten so far has been beautiful and fabulous, and every step of the way we have been the limiting factor (so many choices!), never Nicole. If you have heard horror stories of brides not seeing their pictures for months after the wedding, or not getting albums until a year later like some of my friends, you definitely do not have to worry about any of that with Nicole. You will not regret choosing to work with Nicole Dixon Photographic!
---
Nicole Dixon Photographic
Reviewed on

7/08/2013
Kathy B
The most important memories from a wedding are captured in the photographs. From the first phone call and initial meeting with Nicole, we knew we found the right photographer. Nicole has many package deals that include everything or smaller packages with the availablitility to purchase different items a la carte. We decided to figure out what we wanted in advance and make that our package. On the day of the wedding, Nicole and two photographers came to the house and began taking pictures, it was relaxing and fun. Nicole took beautiful shots of the bride and the bridal party and our family. We then moved to the venue for additional photographs. Nicole captured the day beautifully, pictures were available within two weeks of the wedding with an album that Nicole put together to help us get started in selecting our pictures. We had +900 pictures to choose from. Several weeks prior to the wedding, I asked Nicole to take a picture of our immediate family including our new son in law that I could use as a family portrait. Needless to say, I completely forgot about that the day of the wedding but Nicole remembered and took several beautiful shots. The hardest thing we have encountered is selecting our favorite shots because every single picture is beautiful. As parents of the bride, we highly recommend Nicole Dixon Photographic for your event not only because she is a gifted photographer but for her creativity, professionalism and she is a genuinely nice person with a great sense of humor!!
---
Wedding pictures
Reviewed on

5/30/2013
carrie f
Loved all of my wedding pictures ! So beautiful:)
---
Columbus Bride
Reviewed on

5/06/2013
Danielle D
Nicole Dixon Photography is absolutely amazing. She was wonderful to work with throughout the entire process. She stays on top of things without overwhelming the bride. Her work is stunning, people ask me all the time where we got married because they don't believe it was Columbus, Ohio. Nicole captured our wedding moments perfectly. I cannot express in words how much we recommend her work.
---
Nicole is so talented and fun to work with!
Reviewed on

4/13/2013
Ashley B
I am so glad we chose Nicole Dixon to photograph our day. Our pictures were amazing and Nicole was always professional and fun to be with. I highly recommend choosing Nicole for your big day.
---
many, many lovely photographs
Reviewed on

12/05/2012
anne g
Nicole is fantastic: very organized, creative and helpful. We were delighted with the final pictures -- and there are alot! She and her assistant spent 8.5 hours with us on wedding day and captured every detail beautifully. She then worked patiently with me to create an album and order final pictures. I would certainly choose her again.
---
Beautiful work!
Reviewed on

9/14/2012
Hilary R
Great photos and great photographer! The photographer was something we had decided to splurge on since I felt it would be the biggest longterm investment! Nicole was very helpful and responsive to what we were looking for, not to mention great at getting back to calls/emails quickly. Although, I should have paid closer attention to the prices of the photo collections/products! Truthfully though, her work is worth the money! Overall, beautiful photos and service!
---
So happy!
Reviewed on

3/28/2012
Kelly M
We couldn't have asked for anything more! Nicole was great to work with from beginning to end. She made us feel comfortable and always responded to calls and emails quickly. She really helped make our day go so smoothly and the pictures are amazing! We had such a hard time choosing our favorites.
---
Send Message