Home

Normans Bridal
About this Vendor
The experience of a lifetime ...
Centrally located, both Normans Bridal of Lebanon and now Springfield are easily accessible to brides from all areas of Missouri. Each store has their own unique atmosphere and selection of designer brands and exclusive private label merchandise showcased in a chic, elegant setting.
Details
Bridesmaid Dresses, Mother of the Bride Dresses, Wedding Dresses, Dresses, Alterations, Fashion
Contact Info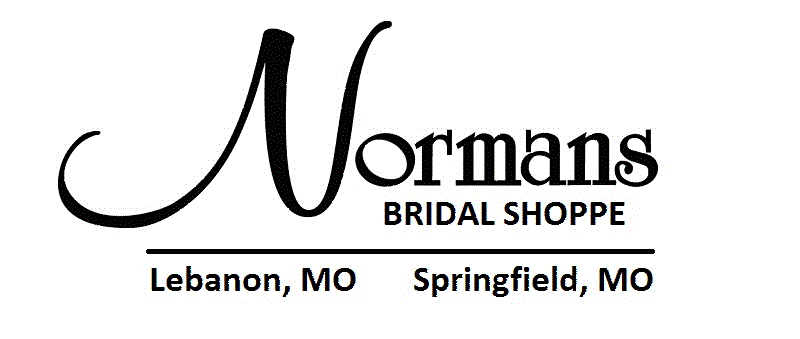 317 S Ave, Springfield, MO
Feeling Like A Princess
Reviewed on

9/07/2013
Jessie R
Hello all! My name is Jessie, I just got engaged a week ago. I went to Norman's Bridal only to look for Bridesmaid dresses. But after everyone was SO incredibly nice to me, I wanted to try on a few dresses. They helped me so much the whole time, they were patient with me, and made my experience absolutely WONDERFUL!! I had confidence in trying on my dresses and felt like my self-esteem was being boosted! It was incredible! The dresses are amazing, and although for some (like myself) may think they're a bit pricey, it is SO worth it. You truly feel like they care and want to make your big day just as special as you do.They work with you so well on everything! I would definitely recommend Normans Bridal over ANY other bridal store. They're fantastic!
---
Great experience at Normans
Reviewed on

6/11/2013
Kerry N
My bridesmaids and I mapped out a day of wedding dress shopping at three different bridal stores, and Norman's by far had the best selection, service and atmosphere. I found the perfect dress...and the best part was the price of the dress was well below my range! I shopped at the Springfield, MO location, but there's also a second location in Lebanon, MO. My experience was so good that I also ordered the tuxes from Norman's also. Brenda is the owner, and she personally helped me select the dresses that was my style, helped me try them on, was on her hands and knees helping me with the dresses, and she's the owner! My dress had a sash with it, and I requested the sash to be a different color, and Brenda made it possible. I felt very special that I received the highest attention on my special day. I would highly recommend shopping for your dress at Normans!
---
So nice and went the extra mile for me!
Reviewed on

1/12/2013
Camie D
Normas Bridal was wonderful. I felt like a princess when trying on dresses.Their consultant, Kathy, was so nice. She listened to what I was telling her and took the time to "get my sense of style". She had the perfect dress for me! The dresses that she pulled were spot on!! I had such a wonderful experience that I decided to use them again for my bridesmaids dresses and for all of the tuxes. I would recomend Normans Bridal to ANYONE! :) They were GREAT!!
---
Reviewed on

7/25/2015
Lauren B
Thanks to Patty I had a great experience and found THE dress!
---
Beautiful Dresses
Reviewed on

7/22/2015
Kaylee C
There is no doubt that Norman's is full of beautiful dresses, and I was able to find my perfect dress quite quickly. I was very excited to find my dress, but was disappointed when I learned (months after buying the dress) that Norman's was no longer offering in-store alterations. This was disappointing given one of the reasons I purchased a gown at this store was for the ease/convenience of in store alterations. I was also disappointed that I had paid additional money for the "storage" of my dress at the store. When purchased, I was told that I could pay the fee to store the dress there during alterations. After Norman's stopped in store alterations, I then had to pick up the dress, take it for alterations, and return it. I likely wouldn't have stored the dress in store if I would have known I would have had to make extra trips to pick it up. Overall, the gown was perfect, but, if you are looking for the convenience of in store alterations, you may want to look somewhere else.
---
Reviewed on

6/17/2015
Normans Bridal was my first dress shopping experience. I just have to say Patty Smulski could not have made it any better. She knew exactly what I was looking for and took wonderful care of me and my mom. I love the dress I found, and cannot wait to wear it on my special day.
---
Reviewed on

5/30/2015
Melanie E
From the moment we walked in, it was the easiest, most relaxed, and most fun experience we'd ever had for dress shopping! Patty in particular was absolutely wonderful and essential in helping me find the dress perfect for me and my wedding! Hands down- it's a fabulous place!
---
Prom Dress Shopping
Reviewed on

3/31/2015
Normans in Springfield is great, Liz especially! After going to 11 places on a Saturday mind you, Liz helped my 16 yr old daughter with picking her prom dress out, quick and sweet! It was an awesome experience for her. We will be back for sure! Thank you Liz :)
---
Excellent Service, Understanding Assistants
Reviewed on

1/25/2015
Elizabeth C
First off, let me say that if you had a bad time at Norman's, it's because you had unrealistic expectations for your wedding dress shopping. For example, yesterday, as I was shopping for my dress, a call came in from the Springfield location that a bride wanted a dress from the Lebanon store to be in Springfield ready for her. I don't know if she will leave a bad review here, but Norman's is a small business, and if you call the very same day expecting a dress to be transported an hour away, that's ridiculous. It's unrealistic. I had a wonderful day at Norman's. My price point was under $500. There are NOT a lot of up-to-date styles for under $500. You're going to struggle. I couldn't find anything I liked because the style I wanted was a newer, modern vintage. You're going to have to pay $1300 to $2000 for a dress like that. My assistant, Tara, was absolutely wonderful. She did not put me in anything above my price range because she knew I didn't want to spend that kind of money. She did not start bringing down higher priced dresses until I asked her to. Long story short, we did come up on our budget a few hundred dollars, and I was able to find the dress of my dreams with a veil for an awesome price. Every assistant in the store was kind and understanding. I don't know how the Springfield branch is, but the Lebanon branch is wonderful and I don't know how anyone could leave them a poor review - unless they have completely ridiculous expectations for their dress-shopping experience. I will be recommending Norman's to everyone I know.
---
Wonderful experience!
Reviewed on

1/20/2015
We had a fantastic time at Normans Bridal. Patty helped my daughter find the dress of her dreams within our budget and we couldn't be happier. The staff at Norman's was very professional and knowledgeable.
---
Excellent Experience
Reviewed on

1/15/2015
I was super pleased with my experience at Normans, not only did they find my perfect dress but they made a special trip to pick up my dress from their other locations so that I would not have to travel further. Lexus was super helpful and was the one who personally picked up my dress for me and brought it back the very next day! The room they had was gorgeous and the lighting and mirrors and stools were great to be able to see your dress from all angels. I was very pleased with my experience!
---
Beautiful Dress!!!!
Reviewed on

12/21/2014
Lindsey H
We decided to have a short engagement, so did not have a lot of time to order the dress. I told the assistant helping me my size and style, and she picked out several beautiful ones. My dress fit perfectly, and they let me buy it off the rack since my wedding was 3 months away; the length had to be taken up, and alterations were reasonably priced and were done very quickly. It was a beautiful blush dress and it was on budget! I would recommend their shop to everyone for the service and they have a huge selection. It is a very pretty salon.
---
Saying Yes To My Dress
Reviewed on

11/14/2014
Heather S
I got married 10-10-14. Saying yes to my dress was the easiest thing I did at Normans Bridal. From the minute I walked in it had the most romantic vibe. Everyone was so kind and helpful. I wasn't a size 6 so I was very skeptical I would find anything I would like let alone fit me beautifully. After trying on a few we tried a "plain" one with no bling and added a belt and it was breathtaking. I never felt more beautiful. They truly cater to you to make you feel beautiful and special. I would recommend them a thousand times over to anyone. My sister is getting married in June 2015 and she got her dress from there. All the wedding planning I never felt "bridal" until I went there and tried my dress on. At that moment I felt like a bride. I also bought a headpiece there. One of the best experiences I had throughout the wedding planning was finding my dress.
---
"Say Yes to the Dress" like experience
Reviewed on

10/30/2014
Rachael W
When I went in for my appointment at Norman's Bridal, I was immediately welcomed and felt as if they were genuinely happy to be helping me find the dress of my dreams. I had visited several other bridal salons before, and honestly I did not have my hopes up to be going to yet another bridal shop because of the terrible experiences I had before. The consultant that helped me listened to what I wanted and pulled dresses that were exactly what I was describing, all while honoring my budget. She made me feel like I was the only bride in the salon! It was wonderful, and together we found the PERFECT dress! I selected an Alfred Angelo Disney Fairy tale Collection Belle dress. Definitely make an appointment if you are in the Springfield/ Lebanon area (or even a few hours away) it's worth the drive!
---
Ask for Katie!
Reviewed on

10/30/2014
Carla I
All of the women working the day that I went in were awesome but Katie was my consultant for the day and she was AWESOME. She helped me narrow down the silhouette that I wanted and found the gown (off the mannequin) that I wouldn't have thought to try on. She is very patient and I didn't feel rushed at all. The team all helped in determining the right size since I was between quite a few (smaller on top than the bottom) and the recommended size was ordered. The alterations were done elsewhere only by necessity (i don't live local, only bought local) and the top of the dress fit perfectly as planned, not a single alteration needed. the bottom half needed adjusted and this was anticipated but the size we ordered worked out wonderfully. The overall experience with Norman's was fantastic and I definitely recommend using them if you're looking for the designers that other local shops don't have. The dresses are kept very well also so it doesn't feel like you're trying on a gown that 10 other people have been in already. Definitely a great experience and Katie made it stress-free!
---
dream dress
Reviewed on

10/30/2014
Shandrea
I'm a plus size bride and expected to be treated as one... Especially in such a posh store but Normans made me feel like a princess and like I was the only one in the store every single time. I explained the type of dressing wanted after trying on a few, they brought me "the one" even before I tried it on. It made my day so special and I felt beautiful regardless of my size!!!
---
Such a Dreamy Place!
Reviewed on

10/30/2014
Kimberly B
I have nothing but wonderful things to say about Normans! I was the most indecisive bride. I was torn between two dresses, and their staff really helped me pick the best dress! They are very affordable for the quality of dresses they carry. I went to other dress shops who carried the same designers and were twice as much. I was just so happy with the service and my dress. I love Normans! It's such a dreamy place! My best friend is getting married and purchased her gown there as well. I always get so excited when she has dress fittings. It's a beautiful shop!
---
A dream dress come true!
Reviewed on

10/29/2014
Ren B
I had the best experience finding my dream dress at Normans! After being doted on by Carrie at the Lebanon location with the store basically all to myself, my grandmother, mother and I were given all the time we needed to try on every dress we wanted to ... until I was laced up and put in THE dress. I fell in love with the dress and the price tag ($900 for all-over lace!). But then I was told that if we ordered the dress at the end of that late November day, it would be a tight turn around and there might be a rush to get my alterations done for my early May wedding. So, the sales manager sold me the sample dress I had on and fixed (FOR FREE) every minor detail that had been partially damaged while the dress had been tried on in the store, plus being pressed and cleaned (again, FOR FREE). Four months and 20 pounds down later, I returned to the store for my first fitting. The alterations manager was a doll, who treated me like a granddaughter during my fitting and discussed frankly with me what my size expectations would be the day of the wedding. She told me what weight to stay within and what to expect, even talking me out of wearing Spanx on my wedding day for my A-line dress (which was a HUGE blessing the day of!). Six weeks later and two weeks before my wedding, I had my final fitting and was thrilled! My dress was altered to perfection, and this gorgeous dress was everything I hoped for and more when I walked down the aisle in Springfield. Plus, the ladies were more than accommodating in finding the right jewelry (I got a steal on my pearl necklace for $25) and trying on the veil during my final fitting. Ozarks brides, don't shop anywhere else!
---
Norman's is great
Reviewed on

10/13/2014
Hannah B
I just found my dress at Normans this weekend. They had a huge selection of dresses on sale some up to 50% off. The dress i found was not on sale, but came to $350 with tax. It was exactly what i was looking for and i couldn't be happier. The service was great! they were a little bit busy but they made everyone feel important and catered to.
---
Fantastic Experience
Reviewed on

10/09/2014
Alicia P
The first time we came into the store I had an idea of what I wanted but was having a hard time finding 'the dress' and had been to several different places in Springfield. However, from the second we came into Norman's they seemed very focused on helping my find the perfect dress.. and they did. From that first day of picking out my dress all the way through the final fitting every person we came into contact with was fantastic. I now recommend Norman's to anyone I know getting married in the area!
---
My experience at Normans fall2014
Reviewed on

8/31/2014
I live out of state and come here for school. I got engaged over the summer and couldn't wait to come to Normans to look for a dress. Unfortunately my experience was not the one I had in mind.. The customer service here was very pushy and I knew I was just another commission check by the way the consultant constantly tried to push me to buy a dress... She bashed the other bridal shops in the Springfield area talking bad about them when she asked me the other places I had been. She kept trying to push me to buy a dress from there and it felt overwhelming in my mind! She told me I tried on so many dresses there I should be able to pick but in my mind this is my special day and I don't want to pick the wrong thing... I began to feel like I was waisting her time because she was obviously working for commission (by the way she was pushing the sale on me). In my opinion customer service makes a business and any place that just sees me as a dollar sign does not have my over all interest in mind. Normans did not make me feel happy to find my dress I walked out angry at the staff. The consultant I had also put a bodice on me and said I could buy it then came back after she confirmed the sale and said I couldn't buy it??????! Why did she put it on me???????
---
Best Bridal Shop Ever
Reviewed on

7/30/2014
Bridget
The moment I stepped into Norman's bridal, I was impressed by the decor and the way the bridal shop presents its self. I truly had an amazing experience at Norman's! I browsed and checked out a few other bridal shops prior to coming to Norman's (including the Wal-mart of wedding dresses, David's Bridal). Their prices are pretty competitive with other shops that carry designer dresses, but quality is very apparent at Norman's. The bridal consultant who assisted me was very professional, friendly, patient, helpful and accommodating. She didn't make me feel like a nuisance or just another number. The staff there treated me like how every bride deserves to be treated when selecting their wedding dress, like a princess. I never once felt pressured to make a purchase at the shop, like I experienced before. I purchased both my beautiful and timeless Mori Lee wedding dress and matching veil from Norman's. My sister and I can't say enough good things about Norman's! Plus, I always recommend the shop to any bride I meet! I view wedding dress shopping to be very similar to dating. You kiss a couple of frogs before you meet your prince. Norman's was my prince! :)
---
A Great Bridal Experience!
Reviewed on

7/24/2014
Erin S
Normans Bridal made my bridal experience an absolute blast. They were professional, organized, and always very friendly. From the moment I went to try on dresses that first time, through all my fittings, to when I finally picked up my dress to take home for the big day, they made me feel like the most special bride. I found my gown and all the accessories at Normans which made everything much easier. They have a wonderful selection for any style. I was also lucky to find my bridesmaids dresses there as well. We never had any problems at all. They were on top of everything, and I never had to worry about anything. I'm just sad it's over! Thank you Normans for helping to make my big day so special! I would definitely recommend Normans to any bride!
---
Happily Ever After
Reviewed on

7/18/2014
Kaila
Normans has always been my go-to destination for anything beautiful and elegant! They're service is outstanding and they won't stop until you've found the perfect gown! Everyone welcomes you and you feel like a princess getting the royal treatment! I wouldn't dream of going anywhere but Normans! One piece of advice I can offer is to be direct about your price range and don't waver, it can be very hard to say no once you try on a dress over your budget.
---
My Hometown Experience
Reviewed on

7/18/2014
I loved it! The girls were more than excited to help they had a good selection and a very vintage -y feel. Perfect and keeps it local :)
---
Send Message