Home

Normans Bridal
Details
Bridesmaid Dresses, Flower Girl Dresses, Mother of the Bride Dresses, Wedding Dresses, Dresses, Bridal Stylists, Dry Cleaning + Preservation, Plus Size Available, Fashion
Contact Info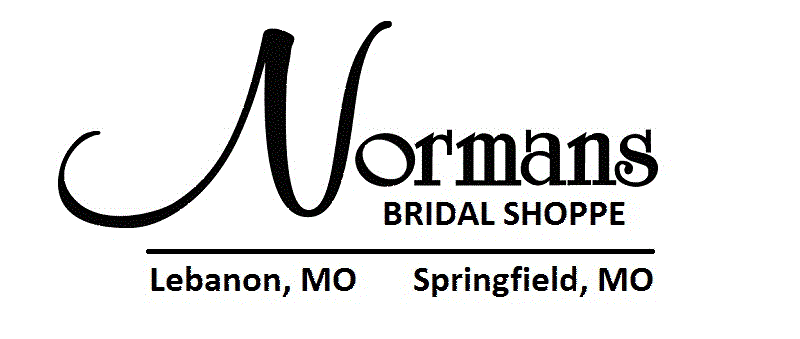 317 South Avene, Springfield, MO
Feeling Like A Princess
Reviewed on

9/07/2013
Jessie R
Hello all! My name is Jessie, I just got engaged a week ago. I went to Norman's Bridal only to look for Bridesmaid dresses. But after everyone was SO incredibly nice to me, I wanted to try on a few dresses. They helped me so much the whole time, they were patient with me, and... Read More made my experience absolutely WONDERFUL!! I had confidence in trying on my dresses and felt like my self-esteem was being boosted! It was incredible! The dresses are amazing, and although for some (like myself) may think they're a bit pricey, it is SO worth it. You truly feel like they care and want to make your big day just as special as you do.They work with you so well on everything! I would definitely recommend Normans Bridal over ANY other bridal store. They're fantastic!
---
Great Experience
Reviewed on

2/01/2016
We had a very positive experience with Patty at Norman's. She was very kind and professional and was interested in what type of wedding dress my daughter really wanted. In just one hour, with Patty's help, we found the dress of her dreams! Highly recommend Patty at Norman's... Read More Bridal!
---
Wonderful Experience
Reviewed on

1/17/2016
Jami G
I had the most wonderful experience at Norman's Bridal. I bought my dress yesterday morning and had my mother, my sister-in-law and my best friend in attendance. Lexus, our bridal consultant, was absolutely perfect! After giving her rather vague description of my 'dream dress'... Read More she began to pull various dress, all in my price range and all of which I loved; however, the last dress I tried on was the 'one!' She found a perfect head crown to match the dress instantly. I could not rave over Lexus enough! She was darling! The experience was great.
---
Reviewed on

10/14/2016
Megan J
I just went dress shopping a few days ago, and my experience at Norman's was perfect! Patty was my consultant and she was very nice, professional, fun, and she turned my dream dress into a reality! I would definitely suggest going to Norman's for your wedding dress.
---
Reviewed on

10/05/2016
Kelcie H
Went there with a pretty good idea of what dress I wanted. They made it happen! Patty had me try on a dress even though I said I was not sure i liked it. Once I had it on I fell in love! They really know what they are doing.
---
Reviewed on

9/23/2016
Angela S
I love Norman's!! Katie Jankovitz was my bridal consultant and she made it the most awesome experience. She listened to me and knew exactly what was in my head that I didn't even know was in there lol! She pulled a lot of amazing gowns... And yes, she picked my wedding... Read More dress!!!! It's amazing and I can't thank her enough. Seriously, request her when you call!!!! The shop is clean, beautiful... Everyone is so nice and professional. We even left before I "said yes to the dress" just so I could make sure I was making the right choice... We went to another salon. Oh my gosh. After having been at Norman's? All others pale in comparison. The quality of the dresses, the knowledge of the staff....everything... My mom and mother in law to be and I ran back to Norman's (like I'm sure they knew we would ha!) and we bought my gorgeous Allure dress. Couldn't be happier!!!!!
---
Reviewed on

9/14/2016
Alexis C
I had a wonderful experience at Norman's. I had a huge entourage, and Norman's was very accommodating. Patty made the experience special, unique, and stress-free. I found MY dress after trying on only 5 dresses. Patty knew how to help me find exactly what I was looking for!... Read More #benowitzeverafter
---
Reviewed on

8/20/2016
Brooke B
I'm so thankful for the wonderful service that Normans provided me. Brenda was so warm and made me feel so comfortable. I didn't feel as if she was pushing a sale but treated me like my special day mattered to her too. After listening to what I had in mind, she brought out... Read More several dresses. The first one she brought in the dressing room I absolutely fell in love with. I didn't even try any other dresses on. I looked around the Springfield area for other dresses, but my favorite was at Normans for sure! I can't say enough good things about my experience here.
---
Reviewed on

8/20/2016
Brooke E
Normans bridal was absolutely amazing wen it came to finding my perfect gown and the dresses of my bridesmaids! I don't think my experience could have been any better!
---
Reviewed on

4/12/2016
Shannon S
They went WAY above and beyond on finding the dress I wanted. They found out all of the information I needed to order it. Took care of everything very quickly.
---
Reviewed on

3/05/2016
Kerry Lee N
I had such an amazing experience at Norman's! I was blessed to have Brenda, the owner, assist me. She is a true pro. With 36 years experience, she knew better than me what to choose. I told her what I wanted and after trying on several of those types of dresses, she picked one... Read More she thought I might like. It was the ONE! My mom and I flew in from out of state to shop with my mother and sisters in law and Brenda made it extra special. She pinned the dress (instead of using the standard clips) and accessorized me perfectly. I felt like a true princess and just appreciate the excellent personalized service and attention to detail so much! Thank you Brenda!
---
Reviewed on

2/25/2016
Katie R
Patty at Normans was the best!! She was very respectful of my budget and made me feel like the most gorgeous bride. I traveled there from KC for a trunk show and she helped me find my perfect dress! Highly recommend
---
Reviewed on

1/23/2016
I worked with Patty Smulski to find my perfect wedding dress at Normans Bridal. She was not pushy, but told me her thoughts and allowed me to try on multiple types of dresses so I could see what I liked and what looked good on me. She even allowed me to try on the same dress 3... Read More different times, so I could make sure I found the one.
---
Beautiful
Reviewed on

1/09/2016
Quincey E
Normans was the perfect bridal salon! They offer a great variety of dresses, have friendly staff, and had great storage options.
---
Reviewed on

12/31/2015
After trying on about 30 dresses elsewhere I started to lose hope that I would find THE DRESS! After many recommendations to go to Normans bridal I decided to make an appointment. Lexus was my consultant in Springfield and she was the best consultant I've ever had! Everyone is... Read More so nice and listens very well to what you are wanting. If I had to do it all over again I would pick Normans! I absolutely recommend this place to anyone! They are the best!
---
Reviewed on

12/24/2015
Marah S
Norman's was fantastic! My bridal consultant Katie was so very helpful to me. She was extremely patient and helped me to find the perfect dress. I ended up liking different parts of 2 different dresses and she helped me to kind of create my perfect dress by adding different... Read More components to make up my dress. I am so excited and I cant wait to for my dress to come in! I highly recommend Norman's! Best experience ever, they made me feel beautiful and even more excited to marry my best friend!
---
Reviewed on

11/24/2015
Haley T
Patty was wonderful! She totally listened to what I wanted and was able to fine the perfect dress for me. I LOVED two dresses, and she was patient enough to let me try them both on multiple times to see which one I loved the most.
---
Reviewed on

10/18/2015
Erin S
Great experience at Normans!! I went to both locations and had a very helpful attendant at both. Shout out to Liz in Springfield for working with me. She is AMAZING! She took my ideas (not really knowing what I wanted) and worked until we found the PERFECT dress! :) She was... Read More patient with me and worked quickly/efficiently until I was completely satisfied. Thanks so much!!
---
Reviewed on

8/28/2015
Amanda V
Before I begin with the amazing service and beautiful dress I got, I have to explain how I ended up at Normans. I bought a very beautiful dress 4 days after my fiance had proposed. As time went on, I began feeling like I maybe had pulled the trigger a little fast. We were at... Read More Norman's that day looking for mother of the bride dresses & I thought maybe I'll try some on. Little did I know at the time, the lady helping us was none other than Brenda Norman, the owner! Now I did not have an appointment and it was a Saturday yet she dropped everything to pull dresses and find the perfect one for me. I have never had such amazing service in my life! Then to top it all off, when they got the same dress in in a shorter length (which wasn't available when I purchased my dress but I had wanted bc I'm short!), they called me to ask if I wanted the shorter length one instead! Now I don't have to have my dress hemmed! It was so incredible of them to think of me weeks after I bought my dress. Now the only alterations I will have to have is a bustle! If you want that "Say Yes to the Dress" type service and experience, go to Norman's. Gorgeous dresses to choose from and incredible service to match! THANK YOU Brenda and all of the Norman's staff for making sure I have the PERFECT dress for my big day!
---
Reviewed on

7/25/2015
Lauren B
Thanks to Patty I had a great experience and found THE dress!
---
Beautiful Dresses
Reviewed on

7/22/2015
Kaylee C
There is no doubt that Norman's is full of beautiful dresses, and I was able to find my perfect dress quite quickly. I was very excited to find my dress, but was disappointed when I learned (months after buying the dress) that Norman's was no longer offering in-store... Read More alterations. This was disappointing given one of the reasons I purchased a gown at this store was for the ease/convenience of in store alterations. I was also disappointed that I had paid additional money for the "storage" of my dress at the store. When purchased, I was told that I could pay the fee to store the dress there during alterations. After Norman's stopped in store alterations, I then had to pick up the dress, take it for alterations, and return it. I likely wouldn't have stored the dress in store if I would have known I would have had to make extra trips to pick it up. Overall, the gown was perfect, but, if you are looking for the convenience of in store alterations, you may want to look somewhere else.
---
Reviewed on

6/17/2015
Normans Bridal was my first dress shopping experience. I just have to say Patty Smulski could not have made it any better. She knew exactly what I was looking for and took wonderful care of me and my mom. I love the dress I found, and cannot wait to wear it on my special day.
---
Reviewed on

5/30/2015
Melanie E
From the moment we walked in, it was the easiest, most relaxed, and most fun experience we'd ever had for dress shopping! Patty in particular was absolutely wonderful and essential in helping me find the dress perfect for me and my wedding! Hands down- it's a fabulous place!
---
Prom Dress Shopping
Reviewed on

3/31/2015
Normans in Springfield is great, Liz especially! After going to 11 places on a Saturday mind you, Liz helped my 16 yr old daughter with picking her prom dress out, quick and sweet! It was an awesome experience for her. We will be back for sure! Thank you Liz :)
---
My dress was BEAUTIFUL!!
Reviewed on

2/01/2015
Kayla M
My dress is simply stunning, the most beautiful dress I've ever seen! (But what bride wouldn't think so?!) The staff at Normans are phenomenal and go above and beyond to make sure you look beautiful on your big day.
---
Use our messaging tool to connect with vendors anytime, anywhere. Stay organized, all in one place.