Home

Noto's Old World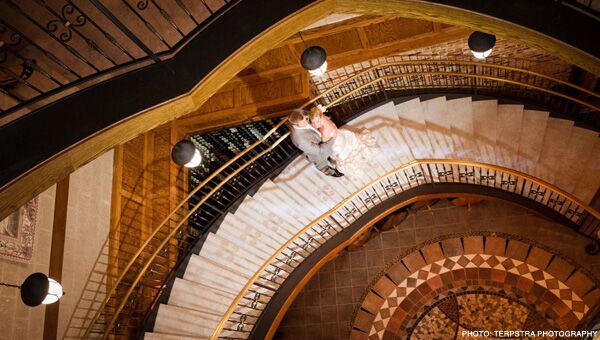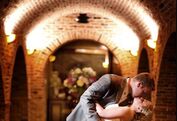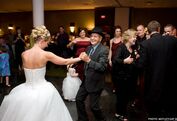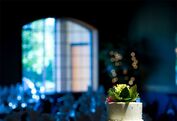 About this Vendor
Noto's Old World atmosphere speaks of quality and care, from the elegant banquet rooms to the spectacular entryway featuring a white marble staircase climbing to a beautiful ballroom and descending into the newly completed wine cellar. Great food and great wine!
Amenities + Details
Amenities
Handicap Accessible

Indoor

Reception Area
For more details about amenities, please message the Venue.
Bar + Drinks, Food + Catering
Contact Info
6600 28th St Se, Grand Rapids, MI
Beautiful pictures and amazing food!
Reviewed on

12/07/2011
Christie M
The Noto's family was nothing short of kind, flexible, and helpful! They were willing to work with the needs of our families as well as what my husband and I were hoping for. They also allowed us to take pictures in the wine cellar. Our photographer was thrilled and we could not... Read More have been happier with the night!! Great place for a reception with amazing food and wonderful service.
---
Could not have asked for more...
Reviewed on

9/15/2011
Elizabeth G
We held our wedding in the wine cellar in the basement. The service was amazing, the food was delicious, and the venue was beautiful. It was certainly a little pricier than some of the other venues we'd looked at in the area, but let me tell you, it was completely worth it.... Read More We could tell where every penny went to. Joann, one of the owners, was beyond helpful. She always responded within 24hrs (always!) and was both friendly and professional. Our families and guests were impressed with the day and overall experience too. I really can't say enough about how happy we were with our experience at Noto's - if you're considering them, go for it! You won't be disappointed.
---
Joann makes the difference!
Reviewed on

12/16/2010
Kara D
We had both our ceremony and reception at Noto's in October, and I cannot stop raving about how wonderful it was. We required so little decoration, because Noto's is an absolutely beautiful place. When we began looking for wedding ceremony/reception venues, we assumed we would... Read More use GVSU because we're both alum, but I forgot all about GVSU as soon as I saw Noto's and met Joann. What's so fabulous about Noto's is that they're family-owned, and Joann Noto is such a pro at what she does. She and her brothers will go the extra mile to make sure you have exactly what you want, and although they're pricier, it's worth every penny. The food was absolutely fabulous, and the bartenders and caterers were helpful and attentive all night. We truly felt like royalty on our wedding day! I must have emailed Joann 1000 times throughout our engagement, and she was quick to reply and never made me feellike I was bothering her. We even had to switch rooms when we had more people to invite than anticipated, and she didn't skip a beat! The best part about Noto's is their wine cellar. Do not leave your tour without taking a peek! Our photos from the wine cellar are spectacular and it's a beautiful, intimate setting. We used Bella Torre for getting ready and for formal photos, and it was gorgeous. After dinner, we decided to go with their espresso/biscotti bar. This was great, except we didn't make enough of an announcement about it and it was underused- make sure to let people know it's available. We'll always remember our wedding day as the best day of our lives, and it wouldn't have been the same without Joann and the wonderful Noto family. In short: Worth every penny!!!
---
Reviewed on

11/03/2015
Marsha B
Perfect venue... Beautiful space, delicious food and superb customer service!! Valentina and JoAnn were fabulous to work with they were basically my wedding planners. We had our ceremony in the Wine Cellar and our reception in the Santa Maria. So happy we chose Noto's for our... Read More venue!!
---
Reviewed on

8/28/2015
Sarah T
How we lucked into finding an incredible wedding venue like Noto's Old World Italian Dining – sight unseen, is still beyond us. Due to location, Grand Rapids became our "destination wedding" site. Noto's family-run restaurant and banquet facility is located within ten minutes of... Read More the Grand Rapids airport and nearby several hotels, stores, restaurants, etc. The facility is absolutely gorgeous – both inside and out. The authentic Italian restaurant is just a tiny piece of what Noto's has to offer. They have a lower level wine cellar that is beyond description – with special, multi-course dinners offered by reservation only. The area is really awe-inspiring for picture taking! The several banquet room options are worth noting. Each room has beautiful chandeliers and dance floors, with the ability to open walls from three main floor banquet rooms to create a very large ballroom that would hold at least 500! The marble spiral staircase that leads from the cellar, up past the main floor, to the top floor and the Paradiso ballroom, is quite stunning. For our Saturday afternoon wedding, we held our ceremony on the main floor, facing the Grand staircase. The visual affect of watching the groomsmen ascend the spiral staircase from the wine cellar below, as the bridesmaids descended from above, then joining together to walk up the aisle, toward the banister overlooking the staircase, (and the floor to ceiling windows overlooking trees and woods,) was exquisite… But, just the prelude to watching the bride descend the staircase, with her smiling, teary eyed father, waiting at the base of the stairs to escort her around the room, and up the center aisle to be handed off to her husband to be. Truly, the setting for a fairy tale ceremony! Following the ceremony, the receiving line was situated at the base of the stairs, welcoming the guests up one flight, to the lobby of the Paradiso ballroom and our reception. The upper lobby, which holds the bar, also held the buffet style appetizers. Not long after the guests made their way upstairs, the doors to the ballroom were opened for guests to find their assigned tables. The wedding cake stood prominently on the cake table right inside the entrance. The dinner buffet was temporarily set up on the marble dance floor. The food was absolutely delicious, (and special plates were made for "pre-arranged" guests with food allergies i.e. gluten free). The cake was exactly what we had hoped for (and identical to the picture we provided!) and they had no problem making each layer a different flavor to accommodate a wide variety of tastes. The service staff was superb. Never seemed intrusive, but always very intuitive and one step ahead of the guests. The compliments flowed all evening – and ever since the wedding! The wedding ceremony and reception went off without a hitch. Yes, you heard that right! Not one hitch! Nothing Noto's had not thought of… with incredibly detailed service the entire afternoon & evening. We truly could not have asked for anything more. Thank you Noto's (the ENTIRE family!) for helping make such a fairy tale wedding come true!
---
A Wonderful Experience
Reviewed on

8/13/2015
Lily
First and foremost, don't immediately assume Noto's will be out of your budget. Early on my mother suggested I search for and add up ALL the additional fees for the venues I considered (cake cutting, room rentals, setting up chairs, etc.), estimate the cost of food and drink... Read More packages, and then compare those fees. When I did that, I realized that Noto's wasn't more expensive, just more upfront about what everything cost. In fact, some of the venues initially looked like the much cheaper option and once I did the math were clear much more expensive. Now for the stuff that matters. I loved working with Joann Noto. She has so much experience, she can answer almost any question, and I know she genuinely cared about ensuring that everything at my wedding ceremony and reception was perfect. And it was. I worked primarily with Joann, but brother and niece were also a pleasure to work with. They were all at the rehearsal and they all checked in periodically to make sure everything ran smoothly. I asked Joann if she thought I needed a day of coordinator and she told me honestly that a lot of people do it, but hiring one wasn't necessary because she would make sure everything ran smoothly. She was right, it did. The second the ceremony began, I was able to enjoy myself without a care in the world. The food was incredible. My husband and I love food, so it has perhaps the highest priority for the wedding and they delivered. People are still telling me how great the food was. I knew there would be a handful of people who are gluten free and vegetarians (typically not what you think of when you think Italian cuisine) but both options were exceptional. For dessert, we wound up not having cake because my husband tried their cannoli at some point before the wedding and declared it the best dessert he'd ever had. Personally, I was most excited for the appetizers. Finally, the venue is beautiful. If I remember correctly they just recently renovated all the banquet halls. The one we had our reception in (on the third floor) was lovely. And it looked great all put together. The ceremony was in the foyer and, as Joann suggested, my husband and the wedding party entered from below, and I came down from above (down their stunning staircase). The moment my husband and I saw each other as he waited for me at the base of the stair was magical. Everything photographed well, as someone pointed out looking at our photos it looks like we were married in a castle. I highly recommend getting married at Noto's.
---
Reviewed on

7/25/2015
Ashley B
Joann and company at Noto's made our wedding day amazing! Not only was the food and cake to die for, they were able to accommodate special requests that my husband and I had for both the rehearsal dinner and the reception. We had our cocktail hour there in the foyer where people... Read More mingled downstairs to the win cellar (which is beautiful). After about an hour, guests were let inside the reception hall (which is even more beautiful). Dinner was served right after introductions and the speeches. I cannot tell you how many people said it was the best wedding food they have ever had! And we totally agree. We picked buffet #3 with proscutto wrapped chicken, pork loin, and a roast beef carving station. Along with a ton of pasta and veggies, everyone had something they wanted. Then at 10pm, we ordered pizza and sliders for all of our (drunk) hungry guests. While I did not eat any sliders, the pizza was delicious and, from what I hear, the sliders were too. Everything went on without a hitch! Noto's is definitely the place to go to support local businesses and to have an amazing wedding reception. I couldn't have asked for a better party!
---
Best time EVER
Reviewed on

10/11/2014
Notos hosted our wedding reception. We had a wonderful and fabulous time. The food and service was amazing. Our family and friends were over joyed and loved the experience! I HIGHLY recommend Noto's!!:-)
---
A.M.A.Z.I.N.G.
Reviewed on

9/26/2014
Jennifer M
Noto's was absolutely incredible. I could not ask for a better location to have my ceremony and reception. They went out of their way to make our day the most special day possible. The Noto's family is phenomenal and were always willing to help, accommodate, and work with us. We... Read More worked with many members of the family (Valentina, Gabby, Tony, Joann, and Santina) and were wholeheartedly impressed by their efforts. I cannot even begin to express my gratitude to them and would HIGHLY recommend Noto's to anyone for a wedding event, or even a party. They went above and beyond our expectations.
---
Outstanding
Reviewed on

8/13/2014
Nicole T
Noto's made our wedding absolutely perfect. Joann was excellent to work with and made sure everything went absolutely perfect for us. The venue is gorgeous which saved us a lot of money on decorations since they just wern't needed. The food was delicious and the cake was... Read More beautifully decorated. They do not have a venue fee but rather a minumum charge. I really liked this as we were able to choose how we spent our money and went with a less expensive meal, more bar options and got the cake from them as well to include that towards the minimum. Having everything done right there on site made everything so much less stressful on us since we didn't have to coordinate as much and everything stayed hot and fresh that way versus having food delivered to hall. I also love that they have a restaurant as well so we can always go there for our anniversary now. Highly recommended!!
---
Cake & All The Trimmings
Reviewed on

5/06/2014
Jessica P
I LOVED having my wedding at Noto's! I had my rehearsal dinner, ceremony, & reception there & I couldn't have asked for a better venue. The ceremony in the Bella Torre was beautiful & intimate, the rehearsal dinner in the private dining hall was delicious & the staff made... Read More last-minute accommodations seamlessly. I had my reception in the Paradiso Ballroom & it turned out very nice. Many of my guests made comments on how great the food was & how beautiful everything was. The pastry chef did a wonderful job on my cake - it was far better than expected! Noto's family (specifically Valentina) kept in contact with me about any changes & they were very accommodating even for last minute changes on my guest list. They worked with a few outside vendors (music & florist) with ease. Thank you so much Noto's for being a part of creating a perfect day for my husband & I! Definitely five-stars!!
---
We wouldn't have had our reception anywhere else!
Reviewed on

5/20/2013
Jessica P
We selected Noto's after recommendations from friends, a great date night at the restaurant with impeccable service, and for the peace of mind of having a professional take care of a significant portion of the reception in one shot. Yes the minimums are expensive...however when... Read More you break down the cost and compare to banquet halls you may find (as we did) that the price is very competitive. I cannot even describe in words how much of a relief it was to have the catering, cake, set up, and take down all covered in one shot. As brides, we have too much to worry about! The food and cake received RAVE reviews from our guests, which is quite a feat as many of them are certified foodies and/or former caterers. The only issue - we had quite a few out of towners arrive early and were not welcomed pleasantly. I am confident though, this was likely a one time occurrence of someone having a bad day.
---
A Very Satisfied Bride!
Reviewed on

11/20/2012
Lisa S
We had a beautiful, small and intimate wedding in October in Notos' Wine Cellar. What a fabulous experience! It is a perfect venue for smaller weddings with great atmosphere. We saved a lot on flowers and decorations because the room is so lovely and traditional that little... Read More was needed. The food was awesome. Dining in the Wine Cellar is always "chef's choice", with a customized tasting menu prepared by chefs based on the freshest, local ingredients available. The highlight was risotto prepared tableside, much to the delight of guests. We had a wonderful luncheon consisting of appetizers and champagne toast, wild mushroom and spinach salad, risotto, stuffed pork tenderloin, matching wines and a trio of assorted desserts for just under $100 per person, tax and tip included. In particular, Joann and Valentina Noto made the ceremony and reception very easy for me, with great service and assistance with referrals to other vendors. Creative Events did impressive flowers and Terpstra Photography shot many spectactular photos. Both of these vendors are highly familiar with the Wine Cellar and were great choices. We are an older couple and with the Noto family assistance, were able to plan our wedding in 8 weeks. I had wanted to honeymoon in Tuscany, but our wedding in the Notos' Wine Cellar was the next best thing!
---
Noto's Old World Italian Dining was Fabulous!
Reviewed on

11/12/2012
Jen Q
Noto's Old World Italian Dining and Banquet Facility was one of the most accommadating and professional vendors that I worked with in planning our wedding across the country. I felt extremely comfortable and confident in Joann and her ability to host events. We enjoyed the food,... Read More the cute wedding cake, the beautiful venue and dance floor. My thanks again to Noto's for helping to make our day so special! - Jennifer H., Long Beach, CA
---
Nothing Beats Noto's!
Reviewed on

11/02/2012
Heidi S
The people at Noto's immediately made us felt so comfortable in their facility. We were blown away by the beautiful setting and elegant atmosphere. JoAnn responded to our questions the same day we asked them and was always willing to try and see that our wishes were met. The... Read More food and service were terrific the day of our event. I loved that Noto's did not charge us a room rental fee- all of our money went towards food and drink for our guests. The bridal party had a blast taking pictures in the wine cellar and on the grand staircase! Renting the centerpieces from and having the table numbers provided by Noto's was so convenient and one less thing I had to worry about. The cake and cupcakes Noto's provided were delicious. If I could do it all over again, I would go straight back to Noto's without any hesitation.
---
Satisfied
Reviewed on

10/27/2012
Carlee A
We were satisfied with Noto's we had our ceremony here and guidance was lacking during the rehearsal and during set up. Everything else was great!
---
5 Star Wedding
Reviewed on

10/18/2012
wendy g
On June 30, 2012 we had the most beautiful wedding that I still can not get over. I always dreamed about being married in a stunning facility where everyone was at awe of the whole day and I believe that is what happened. The Noto's family and staff treated us as if we were part... Read More of their family. We were not just another wedding party but we meant something and we were important. I can not say enough about how wonderful our experience was with Noto's. We will return again if there is ever other events that will happen in the future. We are truely blessed in so many ways. The price was very reasonable and the service was outstanding. I hope that you really consider Noto's because I promise you will not be disappointed. Thanks Noto's for making our day magical!
---
Great reception venue!
Reviewed on

10/13/2012
Katie P
Noto's was a great venue for our wedding reception. I loved their food, the room, and I think the staff was amazing. Joann, Tony and the rest of the Noto's clan are great people, and we could not have chosen a better place to celebrate our wedding.
---
Everyone Was Happy!
Reviewed on

10/02/2012
Joan B
Noto's did a great job for our daughter and son-in-law's wedding. They provided us with beautiful rooms, great food and exceptional service. Always stayed in contact, which was important to us! We would recommend them highly!
---
Fun Time!
Reviewed on

7/21/2011
Alicia C
We had our rehearsal dinner at Notos. The staff was friendly and helpful. The food was good. It was a fun time.
---
Amazing Job
Reviewed on

10/05/2010
Katie H
Noto's provided everything we could have asked for in a reception site. The people were amazing to work with (especially Joann), and the food was delicious. Everyone had a wonderful time, it was beautiful.
---
Overall, a 4
Reviewed on

8/09/2010
Carol H
Noto's was helpful but set in their ways. They have specific ways of doing things, as many vendors do. I felt they charged a bit much for their services. However, the food was great and presented in a beautiful way.
---
Review for Noto's Old World Italian Dining
Reviewed on

11/14/2008
Faye D
It has a beautiful winding stair case to take pictures on. The staff was so helpful and you get to work directly with the Noto family.
---