Home

Oak Tree Manor
Book Your Wedding with Oak Tree Manor
---
A BALLROOM IN SPRING, TX
About Us
Surrounded by 200-year-old oak trees and located just outside of Houston, Texas, Oak Tree Manor gives couples the quintessential southern charm wedding. Standing in Spring since 1876, the manor itself is a piece of Texas history on three beautifully manicured acres. Built by German homesteaders back in a time when horses and wagons carried newlyweds to their future, Oak Tree Manor takes couples back to a more relaxed and elegant past.
The Reception Hall. The reception hallis built to accommodate up to 200 guests for a sit-down dinner reception with plenty of room for that indoor ceremony. A high ceiling decorated with elegant chandeliers accents a room surrounded by country windows with a view of the gorgeous oak trees outside. A spectacular Tuscan staircase creates the perfect backdrop for photos and separates the wedding ceremony area from the reception room. Polished concrete floors are perfect for dancing, and the exterior's beautiful brick walkway adds elegance to wedding photos.
The Garden Gazebo. The Garden Gazebo sits outside under the stars, and accommodates 50 people for a more intimate wedding adventure. Decorate it with tiny twinkle lights or colorful tulle, and the gazebo garden area invites guests to appreciate the great outdoors. Surrounded by moss-covered oaks, this portion of the grounds is a sweet shady spot perfect for saying those vows.
The Grounds. The grounds of Oak Tree Manor have plenty of space for up to 250 guests with a backdrop of towering live oaks that sit on the Harris County Tree Registry. The sun sparkles through the softly swaying leaves and adds the voice of nature to a wedding celebration. The oaks can be draped with tiny twinkle lights to brighten the night for a sit-down reception dinner under the stars, or guests can move into the reception hall following an outdoor ceremony.
What You Should Know
Oak Tree Manor services just one wedding per date, so couples who choose this venue will need to book early. The staff is ready and able to accommodate almost any special request, and a preferred vendor list is available for weddings and other events. The Manor is an operating bed and breakfast, so guests of the inn may be on the grounds during a wedding service.
Extra Perks
Oak Tree Manor offers a country wedding with flexible ceremony options as well as the following perks.
Spectacular guest rooms decorated in elegant furnishings for guests or bride and groom
Breakfast served in the dining room with overnight stay
Located just 30 minutes from Houston for easy airport access
Amenities + Details
Amenities
Handicap Accessible

Liability Insurance

On-Site Accommodations
For more details about amenities, please message the Venue.
Contact Info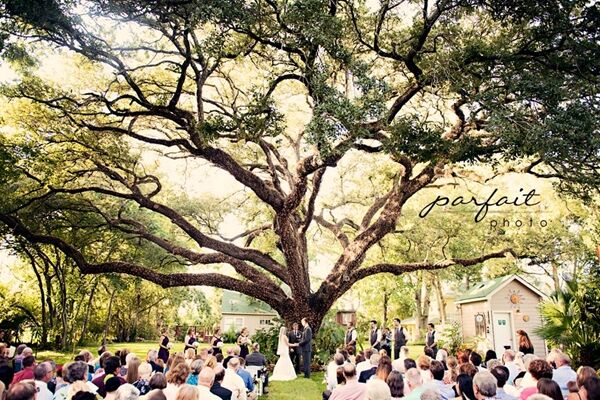 Reviewed on

2/24/2017
Jen C
Our wedding was magical because of Oak Tree Manor and the beautiful historical grounds! Every detail, including the colors and leaves on the tree were lush and the lights were romantic. We could not imagine any other place. Jose was wonderful to work with and very down to... Read More earth. The grounds were well maintained and the staff were friendly. We were surprised how smoothly everything went on our wedding day and will cherish it always. Blessed wishes to the staff and all future marriages at Oak Tree Manor!
---
Great Venue for Outdoor Weddings!
Reviewed on

6/06/2013
Joanna T
Oak Tree Manor was the perfect venue for my outdoor wedding and indoor reception! The giant oak tree (and landscaping) is beautiful and provided enough shade that our guests were able to stay cool during our May wedding. The reception hall was also lovely (a must for me since... Read More I was nervous about rain). The pricing is very reasonable as it includes the catering, attentive waiters, bartenders, valet parking, tables, linens, etc. Jose, our coordinator, was extremely helpful and responded promptly to my many emails. I would highly recommend Oak Tree Manor if you are looking for a venue for an outdoor wedding!
---
Charming little hidden gem
Reviewed on

10/16/2012
Hillary G
My daughter was married here recently and we can't say enough about this lovely historic home that's been restored to become a bed and breakfast and event venue. The grounds are gorgeous, especially the giant historic oak tree it takes its name from, and the house is beautifully... Read More restored to period times. If you want an outdoor wedding, you'll be thrilled with this little gem, but there's a banquet hall if you'd rather be indoors. The staff is so pleasant and helpful, especially Haydee, before and the day of the ceremony.
---
Reviewed on

1/19/2017
Chelsea M
We couldn't be happier with our wedding day at Oak Tree Manor! Haydee was AMAZING and very flexible with making our day special and doing everything we wanted to do. We had all day at the venue to take photos before the ceremony and take our time getting ready, which made the... Read More day less stressful and much more enjoyable! It happened to rain all day, but Haydee was still pushing to pull everyone outside so we could have the ceremony under the tree (a dream of mine) up until I was about to walk down the aisle. Although we had a change of plans and did the ceremony inside (as to not make all my guests stand in the rain), it was still so beautiful inside and everything we dreamed of! Definitely recommend this venue for your special day! Thank you Haydee for making our day so memorable and fun!
---
Reviewed on

8/24/2016
Martin G
Having our wedding at Oak Tree Manor was a no brainer for my (current) wife and I! From the moment we first saw this place online we immediately fell in love with it. My wife and I looked at several different places before stumbling upon Oak Tree Manor and from the moment we met... Read More Haydee we knew that this was the place for us. This is such a beautiful place outside and inside. We both loved the vintage feel to everything and couldn't believe how quick it was to fall in love with this place. Haydee was such a welcoming person to us and you could tell how genuinely happy she was to do her job there. She was there from day one and was always available to answer any of our questions as they came up and was more than wiling to make herself available if we ever needed to go to the venue. I would definitely recommend this place to anyone and hope I am able to attend a wedding here in the future.
---
Reviewed on

5/25/2016
We celebrated my daughter's wedding at Oak Tree Manor on May 22, 2016 and it was amazing. This location is so beautiful and feels private and sophisticated. Everyone talked about how beautiful the outdoor ceremony was in front of the lit up oak tree and grounds. The reception... Read More was indoors and looks like something out of a movie with it dual winding staircases. The bridal party and the bride and groom entered through the 2nd story and came down the staircases for their grand entrances – it was breathtaking! The bridal/grooms suites are an extra bonus and the whole place has such great character. Definitely recommend!!!
---
Reviewed on

4/17/2016
Michelle P
Oak Tree Manor is such an amazing place! The first time we arrived at the venue, we instantly knew this was where we wanted to have our wedding. From the main house, to the beautiful oak tree, to the reception hall, everything about this venue is spectacular. Working with Jose... Read More was great, and anytime we had questions or changes to be made, he was quick to respond and help us. Many of the vendors we used had worked there before, and this helped the entire wedding day go very smoothly. We can't say thank you enough to the family at Oak Tree Manor for making our wedding day so special and even more memorable than we could have ever imagined.
---
Reviewed on

3/21/2016
Gwen K
I absolutely loved this venue for our wedding! The grounds were beautiful and the tree is breathtaking....and makes for amazing pictures. The owners made sure the greenery and flowers were always beautiful and the manor was so quaint and perfect for our needs. The owners were... Read More very accommodating with every step of the way and took a lot of stress off of me. Their responses were always timely to any of my questions...usually within the hour. This place is a hidden jem. If you want to find a wedding venue that hasn't been the venue for all your friends then come here. I guarantee you won't be disappointed!
---
Reviewed on

12/01/2015
Pooja K
We held our pre-wedding party at Oak Tree Manor outside in the garden/gazebo area, and it was ABSOLUTELY beautiful! The weather was amazing, the lighting was adorable and the service was great. Haydee did a great job coordinating my event. All the guests really enjoyed the... Read More venue and the event- no one had been there before and loved it! If possible, i would definitely do it all over again! Thanks Haydee and team!
---
My beautiful wedding!
Reviewed on

7/19/2015
Nicole L
Oak Tree Manor is the most beautiful venue for an outdoor wedding! From the first point of contact, Jose was awesome in every way. He answered each one of my thousands of questions promptly and with detail. We had the most beautiful wedding!!! Jose continued to take care of us... Read More during the reception assuring that we were happy with every detail. My husband and I elected to stay at their bed and breakfast on our wedding night--great decision! Our room was filled with candles and flower petals with two pieces of our cake and a bottle of champagne waiting for us-perfect touch. Then in the morning we were treated with the most delicious breakfast that either of us has ever eaten. It was my fairy tale wedding come true. Let Oak Tree Manor help make your dream come true, too!
---
I love this place!!!
Reviewed on

7/04/2015
Bianca F
I can not say enough great things about this venue and Jose whom assisted with our wedding from the venue. The minute my husband and I saw Oak Tree we knew it was it! This venue is authentically beautiful, the grounds looked magical on our wedding day. The house we got ready in... Read More the day of was also a real treat, just adding to the magic of the day.The staff made our day unforgettable as well catering to our needs.
---
Absolutely great experience at Oak Tree
Reviewed on

6/30/2015
Chelsea V
Haydee was so kind and helpful during the entire wedding planning process, from booking to the wedding day itself. Every time I had a question, she was always happy to give an answer and help in any way she could. On the wedding day, she and her staff were there behind the... Read More scenes every minute, making sure everything went so smoothly. She was so patient and kind with my indecisiveness as well! The venue is absolutely beautiful, I fell in love with the oak tree as well as the beautiful house the minute I saw it. I knew I wanted to get married there and so did my fiancé, and we are so glad we did!!
---
The Perfect Place! We loved it!
Reviewed on

3/23/2015
Brittany J
This was the perfect place to have my wedding. The oak tree was beautiful for pictures and for the backdrop, the house was perfect to get ready in and wonderful for photos, and the reception hall was spacious and just as elegant and beautiful as the outside. Jose was wonderful... Read More to work with, they made everything easy and wanted the day to be as perfect for me as I did! The food was great and everyone really enjoyed the wedding and had a wonderful time. I am so so so thankful I had my wedding here, it was absolutely perfect! I highly recommend the Oak Tree Manor.
---
Our dream wedding!
Reviewed on

7/30/2014
Allison
This venue is absolutely gorgeous! I love this place. The house is so charming and the tree is stunning. We got married in front of the huge oak tree and had our reception inside the hall. The staff did a good job, but I did not hire a wedding planner. The wedding coordinator... Read More told me it was not needed, that she would help the day of the wedding. That did not happen so much because she was in charge of telling all the servers and cooks what to do. I'm so glad that my Aunt was with us before we walked down the aisle, she helped with the timing. The wedding coordinator said she would help with that, but she didn't. Fair warning, I don't think you need a wedding planner but I would ask a close friend or family member to be a runner the day-of the wedding to help with emergencies and walking down the aisle timing. Other than that, the venue was beautiful! Everything went smoothly. It rained from 3-4PM (our ceremony was at 7PM) but the wedding coordinator ensured me that it would stop and we would have our wedding outside. Thank God, it did stop raining! They came and wiped down all the chairs and we were able to have our ceremony outside. Such a magical place!
---
Great!
Reviewed on

7/31/2013
Jinlee P
Our wedding reception at oak tree manor was beautiful. Our facility coordinator, Jose, was awesome and so accommodating. Because my fiancé (at the time, now husband) and I both live out of town, we would often have to come see the venue late on Friday evenings or on the weekend... Read More and jose was always available for us to ask any questions or see anything. The grounds are beautiful and if you want a country garden wedding in the houston area, oak tree manor is your place. The only reason why I didn't give a full five star rating was that our reception was a large one and I believe, this was the largest wedding they've had. Because of this, they were unable to anticipate the exact number of servers, etc, so the service was slow. Also, the main hall was a little warm which was probably mainly because the (beautiful!) lighting in the hall. Over all, I am so happy we came across their booth at a wedding show because our wedding was perfect because of it!
---