Home

Occasions At Stone River
About this Vendor
The Premier Dallas Wedding Venue!
Occasions at Stone River Wedding and Reception Venue in Royse City is just 25 minutes from Dallas. Whether you prefer vintage, rustic or traditionally elegant, we can customize your wedding just for you! Best of all, Occasions is affordable!
Amenities + Details
Amenities
Handicap Accessible

Liability Insurance

Indoor

Reception Area
For more details about amenities, please message the Venue.
Ballroom, Waterfront, Tented
Bar + Drinks, Cakes + Desserts, Food + Catering, Planning, Rentals + Equipment, Service Staff
Contact Info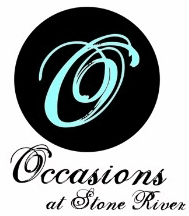 1250 FM 2453, Royse City, TX
Reviewed on

5/30/2015
Jasmine S
Angela- thank you so much for all of your help in putting all of the wedding details together on our wedding day. Your calm personality knack for organization ensured that our wedding went pefectly, without a hitch-- even when we forgot to bring our exit bubbles! I can't thank you enough. Peter- thank you SOOOOO much for being such an incredible DJ at our wedding! You were more than a DJ!! Our guests were going on and on about how awesome you were! (Also- they thought your shoes were awesome). Your professionalism, DJ abilities, and facilitation of our wedding were above anything we could've imagined! We can't thank you enough! Chef Zach- thank you for pleasing all of my guests with your delicious food! We chose the Napa menu and substituted green beans instead of steamed veggies, added fettichini alfredo as a side, and upgraded the salad to the one with mandarin oranges. Everything was delicious!! Occasions at Stone River- you are a beautiful venue that made wedding planning from out of state so easy and convenient. Thank you for giving me my dream wedding!!
---
Amazing Reception Experience!
Reviewed on

12/27/2014
Leslie Z
I wholeheartedly believe that had I not had my wedding at Occasions, I would have been in grave need of a wedding planner. The entire experience from venue visit to the wedding day was exceptional. Occasions at Stone River is special, because all of the services you could need are offered by the venue. All of the decorations are chosen by the bride and groom, and they look beautiful on the wedding day. We were even given the opportunity to stop by the day before to set up our table numbers, place cards, and final touches. Seeing the final product and feeling so worry free about the reception was helpful during such a busy week! The food was delicious (we chose the pasta buffet). My husband and I have received many compliments about Occasions since our wedding day. Additionally, our DJ, Peter Silander, was so encouraging and helpful! He keeps you updated about all of the upcoming formality events and ensures that all the guests also feel involved in the celebration with the use of his lively personality and years of experience. My husband and I also have been told by guests that they've never been a part of such an organized wedding, which I firmly believe is all thanks to Peter's attentiveness during our reception and Occasions at Stone River's preparedness. Angela Johnson was also incredible from day one to make sure that my day was how I imagined it would be. I love how each member of their staff not only participates in your reception but also goes above and beyond to make it enjoyable. I appreciate everything Occasions did to make my wedding day a special one. I highly recommend this venue!
---
Friendly and Fantastic
Reviewed on

11/24/2014
Lisa K
I looked at this venue at the suggestion of a co-worker who is a relative of the owners. I immediately fell in love with it and decided to choose it for our wedding. The prices were much more reasonable than other venues I looked at, the DJ was fantastic (Peter the Motivator), the pastor was sweet as could be, and everything went very smoothly/ well. Angela (the wedding planner for the venue) was extremely helpful and definitely knew what she was doing. I would definitely recommend this venue to anyone! The only pitfalls are that it is a bit far out for those in the main DFW metroplex (but it's your day anyway!) and the bakery they contract with was quite difficult to get in touch with after the cake tasting (but they have since added another option for bakery). The catering is done by the venue and the food is delicious! The chef was very accommodating for my many vegetarian friends (veggie fajitas). Love, love, love. - One happy bride
---
Reviewed on

7/21/2015
Where to start. We had our wedding at Occasions at Stone River. From the very first time we saw it at the tour, we fell in love at first sight and this is where our search for a venue ended! The grounds are LUSH and green with beautiful flowers EVERYWHERE. All of the centerpieces were furnished for us – so many choices! Our colors were plum and champagne, of course, they had those exact colors for the table linens. They had many, many colors to choose from. We had so much fun picking out everything. Angela was so wonderful to work with. The chapel was so beautiful and the bride and groom suites are AWESOME. So much space – two huge rooms and mirrors everywhere. Angela gave us the nicest gift. She is so sweet. The stage in the chapel was decorated perfectly. There were so many compliments on and on and on! I just could not believe my eyes when I walked into the reception area. WOW it was more than beautiful… Seeing all the decorations and my colors everywhere was so perfect. People are still talking about the food. We had some special dietary requirements and of course Chef Zach was very accommodating. I can't say enough about the food. OHMYGOSH!!! It was amazing! My wedding night was the best night of my life and Occasions at Stone River made it all happen for me. Angela is perfect for the job she has. I couldn't have had anyone better. She took care of all of the details even before I thought to ask about it. It was already done for me. Oh, and one more thing about the DJ – Peter. He was a blast so much fun. Overall I could not believe everything was so perfect. My family and friends are still talking about my wedding and we are a month out. Everyone was so professional and everything went off just like clockwork. So organized and perfect. I can't thank ya'll enough.
---
DJ Peter was Excellent!
Reviewed on

7/16/2015
Kayla K
The house DJ at Occasions at Stone River was Peter Silander. He was so great!!! He helped the entire reception flow smoothly and kept our guests entertained. He even got out on the dance floor and taught everyone some line dances. He was so nice and truly wanted to provide the best experience for me and my husband and our guests. Highly recommend him!
---
Reviewed on

7/06/2015
Maggie H
Thank all of you for everything you did for us. We could have never asked for a better wedding or more a beautiful venue. We still have people telling us what a wonderful wedding it was. I still can't believe it. All of you were more than awesome. Thank you all!
---
MORE THAN AMAZING
Reviewed on

7/04/2015
Thank you Occasions for all you did for us. The entire staff was more than AMAZING, but especially Angela. I could not have asked for more. You went way above and beyond for us! Thank you!
---
Best Venue
Reviewed on

7/04/2015
At our wedding, we could not have asked for more. It not only was everything we expected, but much more. Just wanted to say thank you to all of the staff, especially Angela and Chef Zach. We would not change anything. Everything was great. Thanks to you all.
---
More than I could have imagined
Reviewed on

5/31/2015
our wedding and reception was more than I could imagine. The venue itself was beautiful. The courtyard was so nice and had lots of flowers. Everyone there was so good to us and so professional. Angela was the best so laid back and accommodating. The food was so good. If I had to pick a venue again it would definitely be occasions.
---
My experience
Reviewed on

2/09/2015
Zulema M
Angela is great to work with. I loved the place! Food and cake were great!! Also I got Angela as my photographer and my pictures were beyond awesome! Staff is great also. BUT I had some problems the day of the wedding! - There was a table missing (I had table numbers and sitting charts so it would ruin everything I told them since they keep insisting it looked better without another table I guess they did not want to go through all the trouble of bringing it and decorating it) however they did bring it in. - At the time of the wedding I did not notice (because there were many things going on that I had to do before the wedding started including the missing table and the groom and guest arriving before everything was ready!) that the decorations that I had picked were not the ones (I noticed till I saw the video and pictures of my wedding). I had picked two different decorations to make a pattern on the tables. One of the decorations was correct but on the other tables they had a totally different decoration! I did inform Angela but she said either way your wedding looked real beautiful. SO you be the judge of that!
---
Best Day Ever
Reviewed on

10/31/2014
Stella J
My best friend recently was married at Occasions at Stone River, all I can say is it was PERFECT!!! I am so glad she found this place.
---
OSR is the best!
Reviewed on

10/31/2014
I'm a little late on reviewing OSR (my life has finally calmed down!) but I just want to give a huge thanks to the entire staff at Occasions at Stone River. From Betty and Angela, to the Chef, and all of the waitstaff, thank you for making our day perfect! I highly recommend this venue. They made it so easy for us to plan our wedding (thanks angela!) I couldn't have imagined a more beautiful wedding.
---
Absolutely incredible!
Reviewed on

10/30/2014
I recently attended a wedding at Occasions at Stone River, and it was the best wedding I have ever been to. With me being in my 30s, I've been to plenty of weddings that are disastrous. Everything was so perfectly organized, from the decor outside to the flow of the entire wedding. I knew the bride had a huge weight lifted off her shoulders (as most brides would usually have!) with the help of Angela, the wedding coordinator. She's the best at what she does! The food was INCREDIBLE! Chef Zach is the real deal. The chicken was perfectly moist, which is really hard to do when you're cooking for 200 people! The staff was so kind and professional. You can tell that all of them really and truly love what they do. The DJ really knows how to get everyone up and dancing and he was so much fun! I recently got engaged myself, and I couldn't imagine having my wedding anywhere else! OSR made my friends dream come true, and I can't wait for them to do the same for my wedding! Everything was absolutely amazing!
---
Beautiful Garden Wedding
Reviewed on

10/29/2014
What a wonderful experience! I wish we had another daughter so we could do it all again. It was the wedding our daughter had always dreamed of. Thank you to the wonderful staff at Occasions at Stone River.
---
Father of the Bride
Reviewed on

10/29/2014
Excellent venue. Very affordable and everything included, all under one roof!! This place took so much stress off of my wife and daughter, which made my life much easier. Thank you Occasions for a perfect wedding day for my daughter.
---
MORE THAN AMAZING
Reviewed on

9/21/2014
When we found Occasions, I was amazed at the helpfulness of all of the staff as well as the beauty of the entire venue! Angela was so laid back and helpful to me. She relieved all of my stress -- she had ALL of the answers. The food was unbelievable -- Chef Zach is the best at what he does! Words cannot express how good the food was. The DJ Peter was GREAT! He kept the guests entertained and on the dance floor. Thank you Occasions for making my day PERFECT! If I had to pick a venue again, Occasions would definately be the place!
---
Memorable night...
Reviewed on

9/20/2014
Kelley R
Where to begin? My husband and I were together for 8 years before getting married and we hoped for a memorable night. That we got! Occasions team came to the venue Poetry Springs and did everything for our wedding. The ceremony went exactly as we had hoped and we're happy for the Occasions team making that happen. As for the reception, we were very pleased with the food and bar tending services. The DJ service was a VERY big disappointment though. Our entrance to the reception was never played nor were we ever introduced until we were at the bottom of the steps. He struggled the entire night with figuring out the music. And we later found out that the other DJ for Occasions was there the whole night watching him struggle and never jumped in to help. By the time it was 9:30 people were starting to leave (it was Sunday) and he hadn't even done the cake, mother/son dance, father/daughter dance, bouquet toss, or the garter removal. He was well aware we only had the Occasions team till 11. Our family's had to keep asking/telling him to get the ball rolling. He never commanded the room nor did he get the guests up and active into dancing. Half the the time the music we asked for was never played. We were upset with the key aspect of the night not coming close to our expectations. They did get half credit towards the cost, as we didn't feel like we had gotten a fraction of our money's worth of that service. We also received (a month and a half later) a free video footage of the weeding night. Which I would not recommend either. We went to watch it and it was so blurry that you can only tell who is who by the color of their clothing. We received a second video which was much clearer, but did not contain anything but the close ups of the decorations. If choosing to use Occasions I suggest you stay away from the DJ service.
---
AMAZING!!!!!!!
Reviewed on

9/08/2014
We just had my best friends daughters wedding on Friday night, and all I can say was AMAZING!!!! We have been planning for a year and EVERY time we went out to the venue (and i mean every time, because we went alot) Angela and Betty were fabulous...so very accomodating in planning, the day of..OH MY GOSH...so helpful in every way. Words cannot express how wonderful everything was...the cake, yummers...the food, delish..the venue itself, gorgeous..the DJ, awesome..the entire wait/bartender staff...perfect!!! Where everyone (well the girls) got ready....holy buckets, they have thought of it all....tons of mirrors, comfortable seating, outlets galore, bathroom, fridge to chill the champagne, waters, nice cold ac!!!!! This is truly a place that is wonderful through and through...thank you ANGELA for making Natalie & Patricks day perfect!!!!!
---
A Perfect Day
Reviewed on

7/27/2014
Kimberly H
This place is the perfect venue, services, and staff. Angela has such a easy way about her her calmness and coolness has a grip on everything you are worried about, when she says shes got it, just don't worry because believe me she does. Peter(MC/Dj) the man behind the scenes was fantastic,from meeting him at our food tasting, to the phone consult (which I cant express how helpful this was to us) he was a total support for us to lean on. The day of the ceremony he was working with our vendors and just ran the reception perfectly. For the reception man all I can say is Zach(chef) is the truth, that food was so good and those green beans oh man!!!. When you go and book you have to make it to a tasting this guy knows what hes doing and he does it well, extremely well its no joke. And lastly but far from the least was Micah(officiant), I saved him for last because as we said the day of our ceremony he was the icing on a perfect cake, he was so comforting and supportive to us he put us so at ease and handled or ceremony with such care, it brought us nothing but happiness.This whole place from the staff (who actually look like they like working there), the venue (we were sent about a million selfies of people in the gazebo), the food, just everything we had to put it frankly a perfect no hassles day.
---
Occasions gave me the WEDDING OF MY DREAMS!!!
Reviewed on

1/03/2014
While planning my wedding at Occasions at Stone River, my main contacts were Betty (owner) and Angela (Wedding Coordinator and more). Both of these ladies are AMAZING!! I am so appreciative of all that they did, starting with our first meeting, to ensure that we were able to have a wedding worth remembering. Their website is perfect! It clearly details all that is to be expected in reference to hosting a wedding at this venue, including prices. Both of these ladies kept an open line of communication with me, and all that was promised was delivered. The chapel and reception decor was PERFECT; The food and service during the reception were OUTSTANDING...hats off to the chef!!; The cakes were AWESOME, (exactly what I asked for); Everything seemed to run so smoothly; ..and on the day of my wedding (12/31/13), Angela ensured that all of my request were filled, down to the smallest detail. I truly enjoyed myself, and can say that I definitely had the wedding of my dreams. Occasions at Stone River ROCKS!! Thank you, and your other staff members, for doing all that you did to ensure that we had a wedding that was worth remembering. My husband and I are very happy and we would recommend your venue to anyone! Thanks again, and best wishes to all of you in 2014.
---
aunt of the bride
Reviewed on

10/03/2013
Angela j
Just perfect in every way!!! Can I just give them a 10?
---
Wonderful
Reviewed on

9/25/2013
When I found this place online I knew it was the place I wanted to get married. Then I saw it in person and fell in love and knew that it is worth the drive. It was everything we could ask for and more. Since it was so last minute for us it worked out well and was within our budget. The food was great. The set up in the chapel and the reception were breathtaking. Dove release was really cool. Cakes tasted so good can't wait to taste it again on our one year. The only problem we had was when we needed the photographer we had to send someone to go find her. Other than that it was a wonderful experience. Thank you for the memories we will have for the rest of our lives.
---
A Wonderful Occasion at Occasions At Stone River
Reviewed on

9/17/2013
From the moment I contacted Occasions At Stone River in Royse City, Texas, I knew my wedding day would be a complete joy with no worries and concerns. Everything was beautiful using the colors and decorations I selected! All of my guests enjoyed the absolutely delicious food. We had selected the pasta dishes and the upgraded salad with greens, walnuts and oranges. Every dish had its unique flavor and presentation. Our DJ Peter Silander was amazing! He kept the reception party alive and even taught some line dances to our guests. His energy was never-ending! Angela Johnson, the hostess for Occasions At Stone River, welcomed the wedding party and directed us to our places. She was ever present to make sure everyone was well taken care of and that our wedding reception was a delightful event. I know that Occasions At Stone River hosts wedding after wedding, but I still felt that my wedding day was very special to everyone that works at Occasions. If I had to repeat my wedding day, I would certainly do it again at Occasions At Stone River. This is the place for a stress-free event of any kind.
---
Love at first sight!
Reviewed on

9/13/2013
Jessica D
The first time my now husband and I visited this place we knew it was the one! The venue is beautifully set up and was perfect for what we were looking for. It was great for us because we are busy professionals and they are a one stop shop. I had very little time to plan and they make it so easy. It was stress free! We had a beautiful indoor ceremony on a Sunday afternoon all of our guests commented on how beautiful it was. Can't say enough wonderful things about the entire Occasions team and all who they are associated with. I could give kudos for pages! Oh BTW the Mac and cheese was to die for!!! :) Wedding was Sunday September 1, 2013 Jessica and Chad
---
Wedding on June 14, 2013
Reviewed on

9/11/2013
Madison W
My wedding at OSR was more than anything I could've possibly imagined for myself. From the location to the reception, OSR was perfect. My special day flowed so smoothly and was low-stress because of the wonderful staff! The best part- Angela Johnson. This woman was my guardian angel from beginning to end. Anything I needed, she made happen. You want to work with this woman! We brought in a few things for the reception (cake, alcohol, DJ), but OSR took care of practically everything else! For the price, it's worth it! My wedding was beautiful and is still talked about! THANK you Occasions at Stone River! -Madison Reece (Wood)
---
Send Message