Home

Occasions At Stone River
About this Vendor
The Premier Dallas Wedding Venue!
Occasions at Stone River Wedding and Reception Venue in Royse City is just 25 minutes from Dallas. Whether you prefer vintage, rustic or traditionally elegant, we can customize your wedding just for you! Best of all, Occasions is affordable!
Amenities + Details
Amenities
Bridal Suite

Handicap Accessible

Liability Insurance

On-Site Accommodations

Indoor

Outdoor - Not Covered

Reception Area

Wireless Internet
For more details about amenities, please message the Venue.
Ballroom, Waterfront, Tented
Bar + Drinks, Cakes + Desserts, Food + Catering, Planning, Rentals + Equipment, Service Staff







Contact Info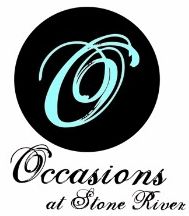 Reviewed on

12/31/2017
Katherine G
We had our wedding yesterday and it was perfect. Angela was there all day to make sure things ran smoothly and took all the pictures I wanted. Peter and I had multiple conversations where he made sure I had everything I wanted music and technology wise. April was there with... Read More quick answers every time I emailed. This venue made wedding planning a dream. I just picked out from a list what I wanted and knew the price right away. If I had a request they worked to make it happen. When I went in to plan my center pieces I had a room full of inspiration to work with. The fact I didn't have to work with other vendors was so relaxing. They have the wedding planner, photographer, DJ, caterer etc all in house. The staff was phenomenal and polite. It made the day so smooth and I would recommend this place for anyone planning their big day. It was gorgeous and economical. Being a young couple paying for the whole thing, this was just the place for us.
---
Reviewed on

10/12/2016
Linda E
We're on our way to our honeymoon, but I had I take the time to take the time to thank Angela, Micah, Chef Zachary, Peter, April and everyone else at that help make our wedding day absolutely beautiful!!! Planning a wedding is stressful, but Angela & April made the process very... Read More simple and easy for Terry and I. I had no idea what I wanted to do with several aspects, but Angela guided me through & came up some awesome suggestion. She had the wedding party in order and coordinated the perfect ceremony. The venue was absolutely beautiful! The decorations were amazing, we received a lot of compliments! Micah did an excellent job officiating and performing a breathtaking ceremony as well as doubling up as our DJ. He really worked the crowd & made the reception run smoothly! Our favorite part was the newly wed game. To Chef Zach, the food was absolutely delicious and we have a box of cookies for our honeymoon! Thank you Peter and the camera crew for capturing all the important moments on our special day! We loved the way you guys played them back during the reception! We will be purchasing the video. You all did an amazing job! When we renew our vows a decade from now we will definitely come back to Occasions @ Stone River! Thank you so much, Linda & Terry Ely
---
Reviewed on

3/27/2018
Rachel O
We had our wedding on March 10th at this venue and I cannot say enough great things about this place. I love how hard the staff works behind the scenes, but keep you at ease throughout the process. I was never worried about a single thing on their end and our wedding day could... Read More not have been better. I love Angela! She works so hard as wedding coordinator and photographer and keeps everything flowing smoothly. The DJ Peter was awesome as well. The all inclusive deal made this venue our #1 choice, but I would choose them all over again after such a wonderful experience! Thank you to everyone at Occasions for giving us such a perfect wedding day!
---
Reviewed on

3/12/2018
Danniell A
Our wedding was on the 11th of March, the staff at stone river was great!! They was 100% professional, this was the best I could have ever ask for, Peter and Angela OMG they were soooo great, I can't believe how great they were at they jobs
---
Reviewed on

2/13/2018
Kailey M
This venue was AMAZING! We just got married on January 27, 2018 and I cannot say enough good things about this venue. First off, we were on a pretty tight budget because we were paying for most of the wedding ourselves and this venue definitely helped keep us on track. They have... Read More many different package options that you can choose from and customize it to your budget, style, needs, and wants. Second, if you're like me, I had no idea where to start on food, decorations, DJs, etc. for the wedding. Occasions made it all SO easy! They are an all inclusive venue which was huge weight lifted off our shoulders. We used their caterer and went with The Rancher option but substituted potato salad for mac n cheese and it was one of the best decisions we could have done, I'm still getting compliments on how good that mac n cheese was along with the rest of the food as well. We got our cakes from Lakeview Bakery in Rowlett that Occasions recommended and the cakes were delicious and looked beautiful too! All of their flavors were wonderful, you couldn't go wrong with any of them. They also provided the tables, chairs, linens, and decorations which were perfect! Everything came together so beautifully and even better than I could have imagined. Angela did a great job of helping me put everything together. We also used their DJ-Peter, who like everything else, was amazing! After we completed the phone session, we felt much more comfortable about the day of. We had some blanks on the music sheets too and Peter helped us fill those in. The crowd loved the kick off idea he had, everybody was dancing! And on the day of we did have to change the order of a few things and he made it happen like that was the way it was supposed to be the whole time. Everybody has been asking me how the day went and not a single thing went wrong that day and I am so pleased! I know we chose the right venue for our special day. Thank you to everybody at Occasions who had a part in it! James and Kailey Webster
---
Reviewed on

12/23/2017
Mahlon C
We chose Occasions for our catering services at our own reception venue. They offer their catering services, among many other things, "a la carte." They do have their own ceremony and reception sight, but we just used them for their amazing food at our own venue. They provide... Read More an overwhelming yet absolutely amazing variety of different price points to fit your budget as well as menu items. Their food is TO DIE FOR. It was so delicious. Their buffet spread is not your run of the mill buffet. It's a STYLIZED buffet complete with decor and ambiance. They were amazing to work with, with a few in person meetings for planning. We had one final planning meeting where we finalized everything and really it was all smooth sailing. The entire staff is great to work with and they are just all around good people. My groom and I opted to have a private dinner together in the bridal suite at our venue so we could have 15 minutes to ourselves, uninterrupted. The Occasions staff was happy to accommodate and brought us both a plate full of food. We had beef and pork loin with all the fixings. The meat was amazingly moist and all the sides were just melt-in-your-mouth yummy. They also provided our bar staff and security in their services - which was a stress reliever to know that they also had that taken care of. Overall, I without any doubts highly recommend Occasions for any of your wedding needs - they do it all! - but definitely as your catering. It was AMAZING. Even our guests were coming up to us later that evening as well as after our wedding telling us how good the dinner was.
---
Reviewed on

10/31/2017
Irene L
Thank you Occasions at Stone River for making the wedding of my dreams come to life! A lovely place with lovely people that truly care about you and your vision of your special day!
---
Reviewed on

10/29/2017
Ann W
Everything about our granddaughters wedding was perfect! Such an easy process, everthing under one roof.
---
Reviewed on

10/26/2017
Colleen D
My husband and I were married on May 20, 2017 at the Occasions at Stone River and we couldn't of asked for a better experience. With help from my mom, my husband and I planned our wedding with no wedding planner and let me tell you that was a stressful experience until I met... Read More April and Angela. I had thought multiple times about hiring a wedding planner and I was a completely wreck. I thought I knew what I wanted, but I had no idea. April and Angela eased my concerns completely. The day of the wedding Angela was running around all day making sure that my wedding day ran completely as planned and smooth. She coordinated the whole thing and it went off without a hitch. The venue was absolutely beautiful and the decorations were amazing. Looking back on the reception I can't even count how many people told me how much fun they had. Peter (DJ) was beyond incredible. I was so freaked out about picking my music and making sure it flowed well together. Peter took the time to spend hours talking with my husband and I on the phone before the big day to make sure we got the perfect reception that we wanted. PETER WAS AMAZING, EVERYONE LOVED HIM!!! He even recorded the whole ceremony and reception on video so we didn't miss a thing. We can now go back and reminisce on the best night of our lives. Zack (chef) was also incredible! Talk about an amazing cook, we chose to have the beef tenderloin. OMG I had so many people tell me it tasted just like eating prime rib, and it really was that amazing! To all the rest of the staff that helped make our day so special, THANK YOU SO MUCH FOR EVERYTHING!!! You helped make our dreams come true! Michael and Colleen Dolan
---
Reviewed on

9/05/2017
Ryan T
Bravo, all around! Johnny, Angela, Peter, Zach, and all the staff hit it out of the park. Our wedding, despite all the couple's fussing over the little details, could not have gone better. We're still getting enthusiastic compliments. The food, the atmosphere, the energy, the... Read More entertainment... perfect. The staff put our minds at ease that it would go well, and boy, did it ever.
---
Reviewed on

8/19/2017
Kara L
My experience with The Occasions at Stone River has been so amazing! Our wedding isn't even until June 2018 and we are so excited ! This whole process they have been super helpful and the nicest people! Before we started wedding planning everyone had us thinking this was going... Read More to be stressful and pretty hard to do. I am here to tell you that they were wrong! Every worry we had they took off our shoulders. This is a one stop shop and everything is reasonable pricing. Me and my fiancé don't make a lot but with the payment plan, they have taken something else we were stressing about and fixed it! They take payments over the phone which is another thing that has been extremely helpful since we live 45 minutes from there. We are from the country so this spot is absolutely perfect for us. Is not in the middle of the city. But not so far away from town that you don't want to make the drive. You park in one parking lot, attend the ceremony and reception and don't have to drive to another building. It's all in one place. The view inbetween the two buildings is breath taking. Beautiful flowers everywhere, a pond with a few swans, and the trees and grass are so green! When you are outside all you see is beautiful scenery. They cook, decorate, clean up when it's over , video the ceremony and reception , take pictures of the ceremony and reception, and they have a awesome DJ!! I highly recommend this place for any occasion you are planning.
---
Reviewed on

6/21/2017
Tina B
Apparently, I didn't "post" my previous review. My deepest apologies to Occasions. My daughter's wedding was FLAWLESS! When they say "all inclusive", that is exactly what they mean. Angela was amazing from day one of planning to the second we were walking out at the end... Read More of the reception. And Peter, the dj/master of ceremonies made this the smoothest running wedding & reception I have ever seen. Keeping the flow was obviously his top priority. Our guests NEVER had to wonder was next. There was NO downtime. Our guests were never bored. Nine months later, we are still receiving compliments on that wedding. And by no means l, did we spend too much. I have seen weddings that cost double what we paid and were far less impressive. Thank you Angela & Peter for everything you did. You gave us parents peace of mind on what can easily be a chaotic day. Our family and friends will never forget that special, fun day. Keep doing what you're doing!! God bless you. 💜
---
Reviewed on

6/20/2017
Laura P
Daughter had her wedding at The Springs Poetry Hall venue near Rockwall in June, 2017. Occasions at Stone River handled the table decorations and the food. The decorations were beautiful and the fajita buffet was delicious! Many guests said that was the best food ever had at... Read More a wedding. Clean up was very efficient and they were a pleasure to work with from start to finish. Highly recommend.
---
Reviewed on

6/15/2017
Tresa M
Angela was awesome!! This place was great. Everyone helped. The food was fresh and hot and decorations were great!!
---
Reviewed on

6/15/2017
Jordan T
We got married on June 10th at 11 a.m. Our wedding was FLAWLESS! I am not one to brag, but seriously, it was flawless. This venue means it when they say they are all-inclusive. I did not have to worry about a single thing. They made the planning process too easy. I cannot rave... Read More about them enough! They made my husband and I feel so special all day long and throughout the planning process as well. The decor, service, and food was amazing! This is such a beautiful and memorable place to get married and we are very happy we chose them. If you are looking for a stress-free, all-inclusive, fun place to celebrate, check this place out! They are very affordable and have so many custom options to make your dream come true, without losing sleep over it. Angela was our coordinator and was so helpful with everything! Peter was our DJ and kept our dance floor full all day. I didn't know what to expect with a daytime wedding, but it was so perfect!
---
Reviewed on

4/28/2017
Krista F
Me and my husband were three months away from our wedding date and we still didn't have a venue. We needed to book quickly. We heard about Occasions at Stone River and what we loved about them initially was that they were an all inclusive venue. They had everything we needed:... Read More decor, catering, coordinator, photographer, DJ, etc. As the bride, I have to say that definitely took the stress is wedding planing off of me. The staff was super friendly and they start working just as soon as we booked! Now that our wedding day was about three weeks ago, I have guests that still talk about our special day and how everyone had a great time and also complimented the venue and the food! Special thanks to Johnny, the owner, he answered all of our questions prior to booking. Angela, the coordinator and photographer, was so sweet, and took the time to listen to me and made my wedding dream a reality, and the pictures turned out beautiful! April was also great and patient with me asking so many questions up to re wedding day! The DJ Peter has a lot of experience and he was great to work with as well. He has a great personality and be made the music selection for the ceremony and reception super easy! He also listened to what we wanted and made some great suggestions and additions to the reception! And thank you to the staff for making our wedding day beautiful!
---
Reviewed on

11/21/2016
Corey C
We cannot say enough good things about this place! They made the planning process easy and fun! Angela was so sweet and helpful, while Peter (DJ) and Johnny (officiant) were both super kind and made us feel relaxed and confident about the flow of our wedding. The 60 day meeting... Read More took a lot of the guess work out of planning and all the options provided to us were beautiful! Our wedding day couldn't have been more perfect and we highly recommend this place!
---
Reviewed on

10/30/2016
Audrey B
Occasions was incredible! I was extremely impressed with how beautiful everything was and especially how smoothly the entire wedding went thanks to Angela and our dj Peter! We got endless compliments on how everything was just so perfect and it's all thanks to Angela and Peter!
---
Reviewed on

10/30/2016
Shannon B
Wonderful place to have a wedding! Absolutely beautiful! DJ was wonderful! Loved everything about it! I highly recommend it! I was the mother of the groom. :)
---
Reviewed on

10/29/2016
Jenna H
Our wedding was perfect! The decorations and staff are GREAT! Thank you to Angela she was so helpful through the planning process. The food was wonderful! I would recommend Occasions to anyone!
---
Reviewed on

10/27/2016
Randy J
Thank you Occasions for making our daughters wedding the wedding of her dreams!! I got to set back and just enjoy every minute of the day! I will recommend you to everyone!
---
Reviewed on

10/25/2016
Jenn H
Thanks to all the wonderful employees of Occasions at Stone for making our wedding day the best day ever. It was up to me do the planning due to my wife working out of state. With Occasions help I pulled it off without hitch. Thank you!!!
---
Reviewed on

10/24/2016
Terrie G
Everything was PERFECT!!! Just as I have always dreamed it would be. The staff was wonderful, from the day we toured they made us feel like family. Thank you Occasions at Stone River!!
---
Reviewed on

10/21/2016
Candace O
I don't think i cant express enough in words just how happy i am that i choose Occasions for the venue of my wedding this past weekend. I had a long engagement and they worked with me for over a year for my special day. Everything was perfect. Angela set up everything the way i... Read More had asked, they were very quick to respond to emails, and made sure they laid everything out so i knew what to expect. You can pick and choose which options you would like to have to suit your budget. We choose an outdoor ceremony with reception inside. All of our family and friends said the food was great, we had the Italian buffet. The margaritas were the best i have every had. Seriously! I highly recommend Occasions the staff is super sweet and helpful and they all went above and beyond to make my day just as i wished.
---
Reviewed on

9/19/2016
Sonya G
Everything was perfect. Everyone was awesome
---