Home

One Stop Event Rentals
About this Vendor
Event and Wedding Rental Professionals
At One Stop Event Rentals, we are serious about the business of partying! We have everything you need to have an unforgettable event! Be it a graduation party for 25 or a wedding for 300, classy, elegant, rustic or trendy- we have the inventory, the manpower and the knowledge to make your event perfect!
Details
Lighting, Decorations + Accents, Chairs, Dance Floor, Dinnerware, Generators, Flatware, Glassware, Linens, Lounge Furniture, Stages, Tables, Tents, Rentals + Equipment
Contact Info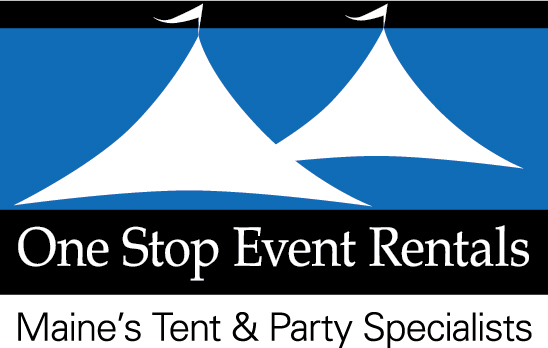 262 Main Street, South Portland, ME
Maine
Awesome service!
Reviewed on

10/15/2013
Elise B
So glad I did all my wedding rentals through One Stop! The best!
---
Great price, great product.
Reviewed on

9/19/2013
Katie N
My consultant at One Stop was helpful and always quick to reply to my emails. There was a great range of products for me to choose from and they had everything we wanted to complete the look of our wedding. From delivery to pick up working with this vendor was simple and easy -... Read More they really know what they are doing and there were no hassles or extra stresses. And they were happy to add and remove things from my order right up until a couple of days before the wedding.
---
Gorgeous tent
Reviewed on

8/22/2013
Tami T
One Stop was very easy to work with and provided everything we needed. We liked that they offered square tables and wooden chairs, to go with our theme. The sailcloth tent, especially when lit from within, was just a gorgeous addition.
---
Reviewed on

7/25/2016
Matt M
My wife and I are so glad that we chose One Stop for our wedding rentals. We worked directly with Kendra throughout the process, and she was an absolute joy. Her professionalism and expertise helped us choose the perfect rentals, and her patience allowed us to make adjustments... Read More throughout the course of our planning. Kendra was incredibly communicative and easily accessible via email, which made our long-distance planning much easier. Thank you One Stop for your flexibility and doing an incredible job the day-of and leading up to the big day.
---
Reviewed on

7/08/2016
Nicole A
One stop is really exactly what their name says! Our venue was up a dirt road on the side of a mountain and One Stop was able to get in there and set up everything. They brought and set up everything that I ordered, from the tent, dance floor, tables, and chairs, to all the... Read More little things like plates, cups, and linens. They also provide all the lighting. Not only did they bring the stuff we ordered- but also the catering tent with all my caterers stuff. The guys that set up were very friendly and checked with me before setting anything up. The quality of all their products was excellent.
---
Perfect!
Reviewed on

10/07/2015
Amy B
My now husband and I used One Stop for our wedding event rentals. Getting married in a "blank space" meant that we had to rent everything from tables to knives, and Chrysta at One Stop was a dream to work with. Everything we needed was in stock and delivered to our venue in... Read More great condition. Everything went beautifully!
---
Perfect Canopy and Dance Floor!
Reviewed on

9/01/2015
lana k
The white canopy tent and dance floor I rented for my DIY backyard wedding set the perfect mood!! The communication by their customer service reps was friendly and helpful from the beginning. The only hiccup from the wedding came from trying to get the dance floor squares over... Read More to an island. I had asked and was assured that the 4x4 squares would fit in the back of a subaru sized car. But on the day before the wedding I found out they did not. This led to a last minute UHaul scramble and much stress. BUT, overall the items were perfect for our wedding and most aspects of the process went smoothly!
---
Good Choice
Reviewed on

8/11/2015
Christy B
OneStop was great to work with - very responsive throughout the process and on top of all the details. We had a minor incident with the tent placement upsetting the venue, but the OneStop crew helped us work through it and get us our deposit back, so they were super helpful and... Read More I'd highly recommend working with them. The rentals themselves were in great shape, nice items and no problem with delivery or quality. Plus their prices were significantly cheaper than other vendors we looked at, which initially worried me a bit, but everything looked nice and was in good condition.
---
Fantastic Customer Service
Reviewed on

11/08/2014
Lindsay D
Chrysta at OneStop was such a pleasure to work with. She was consistently warm, efficient, and so helpful. The delivery team was also very friendly and easy to work with. We had a beautiful backyard wedding reception thanks to OneStop.
---
Chair rental.
Reviewed on

11/02/2014
Audrey B
This company was flexible with times and chair order, allowing us to change the number without fees. The least expensive white garden chairs worked well for our outdoor, seaside wedding.
---
Great Experience
Reviewed on

10/09/2014
We used One Stop Event Rentals for our rustic outdoor tented wedding. The sail cloth tent was amazing and the farm tables and wooden chairs made everything look rustic and elegant. We received all of our rentals (tables, chairs, tables cloths, plates etc) from them and were... Read More pleased with it all. Very happy with the customer service and the set up!
---
Wedding Rentals
Reviewed on

4/22/2014
Jeffrey S
They were average price, but showed up with several broken glasses. We were told by the delivery guys that we just needed to count the broken and they would take them off the bill when they picked up. We then got a call during our honeymoon that we were being charged for all the... Read More "missing/broken" glasses, cause we didn't save the pieces! (which we were never told to do)They also were going to bill us for a missing coffee urn we did return to them. They said they would contact us and never did, they simply charged our credit card! I would never use them again. I am in the restaurant business and do dozens of weddings a year and deal with other rental companies and never have seen anything like this before.
---
NON-Refundable Deposit
Reviewed on

3/17/2014
Jessie G
We gave a large deposit for our outdoor tent wedding. Plans changed and our wedding was being moved indoors. We canceled our reservations with one stop 9 months in advance and asked for the deposit back. They gave us half the deposit back which was very kind but that still... Read More left a good sum of money with them. We then asked if we could use the money left for other rentals for the rehearsal dinner. They declined and would not work with us in any way. I can't think of any reason why we couldn't use the 600+ dollars we had given them on other rentals, especially since we gave them so much notice. Long story short they got over 600 dollars from us and didn't lift a finger and we now have to find a new rental company to rent what we need for our rehearsal dinner. If your going to rent from them, be certain your plans wont change.
---
delivered as promised
Reviewed on

7/16/2013
Marianna f
we met with them early in the year. they worked well with out event staff and items were delivered as promised. We had to move the dance floor because it was in the wrong place, but that was the only issue
---
ya for delivery!
Reviewed on

11/29/2012
Rachel D
If you have your wedding at home the worry is that you have to set EVERYTHING up yourself. And when they say delivery could be Friday, AHHHH! Not here! They delivered on Wednesday giving us ample time to set up and decorate without stress! And the items, tables, linens etc... Read More were in great shape.
---
Adaquate, but with room for improvement!
Reviewed on

11/04/2012
Peter J
We used One Stop for the reason that they had most all the rental items we needed for our wedding. The service was adequate but not everything was perfect. The options are alright but not expansive. They were great in working with us to set up out tent in early in the week when... Read More their contract says they cannot guarantee delivery times. I was glad they did because after delivery we realized that many of the chairs we rented were dirty and needed to be cleaned, one was broken. The tent was beautiful and worked wonderfully! Chrysta was wonderful during the entire process!!
---
Always a good choice
Reviewed on

10/31/2012
Erin A
I've worked with One Stop Party Shoppe several times. Deliveries are always on time, everyone is professional, and their products are always in good shape. Anytime I have a part, I don't even hesitate to call them. The only negative I have to say is that I wish the had a bit... Read More more selection. I'd like to see some of the products I've seen in Boston or bigger cities....
---
Nice rentals
Reviewed on

10/11/2012
Jasmine B
We were happy with the selection and quality
---
Terrific experience
Reviewed on

10/07/2012
Amy B
Crysta at One Stop was great to deal with. We were having the wedding on a remote island, and she and her team were able to get the tent, tables, chairs, linen, glasses, everything, out there and set up perfectly. The setup crew was so great, very nice and accommodating, even... Read More after we had them try the 3rd spot for the tent (before it was set up, I'm not that difficult). She was able to handle my last minute changes and reconfiguration, and promptly got back to me with any questions. Wonderful experience dealing with these folks.
---
Reliable
Reviewed on

5/21/2012
Elizabeth C
I used One Stop Party Shoppe for the linen rentals for our wedding and the experience was convenient and hassle free. All of the staff that I dealt with were knowledgable and accommodating. I would certainly recommend them to any in need of party supplies.
---
very pleased with the rentals
Reviewed on

11/13/2011
Rebecca D
our rentals were great... The guys who came to set up our tent were very professional and friendly even though they had to do so in the pouring rain.
---
Happy, but frustrated
Reviewed on

10/13/2011
Kim P
I thought the guys who dropped off the tent were pushy and rude, but overall we had a good experience with the products. They also "forgot" the dance floor. We improvised and used a 4 place snowmobile trailer which was WAY better than any dance floor they could have brought.... Read More They also insisted on putting the tent in our old garden which made it very uneven to walk - even when we told them this about OUR land he wasn't having it. Maybe they should listen to their customer since its THEIR land.
---
Everything You Could Need
Reviewed on

9/21/2011
Rosemary D
Erin made renting all the wedding paraphernalia very easy. Everything was delivered on time, and they even set up the dance floor! Everything was as described. I highly recommend them
---
lots of options
Reviewed on

9/21/2011
Hannah F
They had so many options for a good price. It was nice that we could do some last minute changes based on the amount of people we had for the wedding. They know exactly what we needed to get and it helped us a lot since we had no experience with planning a wedding
---
make your outdoor garden fairytale come true
Reviewed on

8/17/2011
Sarah K
excellent service. very competent employees, efficient and timely set-up
---