Home

Palate New Orleans
About this Vendor
Palate New Orleans
Palate New Orleans is an event production company specializing in upscale New Orleans catering with an international flair. Our additional services include decor, ambient lighting, and floral design. We strive to create the event you envision infused with bursts of creativity and unique details.
Details
Cajun, Southern, Southwestern, American, Eastern European, French, Indian, Italian, Latin American, Middle Eastern, BBQ, Fusion, Seafood, Specialty
Buffet, Catering Clean Up, Catering Delivery + Setup, Chef Stations, Family Style, Passed Appetizers, Seated Meal, Servers, Food + Catering, Service Staff
Contact Info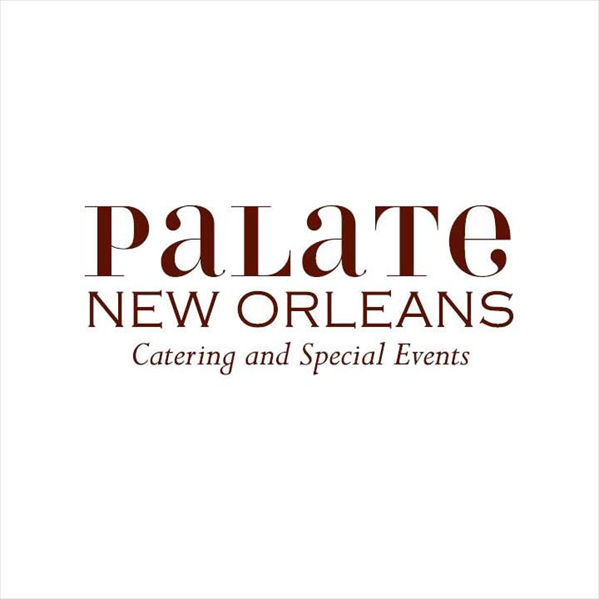 Reviewed on

5/04/2016
Allison K
The best wedding decision we made was choosing Palate to handle our catering, decor and day-of coordination. The food was AMAZING - our wedding guests are still talking about it. The decor was beautiful and exactly what I asked for. Katie did a fantastic job as my day-of... Read More coordinator - she kept everything and everyone organized and kept me as stress free as possible. My husband and I live in NYC so being able to rely on Palate to handle so many of our wedding details made our planning much easier. We felt completely comfortable knowing that Katie, Anita and Glenn were taking care of everything.
---
If you want the best, hire Palate.
Reviewed on

1/13/2015
I put "catering" as the category of service provided by Palate for our wedding this past December (2014), but they did way more than just prepare the food, and they did it all brilliantly according to the vision we began with and collaborated upon. From the first meeting my... Read More then-fiancee and I had with Glen and his crew (Anita, Katie, and the rest of the incredible think-tank up there), we knew this would be the best outfit to work with. They were sincerely and devotedly receptive of all ideas, and they had plenty of insightful input to add. Honestly, I know planning weddings can be hugely stressful, but let me assure you: Palate does volumes to alleviate that. Throughout the planning process, every one of the people mentioned above were easily reachable, and when we had to leave messages or emails, they responded with the utmost promptness and professionalism. When it came to the floral arrangements, they helped take the helm of that whole process, and even as a guy I can honestly say that the flowers turned out absolutely perfectly for what my wife (and I) had in mind. As for all other aspects of decoration, organization, and preparation, Palate took on all of these responsibilities with a smile, and they performed beautifully, creating for our special night an undeniably precious, charming, and concept-grasping environment. I mean this in no way to brag, but folks are still readily talking about it, about how unique and how beautiful everything was. And as for the food, well, Palate's chef (Walker) is really just ridiculously talented, and, admittedly, we consider ourselves sort of food snobs, so to say we were overly impressed and utterly satisfied with every dish he put out is - at least in our eyes - to speak very, very highly of his abilities. Also, Palate was great when it came to helping us get the perfect menu constructed, allowing for sample tasting, etc., throughout the planning process. And, as I put, Walker executed this menu a flawless, New Orleans-style way. All in all, if you don't hire Palate to help with your wedding (or party of any sort), you're missing out.
---
Fantastic!
Reviewed on

10/04/2014
Palate catered our wedding in September and it was simply fantastic! Everyone was wonderful to work with, and extremely helpful as we coordinated between New York and New Orleans - via email, by phone and in person (accommodating us during our brief stay in town). The food was... Read More incredible (our guests raved about everything!), and the presentation was just lovely. Glenn was amazing to work with - he actually came up with an incredible solution to my various food allergies and developed a creative, delicious menu that I completely enjoyed (something I'd never imagined I'd be able to do). Katie was also a pleasure to work with - she and the entire catering staff kept us on track for the entire evening, and coordinated all of the logistics before the "day of" with such care and attention to detail to make sure our vision came through. Palate was wonderful and we recommend them highly!
---
Reviewed on

10/23/2016
Sarah D
Our best wedding vendor, these guys are amazing! The food was delicious! Our guests also raved, loved the shrimped and spoon bread, mini chicken and waffles, oyster shooters, so many great options. Katie and Walker made the process easy and communicated efficiently throughout... Read More the entire planning process (we planned a destination wedding so handled most planning via email). I love that Palate is a smaller company and you know the staff by name. Walker the executive chef created our tasting menu and was onsite for our actual wedding. I don't think you get that type of personal service with some of the larger companies. Thank you again to all the fabulous staff at Palate!
---
Reviewed on

6/28/2016
Allison W
As a caterer and chef myself, it was extremely difficult to let go and trust that my vision would be pulled off. The chefs and staff at Palate exceeded my expectations and helped my dream wedding become a reality. I can't wait to host another event in New Orleans and have their... Read More excellent food again. My favorite part was the caviar bar! The drop off lunch and breakfast were delicious, as well. Thank you Anita, Katie, chefs and staff!
---
Reviewed on

6/09/2016
Elonide S
I was the day of wedding coordinator for an event at Race & Religious in New Orleans catered by Palate. First and foremost the food was excellent. Creative and interesting flavors, served at the right temperature and buffets consistently monitored and refreshed. And everything... Read More was a feast for the eyes as well as the stomach. Katie ran the front of house and was a delight to work with on a hot, sticky night. I am a friend of the bride and was walking that fine line of coordinating things and enjoying the wedding. Katie made that happen. As the President of a marketing company that is quite picky about events, they hit a home run.
---
Reviewed on

6/06/2016
Fantastic! Hiring Palate was the best decision we made for our wedding at the Benachi House in March 2016. Anita and the team at Palate were great to work with and help keep us on track and in budget as we planned our food for the wedding. I was constantly impressed with... Read More their responsiveness and willingness to work with us as we made edits to the plans. We also had last minute changes that need to be adjusted as our wedding was set to be outdoor and the weather did not cooperate. Anita made me feel at ease and her and the team handled everything with out a worry for me. The event turned out amazing thanks to them and oh by the way the food is wonderful! I still have guest raving about the different food we had at the event. The cream puffs and mushroom cheesecake are items our guest can not forget. We also had a very custom menu as many guests were vegetarian. Palate worked with us to make some New Orleans favorites vegetarian so all guests can enjoy. Looking back we were so pleased and both my husband and I agree that we made a great decision hiring Palate!
---
Reviewed on

11/30/2015
Krista H
Palate was great and really easy to work with! They were very flexible on our menu requests and working within our budget. We planned our wedding remotely but they made it really easy to to do everything without meeting in person. Also, the food was great! Everyone raved... Read More about how good it was, a rare feat for wedding food! Thanks so much!
---
Amazing menu and service
Reviewed on

10/09/2015
Ingrid D
Palate's food and staff are amazing and so accommodating. They worked with us to ensure the menu suited us and our guests. The passed items were so creative and delicious. The welcome cocktail they served was so good we served it throughout the night and for the second line
---
Amazing food, attentive and caring staff, so much love
Reviewed on

9/29/2015
Molly
I can't say how grateful we found Palate to do catering for our wedding. Their food is incredible- New Orleans fare with beautiful setting. They set us up with flowers, decor, and then a tent just the day before since the weather called for rain. Anita, Katie, Glen, and the rest... Read More of their staff were so professional, friendly, and really made our big day wonderful and flawless. I'd highly recommend Palate!! XOXOXO
---
Great Wedding
Reviewed on

4/21/2015
Palate New Orleans provided the food, decor and flowers. Everything was great. It was a pleasure working with Palate. I would highly recommend them to anyone. It was so nice to work with only one company for everything.
---
Amazing Floral and Lighting Decor!!!
Reviewed on

3/09/2015
Jennifer H
When my husband and I began the floral and lighting process for our New Orleans wedding, we were quickly discouraged by florists that either quoted us over our budget or were unable to provide the quality and variety of floral and lighting we wanted with our decor budget.... Read More Palate New Orleans worked with us to make our floral and lighting vision happen for our wedding day at Hotel Mazarin. Katie with Palate sent over detailed questions that I would not think to ask that helped them understand my vision. I asked countless questions, sent tons of pictures of the look I was going for, and Katie responded timely, and let me know how they could make my vision happen. Since I was working on a budget, Palate first got a feel for the look I was going for then thought of flowers I've never heard of that made my wedding perfect. Katie even met with me at my venue to walkthrough all of the floral and lighting placement, and listened to every request I had, didn't smirk at my budget, and was able to fulfill every one of my requests. My husband and I are very particular and detail oriented, and we loved our floral arrangements and candles. My wedding was beautiful thanks to Palate. I cannot thank them enough! They went above and beyond my expectations.
---
Heart Warming Cuisine
Reviewed on

11/22/2014
Sonia S
Darling Glenn & Anita were a JOY to work with. My husband and I got nothing but smiles and top quality professionalism from day one. I work in the wedding industry and understand what it means to hire a solid team that also produces a high quality product. Glenn & Anita fit my... Read More highest of professional standards to a tee. My husband and I met with three potential catering companies before going to Palate. Glenn & Anita were referred to us by our wedding coordinator who swore by their quality, and after meeting with them, we were immediately sold. Anita is sharp as a tack, and facilitated early communication without missing a step. I was also very impressed on our wedding day to see how attentive she was and exceedingly breezy at spearheading the waitstaff. Glenn "the creative force" truly works with your vision and executes it with flare and personality. THE FOOD: WOW. This was the general review, not just from me and my husband but so so so many of my guests. "Amazing" was whispered by my dad, which couldn't be a higher review from an Italian man commenting on an modern Italian meets NOLA inspired cuisine. We wanted whimsy and innovation too, so boom!, almond crusted chicken cotton candy: DELICIOUS! An oyster bar with Rockefellers rivaling Antoine's (famous for them) and a sit-down meal with impeccably layered flavors and freshness. This was the meal to share with our closest of friends and family, doing what great meals do, bringing us together with warmth from the heart, creativity for the spirit, and a twist of true New Orleans soul.
---
Glad to see Palate is Earning High Marks- Well Deserved
Reviewed on

5/02/2014
Stephanie S
I echo the other reviewers on this website and will say that Palate's food and service was excellent. They really saved the day with my whole wedding - April of 2014. They provided food, bar service and decor. They really took my vision and gave it life. This is saying a lot... Read More because I am not great at visual design, but I know what I love when I see it. They took my ideas and ran with them, and everything was well executed. They worked well with all of the other vendors to ensure that everything went smoothly. Everyone loved the food. Everyone. It was like not only having a caterer, but extra wedding coordinators. The food was as great as you would find at any high cuisine restaurant. They were very kind and considerate to all of my guests, with several guests commenting on the wonderful service. One bartender even went out of his way a few times to note what I was drinking, find me, and ask me if I needed another fill! They are also very sweet to work with. I think they went through something like 11 menu revisions with us to get it just right, and at a budget that we were comfortable with. So, 5 stars, and hats off to Palate. Thank you!
---
Amazing food and service from Palate
Reviewed on

10/02/2013
Megan O
We are New Yorkers who got married in the Big Easy in March. We also can't believe how quickly the time has gone by! We meant to review Palate months ago but the wedding was followed by (good) craziness! Since we're from out-of-town, we were stressing over choosing vendors... Read More we'd never met. We found Palate online, and after reaching out to several vendors, we found Shay & the Palate team to be not only the most customizable, but the most friendly. In addition, Shay offered for us to visit Palate in the days before our wedding to sample the food. Being completely over-scheduled with last minute wedding details, we couldn't find the time to get down to their shop. Shay was so sweet, and did not mind at all. On the evening of the wedding she was prompt, professional, but so sweet and helpful. She and her team got to work and before I knew it, they had helped transform the space. The night of the wedding was a blur (of course) but all of our guests raved about the food. We went for traditional New Orleans fare, and Palate performed superbly. Their food was above and beyond what we expected. We we thrilled with the service too. The night went by so quickly, and long after our guests had left, we retired to our room to find that Shay and her team had packaged up the leftovers, organized them in our room's fridge, and left a personalized note for us. We were so impressed with the service, and the food, and know others will have just as great of an experience as we did!
---
Amazing!
Reviewed on

9/22/2012
Nicole Y
Palate catered our wedding in New Orleans and the food was phenomenal! Everyone raved about how great the food was. It was reasonably priced and the owner Glenn was wonderful to work with! They really captured what we wanted and everything was displayed beautifully. The staff on... Read More the day of our wedding was awesome! Would definitely recommend them to family and friends and will use them in the future!
---
food
Reviewed on

7/10/2012
candace a
great food and set-up
---
Meet The Owner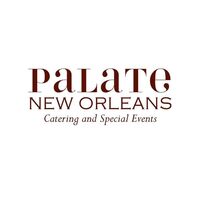 Palate New Orleans
Palate New Orleans is an event production company specializing in upscale New Orleans catering with an international flair. Our additional services include decor, ambient lighting, and floral design. We strive to create the event you envision infused with bursts of creativity and unique details.