Home

Paper Works and Events
About this Vendor
We are a Couture Invitation Design company.
We feature the most extensive and exclusive selection of custom invitations in Northern NJ! We handle all the printed elements and design necessary to help you brand and throw a spectacular event!
Details
Custom Invitations, Save-The-Dates, Shower + Party Invitations, Wedding Invitations, Invitations + Paper Goods
Contact Info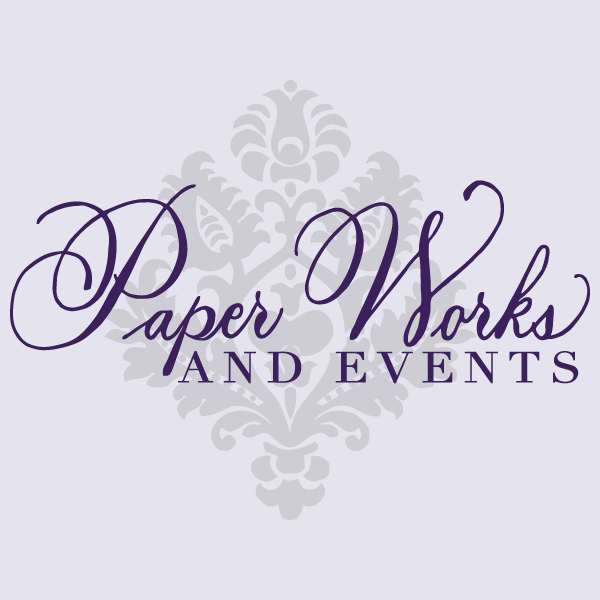 13A West Hudson Avenue, Englewood, NJ
Incredible!
Reviewed on

4/23/2012
Cindy V
After ordering Save the Dates through a magnet company and being thoroughly disappointed, I found Paper Works and Events. They are amazing! Alison, Andrea, and Ana are all incredibly talented and were such a pleasure to work with. I ended up with the most amazing Save the Dates, invitations, and rehearsal dinner invites too! They listened to what we wanted and helped us create the most perfect invites for our wedding. In the future, I will use their expertise for invitations and stationery. Hands down, one of the best decisions I made was using Paper Works and Events for our wedding!
---
Creative, professional, on-top-of-it team that is FUN to work with!
Reviewed on

12/28/2013
maria k
One of the best decisions we made for our wedding was visiting Alison at Paper Works and Events! Though my fiance and I had an idea about the overall emotion we wanted the save-the-dates and invitations to convey, we really didn't have many specifics in mind. But, Alison listened to us and within a few minutes, figured out what we wanted before we really did. She pulled samples and fonts that she thought we would like -- and we did -- and she used those elements to design customized pieces for us to choose from. It was only a couple of days after we visited her that we received emails with four different custom designs to choose from. And when we wanted to mix and match aspects from one design with another, she was totally cool with that, made a new design, emailed that over a day later, and voila - we made our choice. Quick, efficient and fun. Also amazing - Alison is more concerned about the price of your product than you are! She doesn't want her brides to go broke and she works really hard to find cost-cutting alternatives in whatever design you choose. We managed to slash hundreds and hundreds of dollars off of the design we wanted -- without compromising our vision -- by making little tweaks here and there. The end result was a super fancy-looking product for a very reasonable price. Andrea and Kerry were also great to work with - as they helped us with the envelope-printing process when Alison was on vacation. They were always very accessible on the phone and email, made sure everything was just right in terms of fonts and the actual data, and even stayed late one night when we were stuck in traffic en route to picking up our goods. Thank you, ladies! The brides of Bergen County are very lucky to have you!
---
Beautiful invitations and great service!
Reviewed on

12/13/2011
Alissa w
We used Paper Works for our invitations, tablecards and programs for our wedding on July 30, 2011. We shopped around to a couple different vendors in NJ before we found Paper Works. I echo another reviewer's comment that other places didn't want to seem to get to know us or really listen to us. We felt that Andrea's vision, knowledge, and honesty, were unmatched by any other vendors. We absolutely loved our wedding invitations. We had custom invitations made based on different aspects of other invitations I had seen and liked. Andrea and Alison really made the whole invitation come together perfectly. Alison's creativity and vision were incredible and she very responsive. From the beginning, Andrea did not offer us the most expensive options. Andrea felt that we could always add to the invitation and her pricing was reasonable. Our guests could not stop talking about our invitations and how they were the most stunning invitations that they had ever seen. After the amazing job they did on our invitations, we also had them do our tablecards and programs. Eventhough tablecards and programs come at the end of the wedding process, it was not a stressful, Alison and Andrea made it so easy and the product was simple and elegant. There is no need to look anywhere else! P.S. We also just had Paper Works print our thank you notes and again their service and quality were wonderful!
---
Paper Works & Events- BOMB.COM
Reviewed on

11/11/2014
Nancy A
This review is LONG overdue. When we first got engaged my husband and I were extremely indecisive about which vendor to choose for our invitations. We previously visited another vendor and it was AWFUL. After doing some serious research I came across Paper Works and Events. Upon entering their office I noticed how clean and organized everything was….such a breath of fresh air. I knew right away we were in the right place. After meeting with Andrea, Alison and Kerry the deal was sealed. Andrea was willing to work within our budget to make things work and I instantly fell in love. Our family & friends are still raving about how beautiful & elegant our invitations were. OH and how can I forget…the invitations smelled awesome!!! Yes they smelled awesome-it was some sort of powdery smell but was a great touch. We also ordered our church program and escort cards from these ladies as well. We highly recommend Paper Works and Events to those who are looking for high quality invitations with a wonderful staff!!! Thanks again ladies…you are the BOMB.COM! -Nancy & Dwayne
---
Wedding Invitation with Aplomb!
Reviewed on

11/03/2014
Alison, Andrea and the team at Paperworks did an amazing job for our wedding invitations. Time was shorter than usual, requiring multiple work arounds to make it happen within the time required. Not only was the timelines met but the end result was beyond my expectations! Many invitees called, to say how much they loved their invitations. Thanks you guys for your help, diligence and support! I would recommend you to anyone without any hesitation!
---
not a very good experience
Reviewed on

8/12/2014
Jennifer C
I had an appointment today to discuss wedding invitations for my upcoming June wedding. Well what a terrible experience I had. When I got home, I wrote them an e-mail... here is what I said. "Thank you for your time today. Unfortunately, I was not impressed with how my mother and I were treated. We felt as if you didn't want and need our business. We sat there looking at books not knowing what can be customized, not knowing the prices, while you sat at your desk with your feet up... Literally. You should have just told us you didn't want is there because that is exactly how we felt. I respect the fact that you wanted to give us time to browse through the books - however, you gave me post it notes to tag pages. Okay, I did that and you didn't do anything about it. You didn't discuss the pages I was interested in. At the very end you mentioned one price to me. Yes, I saw one other invitation company a week ago to browse through items because this is new for me and it should be fun... sadly, today wasn't. You were more interested in your "competition" than you were at gaining a new customer. I will be sure to write a truthful review of your company on "the knot" which is how I found you. I am very disappointed. Thank you for your time. Best of luck to you and your company." Good luck to those who use this company. Maybe I caught them on a bad day?
---
Paper works and events
Reviewed on

7/30/2014
Madeleine S
I worked with Alison starting with my save the dates (which she designed after hearing my vision, and they were amazing!!!) then they worked with me on invitations, escort cards, programs and menus! I always felt taken care of and all the work was beautiful! Alison always responded to emails promptly which was very important and something some other vendors did not! I would use paper works and events again and know that I would be getting amazing quality and still sticking to my budget!
---
Love Paper Works & Events!
Reviewed on

7/17/2014
Allison S
Paper Works and Events did an amazing job with my wedding invitations. They were absolutely perfect, modern and elegant. They worked with me one on one to make sure that I was 100% satisfied with the product and were very quick to respond to emails and any questions that I had. Andrea, Alison and Kerry were very professional and did everything to make sure that my invitations were exactly as I envisioned them. I highly recommend them and their business. I got so many compliments on my invitations!
---
Excellent
Reviewed on

6/08/2014
Amanda F
The attention and service we received was the best I have ever experienced. I felt like I was their only client, which is NOT the case. Our invitations were beautiful and we still receive complements on them almost two years later. Love, Love, Love!!!
---
The most amazing invitations ever
Reviewed on

3/08/2014
Joana S
I have to say, they created the most amazing invitations I have ever seen. We gave them a vision and they went above and beyond anything I could have imagined. Every detail was thought of and executed to perfection, from the invitations and envelopes to the programs, menus and place cards.
---
Amazing!
Reviewed on

2/25/2014
Antoinette H
Love my invitations and had a great time with Andrea who helped pick them out. My guest are raving about the invites.
---
Best prices and amazing team to work with
Reviewed on

12/13/2013
Liza F
I was a bride who knew exactly what I wanted. I was referred to paper works and events through a friend of a friend, after being quoted so high in NYC I decided to call. I forts spoke with Allison who within five minutes on the phone knew exactly what I was imagining she instantly sent me a sample via email. Andrea came in on her day off to meet with me and pick papers and color options. I got a larger invitation with envelope liners and hand calligraphy for less them I was be quoted in NYC for a smaller invitation. I also wanted a custom monogram and Allison spent countless hours and days perfecting until we found the right font. Hands down a great value for amazing service. I highly recommend.
---
Elegant Invitations & More!
Reviewed on

6/29/2013
Janice L
Wow . . . my invitations, place cards, and wedding programs exceeded my expectations! Working with Andrea and Alison was a pleasure from the moment we walked in to discuss invitations. Their patience and talent in finding and designing the right invitations/programs/place cards is unmatched! My guests were amazed at the elegance and beauty of their work and products! We received so many compliments! I've already started sending friends to them! They made the entire experience an amazing pleasure! I would strongly suggest you check out Paper Works and Events!
---
Alison is simply amazing, and worth every penny!
Reviewed on

6/10/2013
Jennifer F
Let me just start by saying that Alison, who designed our wedding invitations, as well as our menus, programs and place cards, is literally an artistic genius! I started the wedding planning process thinking that we would just pick the simplest possible invitations and be done with it. However, once we spoke to Alison, and we heard all of her amazing ideas, we were sold. She created the most elegant invitations I have ever seen. It was like she went inside my head and created what I did not even know I wanted. There were dozens of guests who commented on how beautiful they were. I also saved myself a lot of headache by having Alison design and print our wedding programs. For a very reasonable price (I essentially told her all I could pay for them, and she found materials that would work in that budget), she created what ultimately matched my invitations in design and color scheme (she even used some of the same design elements she created especially for me), and delivered a gorgeous finished product that I did not have to then sit and start folding, tying ribbons to, etc. I just literally cannot say enough about Alison's work. She truly is exceptional at her job. She and Andrea worked really hard to make my husband and I happy.
---
Personalized service, excellent product
Reviewed on

12/26/2012
Dana V
We originally found Paper Works and Events through the Knot but later found out that several friends / family friends had used them with nothing but fabulous things to say. We ended up using their services for our wedding invitations, menu's, place cards and table numbers. Alison and Andrea were a huge help! They were kind enough to stay late past store hours to meet one-on-one since we were unable to get there earlier during work hours, and they helped us create one-of-a-kind invitations that were exactly what we were looking for! They were also patient and helpful in getting things done on short notice as we had delays from RSVP's and hurricane sandy. We were so happy with the end products and had so many positive comments on our invitations! We would absolutely recommend Paper Works and Events to anyone interested in creating custom or pre-designed invitations, etc. for their next event!
---
amazing!!!
Reviewed on

12/04/2012
Ruthie A
Andrea and Allison are amazing! They helped make my invitation incredibly unique and they were consistently timely, professional, and helpful. Having such great people to work with took a huge load off the traditional wedding stress. I would use them again in a heartbeat!
---
Great job!
Reviewed on

5/24/2012
michelle B
I loved working with Paper Works and Events. Alison was incredibly sweet and always very responsive. After a not so great experience with another vendor that did our invitations we decided to go with another company for the rest of our wedding stationary. Paper Works did an incredible job giving our stationary a cohesive look to the invites we previously had done. We were very happy with our programs, menus, and table numbers. So happy we recently had them do our personal monogrammed stationary. Alison was very knowledgeable and always honest, even suggesting less expensive options where it didn't make sense to spend more money. I loved that! Overall we were very happy with the service Paper Works provided.
---
A Pleasure To Work With!
Reviewed on

4/08/2012
J. S
Andrea, Alison and Ana were a pleasure to work with. We came to them needing menus and escort cards. They designed beautiful menus and escort cards which complemented an existing invitation. We were impressed not only by the quality of their work but by their attention to detail. They completed every stage in a timely manner and had the final product ready on the promised date. I highly recommend them to anyone in the market for wedding stationery.
---
Great Printer
Reviewed on

4/05/2012
adeena s
Paper Works was really great to work with. Their team is patient, accommodating, has a lot of attention to detail and is very friendly. I would use them for any future printing!
---
UNIQUE AND BEAUTIFUL INVITATIONS...WONDERFUL STAFF
Reviewed on

11/08/2011
ELIZABETH G
Paper works and events are hands down the best invitation vendor in NJ!! From Day 1, I knew this was where my husband and I would be getting our invitations... Andrea understood exactly what we were looking for and helped us express that to her AMAZING designer Alison. I seriously could not thank them enough, as their patience, experience, good taste, and caring really helped created our PERFECT wedding invitation. They helped take our idea to another level and it set the tone for our entire day!!! It was everything we asked for!!! They are truly the best!! Thank you ladies!! :)
---
Beautiful Invitations
Reviewed on

10/22/2011
Yencie C
Andrea and Alison did an amazing job on our wedding invitations! The paper that they used was beautiful and they came up with ideas to help me cut down my invitation costs. I received a lot of compliments on my invitations and table numbers and would definitely recommend them. This was the easiest part of my wedding process!
---
Gorgeous
Reviewed on

10/21/2011
Stephanie S
"The most beautiful wedding invitations they have ever seen!" was the reaction and feedback we got from our guests to our wedding. My husband and I wanted classic, sophisticated, and elegant but had no idea what that actually looked like. Alison and Paper Works and Events were fantastic to work with, (were so patient with my indecisiveness!) and helped us created amazing wedding invitations and church programs. They were stunning and I literally gasped when I saw them for the first time!! I highly recommend them!
---
AMAZING..MUST USE!!!!
Reviewed on

10/20/2011
Gabrielle C
I can't say enough great thinks about Andrea and Allison. They were both very easy to work with, flexibile with my work schedule, and open to a plethora of ideas that I came up with regarding what I wanted for my wedding invtation. Highly recommend Paperworks and events! They offer a variety of invitations and if you do not like anything in the books - you can design your own, which is what I did! I received amazing compliments on my save the date, wedding invitation, programs.. everything that paperworks and events produced for us! Great company, great people! Go here!
---
Beautiful invitations, but very expensive
Reviewed on

10/20/2011
Ava M
I had my invitations done by Paper Works and Events, but chose to get the rest of my paper products (programs, place cards, table numbers) elsewhere. The invitations were beautiful (William Arthur), but very, very expensive. They had a printer snafu the day I was set to pick up my invitations, so I had to wait an hour or two until they were finished printing the envelopes. When I went to stuff the envelopes at home, they were a few errors. Some of the envelopes were printed twice. Other envelopes were missing. I imagine these errors would not have been made had their printer been functioning properly. Ultimately, I was very happy with the way the invitations came out (they printed a breakfast invitation, directions card, and response card for me--all beautiful).
---
Amazing Work
Reviewed on

9/28/2011
Kristina P
We used Paper Works for all of our wedding paper goods and I couldn't imagine going anywhere else. Alison is amazing and will work with you in whatever direction you want to go in. We thought we wanted one type of look and wound up changing it at the last minute with no problems whatsoever. Our invitations came out beautiful and we received so many compliments on them. Paper Works was also able to coordinate everything else for the wedding to match. I would use them again in a heartbeat!
---
Send Message