Home

Paperless Post
Details
Thank You Cards, Save-The-Dates, Wedding Invitations
Contact Info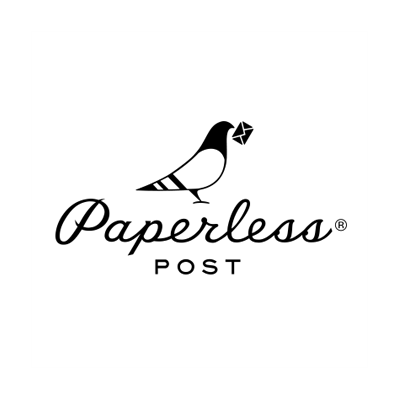 Reviewed on

6/27/2017
Regina J
We used Paperless Post for our rehearsal invites and really liked how easy it was to see if an invite was seen, even if our guest didn't RSVP. The only thing I would say that needs an improvement is the insert card is hard to see on the banner. With the designs without an... Read More insert, this is a non-issue.
---
Reviewed on

6/14/2017
Alexa L
I specifically chose Paperlesspost because they allowed for a custom, square, 2-sided card which I wanted to design as my Save The Date. I wanted a full photo of me and my fiance on one side and the date and location on the other. After ordering countless samples, I finally... Read More decided on which coloring I liked best and ordered the full shipment of 110 printed cards. I received the order and the coloring was WAY off. It was incredibly light and the whole photo looked washed out. It was not comparable at ALL to the sample or the draft online. They were responsive, and said that there was a problem with the printer and that they would rush a re-print and overnight a new order to me. I received the order a few days later and it was also WAY off. This time the picture was SO dark you couldn't even see our eyes, our sockets just looked black. Again, I contacted them right away and they told me that they "can never guarantee 100% that your order is going to come out looking exactly like your sample or draft" which is, of course, complete BS. They said they would refund me, rush an order again, and overnight me a new order that was "as close as possible" to the the picture I had initially tried to order. A few days later I received the 3RD shipment of the Save The Dates, and of course, they were still wrong. I ended up having to send them anyway because I was already so late in my mailing timeline because of this whole process. It was a relief to be done with the whole process and to get them out in the mail. Then, yesterday, I start getting text messages from friends and family that they'd received my Save The Date, only to see in a few of their pictures that the black envelope liner had completely bled onto the white backing of the card (aka the side that had the date and location on it). At that point, I just wanted to crawl into a hole and never come out. The fact that they refunded me means nothing. I would have rather paid 3x the price for what I actually wanted.
---
Reviewed on

6/03/2017
Shannon M
They get 4 stars for pretty invitations but MINUS ONE STAR for customer support! No live chat, no phone number, and no real time (or even real help during their limited support hours) help! I emailed last night and received a reply that demonstrated the person NEVER Read my... Read More email or opened my spreadsheet! Then they didn't reply to my attempts to reply! Simply UNACCEPTABLE!
---
Reviewed on

4/28/2017
Katherine J
I was very happy with the level of service and personal attention I received regarding my order of wedding invitations from Paperless Post (paper). I had a bit of an issue with my first order as I wasn't happy with the quality of the print job, and I didn't end up liking the... Read More color of the envelope liner I selected (they do not offer to send a proof of the envelopes...just the main invitation), but after reaching out to customer service, they went above and beyond to help get my order right, and I was wowed by the amount of personal attention I received. I am now extremely pleased with our invitations! If you don't have the budget for a stationer, I highly recommend Paperless Post paper. They have a great variety of designs to choose from -- including the popular Rifle Paper designs!
---
Reviewed on

3/23/2017
Megan L
I've been using them for every event leading up to the wedding! It's been so convenient and easy to use for both me and the guests! Would recommend to everyone for any occasion!
---
Reviewed on

2/02/2017
Katya I
Not happy with their customer service, my invitations are being hold in customs and still waiting for them after two and a half weeks. Had to send an email to their help email and the guy that replied pretty much blamed me for not putting my last name in the order, I can't... Read More really remember why would't I have done that but anyway. Don't use this website there's too many around to bother with delays like mine.
---
Reviewed on

1/15/2017
Michelle M
We've used PaperlessPost for all our wedding paper goods – engagement party, save the date, bridal shower, etc. They have both online and paper options (don't let the name fool you!) and beautiful designer options for insanely good prices.
---
Reviewed on

10/18/2016
Agnes M
Paperless post is the best for both paper and online invitations! We did half paper (for the guests that we knew did not check their email often) and half online (for the guests that we did check their email often). It saved us a good amount of money on invitation costs! Also, i... Read More liked the design of the invitations more than any other website I searched! After we ordered our paper invitations, a representative from Paperless post reached out to us to make sure that she understood the order details (we wanted black font on a cream/gold envelope and she thought we may have wanted gold font). Thank you Paperless post!!!
---
Reviewed on

9/09/2016
Alicia B
Paperless Post made it easy to create our cute, matching save-the-date cards and invitations!
---
Reviewed on

6/23/2016
Suzy S
I LOVE working with the company! I ordered my rehearsal dinner and brunch invitations from them. The editing tool is super easy to use and the turn around time was really fast. I decided to go back to get our wedding ceremony programs and menus from them as well. I had a few... Read More special requests for our ceremony programs, and their support team was responsive and pleasant to work with. I will definitely be using them for other events in the future!
---
Reviewed on

6/17/2016
Katie R
This company is inept! Their software needs some serious work and to make matters worse they don't answer their help line or emails EVER!!!! It doesn't matter if you are a paying customer or not. I have paid for invites and Thank you cards only to find errors on their pages that... Read More were not present in my file . Only to be seen after the cards were sent to people ! What a night nightmare! Stay away!!!
---
Reviewed on

1/21/2016
Megan T
The invitations came late, some not at all. When they did come, the text was blurry and hard to read.
---
FABULOUS
Reviewed on

10/28/2015
Amanda B
My Hubby and I had decided that we didn't want to kill trees, and also that we wanted to be able to quickly access RSVPs and more easily communicate with our guests. Paperless post was classy, had plenty of options, and left us with the ability to add our own personal touches... Read More throughout. Also made sending thank you cards SO EASY!! And then we moved and were able to send WE MOVED cards to everyone SO QUICKLY!! Couldn't recommend this site more!
---
Beautiful Designs
Reviewed on

10/25/2015
Whitney B
I used Paperless Post for my printed Save the Dates, Wedding Invitations and Welcome Cocktail Invitations. They have so many beautiful designs that I could not find anywhere else and the quality is excellent. The support team was always prompt to help guide me along the way.... Read More They even sent samples and took the time to explain the different printed processes. Thank you!
---
Awesome!
Reviewed on

10/13/2015
Marisa R
We used Paperless Post for our wedding invitations and rehearsal dinner invites. The paper quality is AMAZING and customer service is great. We went with the extra thick paper for our wedding invitations which gave them a more expensive feel even though we got a great deal. I... Read More was able to make a custom rehearsal dinner invitation using their clip art and fonts, we loved them and got many compliments on both invites. Highly recommend!
---
Paperless Save The Dates
Reviewed on

9/25/2015
Julie F
We used Paperless Post to email our Save the Dates out to our friends and family. While this is still unconventional to do, we loved the ease of everything being electronics, and our guests really liked it too. First of all, emails are a cheaper option: we were able to sent... Read More out over 200 invitations for less than $40, and customize it to what we wanted. Secondly, you can see who has opened the email, who has yet to read it, and which emails bounced back. It is easy to add a few more emails and re-send the same invite with the same information. In addition to this data collection, guests are able to respond to the email if you wish. This service would also be great for collecting addresses, or even sending out actual invitations if you are going the paperless route for that too. Paperless Post is easy to navigate, and they have a lot of super cute options for customization and already-designed invitations. We will be using this for more events in the future!
---
Perfect!
Reviewed on

9/01/2015
Halley S
Used them to send invitations to people who were on the internet- which is almost everyone these days. Still send invitations via mail to grandparents but used Paperless Post for all the rest. Great ability to track who opened the invite and good designs that made it my own!
---
Easy to customize
Reviewed on

8/21/2015
Julia M
We made or wedding invitations with them because we were not sending paper invitations and they have a large selection of digital designs. They have a beautiful selection, and you can customize them any way you want. We managed the guest list through their portal and shared our... Read More wedding registry through them too. It was super practical, and inexpensive. We ended up ordering a printed version of our invitations, for around $36 for 10 sets of invitation and envelopes. The quality of the prints and envelopes was very good too.
---
Beautiful Invites
Reviewed on

8/11/2015
Jessica R
We absolutely loved our invites! We now you paperless post for all of our stationary needs.
---
Satisfied Customer
Reviewed on

8/03/2015
Judy N
Great selection, quality invitations at an affordable price.
---
Innovative!
Reviewed on

7/21/2015
Michele K
We met online, my husband is a web developer, we needed invitations to reflect us. We were looking for an electronic way of doing classy invites and landed here. They were prefect! Not only were the invites superb, with their fancy animations, but the tracking for RSVPs was... Read More amazing! I felt so much luckier than my friends who sent paper ones, because my RSVPs were all organized for me. I could log in from anywhere and see who had opened it, who hadn't, who was coming, who wasn't. And I could add to the invite at anytime and it would automatically change in our guests emails. I could resend invites that were lost in inboxes- it was great! All these perks came at a fraction of the stress and the cost, and saved paper too! I highly recommend!
---
Reviewed on

7/12/2015
Molly S
I used Paperless Post for my Save the Dates and Thank You cards. I was delighted with the quality of their products, their designs, and their excellent service. I would not hesitate to use them again!
---
Great for RSVP management!
Reviewed on

7/09/2015
Crystal W
We had so many friends and family spread out mostly in the US and Canada, but other parts of the world too. We decided against paper invitations for a couple main reasons. We didn't have time to manually count and mange RSVP's and we also wanted a way to link our website and... Read More wedding emails altogether. We loved using paperless post. The layout to make invitations is very easy and the RSVP section is well organized. I would this again for an event and highly recommend it to those who are low on planning time!!
---
Easy to Use and Affordable
Reviewed on

7/07/2015
Westley R
I used Paperless Post for my engagement party invitations and for planning my friend's bachelorette party. It's easy to use, free (for the most part), and has really beautiful designs.
---
Quick and Easy
Reviewed on

2/11/2015
Tiffany K
These are very convenient if you are planning a last minute wedding and are not allowed the time for paper invitations. It was nice to have everything organized online also.
---