Home

PENNYPACKER'S
About this Vendor
Artful and Unique for your Special Day
Pennypackers has made its name on quality of food. For the last six years, we have used our diverse culinary and artistic skills, along with our food truck, to cater some of the most beautiful and fun weddings in the area. We have the ability to travel, set up anywhere, and put out amazing food where ever you might want to have that special day. The sibling run business tries to balance fun, elegance and the highest quality of food.
Details
American, French, Italian, BBQ, Fusion, Specialty
Gluten Free, Vegan, Vegetarian
Buffet, Catering Clean Up, Catering Delivery + Setup, Chef Stations, Family Style, Food Trucks, Menu Tastings, Passed Appetizers, Servers, Food + Catering, Service Staff
Contact Info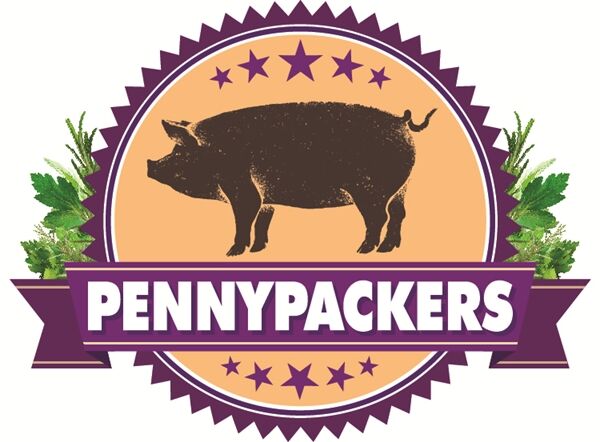 Reviewed on

10/21/2016
Michelle K
We've been long time fans of PennyPackers food truck and brick and mortar store in Somerville. As we began planning our wedding, we looked at many caterers and to our dismay we were being offered uninspired, bland food choices for high prices. So we looked into food trucks which... Read More fit our more casual style. We contacted PennyPackers and began working with Kevin, one of the owners, to start planning. Working with them has been a great experience, they were our one stop shop for everything. Along with the delicious food, they bartended, they worked seamlessly with the event manager for set up and take down, we wanted pies instead of cake and they made three different kinds in house that were all great. They basically asked us what we wanted and then made it happen. Kevin made sure everything went smoothly the day of and we got nothing but rave reviews about the food. If you are looking for something different but high quality for your big day I couldn't recommend them enough.
---
Reviewed on

1/07/2018
Ryan E
We were privileged to use Pennypackers to cater our wedding party this past October and could not have been happier with both the service and the food. Kevin and Ryan helped us conceptualize our menu based off of our very nebulous initial thoughts for the event. They were... Read More always available to provide guidance and support whenever we had logistical questions which was fantastic since we opted not to use a party planner. They were responsible for the food of course, but they also contracted with a catering company and bartending crew who both hit it out of the park. Our venue allotted only a very small window for setup and when we walked in we could hardly believe the transformation they had performed. The bartenders were fun, gregarious, and importantly, knowledgeable. This is all to say nothing of the food which was simply phenomenal. We opted for small plates with the 'main course' being half sandwiches. We went with a mix of high and low brow for the small plates: oysters (freshly shucked at a serving station by Kevin himself), deviled eggs (a family favorite), beef, shrimp , and haloumi skewers, soup shooters, mac and cheese spoons, seasonal bruschetta, grilled polenta with mushroom ragout, beet tartare, AND stationary antipasti and crudite platters. All these in addition to the absolutely divine trio of sliders (porchetta, lamb and cauliflower) for the main suggested we would have plenty of leftovers. In fact, Ryan strongly suggested pairing down the menu so that we would not have to pay for an excess of food that was not eaten (though they said it could also be donated if we preferred). Lo and behold at the end of the night, about 7 half sandwiches remained and that was it. Our guests LOVED the food---we had numerous family members approach us after the party and claim that it was the best food they had ever eaten at a wedding. In retrospect, there are always a few things about your wedding party that you would consider changing if given the opportunity. Hiring Pennypackers was unequivocally NOT one of those things. Finding a caterer to enhance what is already going to be an intensely emotional day is quite a charge. If feels fantastic to know that we made the right decision. We cannot recommend Pennypackers highly enough.
---
Reviewed on

10/16/2017
Caitlin R
Pennypackers catered our September 2017 wedding, and we absolutely could not have been happier. My husband and I are both super into delicious food, and it was important for us not to serve a typical catered meal at our wedding. Pennypackers exceeded our (and our guests)... Read More expectations of what wedding food could be. We had about 80 people at our wedding and did a stationary charcuterie, three passed apps and then two meats from the carving station, a vegan main option and three family style sides. The food was delicious. The passed apps were amazing - my father particularly loved the smoked scallops! The star of the show was the porchetta. Huge portions of quite literally the most delicious pork you can imagine. My husband's Italian family was RAVING about how good it was. The sides were perfect, fresh heirloom tomato salad, roasted fingerling potatoes and a kale and farro salad. It was substantial without being over heavy, and it all tasted unbelievable. I'm so glad we can pop over the restaurant anytime and relive the magic. Also, we had guests with a range of food allergies and restrictions, and pennypackers handled that with no issues. My brother and sister in law are vegans and they both loved their mushroom main and that the majority of the sides were vegan friendly. The service was also outstanding. Our venue required we rent in the majority of items, like chairs, dishes, etc. Kevin and his team coordinated all of this, partially flipped the room between the ceremony and dinner and also set up our dessert table. I'm a bit of a control freak and letting go to have someone else execute a vision you've had in your mind for a year can be tough, but when I walked into the room and saw everything, I was so ecstatic by how it all turned out. The staff was also great - Kevin was out of town on our wedding date, but he and Vince (another chef) met with me at the venue to go over everything a week out. The day of staff was great - one of the staff made/served me a plate of the appetizers during photos/cocktail hour, as I was all over the place and eating (while normally one of my all time favorite activities) wasn't on the top of my priority list. Vince also worked the crowd while manning the carving station and afterwards, answering questions about the porchetta and gracefully accepting compliments from just about every guest. Overall pennypackers and their team was a standout vendor from our day! I cannot say enough about how incredible the food was and just how genuinely nice everyone was on wedding day. Five stars!!
---
Reviewed on

12/11/2016
Muriel H
Kevin and the team at Pennypacker's catered our wedding for 120 people and we couldn't have been happier with our choice. If you don't have time to read the rest of the review, just know that if you are looking for someone to cater your event and want delicious, fun food and... Read More great service, look no further. When we started planning our wedding, we spoke with numerous caterers, including both traditional outfits as well as other trucks, and quickly realized it was going to be difficult to find what we were looking for. We knew that we didn't want the traditional wedding meal options, but it was important to have enough options to satisfy our guests. And of course, it had to be tasty! After settling on a venue that allowed us free reign in bringing in our own caterer and deciding that a truck would be the best option to get the quality and price point we were looking for, the hunt for a truck was on. After becoming frustrated with some of the national food truck booking services, and meeting with trucks who wanted to provide a more traditional catering experience, we stumbled upon Pennypacker's. Our first experience was at their brick-and-mortar location, where we split a porchetta sandwich and a smoked chicken sandwich with a side of house pickles. Before we were even done eating knew we had found our food truck. Planning the menu with Kevin was a breeze- we wanted to provide an upscale spread of finger-food, including charcuterie, cheeses, pickles and snacks for the cocktail hour. For dinner, we knew that the sandwiches were going to be the centerpiece of the meal, but also wanted to make sure there were other fun, satisfying sides for a summer wedding. Kevin really helped guide us through the planning process and was great about taking last minute menu changes and also ensuring that the vegan and gluten free guests had a delicious meal as well. The final menu was perfect (three sandwich options served as halves so people could try multiples, four sides including salads and a perfect summer soup "shooter" as well as delicious lemonade and iced tea options), and quelled the skeptics who didn't think they could serve 120 people a delicious meal out of a truck in a timely fashion. While the food was the star of the night, the service that Kevin and his team provided was top-notch as well. In addition to providing the food, we also hired our bartenders through Pennypacker's and couldn't have been happier. The whole team was friendly, helpful and ready to please. Once everyone had been fed, the team left the truck and helped make sure that the tables were bussed to keep the area looking perfect. They also stayed to the end of the night to make sure that the entire clean up went smoothly. Since the wedding, we have visited the truck several times to enjoy the food and reminisce about our day!
---
Reviewed on

12/09/2016
Aaron K
Pennypacker's catered our NH wedding for a group of 185, and we couldn't have imagined using anyone else. Providing an outstanding and delicious meal for all of our guests was something that was very important to us. We started communicating with caterers about 7 months before... Read More our wedding, and of all the ones we spoke with, they were by far the most receptive to our menu ideas and our budget. As you know, they are primarily known for their sandwiches, soups, and salads; however, Kevin and his brother Ryan, worked with us both via email and in person to conceptualize a custom menu of hors d'oeuvres and entrees that was totally different from their traditional offerings. We had a mix of vegetarian and non-vegetarian guests, and after coming up with a solid menu together, they brought us into their brick and mortar shop to taste some of the menu items we had decided upon. It was here and without hesitation that we immediately agreed to use them. They drove their food truck up to NH for our wedding, showed up nice and early, and cooked a fantastic meal for us and our guests. To this day, we still have guests who tell us that it was the best wedding meal they've ever had, and we couldn't agree more. Just to give you an idea of a few of the items they prepared: mushroom arancini, pigs in a blanket (both meat and veg-friendly), beet (not beef) tartare, whole grilled branzino (each guest got a WHOLE fish, this was a huge hit!) with sauce gribiche, Korean bbq tofu skewers with a shaved cucumber salad, grilled corn on the cob, and grilled peach and heirloom tomato salad. While we didn't take them up on this, they were also prepared to do a full coffee service for our party later in the evening. They were extremely professional and brought a full staff with them that passed hors d'oeuvres around and served dinner. They were very organized and neat, and as mentioned numerous times, and most importantly, cooked amazing food that left guests wanting more. If you are looking for a wedding caterer that is open to your ideas and will work with you to tailor a menu to exactly what you're looking for while working within your budget, then go with Pennypacker's, and you won't be disappointed.
---
Meet The Owner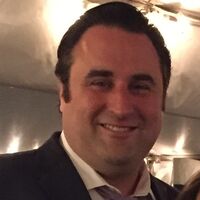 Kevin McGuire
Growing up on Cape Cod, catering and restaurants are just what we did. My brother and I have spent our entire lives making people happy with food and service. He runs and kitchen and I make the clients happy. We have a well balanced business where you will always feel special. Making unique menus custom for a client, then making it come to fruition in a gorgeous setting is what we love to do. This is our passion and we would love to use that passion to inspire your special day.