Home

Perfect Fit Bridal Tuxedos Prom®
About this Vendor
We will help you find the "Dress of Your Dreams"
Perfect Fit Bridal Tuxedos Prom® is the largest bridal and prom store in Michigan. We have over 500 different styles of wedding gowns to choose from. Our no pressure approach and passion to help you find the dress of your dreams will make your bridal experience a day to remember! Bridal appointments required on weekends. We prefer appointments every day so that we can schedule you in your own, private bridal suite.
Details
Bridesmaid Dresses, Flower Girl Dresses, Mother of the Bride Dresses, Wedding Dresses, Alterations, Bridal Stylists, Dry Cleaning + Preservation, Group Discounts, Plus Size Available, Private Appointments Available, Fashion Services, Fashion
Contact Info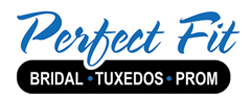 Reviewed on

1/22/2017
Vesta H
Perfect Fit was the first place on my list when I started Wedding dress shopping. I was extremely nervous and anxious, it's was a huge weight on my shoulders. On my first day at my first appointment, Kelly, my consultant, made me feel so much better so quickly. She took the time... Read More to figure out what I wanted and made me feel so comfortable. I left having purchased the dress of my dreams and one of the best experiences of my wedding planning so far. I will absolutely be back soon for my bridesmaid dresses!
---
Reviewed on

2/01/2017
Samantha L
I loved my experience at Perfect Fit! They all made me feel so special, especially Jill! I can't wait to see what fun the alterations department will add. Thank you for helping me check a beautiful wedding gown off my list!
---
Reviewed on

1/07/2017
Misty T
I was so stressed about finding my wedding dress but Lucy and all the staff from Perfect Fit made it an enjoyable experience and I ended up choosing a dress that I never could have imagined picking. Thank you so much for all of your patience and guidance!
---
Reviewed on

9/10/2017
Allison S
Paula was so helpful at Perfect Fit! It was so stress free. I truly appreciated how personalized the appointment was!
---
Reviewed on

9/09/2017
Baley K
I want to take a moment & share my experience about Perfect Fit in Clio MI. I recently got engaged, & finally had the opportunity to start looking for my perfect wedding dress. I made my first appointment to start looking for the "dress" at Perfect Fit. The store is close,... Read More convenient, & affordable! I had a great dress consultant named Paula who was very patient & helped me find my dress. Paula went over what I was looking for in a dress, & showed us where to look, gave us tags with her name on it for us to place on the dresses I wanted to try on, or even what my mom & sister wanted to see me in. I had a blast, every dress I tried on was beautiful! Upon trying on my second dress I fell in love with it & it was at the top of my list. I continued to try on the others, however nothing beat that second dress, it remained my number 1. Finally dewindling them down, I had a hard decision between two dresses, I even tried them both on multiple times!! Paula helped make my decision very easy when she asked if I would be ok to let someone else try on my dress. I knew right than that I couldn't pass it up! I said YES to my dress with my first appointment with Paula's help at Perfect Fit in Clio. I highly recommend this dress shop, everyone is friendly, have a wide variety of BEAUTIFUL dresses, & very affordable! We definitely will be going back to get the wedding parties dresses! Thank you so much for a great experience & a day to remember!
---
Reviewed on

8/30/2017
Jessica T
Only needed one appointment to look for a wedding gown. They got me in last minute. Lauren helped me out a lot, she made sure to hear what I liked about the dress first. I would recommend this place to anyone ♡.
---
Reviewed on

8/24/2017
Angela G
WOW! All I can say is WOW! For an experience of a lifetime, go here and see Paula. She is so kind and extremely helpful and did not once make me feel pressured or rushed. I got to choose every dress I wanted to try on. My girls got to try on some bridesmaids dresses. Even the... Read More moms got to see if they could find their perfect fit (and one of them did!). I got my Dress, Veil and Hairpiece here and I could not be happier. What an amazing experience. They are also extremely accommodating with all of the "after" details. You will not be disappointed!
---
Reviewed on

8/22/2017
Colleen G
Perfect Fit was my first and only stop for a bridal gown. Upon arriving to the store the people and atmosphere were welcoming. Jill was accommodating and helpful. She let me start the appointment by looking through the dresses and tagging the ones I liked. Then she took them to... Read More the room for me. While trying on the different dresses I described to her what I liked and didn't like about each dress. She comes in with a dress I didn't even remember seeing on the floor and that was the dress I feel in love with and bought. She listened to me and followed through. I have had alteration appointments since then and all of the staff has been helpful. My dress was bought off the floor and was way to big and they added a corset back to it and the dress became even more beautiful. I highly recommend Perfect Fit! They really listen to you and care!
---
Reviewed on

8/21/2017
Tiffany C
I just bought my dress there yesterday and am so so happy with it! It truly was a perfect fit too as I hardly need any alterations! I can't believe I found my dream wedding dress at the first store I shopped at AND the very first dress I even tried on! Holly was incredible and... Read More so sweet and knowledgeable! I recommend Perfect Fit to anyone.
---
Reviewed on

8/19/2017
Lisa H
Perfect Fit has an amazing selection of dresses! They had exactly what I was looking for and much more. I ended up purchasing a beautiful gown. Having a private suite with a deracinated consultant helped the process go smoothly.
---
Reviewed on

8/18/2017
Jessica E
This was the first and only stop I made dress shopping. I picked my dress after trying on 11 different ones! They were very helpful and amazing to work with. I thought I wanted a certain style dress and ended up with something completely different. But if they didn't show me how... Read More all the different styles fit and look like I would have never found my dream dress. I am taking my bridesmaids there this weekend to get their dresses. I would totally come back if I ever need a formal gown.
---
Reviewed on

8/18/2017
Tara S
Lauren at perfect fit was amazing! My bridesmaids and I had so much fun trying on dresses with her. She had so many great suggestions and even picked out my dress! Perfect fit had a large selection of beautiful dresses and I would recommend them to anyone.
---
Reviewed on

8/17/2017
Kim N
The staff at perfect fit was very friendly and helpful. Had a great experience getting my mother of the groom dress.
---
Reviewed on

8/17/2017
Shelby S
I had a great experience at perfect fit! I walked in know a designer I loved (Stella York) and the girls helped me find the perfect dress for my big day!
---
Reviewed on

8/15/2017
Emalee D
This was my third salon I went to and was so impressed! I found my dream dress and was so happy with Lauren and the service we received!!
---
Reviewed on

8/15/2017
Alexis G
My experience here was fantastic. Lauren was amazing. She was very professional but fun to work with! I went in with me (the bride), my 4 bridesmaids, 2 aunts and a niece. Nothing about the experience was stressful. Lauren was honest with her opinion, without over stepping... Read More boundaries. I was so nervous I wouldn't be an.e to find the dress I loved, but after trying on a few to get an idea, Lauren went out and found the perfect one!!! I would highly recommend The Perfect Fit in Clio. The prices ranged from about $400-2500. But most were around 1500. I believe this is reasonable
---
Reviewed on

8/14/2017
Karlee S
Between my family we have bought 16 dresses from this location recently. Overall good experience. Paula helped me out greatly finding a dress. Felt very comfortable with her. Had one hiccup but we are in the process of getting that ironed out.
---
Reviewed on

8/13/2017
Annie M
Paula was our attendant and she was amazing!!! They have lots of dresses for brides size 24+ to try on, and we did not feel rushed in the slightest. Wonderful experience!
---
Reviewed on

8/10/2017
BRENDA B
I would recommend Perfect Fit to everyone. Friendly staff that are very helpful. I am so excited since finding my dress and attending my last fitting...its absolutely perfect I can't wait to put it on in 2 short weeks!!!
---
Reviewed on

8/09/2017
Brenda B
Referred by a friend and I absolutely loved this bridal salon, found my dress on first visit. I was on a tight schedule of just over a month and they were able to work with that and get me my dream dress!
---
Reviewed on

8/06/2017
Bethany D
This was the third bridal salon I went to trying to find my wedding dress. Holly was great to work with. She was super nice and made me very comfortable trying to find a dress. I had to choose between multiple dresses since they had such a great selection. It was very comforting... Read More because everyone at Perfect Fit was so helpful and understanding with me thru this process that can be overwhelming at times. Highly recommend!
---
Reviewed on

8/05/2017
Lacey T
Wonderful! The entire staff were all very helpful in helping me find the dress of my dreams and understanding the process. I have gone to many other dress stores and never felt welcome, but at Perfect Fit I felt more than comfortable. They have an amazing verity of dresses and... Read More accessories. So glad I decided to go there! I recommend them 120% :)
---
Reviewed on

7/30/2017
Laura T
This place is great. They have many great selections of wedding dresses and Holly was great at helping try on many dresses until I found the perfect dress for me. They were able to answer any questions I had and I can't wait to take my bridesmaids there to find their dresses
---
Reviewed on

7/29/2017
Sharneese M
Before going to Perfect Fit, I had went to 5 bridal boutiques and tried on 15 or more dresses. When I entered the store I was getting emotional and didn't know why, but after the first fitting and with the help of Debbie, I FOUND MY DRESS! It was everything I could ask for at a... Read More reasonable price.
---
Reviewed on

7/18/2017
Veronica F
My girl was Lauren and she was Fantastic. I wasn't pushed towards anything and left the first time with no Dress but did come back to say yes to the Dress. I loved the Private Rooms and selection.
---