Home

Piece of Cake Desserts
About this Vendor
Piece of Cake Desserts
You've found the premier wedding cake studio in the Phoenix Metro area. We work with all of the best reception sites in the east valley to create over 350 amazing custom wedding cakes every year.
Details
Cake Delivery + Setup, Cake Tastings, Cakes + Desserts
Contact Info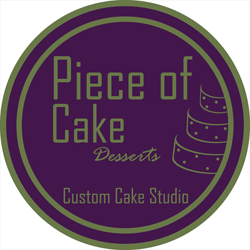 Bride
Reviewed on

7/07/2014
Mariah G
I originally found my wedding cake design on Pinterest. When I brought the picture to the baker it was actually a cake they had designed! He listened to exactly what I was asking and looking for. The cake was a huge hit, amazing flavor!
---
Yum!
Reviewed on

1/15/2012
Leslie P
Our wedding cake came out beautiful, delicious, and was on time!! They mirrored a photo I brought in and it came out just absolutely lovely. It was also totally delicious and I'm not much of a cake person! The tasting and consultation is free so why not check them out!? The cake... Read More was also on time and she put the flower details I had brought on it on the spot and set it up on our cake stand. It was absolutely gorgeous and just what we wanted.
---
I need more then 5 stars
Reviewed on

12/29/2011
Missie M
WOW I was speechless when I saw my cake as I did not want the typical cake.Kevin did a fantastic job. I wish I could post pictures. My guests LOVED the cake.STOP looking and book him.
---
Reviewed on

3/21/2017
Katie R
Piece of Cake was the baker included with our venue and I am so happy that they were! Their team exudes excellent customer service and the cake was both delicious and beautiful. Kevin was incredibly personable and made the whole experience really fun and something to look... Read More forward to. They are really open to making your vision come to life and they are super professional. You are definitely in good hands with them!
---
Reviewed on

2/20/2017
Alaysha k
We just got married on 2-18-17 and man the cake was to die for. After the cake tasting four months prior I mentioned in our thank you speech that the groom and myself had been waiting 4months to eat this cake, so let's eat! We can't wait for our anniversary cakes in the years to... Read More come!
---
Reviewed on

2/07/2017
Courtney L
Cake was amazing. When I went to decide on cake flavors they made it so easy. Super friendly and my cake was beautiful and exactly what I wanted.
---
Reviewed on

12/02/2016
Nicole D
I found my idea on a website and when I brought it to Kevin he took one look and said they would make it happen. The tasting was amazing and everyone loved the cake. It was so moist and came out looking like it should have been in a wedding magazine.
---
Reviewed on

11/30/2016
Gabriela E
From start to finish, Piece of Cake was great to work with. Scheduling the tasting was easy, the selection of flavors was plentiful and they brought out additional when asked. It was nice to not be overwhelmed with a too-large selection. They didn't use any fondant on the cake... Read More but the buttercream frosting was smooth and beautiful and was much nicer to eat than fondant. We even needed to make a change to one of the fillings after we submitted our selection and they were very kind and made the change without any fuss (or charge) The cake, with help from a floral spray from our florist and a third-party topper, was everything we wanted it to be.
---
Reviewed on

11/21/2016
Jordin S
The staff is welcoming and sweet. The cakes are very unique. They work with any ideas you have and make them a reality. The peanut butter buttercream and lemon frosting are to die for!
---
Reviewed on

11/16/2016
Debbie A
Our wedding cake was so delicious and exactly what we wanted. We were so pleased with how beautiful it was and the attention to detail was amazing. We would highly recommend them and will use them again for future events.
---
Reviewed on

11/16/2016
Katie E
Delicious Cake! Great service! Beautifully decorated! We couldn't have asked for more!
---
Reviewed on

11/11/2016
Sara D
We cannot say enough good things about Piece of Cake! Our cake was absolutely delicious, had an amazing light texture, and looked gorgeous! All of our guests were raving about the cake afterwards. We highly recommend giving them a call!
---
Reviewed on

11/08/2016
Clare H
This bakery was so easy to work with. Excellent cupcakes, excellent cake, easy delivery and rental returns, and very friendly staff. Highly, highly recommend!
---
Reviewed on

11/08/2016
A S
When we began researching wedding cake studios for our October 2016 wedding, there was an endless list of them. Thankfully though,, we found Piece of Cake Desserts. We signed up for a cake tasting when we were going to be in town (we were planning our wedding from Virginia)... Read More and coordinated with Amy on what types of cakes we wanted to try. The variety of cakes we tasted were phenomenal and we were instantly sold! We decided to go with a 6 inch top tier wedding cake for us to cut into, and 4 different flavors of cupcakes for the guests. Amy was amazing to work with! For two of the cupcakes, we asked Amy if she could create custom cupcakes that her shop did not have. Amy was delighted to do so! She was also so beyond accommodating when it came to our vision of the decoration for the 6 inch cake and the decorations for the cupcakes. Not only did the cake/cupcakes look beautiful, but they were to die for!! The minute guests were invited to help themselves, everything was gone, including all the extra cupcakes we got. Use Piece of Cake Desserts for any of your event needs! Amy is so easy to work with and very responsive, and the cakes/cupcakes are absolutely delicious and beautiful! We are SO happy we found Piece of Cake Desserts!
---
Reviewed on

11/03/2016
Michelle K
We got Piece of Cake with our venue package from Regency Garden. We had an idea of what we wanted when we met with them, but they helped guide us to the perfect cake. We did a cupcake tower with a small cake for just us and it was beautiful. The cakes themselves are so... Read More delicious!
---
Reviewed on

10/26/2016
Rachel F
Our wedding cake was beautiful!! We came in for a tasting, we were showed options, made our decision.. and it was as simple as that. The cake was delicious and looked great. Very pleased!
---
Reviewed on

10/10/2016
Hannah M
Stop looking for a cake place ! This is your place ! It's amazing
---
Reviewed on

10/03/2016
Kelly B
Beautiful and delicious cake! They were very easy to work with and helped us make the best choices for our day! I highly recommend them!
---
Reviewed on

7/23/2016
Erica B
We loved both our wedding cake and the grooms cake! What stood out with this company was their willingness to make us such unique cakes within our budget (steampunk and zombie cakes!). The flavor we chose was wonderful. Both the wedding and groom's cakes were the same flavor,... Read More but one of the cakes for some reason was extremely sweet - as if the sugar bag accidentally fell into the batter haha - We didn't even care! The cakes looked so cool and the other one tasted perfect. We will use this company again for any future professional cake needs.
---
Reviewed on

7/05/2016
Kristi B
Kevin designed our wedding cake, and it came out amazing. We wanted a more plain cake but with a pop of purple. We also wanted one layer to show our love for the University of Arizona because that is where we met. He put all of this together and made the most amazing cake ever.... Read More I was worried about how the UA would fit in with the rest of the cake but it worked perfectly.
---
Reviewed on

5/26/2016
Megan E
Piece of cake did our wedding cake and it was delicious and beautiful! Amy was wonderful and let us taste a bunch of flavors and was so helpful during the process. Even though we only ordered a small cake, we still received excellent service and our cake was exactly how I... Read More pictured it.
---
Reviewed on

4/03/2016
Ryan H
After my husband and I did our cake tasting with Piece of Cake we knew we had made the right decision. The flavors were on point and the cake was so moist and delicious. Not once have I ever had cake so yummy. All of guests loved our wedding cake as well. The design idea we gave... Read More to them was nailed on our wedding day. I would highly recommend them to anyone!!! Cant wait to use them for more events.
---
Reviewed on

3/22/2016
Kristen E
From the moment we went for our tasting at Piece of Cake, we knew we had made the right choice. It is the best cake I have ever tasted and we couldn't have been happier. All of our guests loved the flavors as well. The design we chose was simply yet elegant and Piece of Cake... Read More definitely nailed what we envisioned our wedding cake to look like!!
---
Reviewed on

12/06/2015
Daniel M
We chose Piece of Cake due to a recommendation from our planner, and wow are we glad that we did! We had very specific requests, and still wanted it to be affordable. They went above and beyond, and the cake looked and tasted fantastic! Additionally, we gave them our very... Read More instricate and fragile cake topper to tend to until the wedding, and it arrived in one piece! Highly recommended!
---
YUMMMY!
Reviewed on

12/06/2015
Emily W
All of our guests loved the cake! I was so happy that we were able to get the design elements that we were looking for with such high quality of work! Thank you so much!
---