Home

Porch & Pearls Event Planning
About this Vendor
A magnificent event begins with masterful planning
When it comes to love, we at Porch & Pearls agree wholeheartedly with Carrie Bradshaw: we believe in "ridiculous, inconvenient, consuming, 'can't live without each other' love." What shouldn't be "ridiculous, inconvenient, and consuming?" Planning your wedding day. That's where we come in. Porch & Pearls' coordinators exude passion, perfectionism, and unparalleled creativity and resourcefulness. We know that a truly magnificent special event begins long before the guests arrive; it begins with masterful planning. Our relentless concentration on details and our seamless delivery from start to finish applies to full-scale, glamorous galas as well as intimate, tender soirees. We bring exceptional service, experienced etiquette, and customized coordination to each and every couple.
Details
Engagement Party, Getting Engaged, After Party, Bachelorette Party, Bridal Luncheon, Bridal Shower, Rehearsal Dinner, Welcome Party, Rehearsals + Parties, Ceremony, Cocktail Hour, Day After Brunch, Reception, Rehearsal, Wedding
A la Carte Wedding Planning, Budgeting, Day-Of Coordination, Full Service Wedding Planning, RSVP Tracking, Wedding Website, Planning

Contact Info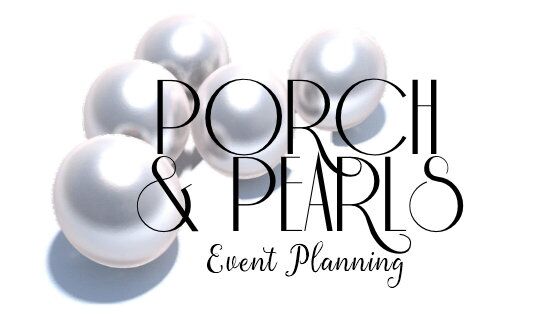 Reviewed on

10/16/2017
Cara W
Words cannot describe how awesome Marian of Porch and Pearls was. I debated on whether I needed a wedding coordinator to help me, but my fiance (now husband) encouraged me to since I was stressed, busy and my bridesmaids all live far away. Even before I committed to Marian, she... Read More was giving me tips and tricks and was so incredibly helpful. That was before we learned she is a badass superhero who runs marathons and does law stuff on the side! Words cannot describe how awesome and what a godsend she was the day of the wedding! The church had a funeral that morning so we couldn't decorate the night before like I had wanted, but she did it all for me and got so many compliments on how great it looked. My pastor, who has literally thrown wedding planners out of the church, loved her. My 74 yr old parents adore her. My in-laws loved her. My DelCo groomsmen even behaved around her. She did any little thing I needed help with and probably a thousand things more that I don't know about. Porch and Pearls is by far the BEST decision a bride could ever make in planning a wedding!
---
Reviewed on

2/18/2018
HILLARY S
Porch & Pearls/Marian is the BEST!!! My only regret is that we didn't have the foresight to hire her from day one- we hired her late in the process and have been kicking ourselves ever since! I previously thought that wedding planners were a luxury but had I known how... Read More reasonable the pricing would be and how much she could help us in the entire process AND help us save money, we would have made the decision to hire Marian as soon as we started planning. She made everything easier, more straightforward, less stressful and made us more confident in our decisions by being extremely knowledgeable about all things wedding, structured, prompt, responsive & diligent but still extremely flexible and easy to work with. Most of us going through planning a wedding are doing it for the first time and have no idea what to expect. She breaks down these barriers and is very real with you on what you can expect for your money, etc. With Marian, we knew that not only was everything going to get done, everything was going to get done perfectly. In fact, a lot of my 'day of' instructions for her were to set things up however she thought looked good/she felt was right because she earned our infinite trust. My new husband and I and our families were able to enjoy the days leading up to the wedding and the entire wedding day/night because Marian took charge of every little detail (executing exactly how we had discussed)- it was perfection. Everyone who interacted with her is still raving about Marian. THANK YOU, MARIAN!
---
Reviewed on

11/02/2017
Cait G
If I could leave 10 stars I would!! Marian was a tremendous help from day 1 and I wish we contacted her sooner. She respected my wishes for a low-key day and provided us with the level of service we were looking for. On the day-of, Marian was on-time and on-schedule. Our wedding... Read More would not have been as successful without her and we are so grateful! thank you again!
---
Reviewed on

10/31/2017
Katie B
Porch & Pearls handled my Save the Dates. Marian got them cheaper than anywhere I priced out, and turned them around quickly!
---
Reviewed on

10/31/2017
Melissa F
Porch and Pearls (and its brilliant founder Marian) is a thoughtful caring wedding consultant who really knows her clients. She understands that without knowing how the client thinks and feels about weddings in general, she cant create the right event. What she does best is... Read More listen to what I DON'T want, and realize that I have no creativity, and then suggest these wonderful ideas that would have never considered,but love anyway!
---
Reviewed on

10/31/2017
Meghan F
Marian has been amazing from the start! Our wedding is on July 3, 2018 and already she has been a huge help! I know that I can call her and she will respond fast answering my "oh so important" question at the time! LOL She has already made me feel so much better about our... Read More special day and we have months to go! I can not wait until July and knowing that Marian will make our day so special!
---
Reviewed on

10/30/2017
Michael W
Groom here! From a guy's perspective, having Marian relieve some of the stress and wedding craziness of my fiancee was absolutely invaluable. For all the little details that we men would never EVER think about, from start to finish, Marian was the best and smartest wedding... Read More decision we made. I'd hire her again in a heartbeat. Happy wife = happy life, right?
---
Reviewed on

10/30/2017
Maria D
Words can not express how much Porch & Pearls has done to make my wedding day so beautiful! Whether you're looking for a "Day of" Wedding Coordinator or a Wedding Planner, Porch & Pearls is the "A-list" event planner you want handling every little detail of your wedding.... Read More Trusting someone to bring to fruition all that you're imagining on your wedding day is quite an undertaking. Marian is timely, organized, meticulous, thoughtful and creative. With her top notch skills you can trust that your vision for your wedding day will become your reality. Thank you, Porch & Pearls, for everything you've done to make my vision a reality!
---
Reviewed on

10/30/2017
Nicole p
Loved working with Marian. Trying to keep everything organized can be a bit overwhelming. She took so much stress off me by getting appointments set up, reminded me when they were and was just there as a friend. She took a bunch of the contradictory ideas I had in my head and... Read More helped make sense of them and give them life. It was so easy working with her I would do it again. Highly recommend.
---
Reviewed on

10/27/2017
Victoria G
I found Marian searching google for a wedding planner from across the country. I live in Texas and was planning a wedding in West Chester, PA. I spoke with her on the phone for our initial consult and immediately knew that she was going to help me make my wedding exactly what I... Read More hoped it would be. Marian was an amazing wedding planner! I am definitely a type-A personality and she was able to handle anything and everything I asked of her. She was professional at all times, but I also felt like I could ask her advice as a friend along the way. She was present for everything I asked her to be there for and she was always available to talk on the phone when I wanted to run through things with her. I had some stressful moments along the way, like my bridesmaids dress company shutting down before all the dresses came in (AHHH), but Marian was there to help me find a solution and talk me off the ledge. I would definitely recommend Porch & Pearls to anyone looking for a wedding planner. Marian exceeded my expectations :)
---
Reviewed on

10/27/2017
Sarah K
Marian went above & beyond from start to finish & even after the fact, she is still helping me with some things. She made sure our dream wedding ran smoothly and handled everything so I did not have to. If anything went wrong, I had no idea because she fixed it before I got wind... Read More of it. She made sure our group photos got done in a timely fashion and our wedding party consist of 26 people and our family is even larger! She broke down all our wedding decor and packed our car up the night of the wedding so we did not have to. People cannot stop raving about how perfect things went even though there was so much going on & that's all because of Marian. I would highly recommend Porch & Pearls for any event that you want to go off without a hitch! Thank you so much Marian for helping make our day perfect!!!
---
Reviewed on

10/25/2017
Kristin M
It is difficult to reduce to words how important Marian was on our wedding day and during the weeks preceding it. My fiancé and I hired Marian as a day of coordinator, but she was so much more than. In the months before our wedding, she brought so many details to our attention... Read More that needed to be addressed. In the weeks before, she stepped in, taking the load off of me from confirming the details with all of our vendors. On the day of, however, she was truly indispensable. Marian made sure that everything went off without a hitch—or with only one "hitch", I should say. She brought every detail together, made sure that everyone was where they needed to be when they needed to be there, and ensured that our timeline ran not just smoothly but perfectly. I was surprised just how much we needed her throughout the day. Beyond being the best coordinator, Marian is a great person who puts everyone at ease (even a nervous bride). I truly cannot recommend Porch and Pearls enough! Thank you Marian for the best day ever!
---
Reviewed on

10/16/2017
Bridget N
Marian's work is worth so much more than 5 stars! She did our save the dates and invitations for our upcoming wedding. Since the first conversation with her I knew we were in good hands. Her expertise with wedding etiquette helps immensely with proper wording and design... Read More ideas. I specifically love how dedicated she is to capturing your vision as well as your wedding theme. After many drafts, Marian did not stop suggesting and creating more ideas in efforts to make both our save the dates and invitations perfect for us. The hard work and accommodating efforts is so appreciated! I highly recommend her to any bride or groom in need of her services!
---
Reviewed on

10/16/2017
Sonja S
I would rate her 10 stars if I could. Marian was professional, accessible, kind, incredibly organized, confident and reliable. I highly recommend!
---
Reviewed on

11/23/2016
Alyssa E
Marian from Porch & Pearls is amazing! She designed our wedding logo, (my fiance & I knew we wanted something specific but aren't nearly creative enough to make ourselves). Marian already has been such a help with our vendors & save the dates! Can't wait to work with Marian more... Read More going forward with our planning!
---
Meet The Owner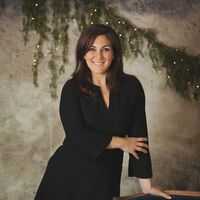 Marian Braccia
Marian Braccia is a powerful, intuitive, and creative planner and businesswoman. A native Philadelphian, Marian is no stranger to city living, working, and planning. In fact, she majored in Urban Studies at the University of Pennsylvania before earning her J.D. at Temple Law. Marian's passion and enthusiasm for event coordination became too strong to ignore after planning her own dream wedding in 2010. Having practiced law for ten years, Marian brings her negotiation, advocacy, quick thinking, and tactful problem solving skills to every event she handles.