Home

Premier Park Events
Book Your Wedding with Premier Park Events
---
A BACKYARD IN CINCINNATI, OH
About Us
Premier Park Events is a wedding and events service that works exclusively with Cincinnati Parks. Offering nine truly unique facilities, each one characterized by its own natural beauty, bridal couples looking for a tranquil park-themed wedding will be able to find the perfect space suited to their individual needs. Premier Park Events can host a wide variety of styles and tastes to create a unique wedding day with convenience and ease.
Ault Park Pavilion. Ault Park is one of Southwest Ohio's premier parks. Its Grand Pavilion, beautifully built of natural stone, has elegant European-style arches complemented by a dramatically high, vaulted ceiling. Framed by landscaped gardens it overlooks a cascading waterfall. Ceremonies can be performed on the lawn below the fountain or tucked away in a terraced garden. This sought-after venue can accommodate up to 600 guests.
Alms Park Pavilion. Alms Park Pavilion on Mt. Tusculum offers spectacular panoramic views of both the Ohio and Little Miami Rivers, as well as the hills of Kentucky. The unique octagonal terrace provides a stunning outdoor ceremony site overlooking the valley below. The natural stone building has a distinguished presence with balconies and regal arches. Alms Park Pavilion can accommodate up to 120 guests.
Mt. Echo Park Pavilion. Mt. Echo Park Pavilion offers breathtaking views of Downtown Cincinnati. This renowned Italianate-styled pavilion was completed in 1929 and is one of the finest venues of the Cincinnati Park System. Surrounded by magnificent mature sycamore trees, this historic landmark is ideal for weddings of up to 150 guests.
TM Berry Friendship Park Pavilion. TM Berry Friendship Park Pavilion lies on the banks of the Ohio River. This contemporary gem, with its distinctively curved architecture, is one of the area's most artistic sites and an ideal location for an authentic, yet modern, Cincinnati wedding. TM Berry Friendship Park Pavilion can accommodate up to 120 guests.
The French House. The French House is an exquisite century-old red brick estate nestled in the 275-acre French Park. Surrounded by rambling meadows and mature woods, it offers an array of entertaining rooms, outdoor terraces, immaculate lawns and landscaped gardens. With a gazebo and bridal suites, it offers a complete package for indoor and outdoor events of up to 450 guests.
The Gibson House. The Gibson House is a stunning 18-19th century Revival Mansion, offering elegant indoor and outdoor spaces. Situated in the Hauck Botanical Gardens, this gorgeous estate has large stately function rooms, a Solarium and a modern kitchen. It can accommodate up to 150 guests.
Krohn Conservatory. Krohn Conservatory in Eden Park is a fine example of art deco architecture that is both architecturally significant and visually appealing. Host to the annual International Butterfly and Holiday Floral Show, the park is a picturesque setting. The glass atrium provides a unique event space and can accommodate up to 150 guests.
Oak Ridge Lodge. Oak Ridge Lodge offers picturesque gardens, elegant gazebos and a tranquil lake at Mt. Airy's Arboretum. Hidden in over 1,500 acres of lush forest, Oak Ridge Lodge is a paradise for couples that love nature. The natural stone building has two patios and a terrace gazebo that can host up to 125 guests.
Maple Ridge Lodge. Maple Ridge Lodge is full of rustic charm and offers spacious interiors. It has a large covered and open patio that is perfect for a cocktail hour or covered ceremony. Located within Mt. Airy Forest, Maple Ridge Lodge can accommodate up to 200 guests.
What You Should Know
Premier Park Events provides bridal couples with a dedicated event planner that will assist with all the planning and preparation for the day. They will discuss what is needed and arrange the rental of all the tables, chairs, linens and table settings required for the day. Tables and chairs are included at TM. Berry Friendship Park and the lodges. The other venues require an additional fee for equipment. They offer a list of approved caterers that will put together a customizable wedding menu to suit individual tastes and budgets.
Extra Perks
Premier Park Events can provide our clients exactly what they need and create a truly unique wedding experience in an exceptional location. With years of experience in the wedding industry, couples can be assured that their wedding day will unfold flawlessly. Other perks include:
Rental options for expansive tenting and specialty linens
Intricate of table decorations
Amazing backgrounds for photo opportunities
Amenities + Details
Amenities
Bridal Suite

Handicap Accessible

Liability Insurance

On-Site Accommodations

Indoor

Outdoor - Covered

Outdoor - Not Covered

Reception Area
For more details about amenities, please message the Venue.
Backyard, Ballroom, Garden, Historic Venue, Mansion + Estate, Park, Tented
Bar + Drinks, Cakes + Desserts, Food + Catering, Planning, Tents, Rentals + Equipment, Service Staff
Contact Info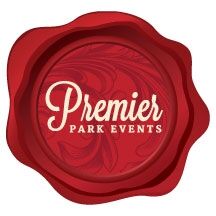 Kelly is a rock star!
Reviewed on

11/04/2015
Kelly was amazing through the whole process. Our wedding at the Krohn Conservatory was a dream, and Kelly made it happen without a glitch. She even called me on her day off when I had an urgent question close to our wedding date. The venue spoke for itself, and our guests were... Read More blown away. Very pleased with PPE!
---
Reviewed on

1/05/2018
Cari P
Wow! The Premier Parks Events Staff did an amazing job on our wedding and I highly recommend French Park as a venue. We had our reception at the French House and my husband and I were so impressed, we couldn't have picked a more beautiful and stunning venue. You get the best... Read More of both worlds, a beautiful private mansion in the park and a spectacular tented garden reception. Many of our guests mentioned that it looked like a wedding out of a magazine and it really did. A lot of our guests told us that it was the best wedding that they've ever been too. The Premier Park Events Staff, especially Kevin, Nikki and Eden made sure that our event was flawless that night and that everything flowed smoothly. They made the wedding planning very easy and I can't appreciate them enough for all of their hard work. The staff was really detail oriented and we did not have to worry about a thing! They were absolutely amazing. Thank you again!
---
Reviewed on

12/21/2017
Julie S
I got married at Krohn Conservatory. It was a dream come true. If you like the serenity of parks, this event team can help you to plan a lovely setting either indoor or out. I had both my wedding and reception there but you can choose and they help you plan and coordinate with... Read More the other vendors.
---
Reviewed on

6/14/2017
Melodie T
My daughter got married this past weekend at Alms Park. It is a beautiful park and we used the top of the pavilion for the ceremony. The staff at Premier Parks was great. We had one minor hiccup, but they were quick to correct things. Overall, we had a great experience with... Read More Premier Park Events and would definitely recommend them for special events.
---
Reviewed on

6/04/2017
Kelly W
We just had the most magical wedding night and we have to tip our hats to Molly and Premier Parks. We got married at Alms Park and Molly helped coordinate such a perfect reception. Her honest input, professionalism, and eye for designing our layout made our planning process so... Read More much easier. We definitely recommend it! Getting married at Alms Park was the greatest night of our lives, thanks Molly!
---
Reviewed on

10/19/2016
Kelsey S
If I could double or even triple this rating I would. My wedding at Krohn Conservatory could not have been more perfect. The setting was the ideal place for us as we were looking for that outdoor vibe without having to worry about the weather. The staff at Premier Park Events... Read More really work hard to ensure that you have the most perfect night of your life. They have a variety of venues to choose from and they even have a staff member work with you every step of the way to make sure every little detail is in place. For someone who wasn't entirely sure how to go about planning a wedding, they practically did it all for you. From answering all of my detailed questions to making sure all of your vendors were on the same page. They set up AND tear down for you and even go out of their way to make sure everything is perfect. Without even telling them where we wanted specific decorations, they were able to make the venue look amazing and exactly how we wanted it. I can not thank them enough for their hard work and help throughout the process. I probably got more compliments on my venue than anything else. Thank you thank you Premier Park Events!!
---
Reviewed on

9/28/2016
Ashley G
We had our wedding at Alms Park. It was the perfect day. The venue is absolutely gorgeous. We worked with Sarah from the beginning. She was quick to reply to any email questions I had (and I had many!), returns calls promptly and was just all around a pleasure to work with. We... Read More would recommend PPE to anyone! The layouts they give you during the planning meetings are great. They also do a great job coordinating all of your vendors for setup the day of.
---
Reviewed on

7/13/2016
Meredith L
I absolutely loved working with Allie at Premier Park Events. Our wedding was at Ault Park in May 2016. We are from out of town, but Allie was so flexible in meeting with me to discuss the details of our wedding. She definitely understood the "vision" that I had for our ceremony... Read More and reception! Allie followed up with all of our vendors a week before the wedding to confirm drop-off times, which was so helpful for this stressed out bride!
---
Reviewed on

6/24/2016
My daughter's wedding was just wonderful at French Park. So many of our guests commented on such a unique and beautiful place. Our coordinator was Allie and she was wonderful to work with. I found her to be professional, organized and confident. Allie was very responsive to... Read More any questions I had and offered suggestions when I asked for some. Katie was our day of coordinator and she was equally professional and friendly. She decorated as I instructed and the reception went flawlessly with no worries for me. Never did I have to ask her to do anything because it was already being taken care of even before I thought about it. I was able to enjoy every minute of the evening!!! Thank you Allie and Katie.
---
Reviewed on

6/06/2016
Dani S
My wife and I always knew we wanted to get married in a park. Even though it rained on our wedding day getting married outside and going with Premier Parks was one of the best decisions we ever made. Kimmy was a dream to work with. She was so sweet, so helpful and really made us... Read More feel special on our big day. She was constantly moving around making sure everything was running the way it was supposed to and she was always quick to respond during the planning stages. We got married in Alms Park and it was everything we had hoped for. The back drop was perfect. We had dancing upstairs and everyone commented on how gorgeous the park was. I don't think you could go wrong with any of their parks and you are definitely not going to find anyone more helpful than Kimmy was. I know outdoor weddings can be a little nerve wracking but if you truly love nature and the parks the weather really doesn't matter. You'll have a wonderful time with a gorgeous view. I am so thankful we chose to get married outside and so glad we were lucky enough to work with someone as sweet and wonderful as Kimmy. Thank you so much for everything you did to make our wedding absolutely perfect!
---
Krohn Conservatory
Reviewed on

8/01/2015
Elizabeth B
My husband and I wanted to have our wedding at a unique location. We didn't want a large, empty ballroom and the Krohn Conservatory gave us exactly what we wanted. The Conservatory is booked through Premier Park Events and our contact, Allie, was extremely easy to work with.... Read More Allie met us for a walk through of the location and multiple planning meetings while also answering our millions of questions in between. They required us to use one of their preferred caterers which we didn't love, but appears to be the norm. We did not realize initially that the cost of the venue did not include table, chair, or linen rental and that all of that had to be booked through them as well. While initially the venue was one of the cheapest options we looked at, once you added in these extra costs it was quickly on par with all of the other locations. Planning our wedding at the Krohn was a little different than other locations because it was open to the public during the day. We couldn't start decorating until it was closed to the public and the doors didn't open for our guests until 10 minutes before the ceremony, but everything was set up on time and Allie suggested opening a bar outside before the doors opened. This was a genius idea that all of our guests loved! It was also very warm inside, but that was to be expected when we scheduled our wedding inside a greenhouse in the middle of July. We had 100 guests and I would not suggest more than that even though they say that the location holds 120 inside. The dining area was pretty packed with just our guests and I could not imagine adding any more tables. While there are definitely some quirks to having a wedding the Krohn, overall we had a great time and are very pleased with our decision to have our ceremony and reception there. The conservatory is beautiful and required absolutely zero additional decorations. Our guests loved the unique venue as well (other than the heat).
---
Very Happy with Premier Park Events
Reviewed on

6/25/2015
Ashley S
I recently had my wedding on a Sunday in June at Ault Park. Kimmy with Premier Park Events (PPE) was my Ault Park coodinator and I have to say she really did an amazing job for us! Not only was she incredibly responsive via email or text when I had a question, but she... Read More definitely went out of her way several times in order to help us make our wedding day wonderful. Prior to the big day she made time to meet with me on several occassions to discuss table layout, linen selection, you name it. She was always friendly and positive... which can be tough when you are dealing with crazy brides all day long and all weekend. On the wedding day she and her associate were organized and calm, which helped me be able to just enjoy celebrating with family and friends... I truly had an wonderfully amazing wedding and it wouldn't have been possible without a great coordinator working with me. For any couple looking to have their wedding at Ault Park or any of the other Cincinnati parks that PPE work with, please be aware that the couple is responsible for obtaining and working directly with all of the vendors for the wedding (there is a lengthy list of caterers that can work with PPE)... including the caterer, DJ, lighting specialist, photographer, florist, etc. I started my planning process almost a year in advance to start researching quality vendors. The PPE coordinator is mainly just for the park, he or she can make recommendations and does coordinate "day of" details with the vendors you end up selecting for the wedding, but the couple intially selects each vendor and works directly with them. This can be a little surprising considering the cost to have a wedding at Ault Park is not cheap, but the beauty of the pavilion and the surrounding lawns and treescapes are breathtaking. We had our wedding on a Sunday in order to save some $$ which worked out very well for us. If you do work with PPE, the company hosts various food and wine/beer tastings throughout the year at the Gibson House so you can try many of their approved caterers and sample the beers and wines available for your event. Note, the alcohol package is purchased through PPE and is a little more rigid than some other venues we considered. If you are really picky, it's a good idea to discuss options with your PPE so that you have the alcohol you want at your event. For any couple considering a beautiful outdoor park wedding and is starting their planning process well in advance (at least 7-10 months), I would definitely recommend Ault Park Pavilion and PPE! :)
---
Beautiful Location, Need to be Organized
Reviewed on

9/16/2013
Amy G
I consider Premier Park events locations to be some of the most beautiful and iconic in the city. That being said, it can be quite expensive to do a wedding through them because every piece of furniture, linens, plates, etc. needs to to be rented separately. Overall, I felt... Read More the customer service from Premier Parks was very good. I had no request unfulfilled, and my wedding turned out perfect. However, I feel that the company could do well to streamline the process for brides a bit. Once I submitted my deposit, I was never given a timeline of when to set meetings to set a layout, etc., and was not even told who my day-of coordinator would be until 2 weeks before (when I called to ask). In my opinion, the day-of-coordinator should be designated well in advance so that communication is easier. In addition, Premier Park does not communicate ahead of time with your caterer, so you must be the "go-between" the two companies. For instance, PPE and my caterer disagreed on the number of buffet lines needed, and I wasn't really sure how to resolve that. The same goes for a lighting/microphone company - it is a separate contractor, so I had to call both parties on multiple occasions to get things sorted out. All in all, they turn out beautiful ceremonies and receptions and really take care of you on the big day, but be prepared to be organized and take initiative beforehand.
---
needs improvement
Reviewed on

7/03/2013
CASSIE B
Overall, we loved our wedding ceremony & reception and things ended up working out well, thanks to the beautiful venue and our other vendors who were very reliable. However, it was fairly stressful to work with Premier Park Events. It seems they are under-staffed and unable to... Read More be responsive, prompt for meetings, or to provide a higher level of customer service that is expected for the cost and importance of the events they are handling for their clients. As the best examples of the stress we experienced in our communication with PPE, our assigned event coordinator was a half hour late arriving to our scheduled rehearsal time the day before our wedding. On the day of our wedding, our coordinator never came, due to issues occurring at another park venue, and her business partner handled our event instead (they were also 15 minutes late arriving the day of our wedding, and we had vendors waiting to get in and begin set-up). In the end things worked out well, however the stress we experienced was unnecessary and unprofessional. If PPE were an independent vendor separate from the park system, they wouldn't be able to keep clients if they treated them the way we were. The company seems disorganized and emotionally disconnected from their clients' most meaningful events. I would recommend hiring an event coordinator if you choose a Premier Park location.
---
Dream Wedding <3
Reviewed on

5/28/2013
Sarah B
The French House at French Park is the most beautiful place to get married and have a wedding reception. I grew up just down the street from the park and have always dreamed of getting married there. The location is just beautiful and the house is so elegant. The site was... Read More perfect for taking pictures and a great location. I would highly recommend getting married at any of the Cincinnati Parks!
---