Home

Pure Bridal
About this Vendor
Ames' Premier Bridal Boutique
Pure Bridal brings a chic and modern bridal experience to Ames, Iowa. We have a well-edited collection that caters to a stylish and elegant bride. Our consultants are professional stylists dedicated to providing you with our undivided attention while assisting you in find the perfect wedding attire.
Details
Bridesmaid Dresses, Flower Girl Dresses, Mother of the Bride Dresses, Wedding Dresses
Contact Info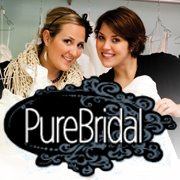 Best Bridal Store EVER
Reviewed on

9/19/2012
Katie M
I cannot give enough praise to Rita, Kayse, and the staff at Pure Bridal. I went to several other bridal boutiques looking for my gown, but kept coming back to Pure Bridal for their service. They go above and beyond to make sure the bride, groom, and entire bridal party are... Read More outfitted for the wedding. At no other bridal store did I receive such personalized attention as I did here. They make every bride feel as if she is the most important person in the world, helping you in and out of every dress so you don't even have to lift a finger. We did find my dream wedding dress at another store for a slightly cheaper price, but the service and peace of mind with purchasing at Pure Bridal was worth it to us in the end to purchase our gown here. Also, I found that Pure Bridal had the best selection for different sized brides. They make it so that any size bride can pretty much try on almost any gown they so choose. They are great at picking out the right dress for your body type. I went in and fell in love with a dress I didn't even pick out, Rita picked it out for me! Not only that, we were able to find the bridesmaids dresses, undergarments, all jewelry, shoes, and tux rentals all in one store! It truly is a one-stop-shop. The seamstress Karen they work with at Pure Bridal is also amazing. The entire team makes you feel reassured and tries everything in their power to get you whatever you want! I would choose no other place in Central Iowa to purchase a wedding gown other than Pure Bridal. If you read this review and stop in, please tell them that Katie Mooney sent you!
---
Reviewed on

6/08/2017
Elizabeth E
I just bought my wedding dress from pure bridal last weekend and it was the best experience! Rita was my consultant and she was amazing! I absolutely love my dress and feel like I have the whole bridesmaid dress search more under control after Rita talked me through it! Can't... Read More wait to see my dress when it comes in and shop for bridesmaids dresses in the future!
---
Reviewed on

5/06/2017
I just bought my wedding dress at Pure Bridal earlier this week and they completely went above and beyond my expectations! They gave me options to customize my dress to make it fit my style perfectly! The consultants all worked together to make sure that I was getting the best... Read More treatment possible. I would absolutely recommend Pure Bridal to anyone who is looking for a unique and personalized experience with their wedding dress shopping.
---
Reviewed on

4/06/2017
Janet M
Rita and her staff went over and above all expectations!! Your gown choices, jewlery, veils, shoes were heads above any other bridal boutique. We purchased everything we needed in one place - unbelievable! I have looked at other shops and on line and nothing else compares... Read More with your inventory. You even helped us when we had a photographer issue and encouraged us to call you if we ran into any difficulties with any of our planning. Your staff made the day, and the whole experience memorable and BEAUTIFUL! We can't thank you enough!
---
Reviewed on

3/26/2017
Malorie C
I highly recommend Pure Bridal! The best selection of wedding gowns in the area hands down! The staff was very friendly and helpful! 🙂
---
Reviewed on

3/24/2017
Morgan R
I honestly loved my experience at Pure Bridal! They are very personable and make things super easy! When I found my dream dress they made it special. They are very reasonably priced and great to work with!
---
Reviewed on

3/23/2017
Abby T
I loved Pure Birdal!!! They have an adorable store and definitely trend in the latest Bridal gowns! They were great about sticking to your budget too. Will definitely recommend this to other brides.
---
Reviewed on

3/23/2017
Kayla F
I am so impressed with Pure Bridal! All the consultants have been wonderful and easy to work with! I have had some issues with the actual company I ordered my dress from and Pure Bridal has gone above and beyond to get it solved!
---
Reviewed on

3/23/2017
Andrea B
Loved, loved, loved everything about this place! Everyone in there was so helpful and friendly. They asked what I wanted and really stuck to my budget. They also really helped me to figure out what exactly I was looking for. I had my one on one consultant helping me but I think... Read More there had to have been at least 3 other people stop and see how it was going and if they could help! The trunk show going on brought a few extra people over too and they were just as helpful. They made sure the dress I wanted would be here on time. I didn't make my final decision right there in the store but when I was ready to, they were just a simple phone call away. They even let me come back to next day to try it on one more time. I would highly recommend shopping here!
---
Reviewed on

3/23/2017
Heather M
Attention Curvy Iowa Girls Please, Please visit Pure Bridal in Ames, IA. It is absolutely worth the drive! I was able to find a gorgeous gown in my size and budget. The ladies there are super sweet and very helpful!
---
Reviewed on

3/21/2017
Mallory D
Huge selection of dresses and the staff was awesome! I would highly recommend Pure Bridal to brides looking to get the perfect dress!!
---
Reviewed on

3/19/2017
Jessica R
Like everyone else, I had a great experience at Pure Bridal! I was super anxious the week before my appointment, but Claire was really nice and upbeat and encouraging! Being my first appointment, I had no idea what would happen. My expectations were actually low that we would... Read More find something that would work for my pear shape and my 6 month timeline. But Claire pulled a variety of dresses that all met my criteria and we find THE dress during that first (and only) appointment! I was thrilled and relieved and realized I needed to step up my wedding planning to match the elegance of my beautiful Allure gown!! Thank you Pure team!!
---
Reviewed on

2/05/2017
Taylor F
This place was THE BEST!!! I had been to 3 places prior to trying dresses here. I was looking for a specific dress and Rita found me one that was even better than what I had in mind. She listened to everything I had to say and made everything that I asked happen. She was so... Read More incredibly helpful and wondeful to work with. The selection of dresses is by far the best I have come acrossed and the process of trying on and accesorizing them was just perfect. I would recommend Pure Bridal to every bride no matter what you are looking for, they are the best!!!
---
Reviewed on

1/25/2017
Ann W
This store is FANTASTIC!!! My daughter and I went dress shopping on a Saturday morning not realizing we needed to make an appointment. We walked into Pure Bridal and the receptionist said we were welcome to look around but she was not sure if/when someone would be able to help... Read More us. Within the first couple of minutes a consultant was with us and taking down our information and before we knew it we had a consultant (who turned out to be the owner!!) grabbing us and several dresses! Amanda was in a dressing room and in a wedding dress! About an hour later we were done and had purchased the first dress she tried on!!! The people in the store really know what's going on. We were able to choose a price range, tell them what kind of dress Amanda was looking for and they came up with just what she wanted and more!!! I cannot speak highly enough of the store and the staff. Thank you to Pure Bridal for making our experience one we will never forget!!! Ann Wilde, future MOB
---
Reviewed on

1/14/2017
Laura D
The consultants and atmosphere at Pure Bridal were wonderful! Accommodating, helpful, cheery, and professional. A great way to find a dress for such an important day!
---
Reviewed on

1/08/2017
Courtney W
I had never had a bridal appointment before, and the ladies at Pure Bridal made my experience amazing! I worked with Claire, and she was so fun and knowledgeable, she made me feel comfortable right away. I love how she listened to what I liked and disliked, and helped me find... Read More the perfect dress. When we were looking through the racks, other consultants and employees were great help at finding options that I would like. I wasn't going in anticipating that I'd find my dress, but I am very pleased with my experience and I would recommend Pure Bridal to anyone planning a wedding. Thanks, ladies!
---
Reviewed on

11/22/2016
Liz B
I LOVED everything about my experience at Pure Bridal! Everyone that helped me was wonderful and so professional! This bridal salon is a hidden gem in Iowa! I loved the sweet associates who helped me! Both Rita and Kayse were excellent! :) I purchased my dress, shoes and all my... Read More jewelry from Pure Bridal and loved everything about my wedding day! I brought the dress down to Arkansas for our wedding and everyone loved it! I would highly recommend this bridal salon to anyone!
---
Reviewed on

11/14/2016
Kenzi P
Pure Bridal was a great experience for me. The staff was friendly, helpful and understood my style. It was a great, clean and inviting atmosphere. Thank you, Rita and Pure Bridal team. With your help, I'm really looking forward to the big day!
---
Reviewed on

11/13/2016
Ellary N
I was over visiting my fiancé and just happenstance walked past Pure Bridal. The minute I walked in I was welcomed by the staff. Rita was so helpful in learning my style and what the style was for our wedding. Within a matter of minutes I had 10 dresses to try on and all it took... Read More was the first one!
---
Reviewed on

11/01/2016
Alicia M
From the moment we walked in, I was taken back by the elegance of this store. They had so many beautiful dresses and great designers! My consultant was absolutely amazing and extremely patient with me as I am very indecisive. I would recommend going here to find your perfect... Read More dress! You will have the experience of a lifetime :)
---
Reviewed on

10/31/2016
Madison S
I cannot say enough great things about Pure Bridal. I worked with Rita and she truly found me the perfect dress. I was really torn between two dresses and she came in on her day off to let me come back to make my decision. Pure bridal has a huge selection of gorgeous gowns. I am... Read More so excited to go back to have my bridesmaids try in dresses.
---
Reviewed on

10/31/2016
Danielle W
Pure Bridal is a place that you walk into and immediately feel like you're priority number one. They listened carefully to my desired style and budget and made sure to find me things within those guidelines quickly and with great enthusiasm. They have a great range of styles and... Read More sizes and the store is clean & stylish. I couldn't think of a better place to buy your wedding dress.
---
Reviewed on

10/31/2016
Brittney C
I had a great experience finding my dress at Pure Bridal! I had Morgan who was absolutely fabulous helping me and she actually picked out the dress I chose, she made me feel so important during the whole experience. The whole thing was perfect.
---
Reviewed on

10/31/2016
Katelynn S
I cannot say enough wonderful things about Pure Bridal and their staff! They were so accommodating to me and made it so easy and stress-free to find my DREAM DRESS! I would go back in a heart beat and would recommend this boutique and everything it has to offer to anyone wanting... Read More an amazing dress shopping experience. I had Claire as my consultant but they are all incredibly wonderful people who are always willing to help!! Counting down the days until I get to wear this beautiful dress and I know I will he the king then on my wedding day and every day after! LOVE Pure Bridal!!! :)
---
Reviewed on

10/31/2016
Macy O
I had a fantastic experience with Pure Bridal and I LOVE the gown I selected! I was a bit indecisive when it came to choosing my dress and made several trips back to Pure Bridal to decide on my gown and my bridesmaids dresses. Each time the staff was patient and very helpful!
---