Home

Radebaugh Florist & Greenhouses
About this Vendor
Only Nature Has More Experience!
Radebaugh Florist & Greenhouses is a full-service florist, family-owned and operated since 1924. We offer unmatched experience and the highest quality products and services. Our talented designers can work creatively with any style or budget. Only nature has more experience!
Details
Centerpieces, Plants, Decorations + Accents, Bouquet Wraps, Bouquets, Boutonnieres, Corsages, Flower Arrangements
Contact Info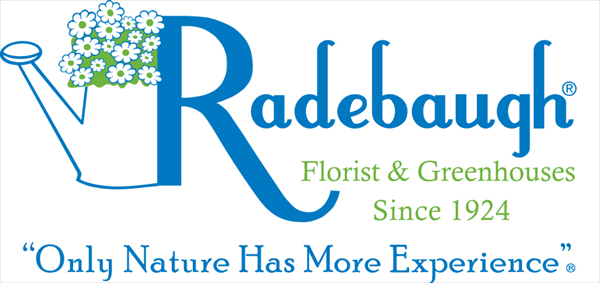 120 E Burke Ave, Towson, MD
Remarkable!
Reviewed on

1/17/2013
Erin F
Lisa at Radebaugh was amazing! I came in with one idea in my head, but several weeks later decided to completely change my mind and she handled every new concept flawlessly. For the centerpieces, we probably had about 4 different ideas before we finally settled on the final one. I went to her with thoughts that seemed totally disparate - I couldn't find a photo of exactly what I was looking for - and she took my ideas and created a stunning centerpiece. As soon as I saw the mock-up I exclaimed, "Yes! That's it!" The bouquet was perfect and every time I see a picture it makes me smile. My whole bridal party loved their flowers, too. Everything arrived on time and in great condition, despite a rainy morning that day. My aunt also used them for arrangements for a bridal luncheon and again they were bright, lovely, and precisely what she was hoping for. Lisa was a dream to work with, the process was easy, the product was fantastic. My mom, husband, and I were all exceptionally pleased and would recommend without hesitation.
---
AMAZING FLOWERS
Reviewed on

3/31/2013
Jaclyn
This was by far my favorite and easiest vendor! Lisa and Kathy, who I worked with, did an amazing job at listening to what I wanted, working with the budget I had and understanding the things I didn't want. They took the pictures I brought and ideas I told them and brought my vision to life. The colors were perfect, the flowers to die for and the service was great. So welcoming and accommodating I will recommend them!
---
Always use this place for EVERYTHING
Reviewed on

12/24/2012
Jennifer F
By far the best flowers in Baltimore. They have the most beautiful flowers. They delivered quickly and were reasonable. PERFECT as always!
---
Reviewed on

6/18/2015
megan k
Lisa was great to work with! She understood my vision right away. Flowers looked amazing and the prices are reasonable as well. I would highly recommend them!
---
Beautiful flowers for our wedding!
Reviewed on

12/06/2014
Radebaugh Florist did a wonderful job with the flowers for our wedding. They have a ton of experience and they are very professional. When my mother got married she used Radebaugh Florist for her wedding. We have also bought corsages from Radebaugh for Prom. Kathy and Lisa are so nice and will meet with you to discuss what you are looking for in terms of design and they will work through all of the details with you. I highly recommend Radebaugh Florist for your wedding flowers!
---
Beautiful!
Reviewed on

11/30/2014
Sarah H
I used Radebaugh for my wedding in November and loved all of my bouquets, centerpieces, and boutonniers! They were able to take my jumbled ideas and make exactly what I imagined. They were easy to work with and very budget friendly. Definitely recommend!
---
Amazing!
Reviewed on

10/29/2014
Michelle R
Lisa and Kathy were amazing to work with right from the start. Kathy was very patient with me in the beginning as I didn't have a clear vision the first time we met. She listened and gave me some wonderful suggestions. They even recommended that I come back to see it all put together on a day when they had the flowers in house. It was a great experience and I look forward to the next event in my life when I can work with them again. Thanks ladies!
---
Loved them!
Reviewed on

10/16/2014
Brandi S
Loved them! They were so helpful and kept me updated with everything and made sure I was happy with the end product. The flowers were gorgeous! I would highly recommend them to anyone.
---
Beautiful Flowers and Fairly Priced!
Reviewed on

10/10/2014
Dana G
Radebaugh Florists really came through for me on my big day! I checked into several florists before finding Radebaugh and was told by each one that the 1 particular flower I was insisting on, was not in-season so I would have to find a substitute. Radebaugh not only got the flower I really wanted, but they created a beautiful bouquet using brooches I gave to them. From the ceremony flowers to the centerpieces to the bouquets, Radebaugh incorporated everyone of my ideas and did a wonderful job.
---
Wedding Flowers
Reviewed on

9/02/2014
Lisa at Radebaugh florist was very accommodating. She & her team did a terrific job with the flowers. The flowers were absolutely gorgeous, from the centerpieces, to the arch on the pier. They did a fantastic job and I would highly recommend them. Well worth the money paid.
---
Radebaugh Flowers
Reviewed on

7/17/2014
Emily M
The people at Radebaugh's are very helpful and a pleasure to work with. We ordered bouquets, boutonnieres, center pieces, and decorations from them. They were also very flexible when I needed to change delivery plans a few days before the wedding. They were able to deliver to separate locations and were right on time. Everything was beautiful! Give Lisa a call, she was great!
---
Amazing!
Reviewed on

7/08/2014
Carolyn M
Lisa did the flowers for my wedding on 6/28/14, and she did a fantastic job! The flowers were even more beautiful than I had ever imagined. I was so, so, so happy with everything! Plus, it was so easy to work with Lisa, so I would absolutely recommend Radebaugh Florist.
---
Knocked it Out of the Park!
Reviewed on

3/28/2014
Caryn K
Radebaugh's is top notch. They make sure you have the highest quality flowers that look fantastic. I had the most beautiful wedding flowers and decor on my wedding day in March. Lisa Baker will be sure you are well taken care of and will make sure you have everything you need for your special day. My bouquet was amazing! It was everything I had hoped for and more. Lisa was in constant communication with me to make sure we had everything we needed leading up to the day of the wedding. I highly recommend Radebaugh's!
---
10+ STARS!
Reviewed on

2/25/2014
Ann Marie D
Originally we were planning to use a friend who owns a florist, however I was not impressed with the lack of professionalism. Someone referred me to Radebaugh and my entire experience was incredible. Lisa worked very closely with me to ensure each flower was what I wanted. When I went in to chose my bouquets and arrangements, the florist brought out each flower for me to see and visualize. We looked at a lot of pictures and she made me feel as if my time were valuable. On my wedding day, when I opened the box with my bouquet, I was blown away! It was gorgeous!!
---
My Daughters Perfect Princess Wedding
Reviewed on

1/29/2014
It was a day fit for a Princess.......... I can't express how beautiful everything was on my daughters wedding day. When we received my daughters bouquet the whole wedding party gasped with their breathtaking beauty. The presentation was exceptional and it was just perfect! they were just what my daughter wanted. The flowers at the reception were also perfect and lovely and just want we had asked for! Guest were fighting over them at the end of the night. I can absolutely attest that Radebaugh Florist is the best! And our floral designer Lisa was awesome, she really listened and with her talent she sculptured our perfect day with floral beauty. I have never been so pleased with a vendor as I am with Radebaugh especially when I saw those flowers! The visual memory and fragrance of their beauty will be imprinted in my memory forever. The flowers at the church were also gorgeous and made the perfect picture frame for the wedding. I forgot to mention that my daughters request for her bouquet was to look like Kate Middleton's. and that is what was produced and it was gorgeous I mean Gorgeous! Thanks again!
---
Perfection
Reviewed on

11/17/2013
Jeanine T
I worked with both Lisa Baker and Kaitlin and they were both fantastic throughout the entire wedding planning process. I had a vision of matching elegance with a rustic nautical theme which seems to be contradictory but Radebaugh nailed it!!! I put my faith in them gave reigns to make my vision come to life and they couldn't have done a better job. Everything from the service, professionalism, quality and value was superb! If you need a florist for your wedding or any event, use Radebaugh's and you will be 100% glad you did!!!
---
Patricia Ricks
Reviewed on

10/23/2013
patricia r
The service received from Radibaugh's was outstanding. The flowers and design of the bouquets and centerpieces for my daughter's wedding were beautiful and exceeded my expectations. They were very helpful in flower choice and in ways to cut costs. Radebaugh's will be my florist of choice going forward.
---
Beautiful flowers and great service
Reviewed on

10/09/2013
Meg W
We chose Radebaugh because my mom's company had used them for corporate events and had great success. I came into it with Pinterest ideas, but not a specific order. Radebaugh was able to work with my vision for varying blush/ivory/champagne colored, tight-bouquet flowers. They even offered suggestions to make the arrangements more affordable, while still achieving the look I wanted. When I wanted to see the colors together with the ribbon I wanted to use for stem bands, they took time to pull some flowers for me so I could go into the shop and compare. They also offered guidance on things like who gets a boutonnière or corsage, and the appropriate choices for altar flowers at my husband's Catholic church.
---
Mrs. Jen Winborne
Reviewed on

9/23/2013
Radebaugh's did a fantastic job with my unusual design and special requests! My bouquets were lovely and the most beautiful part of my decor!
---
Fantastic!
Reviewed on

9/22/2013
Caitlin C
We had very specific ideas for our centerpieces- we had several small arrangements in vintage glassware, rather than 1 arrangement per table. Our consultant Lisa was very good about making sure she knew exactly what we wanted. She put together some samples for us to get ideas and she was great about keeping us updated and making sure she was on the same page. I was nervous about how the flowers would turnout since they were such a big part, but everything was gorgeous. It turned out exactly how I wanted.
---
Gorgeous flowers
Reviewed on

11/20/2012
Lauren N
We went with Radebaugh Florist for our wedding flowers due to great products we have received from them before with family events, birthdays, etc. I met with Lisa and she immediately gave me a sense of comfort in that she would produce the vision I wanted while keeping within our price range. Lisa worked with me to make sure our wedding day was exactly how we wanted it, including making small changes close to the wedding and was always extremely responsive to questions and needs. We got great product for a great price and wouldn't have been as happy with any other company!
---
Flowers
Reviewed on

11/01/2012
Heather R
Loved our flowers for the wedding. We worked with Lisa and she was very helpful with everything!!
---
Lisa is the best!
Reviewed on

10/30/2012
Monica A
When planning my October wedding, I knew that flowers were the subject I was least sure about. Lisa at Radebaugh's was excellent to work with! She showed me pictures of flowers that she thought I might like after explaining my wedding vision to her. I was weary of the price, but on the wedding day, I quickly realized what a value it truly was. My flowers were delivered exactly on time, and they were absolutely beautiful!! The bouquets were exqusite, and the centerpieces were perfect. More than I could ever imagine. Thank you so much Lisa and Radebaugh's!
---
Good service and product
Reviewed on

10/21/2012
Megan T
We had a nice meeting with this florist and got the sense that she wanted to make our event special. I gave her artistic freedom for creating the table centerpieces but had very specific requests for the other flowers, and she was comfortable with that arrangement. I was very specific about not wanting greenery in my bouquet - the day of, there were some random green stuff in mine but she kindly removed them when I pointed it out. The flowers were all fresh and vibrant looking!
---
Very happy with the results
Reviewed on

10/21/2012
Catherine C
I picked one flower and told Lisa my wedding colors and she made it happen. And they were willing to work within my budget. I was very pleased with the results. Lisa knew exactly what would look great together.
---
Send Message