Home

River Edge Bed and Breakfast & Gathering Place
About this Vendor
Something New Under The Sun......
If you are looking for a quaint gentleman farm type setting, with a gorgeous river winding around it, and a steep forested ridge as your silver lining, you have arrived. Experience the beauty and nostalgia, while capturing your portraits of a lifetime in a venue unlike any other in West Michigan.
Amenities + Details
Amenities
Handicap Accessible

Liability Insurance

On-Site Accommodations

Indoor

Reception Area
For more details about amenities, please message the Venue.
Ballroom, Farm + Ranch, Barn, Waterfront, Historic Venue, Park, Tented
Contact Info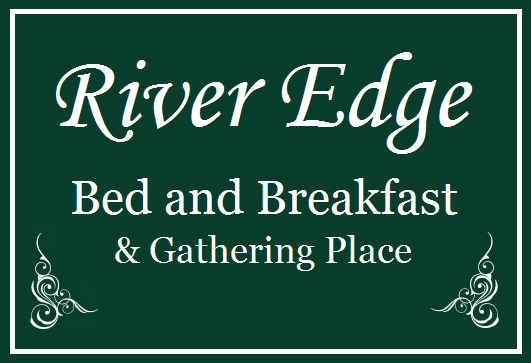 Reviewed on

10/06/2017
Emily A
Everything about this venue is perfect. There are multiple ceremony areas to choose from, and they are each individual and unique. The pavilion is very conveniently located, so your guests have only a small walk from ceremony to reception. The staff is friendly and willing to... Read More help when you need it. The house is beautiful as well, and the dressing building is cozy. We ended up having 94 degree weather on our September wedding day, but us and our guests hardly noticed or cared because we were having such an enjoyable time. Our wedding day would have been perfect no matter what venue we chose, but having the privilege to invite our guests out to River Edge made it even more special.
---
Reviewed on

8/06/2017
Amy V
This is seriously the most beautiful property you can imagine for your wedding day. Not to mention, Brenda and Bill are really great to work with. They were very quick at responding to emails/phone calls in the time leading up to the wedding. We received so many compliments... Read More about the venue we chose. Our pictures could not have turned out any more beautiful and it is most certainly because of the venue. There are so many different spots to have photos done and the views provide for some very beautiful backdrops. Everything ran so smoothly and we could not have asked for a better wedding day. The bed & breakfast was really nice too. Very clean house and there was even two big fruit bowls for us and various food/drinks in the fridge to help ourselves too. Additionally, there was even a homemade treat left there for us that was delicious! Would highly recommend RiverEdge Bed & Breakfast for your wedding venue, you won't regret it!
---
Reviewed on

2/14/2018
Kelly T
I was asked to leave a review a while back, so please excuse me as my memory is a bit dated. Overall, I would give this a 3.5 stars (not an option when giving a rating). Overall experience: Overall I felt that my personal experience as a bride came second to maintaining their... Read More property. I found out half way through dinner that Brenda had taken it upon herself to follow my mother in to the bed and breakfast, step in front of her before entering, and had the nerve to say "I'm just making sure you're going to take your shoes off." Now, I did read and understand the contract. I did also talk to each of my party members beforehand as well about the no-shoes policy among other things. However, I can't follow around every party member throughout the day to make sure they're following the rules. I do understand that members of my party at times were running into the house and may or may not have been taking their shoes off. I wish I would have just been billed for any instances/damages caused instead of having staff personally confronting my bridal party about this. As soon as I found out that my mom had been personally singled-out, it pretty much ruined my mood for the night. Obviously as a bride, I want my bridal party to feel at-ease and have just as much as a good time that I am. I can't however say that I was comfortable with how my mom was treated. Like I said, just bill me de-facto if damages were caused by my party; just bite your tongue on the most important day of my life and confront me the day after. Communication: Bill is very responsive to emails. All of my questions were answered the same day. Venue: The site is beautiful, which is obvious. However, the layout is difficult for handicapped visitors. Also, I wish there would have been at the very least a handicapped bathroom. It was difficult for our family member in a wheelchair to use the restroom. I understood that I could have rented porta-potties, however, being a bride on a budget I simply couldn't afford that. The temperature in the tent does get a bit chilly, but nothing that is insufferable. I did rent their heater, however, when it was plugged in our DJ said that it was interfering with his speakers, so we had to unplug it. Thankfully we didn't end up needing to use it, but if we did, the DJ wouldn't have been able to fully perform what I paid him to do. Money down the drain.
---
Reviewed on

8/10/2017
Erik S
This review is long overdo! My wife Shelly and I got married at the River Edge B&B on June 2nd, 2017 and were thrilled with the magical day we had at the B&B. The natural beauty of the river backdrop, the twinkle lights hanging from the reception pavilion's ceiling, to the... Read More wonderful stay in the B&B after the wedding, it all was amazing. Bill and Brenda did such an amazing job of helping us, from working with our pastor for the rehearsal, to helping unload donuts and cakes from our caterer when they arrived last minute. Bill and Brenda have a true passion for making your day special, and go out of there way to make sure it is. We would recommend River Edge B&B to anyone. You will love your special day there. - Erik and Shelly S.
---
Reviewed on

6/23/2017
Beth K
The most beautiful wedding venue! From my first visit I fell in love. Definitely a great choice if wanting an outdoor ceremony! The pavilion is lovely as well, great plan B for weather, and also beautiful reception spot! The pavilion is very open so good breeze coming through on... Read More hot summer evenings. I would give a 5 star however my only wish would be that the reception party could last until 11pm as opposed to 10pm. It was nice to end early due to the long day, but the party was so much fun I did not want it to stop!
---
Reviewed on

7/01/2016
Michelle R
River Edge Bed and Breakfast was an absolutely gorgeous place for a wedding. If you are looking for something rustic, something vintage, something elegant and something with an incredible view- River Edge is your place. The white, bright, open pavilion makes a perfect canvas for... Read More decorating according to your Pinterest dreams, but the venue certainly does not need an over-abundance of decor- it is gorgeous as is. The ceremony site overlooking a field with the river running through it and the tree line standing beyond it. . . simply breathtaking. The price is great for the package you recieve as well as the guest service and care. My now husband and I agree that River Edge was perfect for our wedding and we encourage others to look into it to make their dream day a perfect day.
---
Reviewed on

10/15/2015
MaKala M
​We used River Edge Bed & Breakfast & Gathering Place for our wedding and reception. The scenery and pavilion are absolutely beautiful and we got complements from many family and friends about the amazing venue. However, this is just part of the reason I would recommend... Read More River Edge Bed & Breakfast & Gathering Place to anyone who is looking for a great venue. An equally important reason is the people who run it, Bill and Brenda Schruer. They are incredibly helpful and knowledgeable. Our special day was a huge success, and much of that can be attributed to the help of Bill and Brenda and their beautiful venue. I would HIGHLY recommend River Edge Bed & Breakfast & Gathering Place to anyone.​
---
Great Venue and Great People
Reviewed on

10/04/2015
MaKala M
We used River Edge Bed & Breakfast & Gathering Place for our wedding and reception. The scenery and pavilion are absolutely beautiful and we got complements from many family and friends about the amazing venue. However, this is just part of the reason I would recommend River... Read More Edge Bed & Breakfast & Gathering Place to anyone who is looking for a great venue. An equally important reason is the people who run it, Bill and Brenda Schruer. They are incredibly helpful and knowledgeable. Our special day was a huge success, and much of that can be attributed to the help of Bill and Brenda and their beautiful venue. I would HIGHLY recommend River Edge Bed & Breakfast & Gathering Place to anyone.
---
River Edge Bed & Breakfast Rave - Review
Reviewed on

11/25/2014
Jacquelyn D
I had less than three months to plan a wedding. My then fiancé was out of town every week for that duration, only able to come home for part of the weekend, due to his job. I was endeavouring to maintain a tumultuous balance between work and wedlock details when I was referred... Read More to Bill and Brenda Schreur from River Edge Bed & Breakfast & Gathering Place. They were extremely flexible, and willing to adjust their already vast and superior services to accommodate my exact needs. The Bed & Breakfast was available for use and provided a private place to prepare, to take a breather, (plus some funny bridesmade videos), and relax before the ceremony. Their on-site pavilion offered effortless class and elegance, all the while remaining functional and efficient. The property was simply resplendent, unmatched beauty on the Flat River that abounded with picture-perfect possibilities for either ceremony or reception, (in my case, both). If you're looking for a venue, cozy, charming, comfortable, captivating, or chic, look no further. Cheap it may not be, but Bill and Brenda don't dole out deficient or dissatisfactory services; they know how to deliver. They supplied unrivaled support, cooperation, and availability, all with a friendly and attentive attitude. Definitely the best in the business.
---
Everything we dreamed of and more!!!
Reviewed on

10/10/2014
We just had our wedding in September at River's Edge B&B. It was so nice to find a place that was open to any and all ideas we had and worked with us throughout the entire process to make sure our day was everything we could have asked for! A lot of sites we looked at told us... Read More what they had to offer and that was what we could do. We wanted to make sure our wedding was us and not just a cookie cutter that the site offered and Bill and Brenda did that for us! The site has multiple locations for the ceremony and the pavilion is absolutely beautiful!!! We had some rain the day of our wedding and Bill and Brenda had the sides down on the pavilion and everyone stayed perfectly dry. The fans inside the pavilion kept the air moving so it didn't get stuffy or too hot. Everything about the site and location has been so well thought out, there is not a single thing we would have changed!!! We had a large wedding and everything went off without a hitch, even with the rain! Bill and Brenda are great to work with and will do everything in their power to make your day everything you dreamed of and more, they definitely did for us! I would and do highly recommend this site to any and all brides, I promise, just go look and you will fall in love like my husband and I did! We can't wait to go back to the B&B for our anniversaries in the years to come.
---
jw#satisfied#bride
Reviewed on

10/06/2014
Jessica W
My husband and I spent a lot of time looking at outdoor wedding venues in the area. We initially considered county parks but ruled them out because of the lack of privacy. We also looked at barn venues. Even though we had what I consider an average-size wedding, none of them... Read More were big enough to fit our entire party. Dividing our party into two separate groups was not acceptable to us. I've also heard they can be hot and stuffy inside--not ideal for our planned summer wedding. A coworker told me about River Edge B&B and Gathering Place. We were stunned by the scenic beauty of the property. The river and scenic backdrop was like nothing else we had seen. The new pavilion is beautiful and had more than enough space for all our guests, buffet, DJ, and dance floor. The roll up/down sides have attractive cathedral windows, allowing us to adjust the pavilion quickly and easily depending on the weather--making for a worry-free wedding day. It was hard to choose from the three different ceremony sites on the property. All are beautiful yet unique to each other. The restored 1880s B&B farmhouse feels like a step back in time--so charming and cozy with a great view of the river--really cool! Their big, old red barn, silo, outbuilding, and (antique) tractor wagon ride appealed to us for neat photos. Unfortunately our first two choices for a date were already booked, but we were really glad we could make another date work for us that was still available. Bill and Brenda and their staff were great to work with and very helpful. Our guests loved River Edge and still rave about it. Our photographer had a field day there with so many beautiful and intriguing spots to take our photos. River Edge has so much variety! It was perfect for us, and we highly recommend River Edge to anyone looking for a unique outdoor wedding venue.
---
Love!!!!
Reviewed on

7/24/2014
natalie m
Bill and Brenda are so wonderful and helpful! You can really see the love in the WHOLE property. I love that there were 3 different places to have a ceremony. Could not have chosen a better spot.
---
Couldn't Have Asked for Better!
Reviewed on

7/13/2014
Mary Margaret H
My husband and I had the extreme honor of being the first wedding ever at River Edge B&B and Gathering Place. When we were looking into using it as our venue, I was honestly a little worried about being the first, but I'm so glad I got past those, because we really could not... Read More have had a better day, and we owe much of that to Bill and Brenda, the owners of River Edge, and their amazing property. To start, the property itself is amazing. Beautiful, natural, and outfitted with a charming B&B and a pavilion that is both convenient and classy. The weather on our wedding day cooperated wonderfully, and it rained only after the reception started. We were all safely housed in the pavilion by that point, and it was so much better than any rented tent could ever have been, with its cement floor and sturdy roof. Even after the rain, and even though we were in the peak of bug season, we did not have much of a mosquito problem. They were not even too bad down by the river. Bill and Brenda do not spray their property for bugs for ecological reasons, and we did not experience any adverse effects from that. My bridesmaids and I used the B&B to get ready, and we had a great time and were very comfortable. It's a small building, and I had seven bridesmaids as well as two photographers, but it did not get uncomfortable. My husband and his groomsmen were in the much smaller whirlpool building, and had no complaints. It did get hot that day, but we managed to share the B&B before the ceremony so that we could cool off. What really made River Edge wonderful, though, was its owners, Bill and Brenda Schreur. My husband and I live in Pittsburgh, far away from Lowell, and they bent over backwards to accommodate our long-distance needs, including meeting with proxies to tour the property and communicating mostly by phone and email. The week before the wedding, they worked as hard as I did to make sure everything was ready and that every contingency was planned for. On the day, when plans had to change on the spot (due primarily to the constantly changing weather) the transitions were seamless and I never noticed if anything went wrong. They worked very hard, not only to make our day as special as possible, but also as stress-free as possible. Both Bill and Brenda were such wonderful people and so accommodating to all of our vendors, (many of whom were family or friends). If you don't believe me that River Edge is the best outdoor venue in the greater Grand Rapids area, let me just say this: when I told people that ours was the first wedding hosted at River Edge, I got a lot of stunned faces and unbelieving, "You've got to be kidding!"s. I even got an email from a friend the day after the wedding telling me that ours was "one of the most beautiful weddings [she's] ever had the honor to attend. Everything was awesome and [she] can't stop telling people about how well the B&B did (especially for their first wedding)!" For all the value--beauty, convenience, great service, etc.--that we got from using River Edge for our venue, I can't believe how well it worked with our budget, which was rather tight. We can't thank Bill and Brenda enough, and we'd recommend their services to anyone.
---
Bed and Breakfast Wedding Location
Reviewed on

10/27/2013
esther d
My now husband and I had the extreme pleasure of staying at River Edge Bed and Breakfast & Gathering Place on our wedding night. In so many different ways the owners, Bill and Brenda, went beyond the expected to make our stay special. While planning our wedding in Lowell, I... Read More stumbled on the website for the bed and breakfast. The pictures of the property were so beautiful; I immediately called to see if they had any availability. We ended up be being there first customers, and couldn't have been more happy. The day before the wedding I stopped by the bed and breakfast. Bill and Brenda were busily working on getting the place ready, but stopped and gave me a tour of the property. The place was breathtaking. The house had all the charm of a farmhouse with the conveniences of modernism. The property is situated next to the river where they have built an overlook where the old dam was situated. We hadn't originally planned on having pictures taken there but upon seeing the place decided that we would return after the wedding for pictures. Bill had mentioned that they were planning on using the location for weddings. If the property had been open and available at the time we were scouting locations we would have chosen the bed and breakfast. The property is close enough to town that it's easy to get to but the expanse of the property allows for privacy. We have beautiful pictures getting ready with the backdrop of the farmhouse, as well as with my husband and I in the open fields and by the river. Bill and Brenda went out of their way to make our stay perfect, including kayak rides down the river and gourmet breakfast. Based on our experience, I know that they would far exceed any bride and grooms hopes.
---
Meet The Owner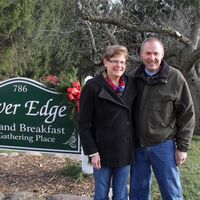 Bill and Brenda Schreur
My name is Bill Schreur. My wife Brenda and I are the proud owners of River Edge Bed and Breakfast and Gathering Place. I was born and raised here in the Lowell area, and have been married to my wife Brenda since 1989. Our goal at River Edge has been to create a unique wedding venue like no other in West Michigan. Our sincere desire is to earn your trust and confidence here at our scenic and enchanting Bed & Breakfast, and look forward to serving you on your beautiful wedding day. We both look forward to meeting you!