Home

Roma Sposa Atelier
About this Vendor
Roma Sposa Atelier
Roma Sposa is an exquisite upscale bridal and evening atelier located in the prominent and affluent city of Birmingham, Michigan. Open for business since 1996, Roma Sposa, Italian for Roman Bride, is the premier destination for "fashion forward" brides. Catering to the discerning upscale woman.
Details
Bridesmaid Dresses, Flower Girl Dresses, Mother of the Bride Dresses, Wedding Dresses, Alterations, Private Appointments Available
Contact Info

One and done - Best place to go dress shopping!
Reviewed on

8/26/2013
niki s
I had the best experience at Roma Sposa. I wanted a dress that was simple and elegant without a lot of fuss and fanfare, the woman that helped me was patient, knowledgable and professional. She helped me in/out of each dress and was very respectful of both my and my mother's... Read More opinion. The first dress she gave me to try on was perfection, and after trying on several more I bought the very first one. It was love at first sight! I highly recommend going here for bridal wear and bridesmaid wear! Our family goes to them for every important occasion.
---
Awesome Staff, Gorgeous Gowns!
Reviewed on

8/26/2013
Lauren D
The girls at Roma Sposa went above and beyond! I initially went to the store because they carried the designer I was looking for, but i would suggest this shop to every bride-to-be! They made me feel like I was the most important person, and they were so attentive and helpful... Read More with anything and EVERYTHING I needed. The dresses are gorgeous, and the staff is wonderful...I can't imagine why anyone would go somewhere else!!
---
Best Experience
Reviewed on

10/02/2012
Sarah M
I had the most fabulous experience at Roma Sposa. Cristina, my consultant was the best - I couldn't have asked for a better consultant to work with. She was so kind and patient and she actually ended up pulling the Monique Lhuillier dress for me, that was ultimately "the... Read More dress". Cristina really listened and got a sense of exactly what I was looking for. The atmosphere of the salon was so calming for me - I always enjoyed going there. I know I am spelling her name wrong, but Sieka who did my alterations was truly the most wonderful lady I have ever met. She made my wedding dress fit me like a glove - it looked perfect on my wedding day. Thank you to Roma Sposa (especially Cristina and Sieka)for making shopping for my wedding dress such a great experience.
---
Reviewed on

8/31/2017
Katie S
I searched high and low for my dress - going to every bridal salon in southeast Michigan and traveling to NYC for dress appts! Finally I found my dress at a trunkshow at Roma Sposa. Giulia was my consultant and she was a huge help all the way through the process (we had to... Read More alter the dress very significantly and she was amazing throughout). The owner, the other associates, and the seamstresses are all incredible and really care about making you look and feel beautiful. My wedding was this past weekend in Aspen, CO and so many people told me how much they loved the dress and how they had never seen anything like it before. I highly recommend Roma Sposa!
---
Reviewed on

5/31/2017
Samantha B
Very long review, but please take the time to read this before shopping here... When I found my dress in August 2016, it was a wonderful experience. My consultant was sweet and helpful in the process and I was thrilled to find a gown I felt was very ME. However, things took a... Read More terrible turn when I went in to try the dress on 8 months later, in April 2017. There was a misunderstanding of my dress, and I wasn't under the impression that I bought a sample dress. In August, I was told to come back in 8 months for my first fitting, so I was under the impression that I needed to wait for my dress to come in. In April, I tried on a dress that had holes, snags, and stains all over it, which the dress I purchased did NOT have. I asked very politely to speak with a manager to sort out my concerns, and when she came to speak with me, she treated me like a dog. She placed a piece of paper on the desk in front of me, pointed at a signature, and said, "Is that your signature? Because it's in black and white that you knew you were buying a sample dress..." I was not only embarrassed for my misunderstanding (which I apologized), but I was completely appalled at how condescending and rude she was. She accused me of treating her and her staff like they didn't know what they were doing, and continued to tell me "You're young, so you don't know any better." (I mean, I'm old enough to get married and afford a $6,000 wedding dress... so, that was COMPLETELY uncalled for.) Even though I apologized over and over for not remembering I signed the document, I explained to her that I was confused as to why the dress I purchased was not in my possession for 8 months, and it looked very used... She didn't offer an apology to me, but she admitted that the sales consultant was at fault for not forcing me to take a sample dress home after I purchased it (since it's an obligation for them to keep a sample dress there if the building burns down, they cannot replace it with another sample). Long story short, the showroom and dresses are magnificent and beautiful, but the customer service in a situation such as mine was awful. I have never been treated so poorly, especially after making such a special and EXPENSIVE purchase. If you're looking for a couture gown, you should try a different shop in Birmingham that carries the same designers.
---
Reviewed on

5/03/2017
Angelina M
I am so happy I found my dress at Roma Sposa! Every single bridal consultant there, seamstress, receptionists and the owner, Anna, were always very sweet, extremely helpful and accommodating... I couldn't have asked for a more personalized, memorable experience. My mom and... Read More sister found their dresses at their evening store as well and can say the same... so as you can imagine we spent a lot of time there between our three dresses, wedding day and even bridal shower accessories. Roma Sposa was the first store we went to out of all the boutiques and Yes the dress was love at first sight but the staff and one-on-one feel/no pressure of Roma Sposa was easy to love as well. From ordering the dress, alterations to accessories...they were very helpful, patient, paid attention to detail and had much understanding as if it were their own wedding...We soon felt like family. Thank you from the bottom of our hearts for making the dress of my dreams an experience we'll forever cherish and that much more special.
---
Reviewed on

6/20/2016
I had the best experience at Romsa Sposa. I always knew I would find my dress here but I did not think it was going to be this easy. Luma, my consultant, was amazing! She was so helpful and so sweet. The first dress she pulled for me was THE ONE. It was actually the first dress... Read More I tried on period. And on top of that, it was completely opposite of what I envisioned wearing. I am wearing a beautiful Galia Lahav dress and I couldn't thank Luma and the ladies at Roma Sposa enough. Best feeling in the world! I can't wait to wear my dress!
---
Gorgeous boutique
Reviewed on

10/02/2015
Kristin D
If you have room in your budget and have your heart set on a designer dress, this is one of the few places to go in Michigan. The prices are steep and I went in expecting to try but not buy, but wound up finding a Vera Wang on sale and off the rack for 40% off. They did an... Read More amazing job with alterations and even accommodated me with a single alteration since I lived so far away (3.5 hours north.) In addition to the bridal boutique they own a separate shop next door which specializes in bridesmaid/eveningwear dresses and jewelry.
---
I loved my dress!
Reviewed on

7/30/2015
Jessica H
I wish this allowed to post pictures, because my dress was to die for! I tried dresses on at a couple other bridal salons before going to Roma Sposa, mostly because it took awhile to get a consultation. They were so professional and definitely a notch above the rest. The only... Read More thing is, you get what you pay for, and the cost is high. I would still highly recommend this place for the dress. They also have a sample sale once or twice a year, which can help cut down on costs. I would also recommend alterations elsewhere because the quote they gave me was much higher than taking it to my own trusted seamstress...key word, trusted!
---
BEST EXPERIENCE
Reviewed on

3/24/2015
My experience at Roma Sposa was a great one! Thanks to Luma! Roma Sposa was the first dress store I went to on the hunt for my dream dress. Thanks to Luma it was the only store! With the many designer dresses to choose from and I having no image or clue of what I was looking for... Read More , she lead the way! I went with a Ines Di Santo gown and Monique Ihuillier accessories. I needed to add sleeves to my gown, but was so afraid of what the final results would look like ! But I trusted that Luma would make sure everything turned out perfect, which she did! The Gown was beautiful I could not be happier! The price you pay is MORE then worth it! Check Roma Sposa out and ask for Luma, you will not be disappointed!
---
Amazing, Amazing Amazing!
Reviewed on

1/10/2015
evelyn S
I was decided on the gown I wanted, and with its limited availability in the United States, I thought I would have to send my measurements to Israel where my Designer is located to have my haute couture gown made. To my luck, the gown designer Galia Lahav, had a trunk show at... Read More Roma Sposa a year before my wedding. I live in Chicago and drove 5 hours to order my gown from Roma Sposa. They are very professional and friendly, Luma, my consultant was so helpful, knowledgable and attentive. My seamstress Sieka, was AMAZING she even burned her forearms after steaming my dress. I felt like she really cared about delivering my dress perfectly. She showed my sister how to bustle my impossibly difficult dress. With only two fittings, she got my extremely long train gown altered steamed and packed for me to take back the same day. I highly recommend Roma Sposa! Also if you are from out of town and have time to spare while your dress is being altered, the town is very charming with an amazing shopping mall you cannot miss!
---
No other option
Reviewed on

11/16/2012
Marla J
For a high end store there is no other option. THey do have the best selection. They are great but once they make the sale they don't care about you at all. Had problems with my dress and they didn't really care to remedy the situation. Unfortunately there is no place that... Read More carries these high end designers.
---
AMAZING!
Reviewed on

9/17/2012
Christina B
The girls at Roma Sposa are the sweetest sales girls i have ever come in contact with. The seamstress is AMAZING at her job and i couldnt have asked for anything better! These girls made me feel like a queen for my wedding and i wouldnt go anywhere else to buy a dress. I can not... Read More express enough how grateful i am for everything that they did for me. GO BUY YOUR DRESS THERE RIGHT NOW! You wont regret it! :)
---
My Wedding Dress
Reviewed on

9/14/2011
Agatha S
Offered one of a kind couture dresses. Staff was extremely helpful and courteous. Alterations were perfect. Overall experience as wonderful.
---
wonderful service, beautiful product
Reviewed on

9/10/2011
Julia S
I felt like a princess before even trying on any dresses. The service at Roma Sposa is fabulous. Then, the dress which happened to be "the dress" happened to be on 50% off clearance. My advice, go dress shopping in December, of January, when they have to start clearing their... Read More floor for newer items. The same luck may happen to you! Everything, from the dress, to the workers, the seamstress, and beauty of the store itself, was wonderful. I highly recommend it because of my experience.
---
A Classy Establishment
Reviewed on

8/25/2011
Kimberly L
The Sales Associates and Seamstress are amazing people and so helpful. I loved going to visit them for each of my fittings.
---
I love Roma Sposa!
Reviewed on

11/16/2010
Sashur H
Roma Sposa took care of me right away. At first they didn't get what I wanted, then they started to catch on. The final product was Italian Vogue worthy. Everything was 5 star.
---
Love my dress!
Reviewed on

10/14/2010
Elizabeth M
From the moment I walked in to the shop I got treated with respect and waited on hand and foot. I was helped into all the dresses I tried on and was encouraged to try on any dress I wanted. Lisa was my sales consultant and she was WONDERFUL! She helped me pick out the most... Read More amazing dress. Wearing a dress you feel good in really makes the day that much more special!
---
Dress
Reviewed on

9/01/2010
Racquel D
Everyone told me it was the most beautiful gown they'd ever seen and it looks like only one you would find in a magazine. Ines Di Santo is amazing!
---
Meet The President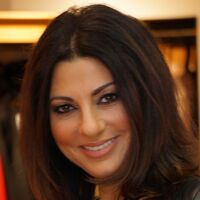 Anna
For almost 20 years Anna has dressed the prominent, stylish, fashion-savvy women of the Detroit metropolitan area. She welcomes the opportunity to share her distinctive Bridal and Evening wear collections with you, as well as her knowledge, expertise and passion for fashion.