Home

Rondo String Quartet
About this Vendor
Live Music For Your Wedding or Reception
Celebrating 27 Years of Entertaining Southeast Michigan! The Rondo String Quartet is a rehearsed and professional ensemble. Our huge repertoire includes classical and current music selections. Contact us for our complete play list. We look forward to helping you create your special event!
Details
Classical, Country, Folk, Jazz, Pop, Rock, Celtic, Polka
After Party, Rehearsal Dinner, Rehearsals + Parties, Ceremony, Cocktail Hour, Reception, Wedding
Contact Info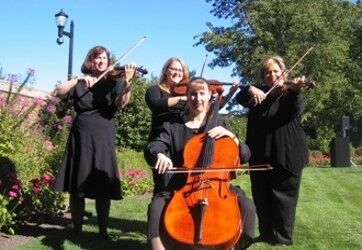 Rondo String Quartet is the best!
Reviewed on

8/23/2015
Christie N
I cannot say enough great things about Rondo String Quartet! We just got married this month and they played our ceremony music. They did such a beautiful job, and we could not be happier with their service! Throughout the entire planning phase, Allison was so friendly,... Read More down-to-earth and accommodating. She was extremely responsive to any emails, and she was more than willing to work with us on any special requests - even having Meatloaf and Chris Brown turned in to sheet music (not an easy feat) and played for our big day (a request my now husband felt very strongly about). The day-of, the music sounded so gorgeous, and was so perfectly fitting to our ceremony. We received several compliments from our guests. Through and through, Rondo String worked closely with us, was very pleasant and knowledgeable, and delivered exactly what we asked - helping to make our big day that much more special :) Thank you, Rondo String Quartet!
---
Reviewed on

5/04/2016
Rondo was a professional and talented group that performed exactly as we hoped. They were friendly and easy to work with from start to finish. Our guests enjoyed them immensely. They have a huge repertoire and were able to play everything we requested.
---
Reviewed on

3/13/2016
Rondo was the perfect addition to our church wedding. They helped me choose music that went perfectly with our service. Rondo made sure everything went smoothly with the music. They dressed appropriately, came on time, and sounded amazing! I plan to hire them again for a... Read More party we are planning.
---
Reviewed on

11/09/2015
Kylie R
Our wedding was in October 2015, and we have nothing but the best things to say about Rondo String Quartet! They made our ceremony unique and offered a wide variety of songs to choose from. They played beautifully and we can't thank them enough!
---
Reviewed on

10/31/2015
Roger M
We recently were wowed by the Rondo String Quartet at our wedding and cocktail hour. They were an amazing addition to our evening. Our guests were thrilled with their song selection and talent.
---
Reviewed on

7/16/2015
Rondo is the best group of musicians playing for weddings in the area. We spoke with and heard many groups and settled on Rondo for our wedding and cocktail hour. They went above and beyond every expectation! Thank-you for making our event perfect, Rondo!
---
My Son's Wedding
Reviewed on

6/24/2015
My son's wedding was this past Sunday, 21 Jun 2015, on Father's Day. The Rondo String Quartet performed prior to the ceremony, which was held outside, at the beautiful Wyndgate Country Club in Rochester, Michigan. They performed beautifully and flawlessly before, during and... Read More immediately after the ceremony. They were a pleasure to work with. Very prompt in responding to emails as we worked thru the details. They worked very closely with my daughter-in-law to assist her in selecting the music that she wanted. I would HIGHLY recommend them and would MOST definitely use them again. Renee, mother of the lucky groom
---
Reviewed on

6/22/2015
Rachel P
Thanks Rondo String Quartet for playing at our wedding! The music was beautiful and the perfect addition to our garden wedding at the Buhl estate. Our guests loved the contemporary pieces played during cocktail hour also! I would recommend you to anyone for their wedding or... Read More formal event.
---
Reviewed on

6/07/2015
Jen R
The perfect group. Professional, responsive, talented, helpful, and kind. They also have an incredible amount of songs and styles to choose from. We could not have been happier with their work.
---
Reviewed on

6/04/2015
Thank-you Rondo for making our wedding perfect. I couldn't believe how beautiful your music was. I also appreciate all of your assistance with the music. Our family and friends were thrilled to hear you go from Handel to Ted Nugent. I look forward to hiring you for a future... Read More event!
---
Reviewed on

5/24/2015
Ethan J
A professional and talented group of musicians! They entertained our guests with current/poplular music during our ceremony, cocktail hour, and through dinner. We could not have been happier with the ease of booking them and their helpfulness throughout the process. They have an... Read More amazing selection of songs!
---
Elegant Touch!
Reviewed on

4/29/2015
Kari E
We used Rondo for our wedding ceremony and cocktail hour at the Colony Club. They were EXCELLENT! All of our guests complimented us on what an elegant touch it was to use strings. Their repertoire includes everything from classic rock to theme songs which made choosing music fun... Read More and easy. Aside from playing the ceremony and cocktail hour, they worked with us to get sheet music for a song that they played along with the father of the bride during the ceremony. It was a very unique moment that we will cherish the rest of our lives. The level of service received far exceeded my expectations. I highly recommend using Rondo for anyone in the Metro Detroit area!
---
Incredible
Reviewed on

2/20/2015
It was exciting to think about walking down the aisle to my favorite song played by a string quartet, and Rondo did not disappoint! They did an incredible job. They were convenient to book and helped me all the way through. When I heard them playing, I couldn't believe how... Read More amazing they sounded. Best choice I made for our wedding ceremony and cocktail hour!
---
So many compliments!
Reviewed on

1/23/2015
We received so many compliments about this quartet during and after our wedding. They were amazing!
---
garden reception
Reviewed on

11/03/2014
Jen P
We used Rondo String Quartet for our garden reception. They were perfect. They have a great variety of music from classical to today. Our guests were very impressed!
---
A Perfect Addition
Reviewed on

9/12/2014
My wedding ceremony was perfect - a lot of it was because of the Rondo String Quartet. They were a perfect addition and very reasonably priced for adding so much. Thank-you!
---
The Rondo String Quartet was the perfect touch for my son's wedding ceremony!
Reviewed on

8/25/2014
The Rondo String Quartet played for my son's outdoor wedding ceremony (July 19, 2014)and their music was simply breathtaking! My family values the impact of live music and Rondo String Quartet provided just what we were looking for, an elegant expression of music to set the mood... Read More for a unique memorable wedding ceremony. Our guests very much enjoyed Rondo, and we received many compliments on their beautiful music. My son and his fiancee chose mostly classical music for the prelude and their ceremony and they selected upbeat popular music for the receiving line. Rondo's play list is extensive, and frankly, choosing the songs was not an easy task. However, Rondo's play list is organized in such a structured and efficient format that it did ease our task. The Rondo String Quartet was wonderful to work with! I dealt exclusively with Jessica and she was very professional and responsive throughout the entire process. Their website is very informative and it took care of many of my questions and my remaining questions were promptly answered by Jessica. In addition they have a ceremony planning information document that takes care of all the little details so that everything runs very smoothly. Besides being a very talented quartet who play beautiful music at an affordable price, they were just so easy to work with and we definitely highly recommend the Rondo String Quartet!
---
Easy to Work With
Reviewed on

8/19/2014
Luke H
My fiance asked me to take care of the ceremony and cocktail music. I felt a bit out of water, but Rondo helped me all the way through. They even helped me with ceremony details that were not related to the music. I can't thank them enough for making me look so good. They... Read More also sounded top-notch. Our family and friends were very impressed.
---
made our wedding perfect
Reviewed on

8/06/2014
Mary F
Rondo made our wedding day perfect. The music brought everything together and made the day feel special. Rondo played for our ceremony and cocktail hour. They were able to play some classical music and some contemporary songs like A Thousand Years and even Fred Bear.... Read More Everyone loved them!
---
Best of the best
Reviewed on

7/31/2014
Steph T
Rondo is truly the best of the best. So happy we found them!
---
Beautiful!
Reviewed on

7/29/2014
I couldn't have asked for a better experience hiring the Rondo Quartet. They helped me all the way through the process. When it was time to walk down the aisle, the music made me cry. It was so beautiful and everything I imagined. Thank-you Rondo!
---
Amazing!
Reviewed on

7/12/2014
Jillian S
This quartet is amazing! Customer service was fantastic. Music was absolutely beautiful. Such a talented group!
---
Well Done!
Reviewed on

6/30/2014
Avery T
Rondo String Quartet were so easy to work with and they have an amazing selection. We had nothing but compliments from all of our wedding guests on the music. All aspects were very well done!
---
Perfect!
Reviewed on

6/27/2014
Rondo String Quartet added the most amazing touch to our ceremony and reception. I was impressed with their variety of pieces. Some of the selections I used were A Thousand Years, One Hand One Heart, Viva la Vida, Watermusic Air, and Just the Way You Are. Many of our guests... Read More complimented us on how elegant the quartet made our wedding feel. Thank-you, Rondo!
---
AMAZING
Reviewed on

6/17/2014
Katelyn K
I always wanted live music at my wedding. The best decision I made while wedding planning was booking Rondo String Quartet They were absolutely wonderful. My guests enjoyed it so much and I got so many complements about them. I would recommend them to anyone. THANK YOU... Read More ALLISON !
---