Home

Sadie Baby Sweets
About this Vendor
We celebrate life's sweetest moments!
We specialize in beautifully crafted custom made sweets and sweets table décor and styling. We pride ourselves on attention to details and superior service. Life is a party....lets celebrate together!
Details
Cake Balls, Cheesecakes, Cookies, Cupcakes, Pies, Desserts
Contact Info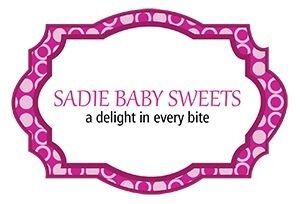 Reviewed on

1/24/2017
Kimm A
I can not say enough about Sadie Baby Sweets! Rachel is the utmost professional and a pleasure to work with. She made the process so easy and my guests raved about the sweets table. I heard all night how much they preferred the sweets table over a traditional wedding cake. I... Read More have used her for several holidays and special occasions since.
---
Reviewed on

1/23/2017
Sierra W
Sadie Baby Sweets helped to make my fall themed dessert buffet table the hit of my wedding! I ordered beautiful Rice Krispy treats dipped in chocolate and decorated with gorgeous fall flowers. I also choose fall colored cake pops in flavors like red velvet, birthday cake and... Read More pumpkin! There are so many cake pop flavors to choose from along with the very cool boozy pops. I ordered the apple pie cake pops to add to my fall dessert table which were so original and different, I loved them! Working with Sadie Baby Sweets was so wonderful, she is patient and kind. I was really vague with telling her what I wanted just because I wasn't totally sure and I was so happy with how everything turned out. Pick up was easy and convenient and my treats were easy to drive over to my location! I am already placing an order with them again for a bachelorette party I am hosting, I recommend them! Even months after my wedding I had tons of my guests complimenting on my dessert assortment.
---
The best desserts in Columbus!!
Reviewed on

11/30/2015
ana k
Rachel was amazing to work with for my wedding dessert table. The presentation was stunning, the desserts were delicious, and she kept me in the loop throughout the whole process! My only regret was I didn't order more!!! I've used her several times since for various... Read More bachelorette parties and birthday parties, and everyone always raves about them!
---
Reviewed on

7/18/2017
Sabrina T
I was so happy to find Sadie Baby Sweets and it was a pleasure working with Rachel. Our dessert table looked beautiful and all the guests loved the treats, the chocolate covered strawberries, cake pops, red velvet cupcakes and chocolate covered oreos were all a huge hit!
---
Reviewed on

4/21/2017
Pam H
Sadie Baby Sweets made my daughters wedding very special! Rachel made some amazing sweets and the favors were so cute! Everyone loved the sweets and the table was set up to complement the reception !
---
Reviewed on

4/19/2017
Lindsey M
Rachel Altiere of Sadie Baby Sweets was AMAZING to work with for our wedding dessert table!!! The table was hands-down a focal point of the décor and everything was delicious!!! I would highly recommend them to anyone that wants delicious treats and an amazing pop of decoration... Read More at their reception.
---
Reviewed on

1/28/2017
Carolyn B
Rachel was easy to communicate with and helped us find exactly what we wanted by providing lots of information and options as well as delicious samples. The cake pops we ordered looked great and our guests loved them!
---
Reviewed on

10/31/2016
Audree B
Sadie Baby Sweets is absolutely amazing! We had individually boxed cake pops at everyone's place settings to serve as a favor and dessert. Additionally, we had a spectacular sweets table with pretzels, oreos, rice krispy treats, and more cake pops. Rachel was amazing to work... Read More with making sure every detail was just perfect for our special day. She went above and beyond to give us everything we wanted, including a special twist on a wedding cake that fit our taste and entire wedding theme. After the wedding we have received a multitude of high compliments on the quality of the products and individuals have been asking how to place their own Sadie Baby Sweets orders. Rachel is professional, and working with her took a good amount of stress out of the process, since I knew we were in great hands.
---
Reviewed on

9/01/2016
Jennifer S
Thank you! Thank you! Thank you! Rachel, the owner of Sadie Baby Sweets is amazing! I am so thankful to have worked with such an amazing and thoughtful vendor. I wanted something a little extra for my guests to enjoy as a sweet treats at our NYE wedding. A friend of mine... Read More suggested I reach out to Rachel and I am so happy I followed her advice. The overall experience was wonderful. Rachel took her time to offer suggestions and she executed my vision beautifully. We had the bride and groom chocolate covered pretzels for our bridal party, gourmet rice Krispy treats and chocolate covered strawberries for our wedding guests, they were both a HIT! So many of our guests commented during and after how much they loved the beautiful treats. I loved Sadie Baby Sweets so much, that I am returning to have something special for my best friend's baby shower. Once again, Rachel's attention to detail and amazing service keeps me coming back.
---
Reviewed on

7/26/2016
Molly D
Sadie Baby Sweets has the best customer service and the best product. We were able to test out in advance the flavors of mini cupcakes we wanted at our wedding. Rachel was more than willing to adjust to our needs and she reached the level of sainthood by working with my... Read More mother-in-law on a her dream cookie table. Our dessert table was a showstopper, matched our wedding colors perfectly, and best part of it all, we did not worry one second on the day of our wedding because we knew how talented and capable Rachel is.
---
Reviewed on

7/26/2016
Rachel was a dream to work with! She created our vision for the perfect engagement party for our daughter. All the guests loved the display which was exquisitely beautiful and provided the focal point for the party decor. Additionally, the food was as fabulous tasting as it... Read More looked.
---
Reviewed on

7/26/2016
Lindsay P
Sadie Baby Sweets is the best! I cannot recommend them highly enough! Rachel is wonderful to work with, and she truly cares about making every detail perfect for your special day. We got so many compliments on the sweets table at our wedding. It was absolutely gorgeous. My... Read More favorite part about it was that everything tastes DELICIOUS. I've been to too many weddings that compromised taste for looks when it came to dessert (come on people!). We got cupcakes, cake pops, pretzels, rice krispies, and strawberries--every flavor and dessert tasted amazing.
---
Reviewed on

5/16/2016
emily c
Sadie Baby cake pops were such a hit at our wedding that I never even got to try one :( They were beautiful to look at, too! They were a unique and special part of our dessert table! Rachel was very easy to work with and did an excellent job of listening to what I wanted and... Read More making the pops fit our them! I'm working with Rachel again on another party, can't wait to get to try them this time!
---
Reviewed on

3/04/2016
Laura C
Great service! Was able to accommodate last minute for desserts for my rehearsal dinner and favors for my wedding! Understood my vision and worked within my budget to help my day feel even more special. Would highly recommend any of her desserts.
---
Reviewed on

3/02/2016
I Would like to Thank you So much for the Elegant candy table at my Wedding... I absolutely LOVED IT!!
---
Reviewed on

1/12/2016
Kristina R
I used Sadie Baby Sweets for my bridal shower and became obsessed!!! I ordered several flavors of cake pops, cupcakes, chocolate covered pretzels and strawberries and buckeyes! Everyone loved everything, the table was the center of my shower! I absolutely recommend them for any... Read More event, I can't wait to host another event to have an excuse to order again!
---
Pretzels
Reviewed on

12/01/2015
For my son's wedding I had Sadie Baby Sweets create the Bride/groom and white/chocolate gold dipped pretzels. Rachel did an AMAZING job with them and our guests loved them. I highly recommend Sadie Baby Sweets for all of your desert needs. Rachel was also so easy to work... Read More with and had everything ready when I needed them. 100% satisfied customer.
---
Absolutely fantastic! 110% Recommend!
Reviewed on

12/01/2015
Bridgette B
We came into contact with Rachel because a friend had referred her to us after she had had some of Rachel's cake pops at a company function. We went to several different places to try cakes, but we were looking for something a little different -- we were going to have more of a... Read More dessert table, rather than just cake. Though Rachel doesn't do the traditional cake, she does AMAZING desserts! We had her Chocolate Half-dipped Oreos, Chocolate covered/Caramel twisted Pretzel Sticks, mini Cupcakes, and by far the most delicious Cake pops you will ever have in your life! Now, even a couple of months later, our guests are STILL talking about how amazing the desserts were! Not only were the desserts great, we also opted to have Rachel design and set up the table. Leaving it completely in her hands, we couldn't have been more pleased! The cake table was as gorgeous and imaginative, as the cake pops were amazing. As we had our wedding at the zoo, and Rachel took the theme and ran with it -- without it being over the top. The cake pops were animal prints of different kinds and the table also met our "rustic" theme with woods and burlap. Fantastic job! I wouldn't just recommend Rachel as a wedding vendor, she also caters to other events, and you can oftentimes find her at the local Farmers' markets! Highly recommend!
---
Meet The Owner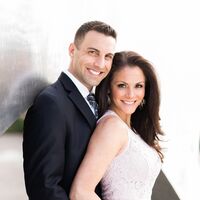 Rachel Altiere
Rachel has a degree in Journalism from The Ohio State University, a successful career in real estate and has lived in New York City for 8 years commercial modeling and acting but she always dreamed of being an entrepreneur. Her love of baking and her creative spirit lead her to take a chance 2 years ago and start her own company specializing in custom made sweets. She has worked tirelessly to build her company into a success by setting up at many area farmer's markets, festivals and bridal shows. She even travels around the country attending baking conventions and classes to improve her craft.