Home

sash&bow, LLC
Details
Rehearsal Dinner, Welcome Party, Ceremony, Cocktail Hour, Reception, Wedding
Full Service Wedding Planning

Contact Info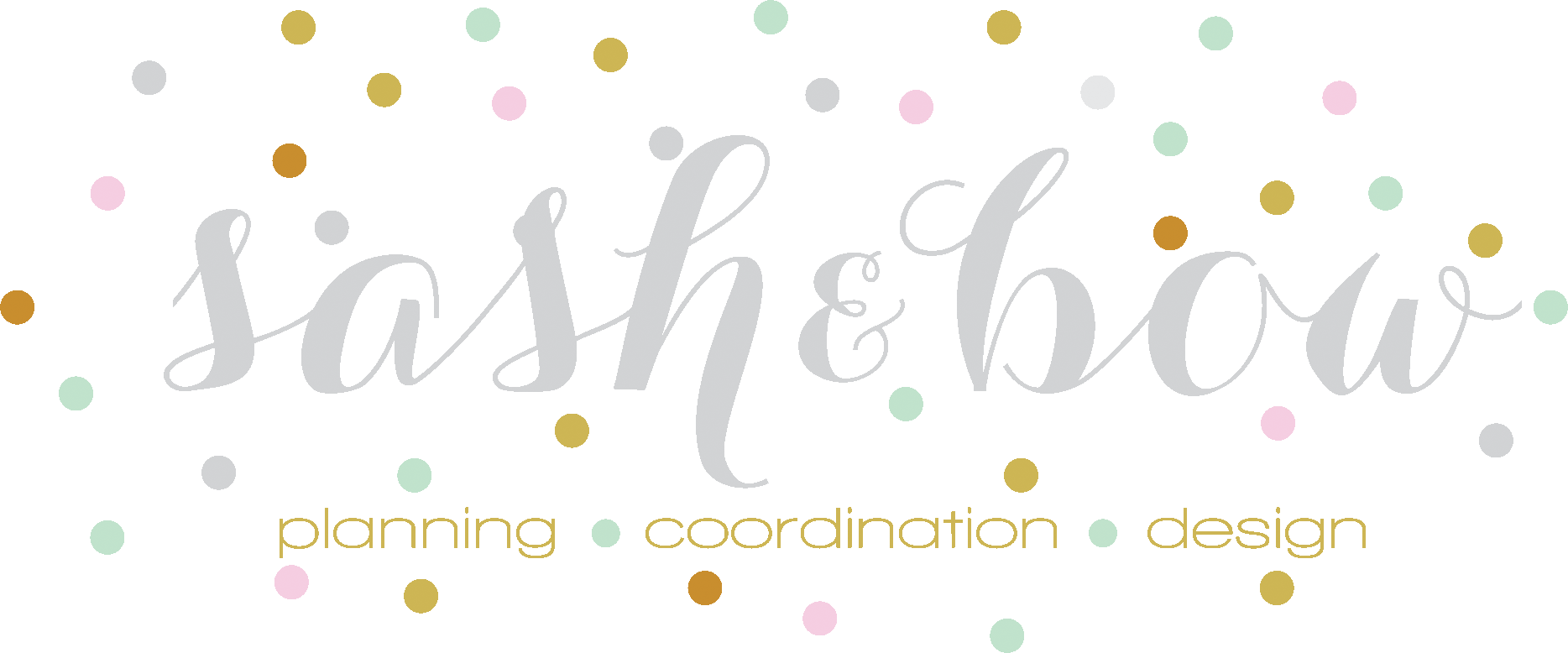 Reviewed on

11/01/2017
Laura D
Alliey and her team at sash&bow were both my first and my best decision in our wedding planning process. My husband and I had a pretty long engagement, so Alliey got to communicate with me for over a year and a half in preparation for the big day! :) She was consistently quick... Read More and responsive, diligent about keeping to a schedule and due dates, and deliberate about recommending vendors and decorations that fit with our vision for our day. Not only that, but our wedding day was almost a disaster, and likely would have been if it weren't for Alliey and her team. Between having to switch our ceremony location last minute - twice - to getting our tent fixed, she always leapt into action to ensure that we were able to have the dream day we so desperately wanted. We also were able to be present with our guests and our family throughout the whole weekend, and experienced an almost entirely stress free day because of this team. If I were to do it all over again, I'd pick Alliey every time. I couldn't recommend this sash&bow more as a super team for all things wedding planning.
---
Reviewed on

10/30/2017
Colleen P
I cannot say enough good things about the ladies at Sash & Bow. They are so professional and have so much knowledge and creative ideas to make your wedding day perfect. I didn't have to worry about a thing because I knew they were on top of everything. Alliey and Kylie treat... Read More every bride with so much kindness and respect, you feel more like family than a client. They are the best in the business and I can't thank them enough for making my wedding day everything I dreamed of. If you are thinking about hiring a wedding planner, I would highly recommend Sash & Bow. They took so much stress off of me and everything was just stunning. Thank you to the amazing team at Sash & Bow, you are the absolute best and we are forever grateful!
---
Reviewed on

8/04/2017
Elizabeth C
I will be the first to admit that when I got engaged I did not think I needed a wedding planner at first. Being out of town from Green Bay, however, I reconsidered that it may be necessary and I met with a few other local planners and then with Alliey. Alliey was absolutely... Read More fantastic from the moment we first met and I knew that I needed her as a partner in this crazy wedding process. She provided counsel immediately on all things wedding (things that you have never thought of or would never think of). I started benefiting from her guidance on day one in regards to vendors, timelines, etc. I also had a pretty specific design vision that I was looking to bring to life and Alliey helped me along the way to get there. She also has an amazing rentals business that makes a lot of the decor planning that much easier. I cannot begin to tell you how good it felt to get to the wedding weekend and just know that everything was taken care of, I really underestimated how many directions I could be pulled in as the bride and it was truly a priceless gift to be able to focus on the wedding, marrying my husband and my family and friends vs. all of the other stuff. I honestly cannot thank Alliey and the team at Sash & Bow enough and if you are like me and hesitant about hiring a planner, HIRE SASH & BOW, it will be the best decision you have made in the planning process!
---
Reviewed on

7/02/2017
Karrie M
I would highly recommend having sash&bow coordinate your wedding. Alliey is a dream to work with and I know the wedding would not have been possible without her. She really incorporated everything from my vision and worked very hard to make sure everything was perfect. The... Read More amount of time, effort, heart, and soul Alliey puts into her work is astounding! We sent countless emails back and forth and she didn't stop until we had it just the way I wanted. We got so many compliments from guests on the decor and special touches. I have heard of so many people stressing over wedding planning to the point where it clouds the actual process and day itself. This couldn't be further from my experience- I don't think I worried or stressed once! I trusted that Alliey would have everything in place-and she did.
---
sash&bow
Reviewed on

5/16/2015
Kara H
For our wedding, I was not planning on having a wedding planner or coordinator. We changed our minds a few months prior to the big day and I 100% am so glad we did! We hired sash&bow for wedding weekend coordination. Working with them made everything much easier - I did not have... Read More to worry about a thing. I knew that Alliey had everything under control and that everything would look amazing. In fact it looked beyond amazing, even better than I had ever imagined! She was a pleasure to work with, I asked a million questions and was a little behind on some decisions (indecisive bride) but she was always very patient and positive. She came up with some great ideas that really set our wedding apart from any I have been too. Everything from decor, to lay out, to reception schedule - she had everything covered. She even had each of our signature drinks ready and served to us when we walked into our reception - all the little things did not go unnoticed :) She had staff at our reception until 2 am and made sure that everything continued to run smoothly throughout the night. As soon as I saw our reception room I thought to myself that I could have never done this on my own. Even my fiance (who didn't care too much about decorations/planning) said wow, Alliey did a really good job! We also had guests asking "who did this, what is her name, how did you find her?". I highly recommend working with sash&bow. I am so glad we did, our wedding would not have been the same without them. They are worth every penny!
---
We LOVE Sash & Bow!
Reviewed on

5/14/2015
Katie H
Sash & Bow was a major reason that our wedding went off without a hitch... They took away all of the stress with planning and preparing for our day. We had no decorations to worry about and didn't have to worry about getting anything set up the day of... They handled everything!... Read More They had great decor to chose from, the options were endless! We knew that when we arrived and saw it for the first time that it would be just what we wanted... And it was! Thank you Alliey and Sash and Bow for bringing our wedding dreams to life!
---
Such a worthwhile investment!
Reviewed on

8/26/2013
Bethany W
This is by far the most difficult review to write because I don't even know how to begin to explain the amazingness of Alliey and her team at sash&bow! They are fantastic! We hired Alliey for full-planning and also used some of her event rentals for our wedding. It was the... Read More most worthwhile investment we made in our wedding. Alliey was in contact with me every step of the way and worked with us to create the wedding day of our dreams. She has so much experience and knowledge to share. She finds ways to save money and to add details to the day that will make it extraordinary. As a bride who was planning from afar, I was so thankful to have Alliey's help with the details and coordination. And on our wedding day, I didn't have to even think about decor or vendor arrivals or deliveries. I had complete trust in Alliey's professionalism. She is sweet, kind, detailed, and a total gem. I recommend sash&bow to any bride looking for partial or full planning--even just event rentals! :)
---
What a fabulous day!!!
Reviewed on

10/27/2011
Hilary P
Sash & Bow was amazing! I could't have done it without them. Alliey took care of all the important details and made our day a success :) I would definitely recommend Sash & bow. Thank you so much!
---
The BEST In Northern Wisconsin!
Reviewed on

10/26/2011
Beth W
Still to this day I wonder how people plan a wedding without hiring a professional?! Professional is what Alliey and her team are, masters at their craft. I actually met with a few other regional planners for my wedding in Door County and came away feeling pressured by some of... Read More their ideas for my big day. Alliey is very down to earth and personable, she totally embraces your ideas and even makes them better. Her shop is so cute, it's kind of what you imagine of when thinking of a setting for planning your wedding...very chic! She doesn't miss a detail in the planning process, there are sooo many things you would never even think of that she does. She has great knowledge and therefore gives great advice. Her resources are also outstanding and can virtually make your dreams into reality. The day of my wedding I had Melissa, one of Alliey's girls, there...she is so fab! She was actually there the day before setting up our rehearsal/dinner and was there until the wee hours setting up the reception hall. The morning of the wedding she was front and center tending to every need imaginable! During all the pre-ceremony photos I managed to get black stuff on my beautiful silk taffeta gown, Melissa was on her hands and knees in the bathroom getting out every last mark...I was so impressed and greatful! She helped to calm my nerves before my big walk down the aisle, too! The ceremony was lovely, she had coordinated it perfectly. I hear the coctail hour was fab...I'm sure she rocked it! Now, the reception hall was so unbelievably beautiful...not only did it meet my high standards, it went above and beyond! I wish you could post pictures on here...they speak for themselves! Everyone was wowed and later expressed that they had never seen anything so gorgeous! During the dinner and dance her work never stopped, she was super attentive! While we were enjoying ourselves, Mellisa and our florist were off cleaning up the bridal suite, which had been trashed from me and my bridal party getting ready...who does that?! I was truly amazed! After the party was over, she took care of cleaning up everything. From start to finish I had not one worry and that was all due to the ladies of Sash & Bow! The service that they provide is priceless! Speaking of price, they are extremely reasonable and offer different options to fit your needs. In my opinion, they very well could charge waaay more because they are so worth it! I also would recommend using some of their favorite vendors...friends of the same feather flock together...equally as fab! Bottom line...if you are planning a wedding, or any event for that matter, Sash & Bow is THE place to go! Hope this helps!!!
---
couldn't have done it without her
Reviewed on

10/25/2011
Allison A
I could not believe the amount of help that Allison was able to give us on our wedding day. Having her there made it possible for us to relax with our friends and family and really enjoy our day. The "day of" stress factor was completely taken out. She even heard me... Read More say..."I'm starting to fade, maybe I need a redbull," and brought me a can while I was dancing. I can't express enough thanks to her for everything she did. I'm pretty sure if I needed to make a choice between Allie and my wedding dress I would have gone in sweatpants.
---
disappointed
Reviewed on

9/28/2011
Kailey B
I was disappointed with Sash and Bow. Allie was unprofessional and often talked about other brides when I was meeting with her. The uplighting was not at glamerous as promised.
---
AMAZING!
Reviewed on

8/16/2011
Jamie O
Alliey is fantastic! She and the rest of the Sash and Bow crew made sure that our wedding went off without a hitch. It was a relief to have someone we could trust help with all the little details from start to finish.
---
Reviewed on

8/09/2011
Christine L
I ordered my bridesmaids dresses and invites from here. The dresses were a bit difficult since none of the girls were in Green Bay and we had to have someonemeasure them and then go by the size charts to get dress sizes ordered. I don't recommend doing that. They have any... Read More and all invites all prices and types. You can do anything you desire. It was somewhat hard to communicate at times via email just because maybe I wasn't clear enough with my wishes but after many reviews the invites turned out gorgeous! I even asked for a font they didn't have and she was able to get it. She was very knowledgeable with weddong etiquette and verbiage on the invites. The only thing that bugged me a little was that they put regularstamps on the RSVP envelopes and we discussed wedding ones. But other than a couple glitches things were great.
---
A Great Day!
Reviewed on

7/05/2011
Abby H
Sash and Bow was absolutely amazing to work with. My husband and I planned a full wedding in 5 days and COULD NOT have done it without the help of Allison. We had an amazing day and Allison was a HUGE help. She made our wedding day memorable and stress free! I can't imagine... Read More what our day would have been like had we not had Allison on our side! Thanks Ali! Abby and Ryan Hatch.
---
Absolutely breathtaking!
Reviewed on

5/24/2011
Amanda l
We had so many guests tell us how elegant everything looked. From the linens and chair covers (that Allison finally convinced me would tie it all together) to the custom GOBO and surround accent green lighting, it was just all so wonderful.
---
Made Our Day
Reviewed on

11/09/2010
Kelly R
Alliey and her team were fantastic! All their work on our day allowed my family and I time to get ourselves ready - she took care of all of our reception set up. The site was gorgeous when we arrived and she was well worth every penny. I'm recommending her to all my engaged... Read More friends!
---
Wonderful!
Reviewed on

11/09/2010
Ashley D
Allison of Sash & Bow was wonderful to work with! I gave her my color scheme and from there she could put everything together beautifully! She will work with your florist and whoever else you may choose as vendors to make sure your day is wonderful! Thanks Sash & Bow!
---
Everything was perfect!
Reviewed on

11/05/2010
Ashley N
Allison is WONDERFUL! Her ideas are endless and her service is superb. I would greatly recommend Sash and Bow.
---