Home

Say Cheese Photo Booth Rentals
About this Vendor
Inspiring Fun and Creating Memories Since 2007
If you're looking for a top quality photo booth experience with the best customer service in the business, all you have do is "Say Cheese!" We're Austin's oldest and largest photo booth company. Our wedding photo booth package includes the following: Up to 5 hours, unlimited photos and extra prints, custom guest videos, lots of fun party props, keepsake scrapbook, custom logo or graphic on each strip, digital copy of the images, timely set up and breakdown of the booth, and free local delivery in the Austin area. Don't miss out. Call to book us today!
Details
Digital Files, Online Proofing, Photo, On-Site Printing, Photo Props, Video Booths, Photo Booths, Social Media Sharing





Reviewed on

6/05/2017
Meredith A
As someone who worked for a wedding planner for several years, I had high expectations for the photobooth. I have seen many photobooth companies, but this one definitely is THE BEST! Timely, helpful, friendly, and experienced best describe Say Cheese. I would highly recommend... Read More Say Cheese!!!!
---
Reviewed on

10/07/2016
Morgane L
Todd and his team are incredibly easy to work with and are detail oriented. The staff member on site is always well informed, productive and reliable (and they are always a lot of fun, encouraging guests to get in the booth and use the props). I've worked with Say Cheese in my... Read More current job for over 5 years and have always had consistent, reliable service with a smile. After the event, you'll receive a thumb drive with digital files of all of your pictures - it's a nice way to capture and revisit all of the fun that your guests had in the photo booth!
---
Reviewed on

4/30/2016
Rea F
My wedding coordinator recommended Say Cheese when I was looking for photo booth rentals. They were great! After much research, I found that Say Cheese's package provided the most for their price. Their package includes 5 hours of event time, which I thought was wonderful.... Read More This meant that they could set up before the event, and they were available during the entire reception. At the end of the reception, Say Cheese provides you with a scrapbook of all your guests' photos and your guests can include messages next to their photos. My husband and I had a lot of fun reading everyone's messages. The scrapbook also comes with a flash drive, which made it really easy to upload the photos onto Facebook. As far as service, Say Cheese's service was wonderful! They were very responsive -- all emails were answered within a few hours. On the day of the wedding, everything went great. They provide an attendant who sets up the booth and props and stays throughout the event to make sure everything goes smoothly. My guests had a GREAT time taking photos. I highly recommend Say Cheese!
---
Reviewed on

12/26/2017
Felicia E
Todd and his team are amazing! Even with the crazy Texas weather! We had a blast with the vintage booth and props! Even with minor hiccups they quickly fixed and we got to continue or fun!! Everyone of my guest loved it!! I would recommend them over anyone!!
---
Reviewed on

10/18/2017
Jennifer P
Professional, prompt & playful. For 20 years, I've hosted an annual client appreciation party. About 6 years ago, I hired Say Cheese and have used them every year for this event along with my brother's wedding and a 50th birthday party. Totally made the party! Todd Darby and... Read More his staff helped with original ideas like featuring the invitation as a backdrop to the open air booth...using my company logo as the last frame in the photo strip. Also, the video testimony and the thumb drive of all the pictures make for great memories...instant gratification! It's fun and worth every penny.
---
Reviewed on

10/18/2017
Matt M
Say Cheese was the hit of the wedding. All our guests had such a great time. Great fun at a great price. Thanks Todd
---
Reviewed on

10/17/2017
Jimmy R
My band has been playing wedding receptions in Texas for 20 years so we see a lot of photo booths. Say Cheese Photo Booths stands out in both their professionalism at the event and for having the latest technology photo booths in the industry. We always manage to snag a... Read More photobooth pic and between the props and the friendly staff, Say Cheese is the only booth company I refer.
---
Reviewed on

10/13/2017
Allison W
LOVE this company! Their booth options are awesome and the open-air green screen ones are an absolute hit for getting big group pictures. Say Cheese! has been around a long time and they know exactly what they're doing!
---
Reviewed on

10/13/2017
CLARENCE G
Say Cheese has been on time and their people help everyone get into the spirit of fun.
---
Reviewed on

10/12/2017
Jonathan M
We had a blast with say cheese at an event last winter here in Austin! His booth was so advanced that it barley took up any room! And the props and photos were high quality! Everyone loved say cheese! High recommend!
---
Reviewed on

10/12/2017
Merrick F
Absolutely love Say Cheese photo booth!! Excellent quality all the way around. Can't wait to use them for another event. Thank you!!!!!!
---
Reviewed on

10/12/2017
Renay L
Todd with Say Cheese Photo Booth is top notch. He is friendly, helpful and really enjoys working with his clients and their guests. We will definitely use him for our next event.
---
Reviewed on

9/27/2017
I had a wonderful experience with Say Cheese on September 9th, from my initial phone call in March to the last photo was snapped. These guys are pros and I would recommend to anyone!
---
Reviewed on

6/06/2017
Bob R
We did a wedding at Star Hill Ranch and used Say Cheese photo booths. They did a great job, and they were a lot of fun. At the end of the night they gave my daughter and her husband a photo album of the night as they left in their limo. They were a great part of the night.
---
Reviewed on

11/14/2016
Kristina S
Amazing!!!! And they put a photo album of all the pictures taken together for the me and my groom as a gift! Loved it!!
---
Reviewed on

10/07/2016
Sherry W
Working with Say Cheese has been a very positive experience. They arrive on time, have professional staff onsite, and are very reasonably priced. I would recommend them to anyone planning an event.
---
Reviewed on

10/06/2016
April A
Best and fun keepsake for guests! People enjoyed the props and being able to take pics with different friends. Definitely makes an event that much more personal and special!
---
Reviewed on

9/23/2016
Josie V
Say Cheese Photo Booths has been coming to our Panther Preview (back to school event) for several years. The photo booth has always been a great success. We plan to use them in the in future again. The personel is very friendly and prompt.
---
Reviewed on

9/20/2016
Linda B
We recently hired "Say Cheese Photo Booth" for our convention party. We offered a number of different activities for our guests but the booth appeared to be the most popular activity at the party. Over a two hour period, the line never let up. They had great props that fit... Read More right in with our zoo theme and they moved folks through very efficiently. We saw nothing but big smiles! It was an obvious hit! We highly recommend them as a great addition to any social event! Oh, and the price was very reasonable.
---
Reviewed on

9/20/2016
C D
We had Say Cheese Photo Booth at both of our daughters' weddings. Both times the staff was on time, courteous, and professional. Say Cheese Photo Booth was fun and a memorable way for our guests to keep and also attach pictures in the scrapbook provided by the company as a... Read More fun gift to the brides and grooms. Say Cheese Photo Booth provided all the props. No wedding is complete without Say Cheese Photo Booth . A+++++
---
Reviewed on

2/20/2016
Say Cheese Photo Booths were very generous this past holiday season and donated a photo booth for two charity events hosted by our nonprofit organization. Not only did we greatly appreciate the donation, we truly enjoyed working with such a great company. Todd Darby (owner)... Read More and his team were easy to communicate with, responsive, punctual, and professional. It was a great customer experience. The booth looked great and we did not experience any technical difficulties during the two 3-hour events they were in use (100+ pictures were taken). There were also a ton of great props to help make all the pictures fun. Everyone really liked getting two strips of photos after each photo booth "session". It was nothing but good and very fun. It was way more popular than we expected it to be! The Say Cheese Photo Booths company gave us the option to use our organization's logo as one of the pictures and they gave us a thumb drive with all of the pictures. A great company with a great product that makes for a great time!
---
Reviewed on

1/14/2016
We did the photo light painting booth at a recent event. The booth itself was really cool - different from the average photo booth and everyone loved it. Absolutely worth the money - one of the best parts of the party! However, more important to me was: a) the company was easy... Read More to get in touch with - they responded FAST to all emails and calls and gave numerous ways to reach them b) they got in contact before the event to firm up details, making me feel good about their reliability c) they were super flexible about set up times (and included in their packet is plenty of time so you don't have to worry about interrupting your event to have them close down) d) staff was fun and professional I will be contacting them if I ever need any type of photo booth in the future and haven't hesitated recommending them to everyone!
---
Reviewed on

11/17/2015
Abby B
This photo booth was a major hit at our wedding!! Devin was great, super enthusiastic, helped suggest poses for people who needed some creative ideas, & his props were awesome! They also put together a book of the photo strips for us, as well as a flash drive with copies of all... Read More photos & videos that were snapped in the booth! It was so great, I got so many compliments on having it there, its perfect for all ages, I highly recommend it!!! If it's in your budget, try to work it in because you won't regret it!
---
Reviewed on

10/22/2015
Say Cheese is a great photo booth company. We are so grateful for their services! They were a very relaxing and professional vendor to work with. Can't wait to have them at future events!
---
Reviewed on

7/14/2015
I want to say first and foremost that this was a great experience and if you don't have one of these at your wedding your are missing out. Todd made this experience live through the night as friends and family got to take a picture with everybody in attendance. Plenty of fun... Read More stuff to wear such as hats and funny glasses so you could have fun with your loved ones and your kids. At the end of the night we got a complete collection of every picture taken to share and remember the fun stuff throughout the night. You cannot go wrong by having Todd and his booth at your wedding. Five stars is all that is available to rate this experience but I would give more if I could. PS this was my wife's idea and I thought it was to say a little cheesy but as I watched through the night and ended up getting in there with my wife I saw it was worth every penny. I hope that the future is bright for Todd as he helped make memories at my vow renewal that will last a lifetime.
---
Meet The Owner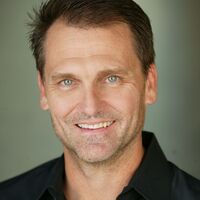 Todd Darby
Todd's vision to create the best photo booth rental company in Texas started with just one booth and a desire to work hard. Timing being everything, he was lucky enough to be the first photo booth company Austin and Central Texas. Hoping to do around 50 events in 2008, he was pleasantly surprised to do 126! In the years since, Say Cheese has grown to 10 booths, won nearly 20 industry awards and done over 2750 events. Our focus has always been to provide the best quality product and customer service in the industry. We'll take great care of you and your guests!