Home

Seams Couture
About this Vendor
Couture and Custom Designer Bridal Studio
Designer Bridal Couture and Custom Gowns, Bridal Suits & Accessories made to order from sketch to hand-finish in our Providence, RI workroom. Major Bridal Alterations and Vintage Re-making Specialists. Please see our Website for more info and to Contact Us! We can only make Appointments thru the Seams Couture website and not here on The Knot ;) Services and address By Appointment www.seamscouture.com/contactus Thanks!
Details
Bridesmaid Dresses, Flower Girl Dresses, Mother of the Bride Dresses, Wedding Dresses, Dresses, Alterations, Custom Designs, Dry Cleaning + Preservation, Plus Size Available, Private Appointments Available, Fashion
Best of the BEST!
Reviewed on

12/12/2015
Brianne F
My mother-in-law had known Harper from my sister-in-law's wedding. She was wonderful working with Katie and doing all of her fabulous wedding dress alterations. For my dress, I wanted to wear my husband's grandnother's wedding gown from 1938. The dress was a beautifully antiqued... Read More yellow/ivory lace gown but had some damage in small places from the 80+ years of being stored without preservation. Harper transformed this elegant gown to something I would have never found in a bridal shop! She did such a beautiful job repairing the damaged sections and even made me a custom veil from extra lace taken from the sleeves of the overlay that came with the dress (David's grandmother had tiny arms!). It was so perfect for our vintage heritage Irish/Scottish wedding. I would absolutely go to Harper for any alterations or restorations as she takes such great care in what she does.
---
Amazing Experience
Reviewed on

12/11/2015
Denalee D
Seams Couture was one of the few vendors I would emphatically recommend to other brides. Harper was a joy to work with (I actually miss going in for fittings just to catch up!) and she worked with me smoothly even during the time I was living in Baltimore. I really wanted to... Read More update and wear my grandmother's dress and Harper used all the viable pieces from her dress and found identical fabric etc to remake what couldn't be restored. I went into our first meeting with tons of broad ideas, and Harper knew just how to fit them all together into one gorgeous dress. Harper also worked on my mom's dress for the wedding and completely exceeded both of our expectations. Harper truly went above and beyond to make me feel like a princess on my wedding day. If you have the opportunity to work with Seams Couture, don't pass it up!
---
The best dress experience
Reviewed on

11/07/2012
Angela B
I knew from the get-go that I wanted a wedding dress that was outside the box. I heard about Seams from a friend who had had her dress made by Harper. I didn't even bother looking any place else before making my first appointment. It was the best decision. Harper is amazing. We... Read More sat down at that first appointment and came up with my dream dress. I picked the fabrics that I wanted and had a say in every step of the process. The result was fantastic and everyone commented that my dress looked great. It fit like a glove and was actually comfortable to have on for 6+ hours. Harper also went above and beyond making a matching tie and pocket square for my husband and making a beautiful color sketch as a keepsake. I could not have gotten this dress at any store and it was a great value for the quality of materials and workmanship.
---
Reviewed on

10/18/2016
Katie S
Working with Harper was lovely! She created my dream dress and everything came out perfectly. I did not want to take it off, I loved it so much! She is extremely organized and professional with great attention to detail. I would absolutely recommend Seams Couture to any Bride!
---
Reviewed on

10/17/2016
Caroline H
Harper was amazing from start to finish. She was happy to work with my busy schedule and made each appointment a joy to go to. Any issues I'd had with the fit of my dress, from weird boning in the bust area to way too long layers of chiffon, Harper fixed it all and made me look... Read More amazing on my wedding day. She was also so cool to talk to and had such great stories and facts about fashion and design that I'd never imagined. TL;DR, if you don't have all your wedding day dress design and alterations done by Harper at Seams, you're doing yourself a serious disservice!
---
Reviewed on

10/17/2016
Laura Faye P
Harper is a miracle-worker! I used her for my wedding dress alterations and could not have been happier. Her experience, confidence, and professionalism were apparent from day one and I felt very comfortable leaving my dress in her hands. By the third and final fitting, my dress... Read More fit like a glove and the whole process was smooth and straight-forward. I highly recommend Seams Couture!
---
Reviewed on

10/16/2016
Laura P
Harper is a true professional, super talented and even better she is a local Providence lady. Would recommend her for alterations or for custom design work. She knows her stuff.
---
Reviewed on

6/23/2016
holly a
Harper is a creative and talented seamstress. She did an excellent job with my wedding dress alterations. She is very professional and took excellent care of my dress and made sure it fit me perfectly.
---
Reviewed on

6/22/2016
Harper did such a fantastic job altering my wedding gown -- it fit like a glove! She was always prompt when responding to questions, and very flexible making appointments. I would HIGHLY recommend!!
---
Reviewed on

11/06/2015
Working with Harper was so easy and she made dress alterations such an easy and non-stressful event! I couldn't haven't been more happy with the alteration work she did on my bridal gown, the dress fit perfectly the day of the wedding. Harper also helped to make it possible... Read More for me to wear my Grandmother's full lace veil that she wore at her wedding sixty years earlier! Knowing that the veil wouldn't be affected by having a comb placed in it and the integrity of the veil would be intact was so important and enabled me to wear a family heirloom. I would absolutely recommend Harper and Seams Couture to anyone!
---
dress dreams CAN come true!
Reviewed on

10/31/2014
Harper at Seams Couture made my wedding dress dreams come true! I had such a special experience working with Harper. She was so patient and creative, and she was able to bring my dress vision to life- even better than my vision actually. Harper is so easy to work with, and her... Read More work is TOP quality. My dress fit like a dream! I was so pleased with the final product, and the process of having a couture dess made is unforgettable... not to mention fun!
---
Harper is a wedding dress goddess!
Reviewed on

9/22/2014
Emma W
I wanted desperately to wear my grandmother's (and mother's, and aunt's) wedding dress for my wedding day. Unfortunately, my swimmer's shoulders were never going to fit in my petite family's gown. I also wanted an updated look that would fit with my style AND I wanted to keep... Read More the original dress intact for future generations. Needless to say, I thought I was out-of-luck. Harper, however, thought differently. Using the skirt (which could easily be resewn back onto the orginal bodice), she created a masterpiece of a modern dress that honored the women of my family. It had subtle nods to my Irish heritage, looked completely unique but still classically beautiful. Top it off with a perfectly tailored fit and I was a very happy bride. Harper was also totally open to changing parts of the design as we went. The best part is that, although the updated dress looked nothing like the original, it can easily be put back to its original state with a single seam!! The price was less than most people spend on a new dress...PERFECT!
---
Bridal Gown
Reviewed on

9/22/2014
Lara R
I was referred by a friend for my gown alterations and I am so glad that I went with her recommendation! The gown needed some real pinning and tucking around the bodice and when I went in for my fitting it fit like a glove. Harper was easy to contact and everything was fast and... Read More professional. Thank you so much Harper!!
---
Perfection!
Reviewed on

8/11/2014
Sarah H
I bought my dress in New York City, but didn't want to have to commute back and forth from Providence for each fitting. I looked everywhere for a tailor I could trust with my wedding dress, but never felt comfortable with anyone. My wedding make up artist recommended Harper... Read More and when I met her I knew she was the person who could help me make my dress perfect. She is so detail-oriented and professional. She explained everything she was altering on the dress and what it meant and allowed us to take our time at our appointments. My mother-in-law ended up taking her dress to Harper too! I felt absolutely beautiful on my wedding day. Highly recommend.
---
Harper is a gem; Providence is so lucky to have her!
Reviewed on

8/10/2014
Joanna K
Harper is a consummate professional. I came to her because I figured, surely if she can make custom wedding dresses for others from scratch, she can do my alterations and make a custom sash for my dress. I was not disappointed. My dress fit like a glove and the custom sash... Read More was amazing. Not only that -- Harper helped me turn what began as a vague idea about the sash into a concrete idea and then a reality. Furthermore, while my bridal salon would have had me wear a bulky giant bra under my dress (making me look bigger!), Harper sewed in bust cups and with her alterations the dress fit *so much better* than it had in the store. She knew exactly the designer of my dress and what she had to do to make it perfect. Harper is a gem and Providence is so lucky to have her. She is really dedicated to your dress fitting exactly right -- and with wedding gowns, fit can be a very delicate thing. All that, and her price was very reasonable. I can not recommend her highly enough.
---
Great pick for alternations
Reviewed on

11/07/2012
Stephanie R
Harper did the alterations on my wedding gown. We called her after my bridal shop informed me that they couldn't do the alterations for me, and she squeezed us in! She did an amazing job on my dress. She replaced the zipper and did a few other additional things that we didn't... Read More ask her to do. She has a set price for the dress alterations and while it was a little pricey, it was worth it! I was at ease with her and knew she was going to do a flawless job. I would use recommend Harper to any of my friends!
---
Perfect wedding suit
Reviewed on

11/07/2012
Jessica R
Harper designed and made my wedding suit. It's hard to get a woman's suit to look just right, and I had a few quirks to add to it, but she just took it all in stride and produced an amazing result. It was perfect. She also did some finishing work on my wife's gown, which we got... Read More from a bridal shop, to make our outfits match. We were very happy with the result.
---
Awesome!
Reviewed on

11/03/2011
Olga K
Harper created a beautiful ivory lace bolero jacket which I wore over a store-bought ivory wedding gown. It was gorgeous! She also made a raspberry colored sash which I wore to the reception (I removed the lace jacket). Harper listened to my ideas (and made several changes... Read More when I asked), was very easy to work with, and is generally fun and creative. She really did a fantastic job. I got tons of compliments on both items. She also made my sister-in-law's entire wedding gown (my sister-in-law recommended Harper to me). She's great, I would highly recommend her work. I wish I could attach a picture of the pieces!
---
Custom dress
Reviewed on

7/12/2011
Laura H
Great assistance with coming up with a design. End result was lovely. On the downside, could have used a bit more of a flexible approach in executing the design.
---
Review for Seams
Reviewed on

5/10/2010
Christine G
I had my dress custom designed and made by Harper Della-Pina of Seams. She is a professional coutier and did a phenomenal job at an amazing price. My dress would have easilty cost 3x the amount in another salon. Best thing - didn't have to pay for alterations because it was... Read More custom made and it was made in the USA...not in China like all of the other dresses you notmally order.
---
Meet The Owner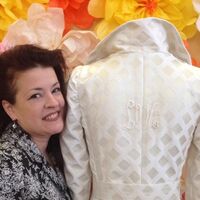 Harper
Designer and Couturiere Harper Della-Piana learned to sew at age 2, the product of generations of sewing professionals. A classically trained Draper, Patternmaker, and Fitter, she spent over the past 25 years as a Professional Costumer and Wardrobe Supervisor in New York City and Boston for Major Film, TV, Broadway, Ballet, Circus, Ice, and Commercials. She has created costumes for such productions as Door in the Floor, A Beautiful Mind, Brown Sugar, Beloved, Batman Forever, Dogma, Victor/Victoria, Will Rogers Follies, Spin City, Saturday Night Live, , and The Late Show with David Letterman