Home

Seaside Strings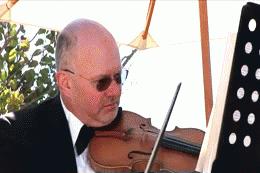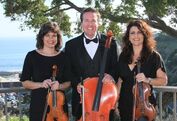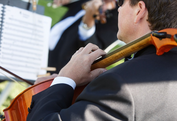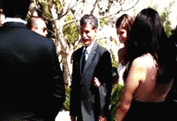 About this Vendor
Receive A Discount
The Seaside Strings specialize in professional classical entertainment for your wedding ceremony, party, or event. Serving Southern California, we have ensembles of different sizes and instrumentation to custom-fit any type of event and budget.
Contact Info

18685 Main Street #178, Serving LA/Orange County, CA
Great live music (string quartet) for the ceremony!
Reviewed on

6/11/2013
Gricel V
We selected Seaside Strings to provide live music during the ceremony and to entertain during pictures / happy hour for our wedding at SeaCliff Country Club in Huntington Beach, and could not be more pleased with Chris and the entire string quartet. Seaside Strings was very... Read More responsive and incredibly easy to work with throughout the process, and even learned three of our favorite (non-traditional) songs for inclusion in the ceremony (all we did was provide the piano sheet music, and they did the rest!). Overall, we highly recommend Seaside Strings!
---
Beautiful Music
Reviewed on

6/24/2013
Brenda M
We selected Seaside Strings to provide the ceremony music during our catholic mass in spanish and we were very happy with their performance especially considering it was a spanish mass. We were very pleased with Chris- he was very responsive and incredibly easy to work with... Read More throughout the process. Lastly, I also appreciate that they learned a song (almost last minute) that I wanted played during our mass and which he did not have in his repetoire. We were lucky to have had a wedding channel coupon which only cost us half of what they normally charge but overall I do recommend Seaside Strings. My husband and I wanted an elegant wedding and we definitely got one.
---
EXCELLENT QUALITY AND SERVICE!!!!
Reviewed on

9/15/2014
Michelle F
Chris was a pleasure to work with!!! Planning a wedding is VERY stressful and his calm demeanor made the process very easy! He also made some very good recomendations without seeming like he was trying to oversell business. I couldn't have done this without him!! Thank you... Read More Chris and Seaside Strings for all your hard work and support!!! You made my wedding an enjoyable one and helped create memories that will last a lifetime. :) 
---
March 16th Wedding at Mariner's Chapel - Irvine
Reviewed on

4/17/2013
Janis P
We were very pleased with Seaside Strings. The bride was out of state so we each spent hours listening and gaining knowledge not only on what group we wanted to use but also what songs. Seaside was able to perform a nice mixture of classical and modern selections. Chris was... Read More very happy to fill requests yet he was at the same time helpful and honest when we had chosen things that might not work well or had chosen too many songs for the amount of time needed. Chris was good at consulting us in what was feasible and appropriate for the ceremony. I had many comments from guests who said they thoroughly enjoyed the music especially before the ceremony. I had previously told several guests to go as early as possible get a good seat in the chapel and enjoy......and they did! Seaside arrived on time, set up, were never in the way, knew what they were doing, took cues and worked very well with the wedding coordinators and filled all of our needs. Chris was very prompt with contracts and paperwork. I would work with them again and would recommend Seaside!
---
Beautiful Music
Reviewed on

10/25/2012
Samantha L
We bought a wedding wire coupon for them, so they were very reasonably priced anyways. They sounded amazing! I didn't want the typical wedding music, so they did acoustic country songs. Best idea ever! Everyone loved it and it made the ceremony so much more personal. Definitely... Read More recommended!
---
Highly Recommend, but make sure you can see them
Reviewed on

1/01/2012
Laurie C
Seaside Strings were great! Not only did they sound wonderful, but they were able to play a song that was not in there repertoire. I sent them a mp4 and they figured out how to play it spot-on. Compared to other strings quartets I called, there prices were the best. I was... Read More totally satisfied with Seaside Strings. The only thing I would say- and this was not at all there fault, but just something I didn't think of- was that we never told them where we wanted them set up. We just assumed they would be at the front of the church beneath the alter. However, they set-up in the rear balcony where the choir would normally sing. This is also where the organ was located. Because of this we ended up never seeing them. The entire ceremony went by and neither I nor my groom ever saw them- we just heard them. They sounded excellent but would have liked them clearly visible by the guests. We never thought to tell them this or to tell our wedding planner to tell them. We just instinctively assumed they would be at the front. We wonder if our guests even knew the music was being played live. For all they know it could have been a cd.
---