Home

Select Event Group
About this Vendor
Select Event Group - The Total Event Resource
We are so excited about helping you plan your big day! Select Event Group prides itself on being one of the area's most popular and sought-after event and wedding designers. We strive to make your experience professional, courteous, and fun! No matter what your vision is for your event, we can help you bring it to life!
Details
Lighting, Generators, Portable Restrooms, Linens, Lounge Furniture, Tents, Rentals + Equipment
Contact Info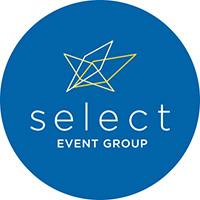 A Wonderful New Years Eve wedding
Reviewed on

1/06/2015
From the beginning to the end - Select Event Group was extremely professional, reliable and easy to deal with. Even when there was a last minute change - as it happens with weddings - they took immediate action to make everything right and I never felt like I was bothering... Read More them. I appreciated their attentiveness and would recommend their services anytime! We had a magical New Years Eve wedding and their services helped make it possible.
---
Very efficient!
Reviewed on

7/29/2014
ashley s
When desperate came for desperate measures, Select was there to help. The tent was put up in 3 hours, looked great, and was just what we were looking for. The planner plus workers stayed on site until the job was finished. Everything worked out perfectly!
---
A pleasure to work with
Reviewed on

1/09/2014
Renee C
We rented a dance floor and coffee urns for our 12/7/13 wedding from Select Event Rentals. I coudl not have been happier fromt he initial call to the delivery and setup. The pricing was transparent and there were no "hidden fees." We needed to make some last minute changes to... Read More the timing of our delivery and pick up and Select Events was very accomodating.
---
Reviewed on

11/25/2017
Laura P
Overall, pretty good service. They did say we lost a few things, which we dispute, but they never charged us for them so it didn't really matter. The selection was good and our tables looked really nice. I see them as more of a high-end rental company, and if we weren't... Read More receiving a discount, we might not have ordered through them. They delivered to the venue and picked up from the venue for a nominal fee.
---
Reviewed on

11/12/2017
Kaitlin O
Select Event Group helped make our wedding venue beautiful with linens. We got so many compliments on how beautiful our linens were. They had so many options to choose from at their showroom and were very helpful in making our decisions. We had to change our table count a few... Read More times and they were always so accomidating with changes. Highly recommended!
---
Reviewed on

10/25/2017
Stacey H
Anna was a dream to work with. She created my floor plan and made sure it was executed to perfection!
---
Reviewed on

10/24/2017
Jane L
When it comes to table settings, Select Event has it all, whether you are going for upscale elegance, a bold design statement, or something quirky and sweet. Their linens selection is outstanding, and if you are planning the wedding yourselves (like we were), they offer great... Read More input and advice for anyone looking through all the possible choices. On the day of, they are extremely professional and efficient. In our case, a huge Baltimore event kept roads closed for hours past the official end times, and their trucks were not able to get to the venue until 30 minutes before the start. I have never in my life seen people hustle that quickly, and despite the rush the execution was absolutely flawless. The best review for them is not from me, or any bride, but from the experienced vendors we worked with, who have seen hundreds of weddings and all agreed that Select is the absolute best.
---
Reviewed on

9/13/2017
Lindsay M
Susan was great to work with and the brown wood chivari chairs arrived on time and were beautiful! Will definitely use again.
---
Reviewed on

2/12/2017
Julia C
We used select events for chiavari chair rentals. They were easy to work with and had a competitive prices. They worked directly with the location on where to drop off and pick up the chairs and when. We did not have a wedding planner, so it was awesome that I did not have to be... Read More involved on the wedding day. They were also flexible when I had last minute changes to the number of chairs needed.
---
Reviewed on

11/20/2016
Chanel M
Select Event Group did a great job providing the linens for our wedding! Their staff was professional and helpful during the selection process. They even let us play around in their showroom to get a better idea of how the linens would look on the day of. And management was... Read More flexible allowing us to adjust our order once we confirmed the number of guests that would attend the wedding, saving us some money. Overall, we had a great experience with them.
---
Reviewed on

11/07/2016
Sherri P
We rented chairs from Select for our wedding reception. Very professional and easy to deal with! The chairs were exactly what we were looking for - good quality and affordable!
---
Reviewed on

9/18/2015
Michelle G
Our caterer put us in touch with Select Event Group for our 300 guest wedding on our family farm. We worked with Vicky for our tent rental and Debra for our tables, chairs, and dance floor rentals. Select is very smart to have different divisions for the rentals – each contact... Read More is a total expert in their division, rather than everyone in the company trying to know everything! Debra and Vicky worked with our requests and multiple changes to our floor plan and tent size. Vicky and Debra were on site both days during set up to handle any issues that may have come up. All of the staff who set up were very professional as well. I still smile every time I see one of the "Big Blue" Select trucks on the road. Very highly recommended!
---
Superior Service
Reviewed on

10/09/2014
Valerie R
We got a lot of compliments about the china, glassware, charger plates, and flatware from this particular vendor during my August 2014 wedding. They delivered according my time schedule and convenience which was appreciated. The china and glassware were perfect. I have to... Read More tell you that I did receive some tarnished flatware and Select Event immediately remedied the situation and bought new flatware. My planner was impressed because excuses are better left unsaid. I was very pleased with my representative. They worked as a team at Select Event so you can talk to one than one person and get results. Extreme communication skills and you can add plenty of understanding from them in the bargain. I have no problem recommending Select Event Group. They quartered backed for me and I did receive beyond my expectations. Valerie La Plata, MD August 2014
---
Great rentals!
Reviewed on

9/18/2013
Robbie H
We only worked with Select for part of the rentals, and our planner handled the rest. We visited Select (in Baltimore) to look over linen options with our wedding planner. Susan was very accommodating and helpful. Later in the process, we visited again with our caterer to select... Read More dishes and flatware for our reception. Susan was again friendly. Later, when it was time to pay for other rentals (Chairs, etc), Susan was VERY helpful over the phone collecting payment, even after my card was declined (daily spending limits - ARGH!). We got it worked out quickly and efficiently (and patiently!). Very easy vendor to work with!
---
Great service!
Reviewed on

7/30/2013
Yuhong X
If you want no hassle and need to rent chairs or event need a tent select event rentals will handle and with no issues. I was planning the wedding on my own so they helped me so much on certain decision making for my outdoor ceremony. Thanks again for everything guys!
---
Decor + Wedding Planning
Reviewed on

5/09/2013
Emily H
I worked with Joanne from Capital Decor, I even hired her as my day of wedding planner. She was great, she went above and beyond what was expected of her and worked with me to get the pricing down to where my budget was. The flowers were gorgeous!
---
Stunning!!
Reviewed on

9/18/2012
Sarah W
Everything was aboslutely gorgeous and we received so many compliments about our centerpieces (especially). My only complaint would be that I did not get everything that I had thought I would be getting. It seemed as though a few of my thoughts were not listened to and... Read More therefore, a few elements I had really wanted, ended up not being included in the decor. Overall, everything still looked beautiful. A bit pricey though.
---
Very nice chairs
Reviewed on

12/30/2011
Claire M
We really liked the chairs that we got from Select Event Rentals. I spoke with Ramona several times and she was always very helpful. She helped me to choose the best cover for the chiavari chairs we wanted. The only possible problem would be if your venue will not allow... Read More delivery and pick-up to be on weekdays because they charge a couple hundred dollars to deliver and pick-up on the weekend.
---
Church decor
Reviewed on

12/19/2011
Bernita K
My wedding was in a small chapel that is normally used for baptismals. The chapel had a mirror attached to the pulpit that could not be removed. I called Select Events located in Baltimore, Maryland to rent pipe and drape. The company brought the items to the church. Before I... Read More rented the items I asked for a swatch of the material. Feeling the quality of the material made my decision easy to use them. Using pipe and drape require an easy set up. The staff did not set up the product. The pipe and drape changed the look of the room dramatically. It gave the room a softer look. I will defintely use Select Event rentals again. I will ask if the items will be set up by their staff and is there an additional fee.
---
Great Selection!
Reviewed on

11/19/2011
Kali B
Helpful service, helped me make my changes, and make my wedding dreams come true!
---
Horrible delivery/setup staff
Reviewed on

11/01/2011
Heidi R
Select was hired to provide all of the rentals for our at-home wedding, from the tent and flooring to the tables and chairs. They didn't always get back to us right away and we had to follow up with them a few times, and also ask questions a few times before they were answered.... Read More The biggest problem we had was with the delivery staff. They were extremely late and made us late for our rehearsal dinner, ruined parts of the lawn and dirtied a lot of our rentals by dumping them on the driveway and lawn, and didn't follow directions. However, once I called the office, they were quick to communicate to the staff and get things in order. They were also extremely flexible and saved the day by getting us tent walls the morning of the wedding. We were extremely appreciative of that. We would recommend them, but be sure to stay on-top of the delivery staff and keep yourself organized as well; don't take anything for granted.
---
created the perfect setting
Reviewed on

10/07/2011
Sarah K
Jeffrey and the team at Capital Decor did an amazing job helping us visualize what we wanted and executing perfectly. Amazing!!
---
Beautiful Arrangements
Reviewed on

6/15/2011
Erica M
I worked with Kelly over at Capital Decor and Events, and loved his work. I sent him pictures of what I wanted (including the Chuppah, Bouquets, etc.) and he came through. I had people tell me I had the most beautiful centerpieces they had seen.
---
chivari chairs
Reviewed on

12/14/2010
Kavita S
I ordered chivari chairs from Select party rental and the person I worked with was easy to reach and extremely flexible. She was quick to send all invoices and the chairs were delivered and picked up as promised and on time.
---
Great Selection and Helpful Staff!
Reviewed on

6/28/2010
Kelly B
I used Select Event Rentals for my linens and they were great to work with. Especially Susan Childs at the Baltimore location. She was very friendly, helpful and very knowlegable about decor and helped me to make the best decision. Even though i only used them for my linens,... Read More they had a huge selection of chairs, flatware, ect. to choose from as well. I would very much use them again in the future, and would suggest them to future brides as well :)
---