Home

Shadowbrook at Shrewsbury
About this Vendor
The Shadowbrook estate may be exclusively yours!
The Venetian and Seasons proudly introduce the historic Shadowbrook as the newest addition to our family of fine catering. A long, tree-lined drive welcomes your and your guests to Shadowbrook, the most elegant Georgian mansion set on 18 secluded acres of exquisite gardens and splashing fountains.
Amenities + Details
Amenities
Handicap Accessible

Liability Insurance

Indoor

Reception Area
For more details about amenities, please message the Venue.
Ballroom, Estate, Historic Venue
Bar + Drinks, Cakes + Desserts, Food + Catering, Planning, Service Staff
Contact Info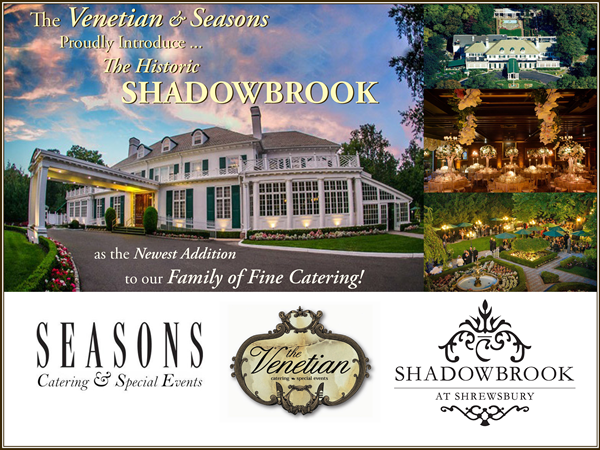 1 Obre Place, Shrewsbury, NJ
The Perfect Venue
Reviewed on

8/26/2014
Aviva S
I was never one of those girls who had her dream wedding planned out since the time she was young. So when we were out looking at venues, I wasn't sure exactly what it was I was looking for. My husband said that the moment I walked into Shadowbrook, he could tell by the look on my face that we had found the place where we were going to get married. I am not sure where to begin describing Shadowbrook. From the tree-lined driveway, which gives way to the breathtaking white mansion, to the elegant entryway, to the vibrant flower filled gardens, to the classy grand oak ballroom, every square inch of this venue is exquisite and beautiful, like something out of a fairy tale. But it is not just the "eye candy" that makes Shadowbrook the perfect venue. Every employee is knowledgeable, helpful, and sincerely dedicated to making sure your wedding is perfect. I knew I could pick up the phone at any time and call Lynda, and she would always be able to help answer my questions and accommodate my requests. Also, you can often find the owner on the premise and speak with him regarding any aspect of your wedding. The food menu is diverse and all the food is gourmet and delicious. The servers and bartenders are prompt and professional. I could go on, but will conclude by saying that Shadowbrook allowed me to have the wedding of my dreams in the most beautiful venue. My family and friends are still talking about how amazing everything was. If you are planning your wedding, do yourself a favor and schedule a visit!
---
Amazing wedding venue
Reviewed on

6/15/2014
Danielle M
I just had my wedding at shadowbrook in May. It was perfect and everything went flawlessly. Our ceremony and cocktail was outside followed by reception in Oak Room. All of our guests commented on how beautiful it was and how the food and drink were fantastic. The grounds are stunning and make for awesome photos. Amy was a pleasure to work with, I loved it!
---
Emily and Ralph: June 15, 2013
Reviewed on

7/08/2013
Emily Z
Our wedding was the most amazing day we could have asked for! Shadowbrook took care of everything. We were lucky enough to have perfect weather, so our ceremony was outside in the gardens. The flowers and the grounds looked beautiful. Our guests said the cocktail hour was one of the best ever. There was never any food missing and was always being replenished. We had our reception in the Oak Room with 202 guests. The room was the perfect size. The food was excellent from the salad to the entree. The wedding cake tasted amazing!!! The bar was stocked with the best liquor. No guests ever had to wait for a drink. The service was perfect! There is nothing bad to say about Shadowbrook. I hope I have a friend get married there because I would love to attend a wedding there. If you're looking for a venue, you have to look at Shadowbrook!!!
---
Reviewed on

5/27/2015
Ashley S
I had no idea that Shadowbrook had been taken over by the Venetian until we went in for an unexpected appointment one evening, which had my husband and I very hesitant. What was very worrisome at first ended up being the best thing that could've ever happened for us. The management and staff throughout the last 2 months of our wedding made it the least bit stressful and it could not have turned out more perfect. Our contract was honored with a few unexpected but very generous upgrades and we were so blown away by how attentive all the staff was the day of our wedding. The maitre de was unbelievable, nothing went unnoticed and we never had to go out of our way for anything. We could not have been happier with the way our wedding turned out, it was truly a dream come true. I highly recommend Shadowbrook and their fantastic new ownership for any bride & groom looking to host their dream wedding. Thank you SO much!!!
---
Great day!
Reviewed on

1/21/2015
Kimberly C
My special day was stress free thanks to the professionals at Shadowbrook. They took care of everything, so I didn't have to worry. They were accommodating, as I brought my own decorations for both inside and out, as well as centerpieces. Friends and family loved the cocktail hour, they raved about how much food they got. The dance floor was the perfect size, even with an 8 piece band.
---
A PERFECT MATCH
Reviewed on

1/16/2015
Review My wedding occurred on October 12, 2014 and my guests are still raving about it! From the first moment I walked through their doors, Shadowbrook exceeded all my expectations! The surroundings are beautiful, the food is exceptional, and the entire staff was professional and courteous! A special thanks to Linda and Jana who made themselves readily available and assisted me in so many ways, making me feel like my wedding was their priority! Also, to Leona, George and Ellen who were extremely attentive and accommodating to me, as well as all of my guests! I can only say WONDERFUL things about EVERY ASPECT of my experience with Shadowbrook and give the highest recommendation! They were a "PERFECT MATCH" for us!
---
Gorgeous!
Reviewed on

12/23/2014
Shadowbrook is worth every penny. We had a small intimate affair at Shadowbrook on November the 9th of sixty people. We had the ceremony at the small gazebo out front underneath the stars and the reception was in the Victorian Room. It was beautiful and exactly what I wanted. They did everything I could think of and was always so helpful!!
---
Fairy Tale Wedding!
Reviewed on

12/01/2014
Dana K
My wedding was held at the Shadowbrook on Saturday, November 29, and it was a dream come true! From the beginning, from the day we visited Shadowbrook and booked our wedding, I had complete confidence in Shadowbrook. The staff responded to my emails and calls immediately and answered all questions completely and clearly. This took a great deal of stress out of the wedding planning process. The wedding itself was so well organized, the food was phenomenal and plentiful (the cocktail hour was out of this world!), and the decor was exquisite. We could not have been happier! We lost track of the number of guests who told us that our wedding was the best they had attended. Now we are hoping that we are invited to a Shadowbrook wedding so that we can enjoy everything once again as guests.
---
A lovely October wedding at Shadowbrook
Reviewed on

11/21/2014
Naomi S
One of the most important factors in choosing a venue was personalized service in which the staff at the venue was conscious of our needs and wants. After looking at several venues we knew that Shadowbrook had to be it. The Zweben family as well as some key players in making our day so special, Jana, Freddy, and Leona, all made the planning process and day of a dream come true. Staff was so attentive to bride and groom as well as each one of our guests. We couldn't have asked for a more enchanting ceremony in the garden just after dark ("fairy tale" "movie scene" "dream" just to quote how a few of the guests described the ceremony) and a fun elevated at home feel of the reception. We hope to celebrate at the Shadowbrook again with friends and family!
---
September 27th Wedding
Reviewed on

10/22/2014
Before we visited Shadowbrook we thought we had already decided on a venue, but when we walked through the doors we became less sure. Then when we saw the Oak Room we knew we needed to have our wedding here instead! The venue is beautiful, both the grounds outside and the inside of the building. Everyone there was extremely nice, especially Amy who helped us plan everything. All of our guests told us how wonderful the place was and I heard from many people how delicious all of the food was! We are both very happy we chose Shadowbrook and would definitely recommend it to future brides and grooms!!
---
The perfect place for our perfect day!
Reviewed on

10/16/2014
Alessia C
From our first phone call to the Shadowbrook, everything was smooth and easy. You can tell every person that works at the Shadowbrook loves their job and knows how to do it very well. They accommodated all our needs and went above and beyond the day of the wedding to make sure we had a dream wedding. Thank you everyone at Shadowbrook for an amazing day!!!
---
Absolutely Fantastic
Reviewed on

10/11/2014
Amy L
FOOD: The cocktail hour food was spectacular! I received so many compliments on how delicious everything was. We went with a seated dinner during the reception and everything seemed pretty great as well. I had the chicken as my entree and that was a bit dry. Other than that, the menu was perfect and our reception option was done kosher-style! SERVICE: Impeccable. I worked and spoke with all 3 of Shadowbrook's wedding consultants (Lynda, Amy, Jana). Everyone was incredibly helpful and professional. Whatever the bride wanted, the bride got! I was an anxious bride and had so many questions - I literally called Shadowbrook up about once every week for 10 months straight with different questions. The people are so kind and answered everything with speed and accuracy. Without their guidance and great suggestions, I would have had a more difficult time planning my wedding. However, Shadowbrook really has their system down pat! They have a set timeline and paperwork that is easy and clear to fill out. You go in 3 days before your wedding and bring all of your decorations and paperwork. You run through the day and voila! - you're done and stress free for the next 3 days before your wedding! I had a very personalized day because I was planning an interfaith and interracial wedding. I not only had a Jewish ceremony, but I had a tea ceremony as well as a lion dance. The maitre'd and captain took care of all of my requests and made sure that the day of the wedding, everyone was where they were supposed to be. I could not have asked for a more successful wedding day - and as the bride, trust me, having such a supportive venue means EVERYTHING. QUALITY: Fantastic. Shadowbrook keeps their grounds in perfect shape throughout the year. I had an early October wedding and they had flowers blooming in the front and back rose garden. It was absolutely stunning. The inside of the manor is always beautifully adorned. I received so many compliments for how gorgeous the venue is - however, I think the credit needs to go to Shadowbrook for maintaing such high quality all the time! OVERALL: Out of all of the vendors I worked with, the venue was the most important to me (as the bride). I searched for 2 months and finally narrowed down to 3 potential places. When I set foot in Shadowbrook's gorgeous foyer, I knew immediately that I had found the "one". I If you have a vision in mind, Shadowbrook will be backing you up 110% of the way.
---
Well Worth it and Absolutely Wonderful
Reviewed on

10/02/2014
Kristina R
Shaddowbrook was probably the best choice we made for our entire wedding. The staff is friendly and they really know what they are doing. Everything they work on and do is about you for your event. You'll have a 'planner' of sorts that will walk you through the entire planning process they'll help you find good vendors such as DJ's and officiants and when your day finally comes they ensure that it goes off without a hitch. The grounds are immaculate and the food is wonderful. I wouldn't suggest any other place on the planet.
---
Fairytale Wedding
Reviewed on

9/29/2014
Stephanie P
My husband and I recently had our wedding reception at the Shadowbrook in July. It was more than I ever could have imagined. The Shadowbrook was so helpful and easy to work with during the entire planning process. They even accommodated last minute requests that we had during the week leading up to our wedding. We mainly worked with Lynda during the process. She was so quick to answer our questions and put me at ease when the stress started to set in. The Shadowbrook has such a unique feel and we fell in love it the moment we drove up to it. It was everything that I was looking for and even more. On our wedding day, the grounds were amazingly beautiful. Our cocktail hour was held outside in the garden area. Our guests still talk about how beautiful it was and how the food was amazing. It was also spacious and allowed all of our 250 guests to feel comfortable. The reception flowed perfectly. The wait staff was so helpful and kind to all of our guests. They were always there with drink for my husband and I. They also made sure we took the time to sit and eat our meals- which were DELICIOUS. Guests were served fresh fruit, salad, bread, sorbet, their choice of a main course, and dessert. The international coffee bar was also a great addition to our night. While dancing with my dad, he told me that he was so happy that I was able to have my fairytale wedding. And he was completely right. The Shadowbrook allowed me to have the wedding I had always dreamed of and I cannot thank them enough!
---
Amazing Venue!
Reviewed on

9/28/2014
Alina B
We got married on 5/31/14, and had our reception at the Shadowbrook. From the first day we met Amy, our main contact at Shadowbrook, we knew we were in good hands and that this was the place for us to celebrate our big day! Every little detail was absolutely perfect, and we have gotten (and are still getting) so many positive comments about how beautiful our wedding was, what a great venue with picked, and what excellent service and food the Shadowbrook had! Whenever I had a question or concern, Amy answered my emails almost immediately. The day of the event, our maitre d', Freddie, made sure that all of our needs were met and that everything ran smoothly - he was there for us with exactly what we needed before we even needed to ask him for anything! The grounds themselves are exquisite, perfectly maintained, and absolutely beautiful. I especially loved the tree-lined entranceway - as we drove in after our ceremony (we got married at my family church), it really helped set the feeling for the rest of the evening. We were able to have our cocktail hour outdoors, and after all of the delicious hors d'oeuvres (which was a TON of food, and never ran out), guests were escorted into the Oak Room, which has such a romantic feel. We had just under 200 guests, but the room did not feel cramped at all - not even when most of the guests were up on the dance floor! I loved having our own sweetheart table, where my groom and I could sit and look out at our guests and really take it all in. The wait staff was great, and our personal waitress, Leona, was awesome. While we were out dancing, she made sure that our cake was saved for us, and after the reception had ended, my groom and I were able to sit down at our table after the rest of the guests had left, to enjoy a final moment together and eat our cake. :) It was really a nice touch that she was thoughtful enough not to let our cake be taken away without us having had the chance to enjoy it. She also made sure that we sat and had our dinners. I am a vegetarian, so oftentimes, vegetarian options are limited for me at weddings, but the Shadowbrook went out of their way for me and other guests with diet restrictions - vegan, gluten-free, etc. Everything was cooked perfectly and delicious! We did not hear one negative comment about the night. With most weddings, there is at least one thing that goes wrong or does not fall into place as the bride/groom had planned, but we can honestly say that this was not the case for us. The Shadowbrook helped us have our "fairytale wedding" and we highly recommend it to anyone who asks! Alina & Mike
---
It Was Magical
Reviewed on

9/24/2014
khalilah w
Shadowbrook was the first and only venue I looked at when I was planning my wedding. I fell in love with the place instantly. The price was very reasonable; I believe you get great value for your money. I had my wedding at Shadowbrook on September 7, 2014 and it was magical. My ceremony was held in the main garden and the cocktail hour in the garden adjacent to it. My reception was help in the oak room. The grounds are exactly as the online photos. The food was amazing and plentiful and the staff went above and beyond to make sure my guest and I were well taken care of. Leona IS THE BEST!!!!!!! I can't express how wonderful she was....she made sure I didn't need or want anything. I worked with Jana before the wedding and she was great; very helpful and responded promptly to my questions. Mr. Zweben is amazing; he was right there making sure everything went smoothly. The entire staff made sure my day was special and they were very accommodating. I am happy that I chose Shadowbrook for my wedding.....I would use them again for other events. If you want a magical feel to your event and a place that will work hard to make sure your vision/dream becomes a reality.....Shadowbrook is definitely the place.
---
June Shadowbrook Wedding
Reviewed on

9/18/2014
Megan A
What a spectacular wedding venue! I was treated like a queen! Shadowbrook helped make my wedding day the most wonderful day of my life. I would recommend this venue to ALL of my friends and family. The gardens are beautiful as well as the rooms. Service was outstanding! Loved every minute of it and friends still tell us to this day it was the best wedding ever. From the food to the atmosphere to the service hands down best wedding!
---
Wedding at Shadowbrook!
Reviewed on

9/18/2014
Anne R
My wedding reception was held at Shadowbrook. We had our ceremony at a church and then went straight from the ceremony to Shadowbrook to take pictures since it is such a lovely location. When we arrived I was able to freshen up in the bridal suite and then take wonderful photos with my bridal party before cocktail hour. There are so many gardens and great photo opportunities on their grounds. Shadowbrook was very accommodating and allowed us to have a cash bar for the couple hours before the cocktail hour started so that guests that arrived early could enjoy a drink and the outdoor gardens. The cocktail hour started seamlessly and my guests were raving about the food. As the bride who was mingling with all my guests I only got to try a few bites of pasta but those few bites were great! The service was so smooth that as the bride I didn't have to worry at all and was not bothered with questions by anyone thus was able to enjoy the day completely! Shadowbrook is such a beautiful, classy place and the service reflects the pride the family has for the venue. The price is fair, and as a teacher I was given a discount which made the venue a steal. When I first went to look at venues I was upset because every venue felt gaudy and not what I had envisioned and walking into Shadowbrook I knew right away that I wanted my ceremony there. It was the elegant and classy place that I had hoped to find!
---
A more intimate setting, great people, beautiful grounds
Reviewed on

9/13/2014
Jacqueline M
We chose Shadowbrook for our daytime summer wedding because of its atmosphere and its staff. Amy was the first person we spoke with, and we continued corresponding with her throughout our year of planning. She really provided us with a wonderful Shadowbrook experience, and I am grateful for everything she did for us - all the questions she answered, all the information she got, all the requests she took down. Amy even came into my bridal suite on our wedding day to help finish tying up my dress because my bridesmaids were having trouble! I also enjoyed our visits to Shadowbrook as we planned- from the initial consultation and bottle of champagne to the visits during snowy months to a few days before the wedding. I always felt comfortable there. Our wedding day went smoothly! It was so wonderful to finally use the space we'd visited throughout the year, and it was beautiful. Our ceremony was outdoors, and I was very happy to be in Shadowbrook's garden. It had a lot more flowers and plants than I remembered from the year before! Our reception was in the Oak Room, and we were able to see all our guests from our sweetheart table and the dance floor. (I spent a lot of time on the dance floor.) The room didn't feel small, but it didn't feel large and impersonal, either. I really loved the Oak Room. Our photographer had a ball with the architecture and style inside! Shadowbrook and the maitre d' had everything under control, so our guests had a great time! We had a great time! Now that our wedding has passed, I feel almost disappointed my time working with Shadowbrook is over. It really was the perfect venue for us. I hope I get to attend a wedding as a guest there some day, and my husband and I will be going back some day for one of their hosted dinners! Thank you for everything, Shadowbrook!
---
Our April wedding 2014
Reviewed on

9/05/2014
Lauren R
My husband and I were blown away with Shadowbrook! I always dreamed of a garden wedding and Shadowbrook was the perfect place.The grounds are absolutely breathtaking and the staff is wonderful to work with. Mr. Zweben is such a doll and worked with our budget which was very much appreciated because I had my heart set on this place! Our entire wedding was perfect and we are still getting compliments on it. We were very pleased with the food and the variety that was offered. I honestly can't say anything negative about this place. I highly recommend this venue. Thank you to the staff at Shadowbrook for a beautiful day !!
---
The PERFECT Day
Reviewed on

9/05/2014
Emily E
My husband, Christian and my wedding was absolutely breath-taking! The Shadowbrook venue is gorgeous. We decided to have an outdoor ceremony in the Regency Gardens so we booked our wedding for August 2 back in November. Of course, many people become concerned with the weather, but Shadowbrook has a back-up plan in case of rain! For our reception room package, the ceremony would have been held inside of that reception room (Regency Room). We actually rehearsed it inside because the weather forecast said an 80% chance of rain one week leading up to the wedding. But! On the morning of our wedding, the clouds held their rain, the trees and flowers were SO green from the rain the night before, and it was perfect weather for our guests to sit in on a summer day! Although I was busy taking pictures during majority of cocktail hour, we were brought some of the appetizers! But boy, I wish I could have been there during cocktail hour because so many guests told me how delicious and how much food there was!! Since there was no other wedding happening during our time slot, we were granted access to the entire Shadowbrook property! Pictures galore! The Shadowbrook representatives were also mostly available to take my calls with my questions, and if they were not available, they were faithful in calling me back! They are such a huge help in the wedding planning process! Also, the wedding cake is a part of the wedding package, you just need to go to the bakery on your own (and taste 24 different pieces of cake - it's pretty awesome!). To sum-up: the price-you decide the budget and wedding package so it's right for you, the food-awesome, the service-spectacular, the venue-beautiful, and a wonderful time was had by all! What more can you ask for when it comes to the most beautiful day of your life? :) Sincerely, Emily.
---
Fairy Tale Spring Wedding at Shadowbrook
Reviewed on

9/05/2014
toni marie b
Shadowbrook truly knows how to make one's wedding day perfect, from assisting in wedding decor preparations to ensuring that we bring home the leftover cake! The venue is ideal for our vision of an intimate spring fairy tale wedding -- and they have a lovely backup ceremony area in case of rain, which was an important consideration for us. The event organizer was very responsive to my questions (as most brides can be too meticulous!). Our maitre d' took care of all details on the wedding day, and saw to the needs of the guests as well as of us, the couple, even when we were in the garden taking pictures. I couldn't ask for a more elegant location and top-notch service!
---
Amazing!!!!!!
Reviewed on

9/03/2014
Jen S
I WOULD RECOMMEND THIS VENUE TO ANYONE!!! My husband and I just got married at the Shadowbrook a few weekends ago. Amy was absolutely amazing. She personally handled every detail leading up to the wedding and even handled last minute logistics the day of the wedding to calm out nerves. However, entire staff was awesome and extremely helpful. They went way above and beyond our wildest dreams. They even accommodated a kosher style wedding for us at a very reasonable price! The day of the wedding, they had extra food left over (which was an upgrade from what we had originally ordered) from an earlier event that morning and gave it to us at no extra cost! They also added a coffee liquor cart during dessert that we didn't know about. Everyone loved it! The food was delicious. The landscaping was phenomenal, out guests thought the place was gorgeous. I cannot express how wonderful this place is and how grateful we were that we selected this venue!
---
Beautiful and professional venue
Reviewed on

9/01/2014
Wendy R
The Shadowbrook was a beautiful place to get married. We got married in the gazebo and had our cocktail hour in the garden- both magical sites! Everyone at the Shadowbrook was extremely helpful and professional. Amy was the best for answering all my questions and making me feel like part of the family. It was the perfect venue!
---
Dream wedding location!
Reviewed on

8/27/2014
My husband and I were married at the shadowbrook a little over a year and a half ago. Everything couldn't have been more perfect. The owners, the Zwebens are terrific people and made planning our wedding a breeze. Our maître'd Freddy was awesome and took care of every detail throughout the evening. We didn't cater in house as our wedding was kosher which was a very smooth process. The grounds are stunning and I seriously looks for reasons to return whenever I can (a dinner, fundraiser...) One compliment I continue to hear is how nice it was to be able to get a drink without a long wait as there was many bar tenders to cater to the guests which often isn't the case at many affairs. I highly recommend this as your wedding venue if your looking for a classic, timeless, romantic affair.
---
Send Message