Home

ShutterBooth Photo Booth Pittsburgh - Hall of Fame!
About this Vendor
Unique and Elegant Photo Booths for your wedding!
The Best in PhotoBooths! Give your guests an experience they'll never forget; build excitement at your wedding with a ShutterBooth. Guests enjoy the spontaneity of posing for pictures and revealing their true personalities. Capture unforgettable moments and create fabulous quality memories !
Details
Online Proofing, Digital Files, On-Site Printing, Photo Props, Video Booths, Photo Booths, Social Media Sharing, Photo + Video
Contact Info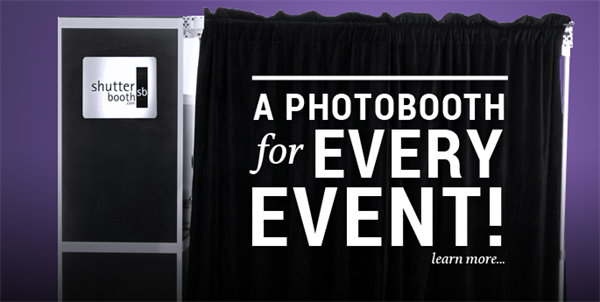 5168 Campbells Run Road, Pittsburgh, PA
Serving Western PA & Northern WV
Major Fun
Reviewed on

10/30/2014
Tamaira B
Our goal for our wedding was to make it the best party of the year for our guest. Shutterbooth helped make it happen. We had over 300 guests but the line was always moving and never got backed up. Everyone loved the props and were going into the booth multiple times. Our custom design for our print was so cute and matched our theme perfectly! Our wedding was 3 months ago and guests are still raving about how fun it was and how much they loved the photobooth. It was a pleasure to work with Brandi and the Shutterbooth team. We can't wait to use them again! Tamaira & Jann Kelly-Council
---
Worth every penny!!
Reviewed on

10/28/2014
Katrina H
This was a huge hit with my family and friends -we were SO happy we chose to have this at our wedding. Extremely helpful in making the party even more fun, wonderful memory album, Brandi is wonderful to work with and Kristy who was the host at our wedding was amazing. Not even a question just get it and you'll be pleased you did!
---
Giant hit at the wedding!
Reviewed on

10/22/2014
Courtney D
The photobooth and Kristy, the girl working the booth, were both amazing! We opted to use the scrapbook as our only guest book and it was so worth it. We have been married 2 months and have already looked at the book multiple times and its fun to show to our friends and family. Kristy was great at getting our guests over to the booth and our DJ made a few announcements. Everyone loved it and there was almost always a line! I had to cut in front of people just to use it when I got a free minute! I would seriously put the photobooth and the DJ as my two favorite parts of our wedding! ITS A MUST HAVE! Save money on the venue and the food and put it into your photobooth and dj because those are the two most memorable parts of our special day for us!
---
Fantastic Package
Reviewed on

7/08/2015
We got a great package from ShutterBooth... they brought all the props, our guests had unlimited photos in black & white, sepia & color. They kept duplicates in a great guest book for us which they had people sign! Was a great service they provided. Everyone had a blast in there! Definitely a must to have at your wedding. The quality was outstanding & I loved our personalized logo they created for our wedding!
---
Pittsburgh Shutterbooth
Reviewed on

5/27/2015
The photo booth was great the day of my event and my guests loved it and had so much fun with it. I would recommend one for any event but would definitely tell people to use another company. My representative must not needed the business because she didn't answer my emails in a timely manner, sometimes not even giving a response. She never answered my email containing my question as to where to send the check for my final payment. After days of calling, the answering machine was full so I couldn't leave a message, I called the corporate number and had to leave a voice mail. Mind you, this was a week before my event and I wanted to make sure all the details were finalized. Only then did I receive a response via email which informed me that they had moved locations and have not received my check. I had to deal with calling my representative 4 days before my wedding to make a credit card payment over the phone since my check apparently got lost in the mail. It was a hassle that was not worth all the money I paid to have the photo booth. I paid over $900 for a 3 hour package containing props and a guest book. Not worth it.
---
Everyone loved this photobooth
Reviewed on

4/22/2015
Gabrielle K
Shutterbooth photo booth was an great addition to our wedding! The assistant was amazing, and made sure our guest book was put together very nicely. Each picture gets printed twice, once for the guest, and the other for our book. The book is so cute and will be a great keepsake for many years to come. Our package was also very reasonable, and included unlimited hours, the book, an assistant props, black and white or color strips and personalized strips. All of guests were in pictures, and then they were able to view them online which was an extra surprise for them. I would recommend shutterbooth!
---
Great quality for a photo booth at your wedding
Reviewed on

2/09/2015
lauren n
Brandi was nice to work with and answeredy questions through email.
---
Photo booth
Reviewed on

1/20/2015
Amazing people to work with! Prompt and professional. Everyone at the wedding had positive things to say. Very helpful with returning calls and answering questions.
---
Amazing!
Reviewed on

11/20/2014
Nicolet R
Our guests all truly enjoyed the Shutterbooth throughout our entire event! It was a perfect way to ensure some fun pictures of each guest. Our shutterbooth contact prior to the wedding was sufficient and on-time. They ensured they would bring ample props and they sure did not disappoint! I would recommend to anyone interested in a photo booth for their wedding! Thank you!
---
Shutterbooth
Reviewed on

10/31/2014
Briana l
Of all the memories from our wedding my wife and I had the best time after the wedding looking at our collage from our family and friends. Shutterbooth did a great job throughout the whole process and provided us with some extras not in the original contract! The staff also went out of their way to give us more free items because of an issue with not being able to set up on time (which we never even knew). Recommend 100%
---
Fabulous Fun
Reviewed on

10/31/2014
Brenda z
They best decision we made for our celebration. I definitely recommend getting everything including placecards/ favors. It a one stop shop for some important aspects of the event. The shutter host was so friendly and really interacts with the guests. Everyone had so much fun. Thank you for the memories. Steven and Brenda Zack
---
Fabulous Favors
Reviewed on

10/29/2014
Melanie S
These guys were great. We set up without a background and used the brick walls of our space. Everyone had a great time taking shots and loved the take-home souvenirs! I did have a few complaints though- first, because the photos can be color OR black and white, their black and white prints don't have the rich quality of true black and white photos. Secondly, the screen operation was a little quirky. You have to tap the screen and then scurry back to get in the photo, then the giant count-down covered most of the screen. It also had this weird delay where the photo that was actually taken wasn't the one shown on screen. Based on the photos taken, I'm also not sure everyone knew they were open during cocktail hour. Knowing all of this, I would still recommend them - just look for coupons or deals to even things out!
---
fantastic vendor!
Reviewed on

10/28/2014
Jade H
We used Shutterbooth for our October 2014 wedding and could not have been happier! Our guests had a blast taking photos, and we now have a beautiful and hilarious guest book full of photos from the wedding! The owners are courteous and helpful, and the staff was so much fun! I would highly recommend them!
---
Great people, Great product!
Reviewed on

10/24/2014
Mandy F
Everyone at our wedding LOVED having a photobooth. Not only did we make an amazing guestbook for them all to write in with the photos, but 90% of our guests used the booth! It was so fun to view at the end of the night! Our guests loved it, and our host was so sweet!
---
Best favors ever!
Reviewed on

10/01/2014
Emily R
The ShutterBooth photo booth was an absolute hit! The hostess was fantastic - very interactive and my guests had a blast! The best part is the guest book - not only do I have heartfelt messages from my guests, I also have fun pictures to go along with them. Brandi and Tom are great about customizing your experience and are very professional. I would recommend ShutterBooth to any bride looking to add another element of fun to their reception. The guests will love their photos!
---
Great addition to our reception!
Reviewed on

10/01/2014
Daria m
We had ShutterBooth at our wedding reception in July 2014. We did the Classic Experience, which consisted of 4 hours and each guest received a photo strip in color with our personalized logo on it. We did an Open Booth and created our own backdrop (We did not get any money taken off of the bill for doing this, which would have been nice-then again, I didn't ask). About a week after the wedding, we received a link to all of our pictures online. I didn't do the guestbook/have a copy made for us, because we already had a guest book. My plan is to use a Groupon to create a scrapbook of the pictures. It was great to keep the guests who needed a dancing break busy! Absolutely no problems to report. They were on time and very professional. It is costly, but I'm glad we made it work.
---
Fun! Fun! Great Memories
Reviewed on

9/15/2014
Lauren C
If you want to have all the memories captured of all of your guests I suggest hiring ShutterBooth Pittsburgh. They are easy to work with and their staff at the wedding was super fun and professional. The book we got turned out awesome! It is also a great favor for your guests to take home! Highly recommend!!!
---
Photobooth Great! Service.. Not so much!
Reviewed on

7/25/2014
Nicole W
The photobooth and the girl running the photobooth at my wedding were great! The website with all the pictures and my scrapbook were great (and hilarious!) too! But... their service was not great at all. The first time I was supposed to meet them was a Saturday morning about 10 months before my wedding. When I got there absolutely no one was there, so I had to make another appointment during the week and rush home from work. Then, when it started getting closer to my wedding (about 2 1/2) I wanted to get the designs all done and everything set so I wasn't rushing around last minute. Brandi (the owner) said we only do things 2 months in advance, so expect an email around then. At about the month and a half mark I had to email them and ask when I would receive the email. Annoying! A few weeks before my wedding I asked Brandi if I could pick up the magnet strips, so that I can put my homemade photo strips in there. She said yes, and gave me a date a week later. (I live 2 minutes from the place. I didn't see what the big deal was). Then, she pushed back the pick up day TWICE! I ended up having to pick them up the Wednesday before my wedding. She called me that Wednesday and said that she had 2 different colors of the magnet strips and they won't be coming in the mail until the next day. I STILL didn't get the color I wanted (black) because only the white ones came in the mail. If they ordered them before when I asked they would have had them for me! So, I spent the Thursday before my wedding with my friends from out of town filling the photo strips. All in all, my wedding day with Shutterbooth was great, but having to deal with them beforehand was terrible!
---
Amazing time for guests!
Reviewed on

3/12/2014
Emily L
I can't tell you how much my guests loved the photobooth!! Our attendant Emily was so nice and the guests loved her! This was the best wedding purchase and the team at Shutterbooth is wonderful!!
---
Great people and fun
Reviewed on

10/23/2013
Kristen B
The people at ShutterBooth are great and all of our guests loved the photo strips!
---
Amazing service!
Reviewed on

10/06/2013
Micah G
The Pittsburgh shutterbooth crew were absolutely amazing AND patient!! They walked me through all the options and gave both me and my guests an AMAZING personal experience. Did you know you could personalize the actual photobooth?! Well Brandi and her team did just that. And they guided each of our wedding guests through the photo process and the guest book process as well (which was SO cool. We have a scrapbook of all of our guests with their personal notes. It was a great keepsake that we still look at often). Definitely worth the investment and was icing on a perfectly awesome wedding cake :p
---
ShutterBooth, A Must Have!!!
Reviewed on

10/06/2013
Sarah C
Add ShutterBooth to your wedding checklist! My husband and I absolutely love the photo album we got from ShutterBooth. It really helped capture the evening. It was a big hit among all age groups at the reception, and I got the most memorable picture of my grandparents from that night - both silly and cute! Three years later we still crack up when we see the photo strips hanging on our friends' refrigerators when we visit. It was a great addition for our big night and I can't say enough about how impressed we were with the service and the end result Thanks again Shutterbooth!
---
Shutterbooth is #1 in Service
Reviewed on

10/04/2013
Stephanie M
My husband and I first expereinced Shutterbooth at a bar mitzvah that we attended, after that we knew that we needed to have a Shutterbooth photobooth at our wedding. Brandi was wonderful to work with thorughout our entire planning process. We were thrilled with our magnetic save-the-dates and received so many compliments on them. Along with having a photobooth at our wedding, we decided to go with a photostrip guest book. My husband and I love looking through all of the photos of our guests and seeing how much they enjoyed the photobooth as well. Additionally, several guests told me how polite and helpful the photobooth attendant was, we couldn't have been any happier with how our wedding turned out with the help of Shutterbooth.
---
Exceptional Quality with Dedicated Staff
Reviewed on

10/04/2013
Lauren D
We attended a wedding about a year before our own and we absolutely loved the photobooth and the staff that was there to run the photobooth. When we found out from the bride how much she loved working with them, we gave them a call! Brandi the owner is energetic, personable, professional, and accommodating. It was a pleasure working with her during the planning phase. Shutterbooth also provided our favors which were bookmarks, and escort cards with a thank you note and the guest names with table numbers. Brandi was able to accommodate our short schedule when we decided we wanted the favors a week before our actual wedding! The attendant was so cute and friendly and was very helpful to our guests! We kept getting compliments on how nice she was. She was extremely patient with our older guests who wanted to participate but needed a lot of assistance! Shutterbooth made our wedding experience an enjoyable one and we were able to relax knowing they had everything under control. I would absolutely recommend Shutterbooth Pittsburgh to anyone who is interested in a photobooth for their wedding! Thank you again, Brandi!!
---
Shutterbooth rocks!
Reviewed on

10/03/2013
Jill P
Shutterbooth added an incredible entertainment aspect to my wedding reception. The guests had so much fun with it and absolutely loved taking many interesting and memorable pictures! My husband and I liked that we received a scrapbook album of all photos taken at the reception as well as a keepsake DVD after the fact. Make sure to have your DJ make reminder announcements about it throughout the evening, so guests know what it is and why they should participate! I would recommend hiring Shutterbooth as a wedding reception vendor to anyone! Your guests will definitely enjoy it! :-)
---
Send Message