Home

Simon Lee Bakery
About this Vendor
Simon Lee Bakery
At Simon Lee Bakery, we are professionally committed to create and deliver the best wedding cake for your special day. More than 30 years of combined experience, we will design and customize a unique cake that is unforgettable. We Specialize in Gluten Free,Vegan and Sugar Free too.
Details
Cake Stands, Cake Delivery + Setup, Cake Tastings, Groom's Cakes, Cakes + Desserts
Contact Info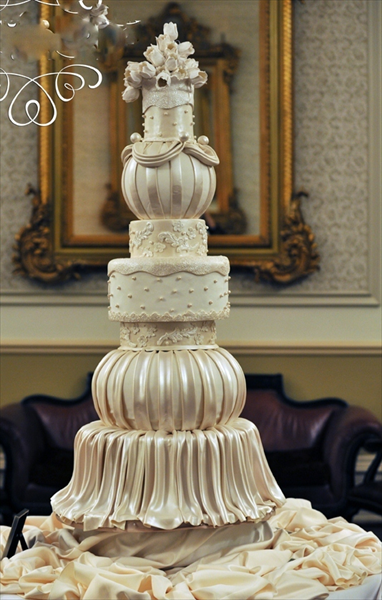 Reviewed on

2/02/2017
Libby L
No seriously, this WAS the best ever. Not only are they so creative and executed everything so well- our cake was simple, with flowers from the caterer and my husband's had his name on the back of an Astros jersey and it was SICK. Aside from their amazing talent, they have so... Read More many amazing flavors and the orange dreamsicle was better and more unique than any other cake I've ever tasted. The groom's cake was super delicious too- plus we had a ton of everything. And all for a surprisingly reasonable price!
---
Reviewed on

11/21/2016
Chloe R
My mom had Simon Lee make her wedding cake in 2006 and we loved it so much that since then, my sister and I have gotten cakes from them almost every year on our birthdays. I got married last month and I knew exactly who to go to for my cakes! Both of our cakes were so amazing... Read More and Judy is always so great to work with. Their cakes really are a step above the rest.
---
Reviewed on

11/01/2016
Aya L
The ONLY Bakery I Use! When my son got married in 2014, he said he wanted a UT tower cake for the groom's cake. I began searching for them and came across Simon Lee Bakery. We went and did a cake tasting, designed the tower cake, added some extra cake and the rest is history.... Read More My mother owned and operated a catering business for many years, so my family is extremely particular as to how things taste and look. Judy and her team far exceeded any expectations we had! Guests still talk about the cakes two years later. I run a family owned florist and am in many aspects of the wedding business. I cannot recommend a bakery any higher than Simon Lee Bakery. Since my son's wedding, Judy has done literally EVERY birthday and special occasion cake for my family, including another bride's and groom's cake for my step-daughter's wedding this past month.No one compares in either beauty or taste. If you truly want the best, look no farther than Simon Lee Bakery!
---
Reviewed on

7/26/2017
Madeline S
This was the BEST cake ever. For the bride's cake we opted for the salted caramel and OH MY GOODNESS I still can't get over how good it is. Everyone at the reception was fawning over it. Even people I know don't like sweets loved it. For the groom's cake, we did a chocolate cake... Read More with strawberries and cream on the inside and it was divine. We are honestly anticipating our one year anniversary so we can whip out the cakes again. The service was amazing. They provided exactly what we imagined. We came in to talk cakes and ended up eating so many kinds! It was, by far, our favorite day of wedding planning. The team at Simon Lee is very creative, hard working and will provide exactly what you dream of. Thank you for all of your hard work!
---
Reviewed on

6/04/2017
Kaitlynn W
Most amazing cake to look at and deliciously scrumptious!!! Judy helped us to create the cakes of our dreams-both brides and grooms cake. Our guests couldn't stop complimenting the artistry AND how delicious the cakes were! You will not be disappointed with Simon Lee!
---
Reviewed on

5/31/2017
Shannon Z
Delicious, beautiful and perfect! Simon Lee's cakes are to die for! We had a 4 tiered cake with orange and strawberry flavors! Absolutely loved our cake, as did the guests.
---
Reviewed on

5/03/2017
Gloria S
I can not say ENOUGH praises to express how AMAZING Simon Lee and Judy are!! When I was in the middle of wedding planning I heard that Simon Lee is THE bakery to go in Austin for wedding cakes and I did not know what all the fuss was about and wanted to keep my options open so I... Read More did my research and chose 3 different bakeries to do tastings...well just after the tasting alone I understood why SL has its reputation. The cakes are not only beautiful but ridiculously tasty! They have sooo many flavors and they are all delicious. I want to point out that I do not have a sweet tooth and I am not a cake lover and even for me they were super delicious! The sweetness level is perfect (I get tired of sweet things very easy and cant ever eat them) and these cakes are right on point and make me want more. The moisture and texture is also perfect! My husband and I are very picky and SL was the only bakery that made the cut, others didnt even compare. More importantly I want to take the time to praise them on their artistry level and their capacity to take a vision and achieve exactly what you want and even elevate it. I ordered two cakes from SL. A bridal cake and what I like to call a "fun wedding cake" more than a groom's cake. My vision for our cakes was ambitious. I wanted to have a very classic romantic cake and an identical size and shape cake that was like the yang to the bridal cake, totally fun and different. I got to see SL's ability to both 1. replicate a picture and make changes to your specifications and 2. their artistry/ability to take a concept (when they dont have exact picture of what you want) and make it happen. Thats because I ordered a bridal cake that was all ruffles made out of fondant with an ombre effect so there were some pictures online to go by. I sent them the pictures and I just asked for different colors. However there are different ways of making cake ruffles and I was not sure if they would be able to make them just like I wanted them and whether they would get my color specifications right. For the other cake I requested a super mario themed wedding cake as my husband and I are huge super mario fans. I could not find ANYTHING online to go by so I sent pictures of whatever cakes I could find that were mario themed and told them my ideas (I wanted a super mario modern look instead of the classic, I wanted each layer to represent a different mario "world" one to be water, another land and the top to represent the sky). I got super mario figurines and gave it to them so they can decorate the cake. I got them some pics of the video game and how these "worlds" look like. To be honest I was worried and had no idea how the cake would turn out because they had no pictures to go by. Boy did I underestimate Judy and her team!! When I saw the cakes I could not believe my eyes!! They were EXACTLY what I had in mind and more! They completely brought my dreams to life! The bridal cake was PERFECTION exactly what I wanted and the ombre color was ON POINT. The super mario cake was a work of art! It was exactly what I envisioned and much more! Everyone raved about how cool this cake was and it was really that AMAZING! On top of everything the cakes were DELICIOUS! I could go on and on but I am running out of words. If you are looking for somebody to do an amazing cake for your event look no further and give Judy a call. To Judy and Art thank you for your patience with me and for making my cake dreams come true!!! Love, Gloria.
---
Reviewed on

4/27/2017
Maricel D
One of the best compliments you can give a business is referring other people to them and being a customer yourself. That's exactly what I did. Simon Lee Bakery baked two of my friends' wedding cakes, and they baked mine as well! We had our cake tasting about 6 months before... Read More the wedding. My husband and I each got our own plate with about 7 different slices of cake. They were all most and delicious, making it very hard to choose. Hence, we ending up ordering a 4-tiered cake plus an extra sheet with all different flavors. I showed them a photo of a cake design I loved, and they matched it exactly. All I had to do was bring in a ribbon for the cake 1 - 2 weeks before the wedding. We did have to follow up with the bakery once because we noticed that the sheet cake we wanted wasn't notated on the order form. Judy was quick to fix that. If we hadn't noticed, I think we would have been out of luck. On the wedding day, the cake was delivered safe and soundly. It was beautiful! Judy even called to let me know that she could have the caterer take the cake stand with them at the end of the wedding so I wouldn't have to return it myself. That definitely saved me some time and effort. We also got nice compliments about how delicious the cake was. The cake fed about 200 guests. All in all, Simon Lee Bakery is a great cake baker and designer. Highly recommend!
---
Reviewed on

3/05/2017
Alicia A
Judy, thank you so much for celebrating our wedding day with us! Our wedding was the most special day of our lives and it was made all the more enjoyable and memorable because of you. It was so easy and wonderful to work with you throughout the cake design process. And while the... Read More sketches of the cake design had us excited, we were floored when we saw how gorgeous the cake was at our reception. It was beautiful and exactly what we had dreamt! We cannot begin to express our appreciation for your work and for the magnificent cake topper you created for us. We have received so many compliments from friends and family on how gorgeous our cake was and of course how delicious it tasted. We already know that we want to order a small replica of our cake to reminisce about our wedding every anniversary.
---
Reviewed on

2/07/2017
Julie S
When looking for a wedding cake, the bakery name that we most often heard was Simon Lee. Well, there is good reason for that! They are wonderful! From Art's patience with my many questions before the tasting, to the incredible number of cake options available at the tasting,... Read More to the highest attention to detail to make this cake (or cakes) what the bride and groom desired, this company, under Judy's leadership, provides the perfect answer to delicious and beautiful wedding and groom cakes. Simon Lee even provided our bridesmaids "charm" cake with no hesitation, understanding what was involved in creating a charm cake. There is a level of service that infiltrates every aspect of their business. Judy is fun, very interested in providing the exact cake design desired, and thorough in every interaction with her client. The followup afterward and real desire to forge a relationship with her clients is the "icing on the cake".
---
Reviewed on

11/25/2016
Mayela B
Simply the best! All of our guests raved about how delicious all of our cakes were!
---
Reviewed on

10/21/2016
Lacy T
Outstanding wedding cake! Not only was it spectacular on the outside, but absolutely delicious on the inside! All three flavors were a hit at our wedding and hit the sweet spot for so many of our guests!
---
Reviewed on

8/11/2016
I don't know what I can say that others haven't already, but our cake was just extraordinary. We looked at a handful of options and I don't think you could do better anywhere!
---
Reviewed on

8/07/2016
Lauren T
Delicious and beautiful cakes by Simon Lee! My husband and I are not big cake people so we just opted for one cake and some cake balls at our wedding. We worked with Judy who did an amazing job of bringing our idea to life! We are both huge UT fans so we did a cake in the shape... Read More of the UT tower. Since that was our only cake we did two different flavors in the base of that cake -- both were extremely delicious and make my mouth water just thinking about it. We needed more cake so we also did some cake balls in the shape of a Longhorn -- again, delicious (although we weren't able to eat those ourselves because our guests ate them before we even cut the cake! lol). I think one of my favorite days of wedding planning was getting to go to Simon Lee Bakery to try all of their different flavors. It was very hard to narrow it down to pick only 4 flavors that we wanted, but we managed to do it and our guests were very pleased with our selection! Simon Lee is spectacular and I definitely recommend them for any brides looking for a cake vendor!
---
Reviewed on

8/04/2016
Anna B
We loved our wedding cake & grooms cake from Simon Lee! Best wedding cake I've ever tasted! And so accommodating on the design process! She did exactly what I wanted for both cakes! I just sent her a picture of, what I thought, I rather complicated design for the groom's cake &... Read More they handled it perfectly! I can't wait until our one year anniversary so we can eat the top of our cake! :)
---
Reviewed on

7/19/2016
Diana G
Our wedding cake was truly what we had envisioned it to be!! Simon Lee Bakery did an amazing job and all our guest were happy with the cake flavors and texture.
---
Reviewed on

6/14/2016
Brenna S
So many comments on happily fed cake eaters at our wedding!! The staff here is adorable and their bakery is incomparable. Very high quality at a very reasonable price
---
Reviewed on

5/16/2016
Victoria N
LITERALLY the most delicious wedding cake you will ever taste!! If you are looking for the best of both worlds: a beautifully designed, work of art, wedding cake & a delicious dessert, then Simon lee should be your first stop! They can build you anything in a cake- building... Read More replicas, classic cake designs, anything you can image they can produce! It is definitely quality work and will look amazing!! They even were able to get me glitter fondant (I had more of a princess style wedding)!! I was so impressed with the amazingly gorgeous cakes they were able to make, but thats not even the best part!.... These cakes TASTE AMAZING!!! I've tasted a lot of wedding cakes, mostly decent, but these will be sure to leave your guests with more than a "decent" taste. Our cake flavors were raspberry lemon, pina colada, raspberry whipcreme, and tres leche (the best option in our personal opinion). People are still asking me where we got our cake... not kidding!!! If nothing else, at least do a cake tasting with Simon Lee, and your tummy will thank you!!
---
Reviewed on

4/08/2016
Cheri O
Our wedding cake and grooms cake was exactly what I wanted! The initial meeting was easy - I tried many cakes and showed them pictures of what I was looking for. Not only were the cakes beautiful - they tasted fabulous too! Everyone loved the red velvet cake!
---
Reviewed on

4/05/2016
love, love, love Judy at Simon Lee Bakery. After a planning meeting, tasting 12 of the most amazing flavors of cakes, we planned a five layer cake with sugar flowers. I had some sugar flowers that were saved from my cake 35 years ago, and wanted to do something similar to honor... Read More my mother. After telling Judy the story about a letter my mom wrote, she suggested we use some of the flowers on the cake. I was amazed and so touched. So I sent some to her, saying just hide one or two in the bottom if they don't look too bad, and I was so shocked when the cake arrived and she had worked about 10 of the flowers into the design, and it was beautiful!! It meant the world to me. We also had a little dog peeping out from the edge of the cake to surprise the bride and groom. They were so excited!! Simon Lee went above and beyond to make a very sentimental mom's dream come true. And the cake was fabulous! Judy really cares about her work and she could not have made us any happier. Thank you so much!!!!!
---
Reviewed on

3/24/2016
Simon Lee Bakery prepared the cakes for our wedding and they were wonderful! The wedding cake was beautiful and exactly as designed, a three tier wedding cake of vanilla with cream cheese and red velvet with cream cheese layers. The staff at Simon Lee Bakery were great to work... Read More with and very helpful throughout the entire process. The Starbucks Cup Groom's Cake was a huge hit and the detail was amazing! Many of our guests commented on how great the wedding cake tasted and that it was the best wedding cake they had ever eaten. I would highly recommend Simon Lee Bakery!
---
Reviewed on

2/17/2016
Theresa D
AMAZING! Our cake looked exactly like the sketch and tasted wonderful. As a couple that doesn't enjoy cake, we truly LOVED our wedding cake. Thank you so much. Wonderful, hassle free, professional company to work with.
---
Most Exquisite Cakes
Reviewed on

10/31/2015
We chose Judy Lee of Simon Lee Bakery to create the bride and groom cakes for our daughter's wedding on October 17, 2015. Judy has the best reputation in our area, and we were thrilled that she agreed to work with us. Our experience with Judy and her team was outstanding in... Read More every respect. Judy was able to capture the bride and groom's vision for their cakes perfectly. The wedding was 80 miles away from Austin ( in San Antonio), and it was delivered without incident to the venue. In fact, Judy's husband personally delivered our cakes! I highly recommend Judy and her team for the BEST wedding design, execution, and service.
---
Reviewed on

10/28/2015
Natalie B
Our wedding cake and Groom's cake were absolutely beautiful!!! It was designed exactly how I wanted it to be and it tasted as delicious as it looked! I highly recommend Simon Lee if you want the cake of your dreams! Art was so easy and great to work with! Thank you Art!!
---
Beautiful and delicious!
Reviewed on

10/27/2015
We totally lucked into Simon Lee Bakery. We went to a wedding expo and they had samples and photos of their cakes. The samples were delicious! The young ladies representing the bakery were so cute and friendly. We looked at their website and decided to go with their cakes.... Read More The wedding day came, they delivered the cake. It was beautiful and very classy looking but the real treat was the taste! People just raved and ate it enthusiastically. The only reason I rated the value a 4 was because it was kind of a shock at how expensive a small but beautiful and delicious cake costs! I don't regret it for a minute tho! Only recommendation is that they make their phone number easier to locate on their website.
---