Home

Something Vintage Rentals
Details
Chairs, Dinnerware, Flatware, Glassware, Lounge Furniture, On-Site Delivery + Setup, Cocktail Tables, Dining Tables, Tables, Rentals + Equipment
Contact Info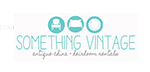 Mixed feelings...
Reviewed on

10/30/2013
Ashleigh L
I have mixed feelings about my experience with Something Vintage Rentals. I chose them to supply mis-matched vintage china, mis-matched vintage chairs, and rustic farm tables for my wedding. The inventory that I saw on their website and the inventory I saw when I went to visit... Read More Dawn's home (which is where she displays many of her items) was truly gorgeous. I mean, just stunning. First, the good: The farm tables were beautiful- a bit pricey to rent because they have to assembled by her staff- but worth the money in my opinion. I also must say that the vintage tea cups we rented were amazing, each and every one. Their payment process is very simple (everything is done online) and their delivery and pick up services were punctual and efficient. All good there. Unfortunately, some of the items I received on my wedding day were not really what I expected. Dawn and I talked about a mixture of natural wood, white, and aqua-colored chairs, but I received only brown chairs. Some of them were quite pretty but others were very plain and a bit beat up. Not what we discussed. It was a similar story with the china plates: most of the pieces that were delivered was very generic looking and not at all like what I saw on her website and in her home. They were pretty enough, I suppose, they just didn't have the breathtaking colors and designs I was expecting. Because these items were delivered on the day of the wedding, just a few hours before it started, there was really no opportunity to change anything. We did try to get our delivery the day before or earlier on the wedding day, but Dawn said it wasn't possible. I don't know if it's NEVER possible, or if it just wasn't possible in our case. Dawn was certainly pleasant when we met in person and she was very patient with me as I figured out what I really needed to rent through the wedding planning process (I had to update my order a few times and she was very understanding about that). But I agree with other reviewers that she and her staff could be very difficult to get a hold of. There were times when I had to email her, leave voice mails, and send her messages on Facebook MULTIPLE times to get a response. Average response time was about a week. Also, anyone renting with this company should know that you will almost never get to speak with Dawn in person after your initial meeting because her phone always goes straight to voice mail (I think it's a voice mail service, not an actual office line). I don't know if I got slightly less impressive rentals because I wasn't spending as much money as some of her other clients, or if it was simply because she had a lot of events that weekend and needed to divide up her best inventory. I know she HAS those beautiful pieces, but I didn't get very many of them, which was a little bit disappointing. I mean, my wedding was amazing and everything worked out in the end so I can't get too worked up about china and chairs. I was a very easy going bride but, if that's not how you roll, I recommend being VERY clear about your expectations- go through every detail with Dawn, then double and triple check it with her before your event.
---
Fantastic style and service
Reviewed on

12/03/2012
Jessica B
For our wedding last October, we rented farm tables and chairs from Something Vintage and were so glad that we did. The tables themselves were beautiful and fit our vintage garden theme perfectly. Would definitely recommend to other couples.
---
Pretty gems
Reviewed on

11/08/2012
Amy H
We rented their farm tables for our wedding and I wanted to write a review because their staff went out of their way to make it happen. Despite a storm and last minute guest number changes on our part, they made it happen without a hitch! Their tables were beautiful and fit... Read More with our vintage garden theme perfectly.
---
Viva Vintage Furniture!
Reviewed on

11/07/2012
Gretchen H
I used Something Vintage Rentals for renting vintage sofas for lounge areas at our wedding reception. I had wanted to collect them myself, but having a one bedroom apartment really is not conducive to collecting tons of weddings props. The sofas that we got from them were so... Read More pretty and they were perfect for photos. Not only did we take a ton of photos together (my husband and I!) but guests loved them and took photos on them all night. I'd definitely recommend Something Vintage anyone else looking for vintage furniture to rent.
---