Home

South Jersey Florist
About this Vendor
South Jersey Florist
We are a full service florist serving the South Jersey Area. We work within your budget. We try harder because we want to be your florist even after your wedding. Our customer service is the best around
Details
Silk Flowers, Wedding Day Flowers
Contact Info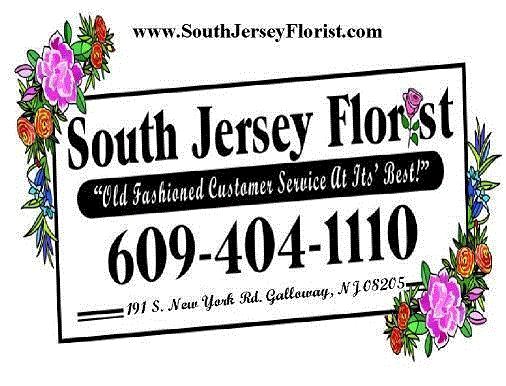 191 S. New York Road, Galloway, NJ
Wedding Flowers
Reviewed on

9/30/2014
After going to consultations with several florists, I found South Jersey Florist. Unlike previous vendors I had spoke with, Marcy, the owner, not only was willing to give my fiancé and I the specific flowers we requested but allowed us to be creative with our ideas and also had creative input of her own. Not to mention the cost was significantly lower than the other vendors my fiancé and I had looked into. The flower arrangements were absolutely gorgeous and exceeded my expectations! I would recommend South Jersey Florist to anyone looking for grata flowers for any occasion!
---
A Senior Wedding
Reviewed on

5/20/2014
MaryAnn S
My husband and I are seniors, and so I was very nervous that our wedding would be beautiful. To say that Marcie did a fabulous job for our wedding is an understatement. The bridal bouquets were exquisite to say the least. And Marcie listened to our thoughts for the table decorations for the reception( I wanted to use plants rather than flowers) and searched for just the right plants. The results were unique and magnificent. Many of our guests commented favorably on our choice of plants rather than flowers, since some of the plants were wedding favors. All in all, our experience with South Jersey Florist, and Marcie and Len, was wonderful from start to finish.
---
WONDERFUL!!!!
Reviewed on

3/30/2014
Lauren S
My experience with South Jersey Florist was amazing!! I am a landscaper so the flowers were extremely important to me and I really wanted to make sure they stood out but were also simply elegant. Marcy spent A LOT of time with me to make sure the bouquets and center-pieces were perfect. I felt that she REALLY listened and cared and not only saw my vision but surpassed it! The bouquets were INCREDIBLE and surpassed my expectations as did the centerpieces. I had SO MANY complements on the center-pieces!!! At the end of the wedding there were none left for my family to take home! :) I HIGHLY RECOMMEND SOUTH JERSEY FLORIST FOR ALL YOUR NEEDS!!!
---
Flawless, Amazing Florist
Reviewed on

5/20/2015
Chrysti K
My husband and I got married on March 14, 2015 and used South Jersey Florist for all of our flowers. We did handheld bouquets, centerpieces, and ceremony flowers. Marcy and Lenny were absolutely amazing, and even saved our cake! We had originally ordered sugar flowers on our cake, which came out terribly. At the last minute, Marcy from South Jersey Florist re-did our cake with leftover flowers from our order, and it looked lovely as if we planned it from the beginning. As for the bouquets...I've never seen such pristine, beautiful arrangements. The centerpieces made the whole room look elegant, and matched the entire design. We used blue hydrangeas, white lillies, white freesia, and peach roses. I cannot express enough how grateful I was to have chosen South Jersey Florist. They were so organized and inviting. At our first meeting, while I struggled to pick the arrangement, Marcy went and put together a quick idea that embodied everything I wanted. It was so nice to see an example up front, and gave me confidence in my selection. They ordered the vases, provided columns for our large pieces, and made an arch for our ceremony with only a week's notice. If you are looking for a florist in South Jersey, they are the best. They are personable, affordable for ANY budget, and flawless. Not a single flower didn't look hand-picked for our wedding. There was another wedding at our venue that walked right past us with their bouquets, and it was so obvious that ours were more beautiful, I was even more grateful for my choice. Thank you South Jersey Florist for making our special day perfect!!
---
Absolutely THE BEST!!!
Reviewed on

5/05/2015
Beki E
I can't say enough about them!! The flowers are beautiful, the cost is close to half of what other florists are charging and they are SO HELPFUL!! Marcy cared so much about everything. She even went as far as calling just to check on me the day before the wedding. USE THEM!!! You won't be disappointed :)
---
Reviewed on

5/04/2015
Emily W
When I began the stressful task of wedding planning, there was one thing I already knew I had covered. My Florist. After South Jersey Florist did my sister's, my aunt's, and my brother's wedding, I wouldn't dream of using anyone else! Their work leaves people breathless and is exactly what I wanted in my hands as I made the most important walk of my life. South Jersey Florist listens to the individual desires of each and every bride and creates for them floral arrangements better than they could have ever imagined. When you choose the family run, South Jersey Florist, you become part of their family. They will do everything in their power to make you happy on your special day. They are so much more than a florist, and they will take so much stress out of wedding planning by making your flowers one less thing you have to worry about.
---
The Icing on the Cake!
Reviewed on

3/30/2015
Alyssa F
If you are looking for a professional, fun-loving florist who delivers a QUALITY product for a fabulous price, you've found the place. I was sold on SJ Florist during my initial meeting, where Marcy and I discussed my budget and ideas. She was the only vendor who actually physically showed me flowers with weaker stems (poppies) and provided me with alternatives that would look similar but last longer. I was blown away by what an honest, respectable businesswoman she is! At our final meeting, I changed almost everything about our flowers and she sat patiently, adjusting everything! Our weddings easily tied together the entire day. They were SPECTACULAR. The most beautiful part? When Marcy and her son hand-delivered the flowers, she actually got teary-eyed. Between the thoughtful wedding message she sent and her kindness on wedding day, I became a lifelong customer of SJ Florist. For any occasion, I will never go elsewhere. You will not be disappointed!
---
Thank You Marcy!
Reviewed on

1/16/2015
I was very nervous being in Georgia and trying to plan a wedding in New Jersey, but Marcy helped me every step of the way! She was very patient and understanding. We spoke on the phone and emailed pictures back and forth and everything turned out fantastic! Everything turned out better than I was expecting! The price was really good too.
---
I couldn't be happier!
Reviewed on

11/21/2014
Courtney T
This florist was so amazing. Marcy the owner went above and beyond to make our wedding day everything we hoped it would be. She was such a pleasure to work with and really personalized the experience of planning how I pictured my flowers on our wedding day. She took her time with me and made sure every detail was touched upon. She also delivered our flowers to several locations no questions asked. She came to my bridal suite on the day of my wedding and I felt like she was a part of my family. She made sure that I was happy with everything and she was purely excited to see my happy expression. It was clear she not only cares about her work but cares about the people she's doing it for. She will definitely get my business in the future and many many recommendations to everyone I know!
---
Fall Wedding
Reviewed on

11/07/2014
Kat D
I got married to my best friend 10/26/14. We had a beautiful fall wedding and it wouldn't be possible without there amazing work! They knew exactly what I wanted and more. It's been 3 weeks since my wedding and everyone still talks about the flowers. Especially the centerpieces,which Were filled with pumpkins, gourds, and apples inside this tall vase with this unbelievable arrangement of flowers on top. Everything was perfect thanks to south jersey florist! HIGHLY RECOMMEND! You will not be disappointed!
---
Better than perfection!
Reviewed on

10/05/2014
I had the best experience working with south jersey florist!!! They made picking and planning my wedding easy and stress free. I brought in pictures of what I wanted and loved and not only did they nail it it looked ten times better then what the pictures looked like! They captured my vision over and beyond all expectations!! My centerpieces were amazing, they girls bouquet matched perfectly to their dresses and mine beautiful beyond belief!! I highly recommend south Jersey florist for any event, and I will definitely be using then in the future!
---
Incredible in all areas
Reviewed on

9/30/2014
Jennifer F
I would recommend this florist to any bride. Marcy was incredibly helpful and on point. She went over everything thoroughly and was there throughout the whole planning process. The flowers were beautiful and not only did she deliver them personally, but I think she was as excited as I was about my big day! Love her and love this florist! I will be using them as my regular florist from now on!!!
---
Absolutely Gorgeous!!!!
Reviewed on

9/29/2014
My mother and I spoke with Marcy about what we wanted. She understood everything perfectly and was so helpful ! Our final meeting she made mock arrangements to show us what she came up with and we were so pleased ! She even decorated the ceremony room for us ( we got married at Lucien's Manor) and it was gorgeous!!!! My centerpieces, the mother's corsages, bridesmaids boquet and my boquet were stunning exactly what we wanted and more! Bouquets were full and gorgeous!! They were all so nice and helpful! Marcy and the south jersey florist staff made my wedding beautiful!!! Thanks guys!! Would tec omen to anyone!!!!
---
South Jersey Florist made our day!!
Reviewed on

9/24/2014
Jim C
South Jersey florist made our wedding day beautiful. From boutonnieres, corsages, bridesmaid bouquets, bridal bouquet and centerpieces were all perfect. Marcy was very professional and extremely easy to deal with and did everything we ask of her, even more than we expected. We were so happy how everything turned out. I would definitely recommend South Jersey Florist for your special day!!!
---
Great customer service at South Jersey Florist
Reviewed on

9/20/2014
Stephanie W
Marcy and her team were super friendly and took the time to call me and discuss my expectations, budget, and vision for our reception flowers. Marcy worked quickly to draft a quote that came very close to meeting my small budget. She also made herself readily available to me in the case that I had any questions. I didn't post a rating for quality because we ended up not booking with South Jersey Florist, but using a family friend to help us with the flowers because we have a very very small scope of work. However, South Jersey Florist was overall very friendly, easy to work with, and affordable.
---
Marcy's the Best!
Reviewed on

9/09/2014
Tom B
I went to South Jersey Florist not knowing exactly what I wanted, but Marcy made the process easy. She asked me to view some pictures, listened, and quickly figured out my style. When it came to the wedding day, I trusted in her to make some decisions for me and she did not disappoint! I received so many compliments on my bridal bouquet; everyone loved it! I highly recommend South Jersey Florist. The quality of their work and attentive service cannot be matched!
---
Highly Recommend!
Reviewed on

9/08/2014
Jennifer C
I attended a wedding with gorgeous flowers from South Jersey Florist so I called them for a consultation for my wedding. I booked at my consultation. I met with the owner, Marcy, she was super friendly, offered a number of suggestion and options for arrangements and flowers. ALWAYS kept in communications with me. It was nice working with a family owned company that loves what they do. They were just excited about my flowers as I was. I cant say enough about the quality of service and flowers they offer! I wouldn't go anywhere else!
---
True Artists
Reviewed on

9/08/2014
I have rarely seen such beautiful bouquets. My daughter wanted bright multi-color and this florist came through spectacularly. They are very service oriented and care deeply about exceeding their customers' wishes.
---
SJ Florist
Reviewed on

9/07/2014
They did a fabulous job in creating my vision for the perfect bouquet!! I couldnt have been more pleased and was blown away!! I hired this company for my bouqet and 6 bouttiniers and also 2 crassages. I think the price was great and quality was superb! Very prompt as well. Highly recommended!! Thnks SJ Florist!!
---
South Jersey Florist
Reviewed on

9/06/2014
Jessica C
Marcy took the time to find all the little details to fit the overall look I wanted to achieve with my bouquet and my bridal party bouquets. She gave suggestions and used her knowledge to help guide me. I was beyond pleased with the end product and our flowers looked amazing in the pictures without a huge price tag! The flowers remained vibrant and beautiful for the entire day. I would highly recommend South Jersey Florist to anyone looking for flowers for any occasion.
---
Gorgeous flowers!
Reviewed on

9/05/2014
Mary Kate Z
This florist is amazing! I was a very particular bride and wanted an asymmetrical cascading bouquet. South Jersey Florist exceeded my expectations! All of the flowers were perfectly fresh and lasted all night - and there were a LOT of flowers. HIGHLY RECOMMEND THEM!
---
My Wedding Day
Reviewed on

7/25/2014
Natalie M
South jersey Florist did a wonderful job on my flowers , bride maid, maid of honor, boutonnieres and corsages. Thanks so much
---
Wonderful Experience!
Reviewed on

7/24/2014
I can't say enough good things about the end result of all the flowers that were delivered to my venue from South Jersey Florist. Marcy was responsive, helpful, on-time, and always willing to provide insight into the planning process. My lantern centerpieces were a hit with the guests and bouquets were stunning. She was able to pull all of my different ideas into the flower accents and venue looked stunning. Thanks for making the entire wedding experience joyous. I highly recommend South Jersey Florist!
---
Beautiful Flowers!
Reviewed on

7/21/2014
Julie S
South Jersey Florist created beautiful bouquets, boutonnières, and corsages for my July wedding. The flowers were bright and colorful, and every flower was perfectly bloomed. Marcy was great to work with - attentive, caring, and detail-oriented. I received many compliments on the flowers, both at the wedding and afterwards from pictures. I highly recommend them!
---
South Jersey Florist was AWESOME!
Reviewed on

7/15/2014
Laura C
SJ Florist came recommended to me by a colleague. I had gone to meet with another florist prior but did not feel a connection like I did with Marcy. Marcy's immediate enthusiasm for my wedding was awesome. She took a long time during our first meeting to go over an initial flower proposal, going as far as to get flowers from the fridge to show as examples. Although I had a lot of ideas before I went to meet with her, she had a lot of very valuable input. After that, I knew SJ Florist would be my floral vendor. Marcy had let me know that I could change my flowers up to 3 weeks before the wedding...I took full advantage but it might havbe been 4 or 5 weeks before the big day! Again, this second meeting was as detailed as the first - she gave a lot of great input and worked along with my mom and I to help pick out the perfect wedding flowers. The day of the wedding she was on time delivering everything. Flowers were delivered in vases since it was early and a warm day in June. I couldnt have been more pleased with my bridal bouquet as well as all the other flowers. The centerpieces were perfect as well - it was great to see the floral portion come together with my lanterns so beatifully. Overall I couldnt have asked for a better experience with a florist. I would recommend Marcy and SJ Florist to any of my friends and family with upcoming weddings. I know they will be my florist for life. Thank you so much!!!
---
Send Message