Home

Spectrum Entertainment and Events (SE EVENTS)
About this Vendor
DJs * Bands * Lighting * Photo Booths * Video
Spectrum has been providing top-quality disc jockey services, live entertainment and video packages for over 28 years and is recognized as a leader in the industry. Since 2005, Spectrum has broadened its scope to include decor lighting, photo booths, and audio visual services with package discounts.
Details
Classical, Country, Dance, Disco, Folk, Hip-Hop, Jazz, Pop, R&B, Rock, African, Arabic, Bollywood, Caribbean, Celtic, Flamenco, Indian, Klezmer, Latin, Mariachi, Persian, Polka, World Music
After Party, Rehearsals + Parties, Ceremony, Reception, Wedding
MC Services, Recorded Music, Sound Equipment, Music, Audio/Visual Equipment, Equipment
Contact Info
Reviewed on

4/05/2017
Samantha A
I selected Spectrum for my wedding DJ based on quality, professionalism, and pricing. Not only was it a preferred vendor of my venue, Flint Hill, but upon meeting with Matt Osborne for my initial consultation, I knew that it was a great fit. Spectrum has the latest technology... Read More and you have the ability to plan out your entire wedding from the ceremony to the reception using their online planning tool. Matt also offered tips and advice to make for smooth transitions and a good time.
---
Reviewed on

11/12/2016
Emily K
We worked with Matt from Spectrum Entertainment and he was wonderful! Spectrum makes the process really easy and they have a really thorough event planning worksheet where you can fill in all of the details of the reception, as well as song request forms. I loved having... Read More everything so organized! We met with Matt about a month before the wedding to go through the timeline and event details. He was able to create a mix of two songs for our first dance and it was perfect! He walked us through every detail and was extremely helpful. On the day of, he was the master of ceremonies extraordinaire and everything ran so smoothly! He did a great job of mixing our song picks with the rest of the playlist, and there were people on the dance floor all night long. He also flawlessly weaved in the fight song and alma mater from our university, as well as carried out some difficult to find song requests from guests. We really enjoyed working with Matt and it's not hard to tell he is excellent at what he does. Overall great experience working with Spectrum Entertainment--highly recommend!!
---
Reviewed on

11/05/2016
Valerie Y
Absolutely loved DJ Phil. He kept our reception rocking with our choice of music. A little old & new and the kids absolutely had a blast. He was very professional as well as the team at the Spectrum Entertainment office. I highly recommend you book with them for your next... Read More event.
---
Reviewed on

8/30/2017
Robine P
DJ Phil showed to us his versatility as a DJ and emcee. Him and Lou worked great with my wife and I as we had a brief meeting to discuss the songs we wanted played and when we wanted them played throughout each part of the event (ceremony, cocktail hour, Introductions,... Read More reception, et). They executed everything we wanted. Everything was well queued and played throughout the day as planned. DJ Phil was able to get a feel of our song selection, mixed with the crowd response during the reception and all everyone talks about is how they could not leave the dance floor. He also has great stage presence as an emcee for all our introductions and transitions. Very friendly and family oriented professionals.
---
Reviewed on

6/22/2017
Skye T
We LOVED having Matt as our wedding DJ! He did a great job taking our ideas and music preferences and combining it with his own professional experiences. We really wanted to have a packed dance floor and Matt made sure that happened. It was such a fun and memorable night and we... Read More can't thank Matt enough!
---
Reviewed on

6/21/2017
Kaylyn H
Spectrum Entertainment knocked it out of the part for our wedding!! We had Lou for our DJ and he was fantastic! I cannot say that enough. I work in the wedding industry, and when it came to picking out my DJ I knew exactly who I wanted and that was Lou. My previous clients... Read More always rave about Lou and Spectrum Entertainment, so it was really a no brainier. We had so much fun at our wedding reception, and we received so many compliments on our DJ. Lou's energy and attitude is infectious, and I can honestly say he is one of the best DJ's in the Atlanta area, if not THE BEST. I will forever recommend Spectrum Entertainment!
---
Reviewed on

6/18/2017
Kristen E
Spectrum Entertainment was great to work with. Lou was easy to get in touch with and he was quick to respond during the process and Pete was a fantastic DJ. The dance floor was full all night and everyone had a great time.
---
Reviewed on

6/13/2017
CARRIE B
We loved Spectrum Entertainment! Matt was our DJ and he did the most fabulous job on the day of our wedding. Months before we got married he sent us forms to start making requests and allowed us to get an idea of our options. He spoke with us on the phone on several occasions to... Read More make sure everything was just right. On the day of we had musicians for our ceremony but he still showed up early and gave us mics to use! During our dinner he picked a great selection that allowed us to mingle with guest and keep a positive mood without being too party too quickly. Once it was time to hit the dance floor Matt did an exceptional job picking songs from our requests. The music had a great flow and all my guests were on the dance floor. I highly recommend Spectrum Entertainment! Definitely one of the easiest decisions when getting married!
---
Reviewed on

5/23/2017
Kathryn C
We've used Spectrum Entertainment twice now. Lou was our DJ for both events and he has done a fantastic job both times. I would definitely recommend Spectrum Entertainment to anyone looking for a DJ. Thank you for helping make our wedding day so special!
---
Reviewed on

5/10/2017
Jenna S
I had such a great experience using John for my recent wedding!! Spectrum's music selection process makes it super easy to find songs for each part of the wedding and has helpful suggestions that make it even easier. John definitely made music the least of my worries with the... Read More wedding because he was very professional and always prompt with responses. I did a lot of initial research on DJs and Spectrum has the absolute best prices for their high quality services. I could not be any happier with my experience!
---
Reviewed on

4/18/2017
Jeffrey L
We couldn't be happier to have chosen SE Events and Matt Osborn to be our DJ for our wedding. Matt was very responsive and we really enjoyed our pre-wedding meeting as it helped with all the jitters and to get our questions answered. SE Events has put a lot of time and effort... Read More into their organization and it really shows in their event planning forms. My husband and I had a great time going through all the forms and songs to pick the best ones to match our personalities – the options are endless. Matt always had a big smile on his face and his energy during the wedding was spot on. He had everything running smoothly so there was never a dull moment. He was great at keeping the music low during the meal and then turning it up and judging the crowd to kept them dancing and having the best possible time. We would recommend Spectrum Entertainment and Events and Matt to whomever is in need of a DJ or any reason.
---
Reviewed on

3/30/2017
Katie S
John was our DJ and he was awesome! He met with us beforehand and walked us through the online planning form-- which was super easy to use. He also gave us great suggestions! Our guests had a great time! I would highly recommend SE Events.
---
Reviewed on

3/28/2017
Hilary S
Matt from Spectrum Entertainment was our DJ for our wedding, and he was incredible!! He was so easy to work with in the planning process, and he did exactly what we asked at the wedding! There was never a second when the dance floor was empty. We were dancing and singing all... Read More night long! Everything flowed beautifully, the sound quality was perfect, and he didn't have to intervene much with the guests in terms of announcements. He played all of our requests, and he stayed on our timetable. We received amazing feedback about the music from our guests for weeks after the event! We definitely recommend Matt with Spectrum Entertainment!
---
Reviewed on

3/28/2017
Kaytee N
I love spectrum entertainment!!! They are professional, genuinely love what they do, and they know how to keep people on their happy feet!! Lou was so great at my wedding and kept my crowd, young and old, excited and dancing!! So happy with my choice of Dj services!!
---
Reviewed on

3/11/2017
Jennifer D
I was so excited to use Spectrum Entertainment's DJ services for our wedding reception after the great meeting we had with John Johnson. He was very thorough in explaining the electronic request form and how everything would work together. However, DJ Chris ruined that. I had... Read More requested a specific song for my bouquet toss, he played that song along with another song that was not requested. He also played a disrespectful song by Juvenile that was not on the playlist. I was so embarrassed! The DJ also decided to turn the music off early prior to the reception ending. I spent so much time and hard earned money on our wedding reception. I emailed the company and received rude responses back.
---
Reviewed on

3/09/2017
Lily H
SE Events was great to work with via email! We ended up not booking them, but they were very good with communications and very timely with estimates!
---
Reviewed on

2/12/2017
lytton c
Lou from spectrum entertainment was great. We danced all night, and he followed our timeline perfectly. Everything went so smoothly, and was very responsive through the whole process. The online forms they have are super user friendly. Only thing I would have changed was the... Read More amount of songs we requested. It goes by so quickly so we weren't able to get to all of them, so just make sure you request only the most important songs!
---
Reviewed on

1/21/2017
Charleston M
Thank you to Spectrum the sound was perfect! The only snag was our personal amp was taken away and that caused a delay in our reception music. Otherwise, wonderful job!
---
Reviewed on

1/03/2017
Anne K
We were thrilled with Spectrum Entertainment. Matt Osborne has DJ'd five of my friend's weddings, and he was the second call I made once I picked my date and venue location. He created a wonderful playlist based off our music selection, and he was incredibly professional.
---
Reviewed on

10/31/2016
Helen G
SE Events was awesome! Booking and planning with John was so easy and seamless and Jesse was an awesome DJ. Our dance floor was packed the whole night! Their online planning forms are seriously the best ever. I highly recommend.
---
Reviewed on

10/27/2016
jessica l
Spectrum-ent helped make our wedding perfect, Omar was our DJ and did a great job! i also loved their online music selection guide, it was very easy to use and helpful.
---
Reviewed on

10/27/2016
Lisa C
We booked Spectrum Entertainment and Events for our 10/1/16 wedding in Atlanta and we were more than well satisfied with their services! I initially spoke with Lou, a fellow NY-er, who assisted us with choosing the correct DJ/Videography package for us, and who was informative... Read More and extremely helpful getting us started. Day of wedding, Scott, our videographer, was an ABSOLUTE gem!! He was very timely, arriving well within our wedding timeline to capture AMAZING wedding prep moments for both myself and my groom! He was so sweet, very complimentary, fun and worked oh so well alongside our photographer! We also used Spectrum for DJ services. We were mostly satisfied with our DJ minus a few mishaps such the incorrect ceremony song was played for the bridal party processional and he did not have the actual song for our first dance because the file was corrupted (we chose "At Last" by Beyonce but danced to the original by Etta James). It may be more my fault than the DJ because although I did complete the online planning program that Spectrum gives their clients, I believe I may have submitted it incorrectly. And other than those small mishaps, they did not hamper our wedding! We thoroughly enjoyed our day! I think my only wish would have been that the DJ should have been more interactive and persuasive in getting our guests on the dance floor especially since we are actually a VERY, VERY ready to party type of crowd. All in all, if we had to rewind and do it all over again, we would still DEFINITELY book with Spectrum Entertainment and Events! And we highly recommend Spectrum Entertainment and Events to any couples getting married or for any special events that someone may have planned!
---
Reviewed on

10/27/2016
Kim H
Spectrum Entertainment was AMAZING! Matt was our DJ and he came highly recommended! We were very impressed with his music selection and his ability to keep our wedding lively and fun! My guests thoroughly enjoyed dancing the night away! Spectrum also did a great job with our... Read More up-lighting, disco ball and microphone for our ceremony. We give Matt and Spectrum 2 thumbs up and an A+++ for making our wedding the best night of our lives!
---
Reviewed on

10/27/2016
Kelly K
I am so glad we chose Spectrum Entertainment for our wedding. Lou was absolutely wonderful. He played the music that was requested and since I didn't have a wedding planner, he helped me keep my timeline and let me know when it was time to do things. Their online form to put... Read More your requests and timeline was amazing and so easy to use. It also came with a list of songs other people had requested in case you were stuck and couldn't figure out what song you wanted for a specific thing. I would 100% recommend and if I had to do it over again I'd choose them again.
---
Reviewed on

10/26/2016
Caroline T
Great hype, worked with us extremely well. Kept all of our guests entertained, from our grandparents down to our nieces and nephews Highly recommend them!
---
Meet The Owner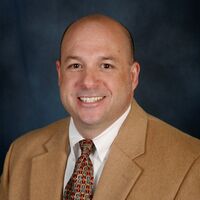 Matt Osborne
Matt Osborne, Partner, first joined the Spectrum team in 1997 as an Account Manager and took less than 5 years to buy the company. He currently manages Spectrum's top producing wedding referral accounts, oversees day to day operations and continues to DJ every weekend. He is an Atlanta native who has performed on stage since 1988 as a musician and DJ, and has over 3,500 events under his belt as a DJ with thousands more as an event producer. His overall experience ensures that your event will be a smashing success. He has a young, fun and upbeat personality with very strong Emcee strengths.