Home

Stafford's Perry Hotel
About this Vendor
Stafford's Perry Hotel - Petoskey
Welcome to Stafford's Perry Hotel. Capture the grace and romance of a bygone era with a wedding overlooking Little Traverse Bay. Indoor and outdoor event space with full-service catering and creative dining options. Our on-site planners stand ready to make your wedding a truly landmark memory.
Amenities + Details
Amenities
Handicap Accessible

On-Site Accommodations

Indoor

Outdoor - Not Covered

Reception Area
For more details about amenities, please message the Venue.
Waterfront, Garden, Library, Historic Venue, Hotel, Tented
Bar + Drinks, Cakes + Desserts, Food + Catering, Planning, Service Staff
Contact Info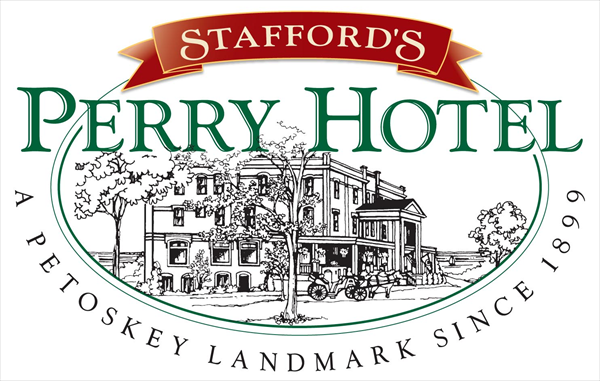 100 Lewis St, Petoskey, MI
Long distance March 2014 Wedding
Reviewed on

4/06/2014
Miriam G
My husband and I planned our winter wedding while we were living in Alaska and then Washington. Half the time we were planning our wedding I was working nights in the arctic yet the Perry still made everything so easy that everything went well the night of our wedding. We had guests travelling from Colorado, Massachusetts, Illinois, Texas, South Carolina, Maryland, and probably a few other places I'm forgetting. It was also in March in the midst of the 12+ feet of snow Michigan had that winter. We could not have done it without Lauren and Debbie's help. The Perry was incredibly accommodating and made long distance planning much easier. One of my uncle's had Down's syndrome and he traveled with my parents to the wedding. the Perry's staff made his stay exciting and comfortable for him as well as alleviating my parent's stress. The day after the wedding, I overheard the bartenders calling him over by name just to ask how his stay was and see if he had a good time. The Perry's staff made everyone feel special and went above and beyond to help out. The food was all wonderful, everything from our guests breakfast every morning, to the food the night of the wedding, and the breakfast we had the morning after. The Perry opened our room up for us a day in advance just so I could hang my wedding dress there after I had it steamed (it flew across country in a space bag). They also coordinated with all our vendors so we had even less to worry about. Speaking of vendors, I'd highly recommend going with the Perry's list of vendors, they chose very wisely. Their prices were very reasonable for everything that was included. We obviously got married in the budget off wedding season which was further helpful. In addition, getting married in the off season meant the whole weekend felt like our special weekend, the front desk had decorations that said, "Miriam and Travis" up the whole time. We have received many compliments from our family and friends and are so glad we had our wedding at the Perry.
---
Dream Wedding
Reviewed on

2/03/2014
When I told people I was getting married during winter in Northern Michigan they though I was crazy! Stafford's Perry Hotel provided the perfect environment for a winter wedding, it was beautiful and more than I ever could have imagined. The staff was amazing, the venue gorgeous, the food was to die for and the staff beyond accommodating. The majority of my wedding guests had to travel four hours in the snow to attend my wedding and every single one has told me it was the best wedding they've ever been to!
---
Not one complaint
Reviewed on

11/03/2013
Nikki W
From the first day we went to visit the Perry and it was rainy and 40 degrees, but the view was still breath-taking and the staff very accommodating, we knew this was the place for us. Throughout the planning process, even from long distance on the other side of the state, Lauren and the rest of the Perry staff knew what they were doing. She was so supportive and helpful through every small and big decision. If you are interested in a Northern MI wedding, and want a beautiful view, great food, wonderful staff, and an accommodating hotel all in one, the Perry is the answer. It has the perfect combination of a small town hotel with the ability to accommodate all of your family and friends. Having our wedding reception at the Perry was worth every penny and we cannot say thank you enough to them for allowing us to have the best wedding ever!
---
Reviewed on

7/13/2015
Tully B
Fantastic experience! The staff was extremely helpful and understanding. Our wedding ran so smoothly and perfectly because of them. A great experience!
---
Reviewed on

7/06/2015
Liz D
The staff at the Perry Hotel made our wedding the most special day in our lives. They are prepared for everything that you can imagine for your wedding day. It is very hard to fit how amazing the Stafford's Perry Hotel is in just one review, But I highly recommend having a wedding ceremony and reception at this location. Not only will you have a stunning location but you will be treated with wonderful care and respect. Everything about our wedding was so amazing because of how smoothly everything was run.
---
Beautiful venue for a wedding
Reviewed on

12/14/2014
BobDan B
My wife and I were very happy with everything at the Perry. The event planner at the hotel, Lauren, was a big help getting everything planned and together with Carolyn made sure everything went smoothly on the big day. The servers were all very friendly and the food was great. We had our ceremony in the Reycraft Room and the reception in the Rose Dining Room and everything looked great. We got married in the offseason (November) so the prices were better than the busy summer months.
---
Stafford's Perry Hotel is the BEST!!!
Reviewed on

11/16/2014
Laura M
My husband and I picked out Stafford's Perry Hotel for its amazing views initially and then discovered how amazing their whole staff was in the process! Our wedding planning had to be done through e-mails and over the phone, since we are from the Detroit area. All of the ladies (Angie, Debbie, Lauren, Rachel) were my angels! They helped troubleshoot any bumps in the road throughout the planning process and a couple big bumps on the actual wedding day! Carolyn and her staff that run the dining room were exceptional also! We had prepared our centerpieces and decorations in advance. My sister and I had discussed the set up with Carolyn/Angie and the staff briefly and when I walked in and saw everything set up, I seriously had tears in my eyes because it was so beautiful! I couldn't have asked for anything more! I have nothing but high praise for all of the staff at Stafford's Perry Hotel. I would encourage anyone looking to have an up north wedding to use Stafford's Perry Hotel. If I had to choose and plan everything all over again, I would choose Stafford's Perry Hotel! Thank you! Thank you! Thank you!
---
Beautiful venue and supportive staff
Reviewed on

11/13/2014
Maggie O
We got married in the rose garden and the venue was absolutely gorgeous. Guests raved about the garden and enjoyed the sunset after dinner. We were very happy with the atmosphere. Cocktail hour was a hit because we were able to choose two drinks that were served to the guests as they came back from the all guest porch picture. The food was very good and the serving staff was dependable, there were no issues during dinner. Lastly, the coordinators made the day itself smooth and stress free. This was especially impressive since we live in Wisconsin and had to do all of our planning via email. The one downside is that the Perry is very expensive for guests and definitely came in at the top of our budget. Make sure to crunch the numbers and dig into the details before deciding on this venue.
---
Northern Michigan Wedding September 2014
Reviewed on

10/27/2014
Jacqueline H
We have nothing but great things to say about our wedding experience at the Stafford's Perry Hotel! Our wedding took place in early September, outside on the Rose Garden Veranda, beautiful location! The onsite wedding coordinators were so helpful throughout the process, very professional and experienced, just an absolute pleasure to work with! They took care of everything, which allowed us to really relax that day and enjoy every minute of our wedding! Dinner was outstanding, accompanied by a staff that provided great service throughout the entire night! Our guests continue to tell us how much they enjoyed the evening, complimenting the food, the great service and the beautiful views. We are so happy we chose the Perry Hotel for our wedding, it was truly a wonderful experience!
---
Beautiful Location + Amazing Service = PERFECT WEDDING!
Reviewed on

10/09/2014
Lindsey W
Having worked in the hospitality industry and planning events for a living, I was very fickle about the venue for my wedding. From the first moment that I contact Stafford's, their staff was professional and ensured me that my wedding would be perfect. I have pretty high expectations and not only did they meet them, they exceeded them. I would highly recommend Stafford's Perry Hotel.
---
September 2014 wedding at the Perry Hotel
Reviewed on

10/01/2014
My husband and I were engaged in June of 2014 and immediately knew that we wanted a wedding on Lake Michigan in Northern Michigan. I'm from the U.P. and his family are in the metro Detroit area so Petoskey was a perfect middle meeting place. I fell in love with the Perry's Rose Garden Veranda upon viewing it online and fell even more in love when we saw it in person in July. We booked upon seeing it for our September 13 wedding. What can I say about our wedding day? It was absolutely perfect, in large part to the staff at the Perry Hotel (notably Angie and Lauren). Angie was our go-to person from day one and she answered all of our questions, made us feel at ease and really kept any stress out of our planning since we had two months to plan everything (the fact that we're a pretty laid back couple didn't hurt!). Our ceremony and reception were all held outside at the Rose Garden Veranda and even the 57 degree temperatures didn't ruin our day. They think of everything - the veranda and tent have clear, plastic sides that come down to keep out the cool weather and any rain without obstructing their amazing view and both also have heaters that kept the room perfectly toasty. Lauren was our go-to person for the wedding day and was great to work with. She made sure our tables were set up as I requested and got everyone where they should be at all times. We only had 26 guests since we wanted a small, intimate wedding (while splurging on the top level open bar and surf & turf dinner) and they were incredibly accommodating to all of our guests, as I'm sure they would for a larger wedding. I can't say enough good things about the staff and venue. All of our guests stayed at the hotel, which is a beautiful place to stay and it made things a little easier for us (side note - the hotel is beautiful but may be a little pricey for some. The Perry can tell you of other local hotels that you may offer for your guests as well). If you are looking for a northern Michigan wedding, you should definitely check out the Perry Hotel (particularly the Rose Garden Veranda).
---
Fantastic experience at The Perry Hotel!
Reviewed on

8/29/2014
Molly H
We just got married at The Perry in May and we were so happy with the venue, staff and location. Most of our guests stayed at the hotel and were happy to be so close to the wedding activities and the downtown. The staff worked with us from the moment we inquired about the location, right up to keeping everything organized the day of the wedding. We would recommend the Perry to anyone and absolutely loved working with staff, especially Lauren and Debbie.
---
Great Venue for a Wedding
Reviewed on

8/21/2014
Chelsie M
The Perry Hotel is a fantastic place to have a wedding. The food was amazing, the venue has an amazing view of Little Traverse Bay, and the staff is amazing. The event staff took care of EVERYTHING and we didn't have to think about a single thing the day of the wedding. It is also a very classy place to have a wedding. You are within walking distance of a myriad of shops, bars, restaurants, and the lake. Being downtown allows for the guests to have something else to do besides the wedding. All of our guests were blown away by the Hotel and how nice it was. Also the porch was the biggest hit of the night. I would definitely recommend the Perry Hotel to anyone who wants to have their wedding in Northern Michigan.
---
A Dream Come True!!!
Reviewed on

8/20/2014
I absolutely cannot say enough about the Stafford's Perry Hotel and all of their caring and hard working staff! The hotel itself is such a beautiful setting for a wedding! The H.O. Rose Ballroom is exquisite! The food is also amazing! All of the delicious options made it hard to pick the menu! Our guest raved about everything! The staff just goes above and beyond to make your day perfect! They are professional, organized and do not let you worry about anything because they really handle everything for you! I could not have dreamed of anything better! So glad we were able to book this venue! Now it will be our special place to treat ourselves and reminisce of all our happy wedding memories made there! Highly recommend!
---
Wonderful Wedding Spot
Reviewed on

8/08/2014
Jenna W
We have only good things to say about our wedding day at the Perry Hotel. Our reception was on the Rose Garden Veranda and was catered, of course, by the Perry Hotel. The site was beautiful, and the view of Lake Michigan from atop the hill was just breathtaking. Dinner was fantastic, and not just the way it tasted; the service was spectacular. We sat at a sweetheart table and were waited on hand and foot. Our glasses were never empty. The staff was friendly and professional, and did so much work quietly behind-the-scenes. It got chilly at night, and at one point we noticed all of a sudden that the tent walls were down and portable heaters had been turned on inside the tent. We hadn't even noticed them making this transition. We never had to ask for anything- they were on top of it. Our coordinator, Lauren Butwell, was a fantastic resource throughout our planning process. She was very knowledgeable about the property, the food and beverage service, and weddings in general. She offered great advice and was very detail-oriented. We planned our wedding in only 5 months. With such a short time frame to plan, we didn't have time to mess around and needed to be able to count on Lauren and the hotel. Their organization and experience made planning so much less stressful. Each time we met with Lauren, especially one time right before the wedding, we felt very reassured that they would handle everything properly on our wedding day. They decorated our reception space, got all of our details right, and served great food. Lauren also kept the evening flowing. She made sure we kept to our timeline and prompted us through all the major events of the evening. We did not have to worry about a single detail on the day of the wedding. After our reception, many of our guests joined us in the Hospitality Room at the hotel for a late night snack and then closed out the Noggin Room Pub. It was the night of our lives! To top it off, we stayed in a quaint honeymoon suite at the hotel, complete with a balcony overlooking our reception space and Lake Michigan. We are very happy we chose the Perry Hotel for our wedding.
---
Perfect
Reviewed on

8/07/2014
Amy S
I grew up in Petoskey, always dreaming of a reception outside with a million dollar northern Michigan sunset ! I know The Perry cannot control the weather, but having our reception in the Rose Garden was absolutely picturesque and perfect and the night ended with a beautiful sunset. Our wedding planner, Lauren, was fantastic, she was attentive and made sure the whole night went effortlessly. I could not have been more pleased with how things turned out. If you want a beautiful wedding and a fabulous view leaving your guests without words, OR gushing to you that it is the best wedding they have ever been to, then book a wedding in The Rose Garden. You will NOT be disappointed. It was just perfect!
---
Perfect Up North Wedding!
Reviewed on

7/07/2014
Katie K
My husband and I always thought it would be great to get married Up North but seeing as a majority of our guests would be traveling from our of state we didn't know it was logistically possible. After looking for venues in the Detroit area we just couldn't find something that felt like what we wanted. After seeing pictures of weddings at The Perry we knew it was perfect and are so glad we picked it! We were a little worried about planning a long distance wedding since we currently live in Ohio but Lauren & Angie were SO helpful leading up to the wedding with every detail. It was a pretty stress-free wedding planning process from begining to end. They were extremely responsive to any question my mother or I had and very good at communicating each step of the planning process. The Rose Garden was absolutely beautiful for the ceremony and the tented outdoor space was perfect for the reception. We had the most beautiful view overlooking Little Traverse Bay and have received so many compliments from guests as to how beautiful the wedding was. The staff at the hotel treated all of our guests wonderfully and were so accomodating. I would definitely recommend The Perry to anyone who is considering an Up North wedding.
---
Perfect Wedding
Reviewed on

6/18/2014
Just had my wedding at the Perry a few weeks ago and could not have been happier. Lauren and Angie made planning a breeze - they gave great vendor recommendations and were always so quick to reply to any of our questions. The entire staff at the Perry was very accommodating and friendly - our guests even commented on how nice everyone was and that the staff knew their names by the end of the wedding weekend! Just loved the location - perfect for walking around town and gorgeous lake views. And if you are good at getting your guests to book early, you can basically take over the whole hotel which makes for a very fun and intimate wedding weekend.
---
WOW
Reviewed on

6/16/2014
My goodness ... we have lived in Northern Michigan for 30 years, and the Stafford's Perry Hotel's Rose Garden Veranda still took our breath away! What an incredibly gorgeous setting for a wedding reception!!! Even for a June 7th wedding after a very long cold winter, the garden was still lush and green, and the view was spectacular ... even on a hazy day. The venue is so unique, so functional, so intimate, and so representative of all of Northern Michigan's natural beauty. Our guests were in complete awe of the setting's total loveliness. The accolades don't stop with the setting. The food was outstanding! The appetizers were extra special and delicious, as was the Perry Bibb Salad and Entree (which was also cooked and served to perfection)! The wait staff was extremely professional, friendly, and efficient. They truly provided a fine dining experience for our guests in a romantic garden setting. Many commented on just how special they felt! Having no experience in wedding planning, Lauren was not only a "Godsend" but also a complete "joy" to work with. She was so knowledgeable, so informative, so organized, so thorough, and so kind ... totally client oriented from start to finish! When the Perry Hotel tells you they are a complete full service wedding venue - believe it because they are! The details of the reception were preplanned and organized, articulated to all involved, and executed to perfection - totally allowing us to be worry free and to fully enjoy the beautiful celebration of the day. They also do an outstanding job working with any additional vendors you may or may not be using. It is clear that the Perry Hotel and its staff take great pride in delivering quality. We couldn't be more thrilled with our decision in choosing them to host our reception!!!
---
Fairytale Wedding
Reviewed on

6/08/2014
We fell in love with the location and the venue upon visiting it a year ago. We had heard great things about the service and hospitality from locals as well as friends and family...as a result we had high expectations for the weekend. The only thing in question was the weather (as we all know Memorial weekend in Northern Michigan can be hit or miss). We were completely blown away by the level of service and hospitality provided by the Stafford's Perry Hotel. There was no stone unturned and it was truly a magical experience. From the moment we checked in to the very last dance, we were awestruck in how perfect everything came together. Working with the the Perry Hotel was seamless and the staff was very accommodating and professional. The location, the Rose Garden Veranda, overlooking the bay could not have been more ideal. Timing was impeccable, the food was incredible, and the weather was in our favor (75 and sunny). All of our guests said this was the best wedding they have ever been to, and coming from a very large ethnic family, that says a lot! We can't say enough about how wonderful are experience was at the Stafford's Perry Hotel and hold them in the highest regard.
---
Perfection
Reviewed on

11/03/2013
Katherine N
The Perry is beautiful,and I am so lucky to have had my wedding there. I could write a novel about how incredible everything was, from the food to the service to the people (Lauren and Caroline are the absolute best), but I'll try to keep it simple. Everyone at the Perry made our wedding absolutely perfect, from the beginning of the planning process to the party after our reception. They were flexible, accommodating, helpful, and kind every step of the way. I didn't have to worry about a thing on the day of my wedding because Lauren and Caroline were taking care of it all for me! We got rave reviews from our guests, and I cannot imagine our wedding being any better than it was.
---
Stafford's Perry Hotel - Great Place!
Reviewed on

10/22/2013
Jessica D
I recently had my wedding at the Perry Hotel in Petoskey, Michigan and it was wonderful! My husband and I wanted an unique venue for our guests and the Perry Hotel was perfect. We worked with Angie and she was amazing. Such a great person to work with throughout our year of planning. We could not have done it without her! It rained off and on during our wedding day and Angie made sure I was calm and our guest were taken care of. We were a tad disappointed in the food (the steak and fish were great but the sides were not what were were expecting. Angie knew that they weren't great so she didn't make us pay for the sides which was very nice). Overall a wonderful experience and great place to hold a wedding!
---
An amazing experience
Reviewed on

8/02/2013
Andrea C
The Rose Garden Veranda at the Perry Hotel is a stunning location for a wedding. Our guests are still talking about it. We worked with Lauren and Angie, who where both very helpful and professional from the beginning of our planning. We had a fairly small wedding of 75 people and did a strolling appetizer dinner, the food was delicious! Everything came together and we couldn't be happier with the results of our day! Angie was our day of the wedding coordinator, working with her kept me relaxed and happy the entire day. The staff at the Perry was friendly and helpful. We had such a memorable time and we will be back to celebrate our anniversaries in the future.
---
Amazing Venue!
Reviewed on

3/06/2013
Meredith W
We got married at the Perry Hotel on the rose garden veranda in August, 2012. The venue is absolutely beautiful, and the view of Lake Michigan is stunning. I couldn't imagine a more perfect place to watch the sun set and enjoy the beautiful views of Little Traverse Bay. The staff was amazing, and the food was perfect. The event staff was so attentive and did everything they could to help us prepare for our wedding. They made our day absolutely perfect!
---
Best day of my life
Reviewed on

10/26/2012
Theresa M
I recently had my wedding at Stafford's Perry Hotel and I can't really say it was a wedding, it was a fairtytale. When I originally decided to get married at the Perry, it was Mid-December and I was looking at a Mid-September wedding in the rose garden. With snow on the ground and frigid temperatures, it was hard to picture the magical day. Then came Angie, the wedding coordinator who painted the picture with so much vibrance, I knew that was where we were getting married. She was so kind and gracious to us and even when we made a surprise visit to the hotel during the summer, she made sure to take the time to show us around and let us look at a wedding that was being set up that day. The week before my wedding, the forecast was cold and rainy, something no one with an outdoor wedding wants to see, but Angie and Lauren were so upbeat and positive, I had hope that our day would be ok. On September 15th it was sunny without a cloud in the sky, the weather was near 70 with no wind. It was perfect and the wedding was a dream. Angie was there to make sure everything went smooth and my other vendors said she was the best coordinator they had ever worked with. The rose garden was so beautiful with the flowers and the fountain, I was blown away. How could my wedding day be exactly as I had dreamed and more? With the view of Little Traverse bay and the breathtaking sunset, our guests no longer wondered why we decided to get married up north. I have had so many people come up to me and say it was the best, most beautiful wedding they had ever been to and that was because of the Perry Hotel. If you are looking to plan a destination wedding, or from the area, please look at the Perry Hotel. From its beautiful architecture, to its Northern Michigan history, to the gorgeous Rose Garden and view of the bay, it is hands down the best place to get married. The price is expensive, but it is completely worth it and everything will be taken care of their highly trained and capable staff. The food is also guaranteed to knock your socks off, best wedding food I have ever had. My husband and I are already planning another trip up there, because we miss it so much and it has only been a little over a month. Thank you Stafford's Perry Hotel for making our wedding a dream come true! -Theresa and Nick
---
Send Message