Home

Stambaugh Auditorium
The Inside Scoop
---
FROM THE KNOT EDITORS
The First Look
Listed on the National Registry of Historic Places since 1984, Stambaugh Auditorium in Youngstown, Ohio, offers couples a variety of large and intimate settings for their wedding receptions. Built in 1926 thanks to a generous donation from local businessman Henry H. Stambaugh, the building features a theater that seats more than 2,500, along with the Grand Ballroom, a smaller hall, lobbies and gardens suitable to accommodate weddings of various sizes. Couples looking for a wedding that showcases stunning architecture, or those with a flair for the dramatic love the versatile offerings of the Stambaugh Auditorium and the convenient location of Youngstown itself, located equidistant between New York and Chicago and Cleveland and Pittsburgh.
Whether couples want an intimate wedding of 100 guests, an unforgettable staged affair or a grand reception of 500 people, the various offerings of the Stambaugh Auditorium provide a solution. The following spaces in and around the auditorium offer couples various distinctive wedding ceremony and reception selections.
The Concert Hall
is renowned for its near-perfect acoustics, which is why it hosts local and international musical acts throughout the year. Performance-loving couples can also opt to hold their ceremony and reception right on its stage, paired with the breathtaking backdrop of its 2,500 seats. The stage accommodates weddings of up to 160 guests.
The Jean D. Tyler Grand Ballroom
is a stunning, 8,800-square-foot space complete with tables and chairs capable of seating up to 550 dinner guests. An elegant, formal space with many recent renovations including grand chandeliers, the vast area of this hall offers many different possible configurations. This allows couples holding a reception in the Grand Ballroom to personalize the space, taking advantage of its dance floor, stage and fully equipped commercial kitchen as needed.
The Anne K. Christman Memorial Hall
offers a smaller, though equally diverse, 2,500-square-foot formal reception space with enough room to seat 100 reception guests or host a ceremony to accommodate about 200 guests. With stunning architectural details, the hall is very chapel-like with inlaid vaulted ceilings painted with gold leaf. The cathedral atmosphere is completed by large windows that face south and tall archways that face north.
The Ballroom Lobby and the Concert Hall Lobby
in the Stambaugh Auditorium offer couples various options for different wedding events. The Ballroom Lobby on the first floor is the perfect space for hosting a cocktail hour prior to a reception in another location. The Concert Hall Lobby on the second floor is a more versatile space where couples can host a ceremony of up to 150 guests, or a reception of up to 130 guests. Each space offers unique details that make it elegant and formal, including the backdrop of the auditorium's grand staircase.
The Garden
on the building's south side offers couples the option of holding an outdoor ceremony and/or reception. Featuring a fountain that dates back to the building's early construction that has been updated with ambient lighting, both daytime and evening ceremonies outdoors can be stunning. The Garden is large enough to host a reception or cocktail hour of 100 guests, or a ceremony of 150 guests.
What You Should Know
The Stambaugh Auditorium offers couples a complete package of wedding-related services, regardless of the space they ultimately decide to use. Rental fees include all of the following:
The chosen space for an allotted time frame
Complete set up and tear down of any Stambaugh-owned equipment
A personal event coordinator on hand throughout the day
Couples having their wedding at the auditorium also pay a ceremony fee, which includes a 90-minute rehearsal slot.
All payments made for a Stambaugh Auditorium wedding are non-transferable from one date to another. Refunds are specific to each package and outlined in the couple's contract. Couples holding a reception at the auditorium are responsible for acquiring their own catering services through a list of Stambaugh-approved vendors.
Extra Perks
The Stambaugh Auditorium offers couples a number of additional add-on services designed to make their wedding day more relaxing and their guests' experience complete. These include:
Bridal Party Luncheon and Refreshments Package: Services include sandwiches, fruit and vegetable trays, champagne and more.
Bar services: Pricing is based on consumption and includes all beverages except coffee, tea and non-alcoholic punch. Minimum of two bartenders per event, as needed.
Security: Provided by the local police and sheriff departments, who arrive one half hour before the event and stay one hour afterward.
Couples can discuss the details of these packages with their event coordinator to get a more complete list of prices and features.
From the Vendor
Follow us! www.pinterest.com/stambaughevents
Stambaugh Auditorium has a wide range of beautiful spaces to suite your event needs including a Grand Ballroom, Christman Hall, Concert Hall, & Garden.
Amenities + Details
Amenities
Handicap Accessible

Liability Insurance

Indoor

Reception Area
For more details about amenities, please message the Venue.
Contact Info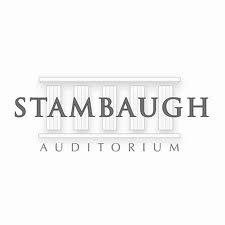 Reviewed on

3/16/2016
Laura E
Absolutely gorgeous wedding venue! My husband and I got married in the Christman Room upstairs and then had the reception in the Ballroom. We loved having everything in one location. The staff was very easy to work with from day 1. They provided a list of approved... Read More vendors to work with, which was more than expected (about 10 per category). The alcohol prices are very affordable - my husband and I high-fived when we got the final bill because it was less than we expected. Getting married there was a dream come true - absolutely loved it!
---
Beautful
Reviewed on

10/29/2015
Jennifer D
I had my ceremony at stambaugh auditorium in Christman hall on the third floor. It is a beautful venue and accommodates up to 200 guest. Kelly was my wedding consultant and she was amazing. She was so helpful and made sure everything ran smooth the day of. We had the hall for 4... Read More hours and we also had a hour and a half rehearsal included in the rental price. I can not say enough to about this venue. The architecture and decore is breathtaking. An ideal spot for photography.
---
Reviewed on

8/16/2015
Ashley W
We held our wedding ceremony at Christman Hall in Stambaugh Auditorium. From the first time we visited, we knew this was the place for our wedding ceremony. Our contact person changed a few times, but it all worked out in the end and no details were lost. Dani was the final... Read More person we worked with and she was wonderful. During the rehearsal and the ceremony, we had the help of both Dani and Julia. They were quick to offer suggestions and guidance and relieved so much of the stress. Dani served as the total event coordinator throughout the day of the wedding - she even hid the groom so he wouldn't see me before the ceremony! Stambaugh also allowed the groom and his groomsmen to come in a little early to get ready. The boys had their own private "lounge" and so did I and the bridesmaids. Since there were no other events going on that day, after the wedding we had access to the entire venue for photos (our wedding was on a Sunday, so this may not be the case on a Friday or Saturday). It is naturally a very beautiful venue and provides for some amazing photo opportunities. I highly recommend Stambaugh!
---
Great Venue for Any Occassion
Reviewed on

9/12/2014
Alexis G
I grew up in Youngstown and had my High School graduation held here. It was a beautiful place and had more than enough space to do anything with. Any décor you choose will work. With our decorations it turned out better than I imagined. Carissa is very thorough in... Read More coordinating everything. However, the only downside that I was not pleased about is that my guests were being charged for soda and even water (which was not explained to me prior to the wedding). If I had known this ahead of time I would have used the soda and water through my caterer, as it was free through them. The price is just for the hall and security fee. We chose to go with a cash bar, so the bartender fee was included with the pricing. You need to find your own catering, which was an extra cost, but at least you got to choose the food that you liked. So I didn't mind! Another downside is that we chose to have sparklers and do some photographs outside as our "exit" pictures, but we were told that it was a fire hazard. They were sparklers, and they would be outside, but it was still a "no".
---
June 2014 wedding
Reviewed on

7/10/2014
Marissa B
Can't say enough good things about having my ceremony at Stambaugh. Absolutely beautiful venue. Carissa is so organized and really makes sure that everything goes smoothly. Our officiant had never done a wedding before ours so it was really nice to have someone help us figure... Read More out timing and logistics. Included in the cost was 4 hour use of the facility and your rehearsal time. Well worth the money. It was awesome to be able to have our out of town guests experience such a historical landmark in Youngstown.
---
Historic, beautiful venue that shows off the splendor of Youngstown!
Reviewed on

6/12/2014
Carmela K
We were very excited to use Stambaugh Auditorium for our May wedding reception. It offered plenty of space for our guests (we invited 420+, with ~300 attending), allowed us to choose our own caterer (the Cassese's MVR), and brought an instant level of beauty just by being the... Read More spectacular structure that it is. It is exciting to see the growth and change that Stambaugh is undergoing as more and more couples choose it for their weddings, as well as for other purposes. We were excited to take advantage of the newly renovated doors along the south wall, which provided the perfect backdrop for our bar (giving it a pub-like atmosphere), as well as the expanded landing and steps, which made for easy decoration and a beautiful entrance! Once the hardwood floor is reinstalled, it will be hard to beat this space! Carissa was our primary contact and was very helpful along every step of the way. The staff in general is eager to meet your needs and is very flexible, holding fast only when proposals might detract from or damage the space's overall preservation and improvement. My only complaints are a lack of lighting in the far corners of the ballroom, which I know are being addressed. In addition, don't try using music of any kind in the cocktail lobby - the acoustics just aren't suited for it. However, what may be lost in sound is made up for far and away by the beauty of the room you are in! In general, I appreciated the opportunity to enjoy a wonderful part of Youngstown history (it is amazing to really consider the architecture and detail behind every aspect of the building), and in turn, to allow my family and friends - especially those from out of town - to do the same!
---
Beautiful Ceremony Venue
Reviewed on

10/28/2013
Amber M
I recently got married at Stambaugh Auditorium on the 3rd floor in the Anne Christman Memorial Hall. I chose the venue based on appearance alone. This place is incredibly beautiful! Especially if you are looking for a non-traditional space with a classic feel. I was... Read More pleasantly surprised to find out that our rental price included a ceremony coordinator. Carissa was great to work with and kept everyone on task, which is exactly what I wanted. I didn't have a thing to worry about when it came to the ceremony, because Carissa has everything handled, including timing of the ceremony. The only issue we ran into was that we were not able to have our rehearsal on the Friday before the wedding, due to an event being scheduled at the auditorium. But, this kind of comes with the territory of booking at a non-traditional site that hosts other events. We were given plenty of notice that the rehearsal would have to take place on Thursday and Carissa did her best to remain available to address any concerns that I had. Great place to get married!
---
Just Beautiful!
Reviewed on

8/19/2013
Cessalee L
I recently was in a wedding held at Stambaugh Auditorium. Everything was incredibly beautiful and the staff was extremely helpful!
---
Absolutely Flawless Wedding Venue
Reviewed on

7/25/2013
Samantha P
Stambaugh Auditorium was the best decision I made throughout my entire planning process. From the moment we visited the venue to the time we packed up our things after the reception the staff was unbelievably helpful and kind. They made sure we had everything we needed... Read More throughout our special day. Only one issue came up during the wedding day and it was that there was no coat rack to hang our dresses on. We simply hung them from the door and it wasn't really a big deal. Overall I highly recommend this venue to anyone looking for an elegant atmosphere for their wedding ceremony and reception.
---
awesome place
Reviewed on

9/22/2012
tiffany t
our church fell through we used the Anne Kilcawley Christman Memorial Hall for our ceremony. It was beautiful!!
---