Home

StarDust Celebrations
About this Vendor
Beautiful, imaginative weddings...everytime!
The StarDust Bridal Salon offers the most discerning brides wedding gowns and accessories from the top names in wedding couture, prices starting from $1,500 to $15,000. Each bride works with her own personal stylist who will ensure she finds the gown of her dreams!
Details
Bridesmaid Dresses, Flower Girl Dresses, Mother of the Bride Dresses, Wedding Dresses, Dresses, Alterations, Fashion
Contact Info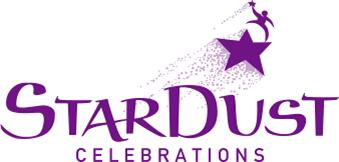 6464 W Plano Pkwy, Plano, TX
Made me feel like a princess
Reviewed on

8/23/2013
Lexi D
I love stardust. The entire dress process was so easy with them. Mary Ann was my consultant and she took some time getting to know me so she could match a dress to my personality raged than me trying to find a collier cutter bride idea. All my fittings were enjoyable and quick. The service there is impeccable.
---
Reviewed on

5/28/2015
Jasmin R
Stardust was the fifth store I went to and the 2nd day of gown shopping. I didn't go in with very high hopes and ended up founding the perfect dress, in the most perfect way - ONLY thanks to Marianne! She was hilarious, and geared me toward finding what I really wanted, vs. being strayed by looking at things I did not want to afford or did not want to wear. She could have not been any better at what she does, and we had a blast in the process.
---
LOVE
Reviewed on

3/02/2015
I had an absolutely amazing experience here. They made me and my family feel very important, and we found an amazing dress! I would recommend this shop to anyone looking for a dress in the area!
---
Favorite Dress
Reviewed on

12/05/2014
Tiana S
I only looked at dresses here and I tried on 2 dresses. Then my consultant pulled two that she thought might be more me. And sure enough one of the ones she pulled was perfect. She really listened to what I was looking for and found me something that was the most beautiful! I want to wear it every day! Also, they have a great alterations team. They were great to work with and did a great job getting my dress taken in which was quite a task!
---
Best Place for Wedding Gowns
Reviewed on

11/20/2014
I absolutely love Stardust they hands down have the best selection of bridal dresses. Yea, they are more expensive then lets say Davids Bridal but you wont find the selection they have. There are many commercial Bridal shops. When i started planning my wedding and looking for dresses Stardust was my first choice and i found the perfect dress. They have a fantastic Bridesmaids stock as well but all my BM's were on a tight budget so we had to go to a less high end store like Davids Bridal which is fine for that but for the Brides Dress Stardust it is! They specialize in designer dresses and lets face it ladies we know we love designer stuff and we pay the price its the same with Stardust its the Louis Vuitton of Wedding gown dresses. They also have the coolest lil store there which i LOVE i ended up shopping there they have a beautiful selection of Jewelry and its REAL not like the cheap stuff they sell in other Bridal places. The alteration department is amazing they helped me with a very difficult issue which had nothing to do with them but they completely saved my wedding. I would highly recommend Brides to go here for there dresses if your BM's can afford the high end dress then great if not then they most likely end up going to commercial shop. I have only one complaint, that they don't have more stores locations they only are located in Plano i'm in Ft worth so it was far but worth it but if they had one closer i would totally go back there and jewelry shop. Thanks you StarDust !!
---
Stardust is THE place to go; Marianne is the gal to see!
Reviewed on

10/30/2014
Stacey K
As I was pinning on Pintrest to my dream wedding board, I saw a stunningly breathtaking gown online and was dying to try it on ASAP. The designer's website had a feature to find it locally, which is how I stumbled into Stardust Celebrations. I just got engaged very recently and was only just starting the process. My fiancé and I are unsure of the date of our wedding, but I was rearing to go on the fun part and wanted to start the dress searching. When I got to Stardust, I was impressed by staff immediately as well as the layout and selection. Come to find out, they do so much more than just sell gowns! I am considering using their other services as well. They even have wedding planners! Anyways, let the fun begin... Marianne was our bridal consultant extraordinaire. She is energetic, witty, and extremely knowledgeable. I did not feel pressured, judged or pushed in any certain direction. I was allowed to try on dresses that suited my eye without being hounded about my budget (truthfully, I didn't have a number in mind at that point). I was able to try on the dress I came in for and more. The whole experience was light-hearted and fun, and Marianne was able to guide me towards what gowns fit my personality and the idea of what bride I wanted to be, and also what looked good (cause lets be honest that is the most important) :). I told her that my parents would be coming next month and that I wanted to bring my Mom (she would kill me if I went without her for this). Marianne was very understanding and told me that she would be happy to meet her if I wanted to come back to try on more. I am so glad we came back! I never went to any other bridal salons, because I really cherished the vibe I felt at Stardust and the experience I had there. When I went back I was able to try on some I tried before as well as new styles and finally... voila...my dream dress. The one I never knew I always wanted suddenly appeared on my body. I did not want to take it off! At this point Marianne cued in with the details of my dad walking me down the aisle as she the scene for the special day...Not a dry eye in the house! Perfect! When my Dad, Mom and I came back the next day, even he was able to see what we saw and was happy that I was in good hands. After we purchased my dress, we cruised around because Stardust also has an excellent selection of bridesmaid dresses, tuxes... anything you can think of and things I can explore later on! They also give you tons of discounts if you purchase your dress there. Don't let the simple exterior of the building fool you-when you walk inside you will see this is a luxury salon with prices and dresses to suit even the pickiest of brides. Thank you to everyone at Stardust and Marianne in particular, for making my wedding dream dress a reality!
---
Great place to buy your wedding dress!
Reviewed on

7/29/2014
Meredith R
I had a great experience with StarDust, not only did I buy my gown there but my bridesmaids, mom and grandma all bought their dresses there too! We got great service, it is just a little pricey! But you definitely get what you pay for!
---
Wedding dress
Reviewed on

7/01/2014
Tran V
I bought my wedding dresses at stardust and I absolutely loved my experience there. My appointment went smoothly and they were very respectful of my budget. It is a little expensive and I paid more than I intended for tailoring, but it did come out perfectly. They even added on a cap sleeve to custom design my dress and it was perfect!
---
The Only Shop that Had My Dress
Reviewed on

6/28/2014
Erin A
This was the only shop in the area that stocked the specific dress that I wanted to try on so I didn't have much choice in where I went... My assistant was initially very overexcited and almost too forthcoming with gushing compliments (not only with "the one", but with every dress I tried on...). It seemed pretty fake to be completely honest but I guess that's better than being unenthusiastic? They were very nice and helpful throughout the ordering and pick-up process. I didn't have the cookie cutter experience there cause I already had my dress in mind, but I could see how it would be a good place to go if you have the $$$ and time to shop around.
---
Bridal Gown
Reviewed on

6/17/2014
Tiffany T
I found my gown at Stardust. The lady helping me was very unhelpful. My mom found the gown and showed her which head piece to use. You tell them what you want your budget to be but she should me the entire showroom.
---
PERFECT!
Reviewed on

5/18/2014
Megan
I love StarDust. Everyone that works there is so nice and professional. Marianne was my consultant. She was so fun and helpful. I had tried on dresses at a few other locations and felt sometimes pressured or like I was disappointing consultants at other locations if I did not purchase... this was not the case at all with StarDust or with Marianne. Marianne made feel at ease and did not pressure me what so ever. I truly felt like everyone at StarDust was trying to help me find "the dress." I found it and absolutely loved/ love it! They brought a dress into the store for me that they did not have and I am so glad they did. Marianne was also willing to have several other appointments with me after I bought the dress so I could show my (now) mother in law and my husband's grandmother my dress which i truly appreciated because I know that she is really busy. Anytime she saw me in the store at other times she came and would help me. I also used StarDust for my guestbook, bridesmaid dresses and we looked there for my mom and mother in law. Everyone there made me feel so valued and I appreciate that so much. I highly recommend StarDust.
---
Fun if you have the right stylist!
Reviewed on

5/13/2014
Marti L
The place can be overwhelming...but Mary Ann put me right at ease. She knew my body type and what dresses would look great. She'll also tell you what doesn't look good. You need someone to be direct when there are tons of things going on around you. :)
---
dress
Reviewed on

5/11/2014
Amanda P
had a great experience - everyone was so helpful.
---
Wonderful Experience!
Reviewed on

11/04/2013
Ruth
I truly enjoyed coming to Stardust. Every time I came I was greeted with a smile and felt welcome. Everything is very well organized and professional (unlike some other salons I went to). Melissa was the absolute BEST consultant! She really had a way of figuring out what I wanted and putting it into words even when I couldn't. I did not end up getting my dress here, but only because I found a dress by a designer they did not carry. I came multiple times and was never rushed or pressured into getting a dress which gives them high marks from me. I would absolutely recommend coming here!
---
very professional
Reviewed on

10/29/2013
Krystal P
I had a great experience here. It was all because of my sales person. Liz was fantastic. She gave me her cell number and made me feel so comfortable.
---
I don't recommend this store
Reviewed on

10/08/2013
Schuyler B
The staff misrepresented what I was purchasing and then when my order came in 9 months later it was all wrong! They even made me pay for all of the corrections!! They also acted like a 3,500 dollar dress was cheep. Unreal!
---
Great Experience!
Reviewed on

10/04/2013
Callie
I had such a great experience at StarDust Celebrations!! They had amazing dresses to choose from, and the bridal consultants are extremely helpful! They really do care about your special day and make you feel beautiful! I got my guestbook there, cake monogram, and bridal accessories and my wedding inviations! I used Checkerboard for the invitations and I heard so many positive comments about them!
---
Lucky to find my dress
Reviewed on

8/27/2013
Lindsay S
I have a unique style and was lucky to find my dress in this store. Most of the dresses here are either form fitting, ball gown, or glitzy. If you are a boho/romantic style like me, you may be lucky to find your dress here but it may be a bit challenging.
---
Great Dress
Reviewed on

8/05/2013
Ashley C
Love Love Love my dress. Couldn't be happier with it. Loved the girls in alterations. Did not enjoy my experience trying on dresses. Felt very rushed.
---
wonderful
Reviewed on

7/31/2013
Jane D
I started by purchasing my wedding gown at StarDust. It was hands down the best shopping experience of my life. From the start we were treated like family. Maryanne (my consultant) was extremely knowledgeable and helped me find the perfect gown. StarDust was actually my first stop and I was 90% sure I had found the dress. However, Maryanne knew that I needed to at least look at some other places (plus, you do want the experience to last longer) and encouraged us to do so. Later that afternoon, we were back knowing it was the dress for me. Maryanne squeezed us into her fully-booked schedule the moment we walked in and we ordered the dress right away. I next returned with my MOH to look for bridesmaid dresses. Devan (the BM salesgal) was incredibly helpful. We needed something that would fit multiple body types and she recommended a specific dress she called "the miracle" dress because it fixes all body flaws. Was she ever right. Boyish, full-figured, large-chested, it made all of the girls gorgeous. She also helped me pick out a beautiful color palette (I wanted different colors that went together). My mother, who lives out of state, ordered her MOB dress from StarDust and loved it. Even though she ordered over the phone the ladies at SD helped her feel comfortable with her decision. She looked fantastic. My alterations were also done at StarDust. Kayla was such a doll and helped me think through everything and let me come in a couple of extra times to show people the dress (ie said out of town mom). I also have to give another shout out to Maryanne who came down to help with things like which shoes looked best, how long the veil should be, etc. She was such a blessing throughout the entire process. I can't imagine a better place to buy a wedding dress. You will get a great selection, beautiful gowns, and the best customer service of your life.
---
Large Selection, Poor Service
Reviewed on

7/08/2013
Denise M
I went to Stardust to look for a wedding dress with my mom and a sister in tow. It was huge and had a ton to choose from, including designer gowns. But the service was lacking. They seemed understaffed and a bit flustered. One woman, who was already working on something for a bride, paused to let us know we could look around anywhere, but she didn't know if anyone would be able to help us. I think they should have extra staff specifically for walk ins and not have everyone booked with appointments on the same day. Maybe it was an off day, but I went elsewhere after just a few minutes of looking.
---
Wedding Dress
Reviewed on

7/05/2013
Elizabeth G
I was very disappointed with my experience with StarDust Celebrations. I thought I was getting ahead by ordering my wedding dress a year in advance from my wedding. I had ordered a Matthew Christopher gown in August, and it arrived at the store in December. The dress was made differently than the sample and the beading was a different color than what I had ordered. StarDust agreed that the dress was not made to par and sent it back. I was forced to find another gown from a different designer. StarDust assured me that there was no need to rush the 2nd dress order. My new dress was supposed to arrive in mid-April. However, the dress ended up being a month late! We were not informed of the circumstances until 3 weeks after the dress was supposed to arrive. StarDust kept giving us different answers and excuses. Two of the ladies that were working with me left at different times, so I also had to deal with many different people. Needless to say, this was a very disappointing and upsetting experience for me as a bride. I would not wish this experience on anyone. We were most disappointed with their lack of communication and lack of understanding. It was 3 weeks before my wedding, I did not have a dress, and I had yet to take my bridal portraits. I ended up going to another bridal store and buying a sample dress off the rack.
---
The Perfect Dress In a Rush- Yes THEY CAN!
Reviewed on

6/27/2013
Hope M
Warning to all brides, buy your dress several months out from your date, but if you are like me and walked into the salon, forty days before your Wedding, you are in the right place! Service was incredible, Liz is friendly, fun and made what could have been stressful, an exciting time. My Robert Bullock dress was fun, retro and exactly me! The salon got the dress to me in record time, alterations were done in a blink of an eye, Kayla was superior! I am grateful for their masterful assistance and expedient delivery. Thank you Ladies, the evening was perfect!
---
My dress
Reviewed on

6/23/2013
Bridgette r
I bought my wedding dress from stardust. I had the most amazing experience. My bridal consultant was Mary Anne. I showed her a photo of a few dresses I liked and she pulled them I also picked some others! She was very helpful and always kept in contact while my dress was being made.
---
START HERE! .. don't bother looking anywhere else
Reviewed on

6/21/2013
Christine F
My first piece of advice would be to ask for Melissa. She was AMAZING. She instantly knew exactly what I was looking for, and and didn't waste any of my time. She made me feel very comfortable! After my first appointment at Stardust, I went to another store in Frisco and ended my appointment early and went back to Stardust instantly to see Melissa again. Luckily, there was a trunk show for the designer who made a dress I was very interested in but couldn't afford. Melissa showed me a picture online of a very similar (almost exact) dress that was less than half the price. It wasn't a dress they normally have in a sample size, but she was able to find it tucked away in the back!! Don't bother looking anywhere else. Stardust is by far the best place to find your dream dress!
---
Send Message