Home

Stevee Danielle Hair and Make Up
About this Vendor
We come to you!!!
Stevee Danielle makes it easy and relaxing by bringing everything to you. We know that planning a wedding can be stressful. The last thing you want to worry about is getting in and out of a salon on time. We can take care of all your beauty needs right in the comfort of your own location.
Details
Hair Stylists, Makeup Artists, Nails, Tanning
Contact Info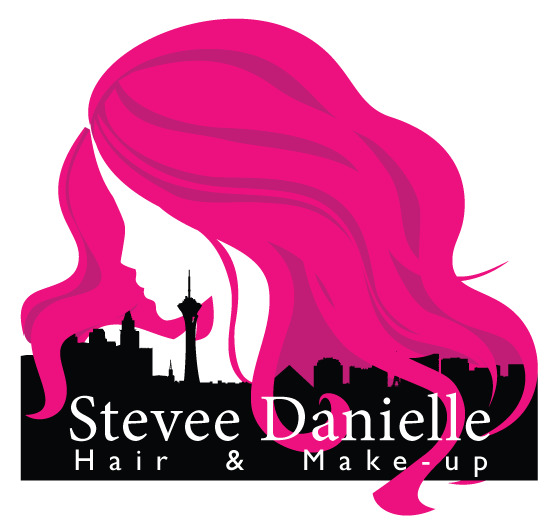 8790 South Maryland PRKY, Las Vegas, NV
Beauty Perfection
Reviewed on

4/10/2013
JOCELYN D
First let me say how frazzled I was in my bridal beauty preparations. I week before my wedding, my hair stylist at home does a dye disaster to my hair and I end up having to box dye it red (natural blonde) and my nail person does a half a$$ job and my 17 year old sister in law has to fix them. So on my wedding day I was a bit nervous to have my hair and makeup done without a trial run. Boy was I stressing for no reason. The lovely lady was calm and funny and took my mind off of everything going on. I showed her a couple pics of what I thought would look nice and she ran with it. Since I had been stressing for weeks (like most brides) I did not have the clearest skin. She covered all my zits and facial scars like they were nothing. I looked like a red headed Marilyn and I LOVED IT!!! My makeup (airbrush) stayed all day and night, my hair was soft but immovable, and I looked GORGEOUS. I highly recommend. If I ever need to be beautified again in vegas, I will use them again.
---
Felt like a princess
Reviewed on

10/26/2013
Samantha S
These girls are all amazing! And made myself and all three of my bridesmaids look and feel so beautiful! They did a perfect job, and the makeup stood up to all the tears and sweat! I felt like a movie star! I couldn't imagine if we didn't have them there! And huge thank you to Stevee and staff! Wow what an amazing job you did! My husband sends a huge thank you too! When in Vegas ill be going back just for fun! They come straight to our hotel didn't have to leave or worry about being late! It was an amazing experience !!!!
---
Amazing Service with a fabulous bunch of Women!!
Reviewed on

10/07/2013
Lacey O
I had the privilege of using Stevee Danielle for my wedding. We had 3 of the girls, including Stevee herself, come do Myself, wedding party, mother and sister of the bride. Every single one of us looked incredible. I could not have been happier. The ladies were so amazing to work with. They were on time, a little early actually. They were professional but so fun. They had 7 of us done so fast and we had a great time doing it. They really did make the morning of my wedding. I would suggest them for sure to anyone, especially those with high expectations.
---
Reviewed on

6/24/2015
I am not really one to write review unless the service his completely horrible but I feel compelled to write this review because of the amazing job that Stevee Danielle and especially Erica did on my wedding day. My now husband and I had decided to have a semi-elopement in Vegas for our wedding. I wanted something small and intimate and away from my home town. When we decided on Vegas I was worried about where to get my hair and make-up done for a reasonable price the day of the wedding. I was looking anywhere and everywhere online when I cam across Stevee Danielle. I looked at the pictures and decided to reach out and book the appointment, about a month in advanced, so I could make sure I got in. Conversing with Stevee was seemless and she answered all the questions I had and got me booked. About a week before the wedding my mother decided she wanted to get her hair done too and Stevee was able to get her added with no muss of fuss! When my big day came I was excited to meet the stylist as I had some ideas of what i wanted and wanted to get stated. Erica was absolutely AMAZING! She listened to what I wanted and then gave her opinion and when it was decided we got to work! Once she finished my hair she was adamant that I be brutally honest, if I didn't like it she wanted to know which I thought was fantastic! Granted I love love loved my hair so no change was needed. Then she went on to my make up. We did the airbrush and she add a little dramatic color while keeping a natural feel which was PERFECT with the look of my dress. After I was done she started to work on my mom and at the last minute my mom decided to add on air brush makeup and Erica jsut stepped up and got it all in and done on time! This company is amazing and they come to you which is a great bonus especially for destination weddings. I highly recommend this company and especially Erica as her passion and love for making the day special for you just shines out. Thank you Stevve Danielle and Erica for making this day extra special!!
---
Reviewed on

6/22/2015
My stylist was 30 minutes late to do my hair and makeup for an early ceremony. I was really excited to have this done, since my husband and I never had any pictures done at our original wedding 10 years earlier. I felt that the correspondence when booking the appointment, was lacking details and thorough information. My hair started to fall down within 15 minutes, and had to be re pinned several times, until the moment the ceremony started. My flower girls hair also started to lose curl and fall before pictures. Overall, the hair - we should have done ourselves. It was nothing I was expecting for that price. I asked for a natural look, and got airbrushed. Although it provides great coverage, I looked like someone else. I had a super thick black liner on my top lid, that just made my eyes look smaller, as I had warned against. I was never asked about false lashes either, which I asked for in previous emails. For the money spent, I would have been willing to spend either a little more for someone else, or done it myself.
---
Reviewed on

5/29/2015
Jillian N
Stevee Danielle Hair & Make Up made my dreams come true! Not only did Hailey & Erica come to my hotel and do a fabulous job with my hair and make up, but they were in time, friendly & sweet!! They made me feel comfortable and relaxed during this hectic time! The communication with the company and flexibility was amazing & greatly appreciated! We had plane issues and had to reschedule last minute... And Stevee Danielle was accommodating without complaints! They really helped take a huge weight off my shoulders during a very stressful time. They were so understanding! To top it off, I felt and looked gorgeous!! Sooo many compliments on my hair and make up! And I only showed 1 picture!! Talented, professional and the perfect addition to any special occasion!! Thank you for being understanding & making me feel pretty on my wedding day! Jillian Russ
---
Stevee Danielle
Reviewed on

5/18/2015
Karla C
Stevee was on time, calm, professional and genuine. She made me feel like I was the only Bride she had taken care of for the day. She made my day feel special and made me feel beautiful. I highly recommend Stevee for any hair or makeup event.
---
Perfect make-up & hair
Reviewed on

5/06/2015
Melissa R
Excellent group of stylists! We were quoted 3 hours for 7 bridesmaids and the bride. Finished in less than 2. They do amazing work & had us all looking fabulous. The only thing I wish we would have known was the option for false eyelashes ahead of time. We started getting them & were then told they were cash only. Luckily, the girls worked it out amongst themselves, but it would have been nice to know about the cash only part in advance.
---
Erica from stevee daniels
Reviewed on

3/25/2015
St. Pattys day myself & my 3 brides maids had our hair done in my hotel room by Erica from Stevee daniels. She was amazing! I wanted victoria secret bouncy waves, 1 b.maid wanted 50's sock hop hair, 1 b.maid wanted "country girl" hair, & my extremely high maintenance b.maid wanted "boho chic hippy hair & half up". She nailed it! We were all so stoked about how our hair turned out. And every hair stayed in place all day & allllllll night until the next morning. Also, we all had that nervous, panicky giddy feeling you get on the big day, n Erica had a very calming presence about her. I highly recommend! I wish I knew how to attach a photo to show off our good hair....
---
Unprofessional with delays
Reviewed on

11/16/2014
I do understand that 12/13/14 is a busy day for weddings, but I have never seen such unprofessionalism as practiced by this salon. I had completed the google doc, submitted it and was waiting for an email confirmation within 24 hours that the form stated. On day 4, I called and spoke to a man who said that they would have to check regarding availability and would email me within 20 minutes. After 5 hours, I again called and spoke to him, and he said he was waiting to talk to the receptionist and would call me back at 7 PM, 5 PM his time. No call. FInally, a full 24 hours after I inquired, they sent an email saying that due to availability, they are not able to schedule me. My question--why did it take 2 phone calls on my part to figure this out...after 4 days? The level of unprofessionalism was mind boggling, and even after all this, I wouldn't have used them, as I doubt that they would have even showed up on time.
---
Loved my hair and makeup
Reviewed on

10/14/2014
Rachel H
Sam and Hailey did not disappoint! Both are easy going women, easy/fun to talk to, and pleasant to work with. I chatted briefly with Stevee - she was super chill and friendly. Those women are awesome. I booked my wedding trial hair and makeup with them, and although my hair and makeup were beautiful, they were not quite what I was looking for. My trial session gave me a little more of a pageant style, which was nicely done, but I wanted a softer look. I was little worried after I left my trial, so I contacted Sam to express my thoughts. She was understanding, and she assured me that they could give me the look I wanted - she was friendly and professional about it, which I really appreciated because a phone call like that can be potentially uncomfortable. Sam was great. Sam and Hailey showed up on my wedding day - we talked briefly about the changes and they got to work. I asked for a more smokey eye, and I got it. I asked for a softer, looser hair style, and I got it. Because Sam knew exactly how to style my hair as I envisioned, she ended up doing most of my hair while Hailey observed and took notes on how to execute a soft look. Hailey was a team player - asking Sam questions about different techniques and really observing. They were both great, energetic, and pleasant. I really enjoyed their company, and more importantly, I loved my hair and makeup. I had numerous compliments on both my hair and makeup, but many people LOVED my hair. If you aren't happy with your trial - kindly communicate your thoughts with these ladies. They are professionals - you can trust them. Thank you to all the ladies at Stevee Danielle - you were a VERY important part of my wedding day and you really delivered.
---
Absolutely Amazing!!
Reviewed on

9/18/2014
Katie K
My wedding planner out in Vegas recommended Stevee Danielle and I'm SO glad he did! I had two girls come to my hotel suite, which made it extremely convenient, and they did my hair and make up simultaneously. They were friendly, fast, and great to talk to! Doing a destination wedding, you have no clue who to trust or where to look, especially for things like hair and make up. I loved the way everything looked and it held up nicely. I didn't have a picture to show how I wanted my hair, just told them to make it look pretty and they did. Totally worth every penny to prevent the hassle of trying to drive to a salon or even worse, trying to do your hair and make up yourself! My now husband told me over and over how gorgeous I was and that I looked better than he ever imagined I would on our wedding day. Even a week later, he is STILL amazed at how I looked! If I had the money to hire them to do my hair and make up every day, I would. Awesome, awesome, awesome!!
---
THANK YOU!!!
Reviewed on

9/10/2014
Faye G
Simply Thank you!!! Stevee Danielle and her staff was wonderful from the beginning through the end. From the time I inquired about services was easy, thorough, and pleasant. The prices was reasonable also! I had 6 people that needed their hair and makeup done and I had the airbrush (in which I highly recommend for any bride) On the day of the wedding and my bridal trial I had the pleasure of working with Erika (BEYOND AMAZING). Everyone looked amazing with their hair and makeup done and they all loved it. I am so beyond grateful!! When we go back to Vegas, definitely will be visiting Stevee Danielle and her staff again.
---
Amazing!
Reviewed on

9/08/2014
I flew to Las Vegas from Nebraska to get married and knew absolutely nothing about how to go about getting our hair and makeup done. I called Stevee and she was awesome. They came to our hotel suite the day of the wedding and did an absolutely amazing job on both our hair and makeup!
---
Beyond Amazing
Reviewed on

8/23/2014
Caitlin M
Stevee Danielle Hair and Make-up made me and my bridal party look like absolute beauties for my wedding! They were on time and happy and talkative with me and my family. They gave us some great reviews for Vegas while they took their time on everyone. We all were so amazed by their skills. My makeup lasted all night long! Making pictures look breathtaking! I would recommend them to everyone I know coming to Vegas and getting glammed up! Such an amazing start to an amazing day!
---
Airbrush Makeup Is A MUST!!
Reviewed on

8/16/2014
Monique S
The Stevee Danielle team is absolutely amazing. Having a destination wedding is extremely nerve racking. You never know what you are going to get when you are booking vendors online, but with Stevee Danielle you have nothing to fear! They come straight to your hotel room and do an amazing job! My hair and makeup was perfect, and held up the entire day! I had never had airbrush makeup done before, but I would definitely suggest it now! It seriously lasts the entire day! It was great!
---
Great experience
Reviewed on

8/06/2014
jacqueline a
booked everything online prior to arrival. We had approximately 15 getting hair and makeup, just makeup or just hair. The stylists (including Stevee) arrived right on time. Being the mother of the bride I was a wreck thinking everyone wouldn't get done on time. Everything went smoothly and we finished with plenty of time! The stylists were professional and did an amazing job. Everyone was extremely happy with the finished product. Would highly recommend them to all of our friends and family if they had a need!!!! Thanks for making my daughter's special day more special.
---
Couldn't be Happier!!!
Reviewed on

8/04/2014
Stephanie H
Having a destination wedding in Las Vegas was scary especially not knowing where to go for hair and make up. I did my research and saw the great reviews for Steeve Danielle's salon, so I scheduled a pre-wedding trial which consisted of hair and make-up trial. I explained to Stevee who did my hair and Sam who did my make up that I was going for a vintage look and they nailed it!!! It was perfect!! They even took my hair down and fixed it so that I can look awesome for the rest of the day and no one would have a clue as to how my hair would look the following day at my wedding. My wedding was early the next day at the MGM, however I was staying at the Excalibur and Stevee and Sam came to my room to do my hair and make up and it came out just as fantastic as it did at the trial. I loved everything about the way my hair n make up came out even to their attitudes. We go to Vegas at least twice a year for leisure and I will be going to them just to do my hair and make up for fun. If your ever in Vegas go to Stevee Danielle's salon, you will not regret it.
---
Fantastic Crew and Amazing Service!
Reviewed on

8/04/2014
KELLY W
I just got married in June I couldn't give enough praise for Stevee and her team! I am from Virginia and was traveling to Vegas and organizing my order (with 7 bridesmaids, the best man -who was a woman- and me) via email was so easy! She was very accommodating to me since my order changed a few times since some of the girls changed their minds. Stevee and her team were very punctual and prepared! She explained everything and it was easy to communicate what we wanted with our hair/makeup. I let my bridesmaids choose their style and they each came out stunning! Hair and airbrush makeup was so beautifully done! Stevee and her team listened to what we wanted and everything came out perfectly. I would definitely book Stevee if I were to return to Vegas for a special occasion and I recommend her and her team to others!
---
Absolutely AMAZING
Reviewed on

8/04/2014
Angie B
Stevee & Julie did an incredible job on my entire wedding party!!! There were six of us total and some of us are a little picky.... They were able to adjust to our individual styles and give us EXACTLY what we wanted!! Beautiful, glamorous, sexy, and classic.... Love it! Thank you, thank you, thank you!!!
---
They Were Great!
Reviewed on

8/03/2014
I loved all the girls, especially Erica who did my makeup and Hailey who did my Hair! The two of them did an awesome job! It looked great all night long! I highly recommend them to EVERYONE! LOVED IT!
---
Hair and makeup
Reviewed on

7/21/2014
Ask for Hailey B. and Erica! Hailey did our hair and Erica did our makeup. Not only was it fast and fun, but they did amazing. Both my hair and makeup lasted for over 12 hours! Very talented girls!
---
Very experienced!
Reviewed on

6/17/2014
Jenna S
Stevee Danielle did an amazing job on all of our hair! Everyone's stayed in perfectly all night! I do feel this vendor is a bit expensive especially since 2 out of the 7 that got their hair done had short hair and it took under 10 minutes to get done and we were still charged full 'up-do' price.
---
Hair and makeup!!!!
Reviewed on

5/14/2014
Julianna L
I used Stevee Danielle based on reviews and before and after photos! I was pleased with their services and she did a really good job on my hair and makeup! I got airbrush makeup and it was flawless. She did mine and 2 of my bridesmaids hair and makeup. My only complaint is they tried charging me more than I was originally quoted. Be sure you know the true prices, get a quote and make sure they email you. Although they did honor the prices online.
---
Flawless
Reviewed on

5/08/2014
Ashley F
My husband and I got married April 19, 2014. Stevee Danielle sent the makeup artist Jen out to my house. I got my hair done through somebody else and my hair appointment ran a little late, which made my makeup appointment start a little late. Jen called Stevee Danielle and they were super understanding! I am so thankful they were still able to do my makeup! Jen made me look flawlessly beautiful! I couldn't even imagine I could look that beautiful before getting my makeup done. It was worth every penny and more!! If I ever need my hair and makeup done I will have no hesitations about hiring them to do it. Thank you so much Jen, because of you I looked gorgeous on my wedding day and felt confident and beautiful!!
---
Send Message