Home

Subito Strings
About this Vendor
New Contemporary Selections Added!
Subito Strings ensembles perform for special events in Los Angeles, San Francisco, and New York City. Our musicians create a beautiful and memorable soundtrack to your special event. We are passionate about delivering the highest quality performances and we specialize in unique arrangements of contemporary music. Our ensembles include String Orchestra, String Quintet, String Quartet, String Trio, Violin & Cello Duo, and Violin & Guitar Duo. We also offer solo instrumentalists. Our players are all career musicians, and hold advanced degrees from prestigious music conservatories across the country, including Northwestern University, USC, The Colburn School, and The Juilliard School.
Details

Contact Info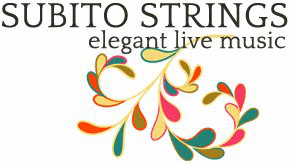 Absolutely perfect!
Reviewed on

9/25/2011
Erica S
We had a guitar and violin duo at our ceremony and cocktail hour. They played both classical and contemporary songs and sounded amazing. They really set the tone for our outdoor wedding. We couldn't have been more pleased!
---
Nothing but the best!!!
Reviewed on

10/17/2011
Julie R
I absolutely loved working with Rebecca from Subito Strings! I can't say enough about her professionalism and dedication to my wedding. She is very polite and easy going to talk to. I was no ordinary bride with song requests outside of their repertoire, and she said, without... Read More hesitation, no problem. This was a first for me in my musical search. She made sure my requested songs would sound amazing! When I heard the songs on my wedding day, they sounded beautiful and flawless!! Don't even bother with any other musical vendor. Subito Strings will make your day... Thank you, thank you, thank you, Rebecca!!!
---
the perfect ceremony music
Reviewed on

8/27/2011
Claire D
I can't recommend Subito Strings enough! Strings is the way to go for an elegant and beautiful wedding ceremony. Rebecca is a joy to work with and the music was outstanding. We had a violin/cello duo and they were both amazing. Everyone was extremely impressed and I couldn't... Read More be happier!
---
Reviewed on

2/08/2016
Heather H
I used Subito Strings for my December 2015 wedding in Monterey, CA. I was happy to learn that Subito Strings would travel to Monterey from SoCal for a reasonable fee to perform at my wedding. We used a string quartet for pre-ceremony, ceremony, and cocktail hour. After... Read More seeing their website and some of the contemporary songs they had in their repertoire, and hearing samples, we knew we had to have them play our wedding. They offer so many songs beyond the standard classical fare often performed at weddings, and we just loved that. In fact, we mostly had them play Queen, Elvis, The Beatles, Michael Jackson, etc. and it was great. The music appealed to guests of every age, from the 20-somethings to the much older relatives. Communication with Rebecca went well every step of the way. She was easy to get in touch with and responded to my emails promptly. My one wish was that I could have enjoyed their music more on the day of! Before the ceremony I was hidden away and then during cocktail hour my husband and I had to step away from cocktail hour to sign our marriage license so we didn't get to hear them for as long as we liked, but everything I did hear was phenomenal, and many of our guests' comments to us during the reception further confirmed this. If I ever have another opportunity to hire a string quartet, I will go straight to Subito Strings.
---
A class act!
Reviewed on

11/12/2014
Subito Strings did an absolutely amazing job for our wedding. Rebecca was very easy to work with and always responsive. Their performance was impeccable and elevated our wedding to a truly memorable event. We encountered a small problem on the day of our wedding which... Read More required that Subito Strings perform for an extra 30-minutes. They did so without hesitation and saved the day. Thank you!
---
The BEST musicians you can hire in all of SOCAL!
Reviewed on

10/15/2014
Dianne A
Subito Strings is AMAZING!!! I booked Subito Strings to play for my wedding ceremony and cocktail hour, and they were beyond terrific! I chose the quartet for a fuller sound as was not disappointed. They have an extensive list of music to choose from, from classical, to... Read More modern, and an incredibly talented team of musicians with impressive backgrounds. Rebecca was very accommodating, professional, and very easy to deal with! Overall my wife and I were very ecstatic to have their string quartet perform their amazingly beautiful music at our wedding! I absolutely recommend hiring Rebecca and her team for any bride-to-be's wedding!!!! Thanks again Rebecca for adding that magical romantic formula to our wedding ceremony!!!
---
Beautiful and Elegant
Reviewed on

11/15/2013
Maricela F
I decided to go with a duo violinist and cello and I must say they were incredible. They really helped set the romantic mood. I was extremely happy with all the music they played and I was especially happy with the arrangement they learned just for my wedding!
---
Lovely
Reviewed on

8/04/2013
Heather
Subitro Strings was great and Rebecca was a pleasure to work with. They have a huge selection of music both classic and contemporary and you can listen to some samples on their website. Rebecca makes it super easy. You get a document with a complete list of their repertoire for... Read More all arrangements (they have many options to fit your budget) and a form to select your songs. Rebecca also can give you plenty of advice and options based on her years of experience with weddings and what works well based on your taste and ceremony. We ended-up changing from a trio to a quartet as the selection for the quartet is much larger (plus I wanted to walk down the aisle to What a Wonderful World which was only arranged for the quartet), and since we were having them play both the ceremony and cocktail hour we needed to pick approximately 18 songs to fill the time. Also, it was really cool being able to watch the wedding party walk down to the music before I made the grand entrance; made the event very surreal and as if I was watching a performance. The sound and quality was great. Hire Subito Strings!
---
Subito Strings and Rebecca are fantastic!
Reviewed on

5/28/2013
Jeffrey S
We found Rebecca from online searches and called because of the great reviews we read. Subito Strings was the prefect find. Rebecca put together a quartet for us to play during our ceremony and we were able easily pick a wide selection of music from Subito's repertoire. We had... Read More one special request, to play Pure Imagination, as we walked down the aisle. Rebecca was able to play it, without hesitation, and both we and our guests loved it! A highlight of the day and a wonderful group!
---
Aramis string quartet NYC
Reviewed on

2/19/2013
Aldrin A
This string quartet is amazing. The process of selecting the music with them was very easy. They provided suggestions when we had a hard time deciding on music. When my venue required insurance, the Aramis String Quartet helped organize the insurance for me. The music sounded so... Read More professional for the wedding ceremony and the cocktail hour. If you are getting married in the New York City area, I would highly recommend this group. You will not be sorry!
---
my dream wedding
Reviewed on

12/18/2012
elizabeth l
Aramis String Quartet did a wonderful job at my wedding and we received many compliments on their music. Rebecca was very professional and accommodating and worked closely with us to ensure the music for our ceremony was exactly what we envisioned. During the cocktail hour... Read More they played a mix of classical and contemporary favorites to everyone's delight! I would highly recommend Aramis Quartet to anyone. Thanks for making my wedding so special!
---
Great Musicians
Reviewed on

8/27/2012
Baoqing Z
I've played music seriously from middle school until now, and these musicians are some of the best I have listened to. They made the ceremony that much more special. They were punctual, and precise in the timing of the music.
---
Great musicians!
Reviewed on

8/14/2012
Rebecca G
The violin and cello duet played at our beach wedding. The musicians were easy to work with and accommodating. Most importantly, the quality of the music was outstanding. Would highly recommend to anyone looking.
---
Amazing
Reviewed on

5/01/2012
Jonah M
Subito Strings played at our wedding in Feb 2012 and they were amazing. Their music was really beautiful and it was so fun and easy working with them on all of the prep details leading up the wedding. I highly recommend Subito Strings for any wedding, party or corporate... Read More event. I look forward to finding an excuse to use them again soon!
---
Great.
Reviewed on

11/03/2011
Sharon T
Hiring Subito Strings was so easy. Of all the musicians I saw, they had the best website with plenty of samples for you to listen to. They had song lists for quartets, trio's and duo's. We went with the duo for our wedding of about 100 people, and they sounded great. They have... Read More plenty of songs to choose from for a duo. Their song selection for had recommended selections for each part of the processional, which made it really easy. And they had contemporary pieces as well, which we did select and sounded great. The music for the wedding went great, no complaints here!
---
Excellent!
Reviewed on

10/14/2011
Jessica L
Subito's string trio provided ceremony music for our wedding, and we could not have asked for a better performance. The timing, volume, speed, etc. were all impeccable. Very talented and professional musicians. Their song options included a great mix of classical and modern... Read More music. Several of our guests told me after the ceremony that they loved the music, especially the hip hop/pop songs. We would definitely recommend Subito for your events!
---
Excellent!
Reviewed on

8/22/2011
Michele
Rebecca from Subito Strings was very easy to work with, responsive, and very professional. On our wedding day they were on time and played everything exactly how we wanted. They made our ceremony amazing and I would happily recommend them to anyone!
---
Professional & Great Ceremony Music
Reviewed on

7/24/2011
Caroline T
Although I didn't get to meet Rebecca, the music was perfect at the ceremony. It sounded so great, like it was a recording! It was absolutely beautiful! The timing was great and really enjoyed working with them. Rebecaa was also very helpful, and willing to work with you on your... Read More music choice! I chose the quartet and the pricing is definitely reasonable, especially for a girl who graduated from Julliard.
---
Great working with them!
Reviewed on

7/12/2011
Jessica Y
We chose Subito Strings because right away we got a good feeling from their website and reviews. They have a number of musicians who play various instruments, so you can have a soloist, a trio, or quartet. Prices vary accordingly. We had a solo guitar player and were very happy... Read More with the music. Overall, the service was impeccable, all email and phone messages were returned promptly. I recommend them for any occasion, big or small.
---
Meet The Coordinator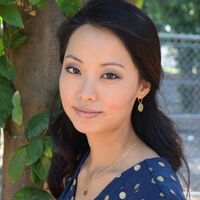 Rebecca Chung
Violinist Rebecca Chung is a versatile musician, accomplished as a chamber musician and as an orchestral player. A pupil of Roland and Almita Vamos, Rebecca received her Bachelor of Music in violin performance from Northwestern University's Bienen School of Music. She continued her studies at The Juilliard School where she received her Master's degree under the tutelage of Naoko Tanaka. Rebecca is a member of the Santa Barbara Symphony Orchestra and New West Symphony, and frequently performs with The Pasadena Symphony, Pasadena Pops, and Opera Santa Barbara. As a freelance musician in Los Ange