Home

Sugarland
Book Your Wedding with Sugarland
---
A BARN IN ARENA, WI
About Us
Sugarland has enchanted the hearts and minds of to-be-weds and their guests for over 150 years. Located in Arena, Wisconsin, the colonial farmhouse has been completely renovated—upholding its historic charm and giving it a few tasteful updates your guests are sure to love.
Simple touches like rustic period antiques take guests on a trip through time, one they'll never want to leave. Sugarland's location isn't easily rivaled. For over a century, it's been revered as one of Southern Wisconsin's most mesmerizing locations for a garden wedding. The cascading water fountain is complemented by the subtle sounds coming from the nearby stream. Guests will be amazed as soon as they enter the property, traveling down a path lined with mature pine and oak trees. By the time they reach the farmhouse, they'll be in love already.
Forty acres of farmland spread as far as the eye can see. Picture the rolling meadows and plush gardens and all of the wedding day photo ops they'll present. Couples exchange vows under the shade of a romantic oak tree—creating a romantic setting for a country wedding that can be shared with up to 300 guests.
Couples can choose to exchange vows outside under the arbor then usher guests inside of the 19th century barn to enjoy an elaborate reception under exposed beams and golden lighting.
What You Should Know
The barn is available for rent for three seasons out of the year. Couples interested in hosting a wedding at Sugarland can contact the venue's on-site Event Coordinator to help facilitate all the details. Don't worry if you're concerned about the weather on the day of your event, Sugarland provides outdoor tents that will keep you and your guests comfortable even if Mother Nature decides she doesn't want to cooperate.
Ceremony rentals gives to-be-weds access to the arbor and surrounding grounds. You'll even be allowed to host an outdoor reception under the same contract. Up to 200 chairs are provided with 100 more available at an additional fee.
The 34-foot by 130-foot barn is available for reservation on Saturdays for a one day reception or, you can request an exclusive weekend reservation that gives you access on Friday and Saturday. Weekend reservations award an outdoor rehearsal on Friday and access to begin setting up the reception in the barn. Come Saturday, the entire property will be yours for the ceremony and reception. As an added bonus, you'll also receive a two-night stay in the farmhouse.
Sugarland weddings are exclusively catered by The Old Feed Mill. The award winning provider is willing to customize a special wedding menu that meets all of your culinary needs. Contact Sugarland's Event Coordinator to schedule a special tasting with the chef. Following along with Sugarland's extensive history in Wisconsin, The Old Feed Mill dates back to 1857. Rich history and remarkable meals will be the ideal finishing touch to your wedding.
The Old Feed Mill has a pretty cool design as well. Many couples choose the exposed beams and rustic decor as the ideal location for the rehearsal dinner. For a taste of country charm—from your meal to the decor and its original wood floors—The Old Feed Mill never disappoints.
Extra Perks
Should you choose to stay at Sugarland for the entire weekend, don't worry, there's plenty to get into. The Wisconsin River is just minutes away and Madison, Wisconsin, isn't far either. For the history-buff, take a ten minute trip to see the Spring Green home featured in world renowned pianist Frank Lloyd Wright's Taliesin (who's also chosen Sugarland for a relaxing retreat). You can see a show at the American Players Theater or tour the House on the Rock. Active couples can bring their gear to go hiking, canoeing or exploring local attractions.
Amenities + Details
Amenities
Bridal Suite

Handicap Accessible

Liability Insurance

On-Site Accommodations

Indoor

Outdoor - Not Covered

Reception Area
For more details about amenities, please message the Venue.
Farm + Ranch, Barn, Garden
Bar + Drinks, Cakes + Desserts, Food + Catering, Rentals + Equipment, Service Staff
Contact Info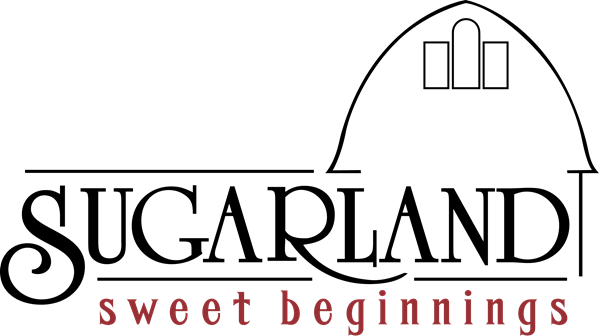 My Fairy-tale Wedding Venue
Reviewed on

5/20/2014
Britney N
I am a photographer so I knew I didn't just want the same old event hall for my wedding. I wanted a refurbished barn reception with an outdoor ceremony, which is exactly what I found at Sugarland. There was even a house on the lot where the girls and I stayed Friday night and... Read More then had the hair dresser come to do our hair on Saturday. It worked out perfectly! The ceremony was outside in front of a large oak tree, which even though the tree was not in bloom after the long winter and my May 3 wedding it was still beautiful. The reception was in the refurbished barn which can be heated if need be, but our wedding was May 3 and we did not have to turn on the heat. I loved having the ceremony and reception all in one place. It's less travelling for your guests and there is a nice hotel just 15 minutes away right off the highway.
---
Awesome
Reviewed on

5/06/2014
Sonja P
We choose Sugarland for our wedding that we had in April 2014. Since it was a bit cold outside, the ceremony and reception were all in the barn. Everything went perfectly! The food was outstanding. All of our guests commented on the Filet and how perfectly cooked it was.... Read More Nick the bartender was extremely courteous and everyone seemed to really enjoyed him. Nancy did a great job making sure if we had any requests they were taken care of. We couldn't have been any happier with how everything turned out! I would definitely suggest Sugarland for your venue.
---
Beautiful, but be careful
Reviewed on

10/15/2013
Lynn
Our wedding was at Sugarland, owned by the Old Feed Mill. It was gorgeous, and overall went pretty well. We had an outdoor ceremony underneath their big oak tree, and our guests loved the character of the barn as the reception venue. There is also a 3-bedroom house on site... Read More that you can use (read: are forced to rent for 2 nights as part of the contract) for getting ready and staying in the night after. Ceremony: great location under the oak tree, a fair amount of acorns on the ground but they set up the chairs and a family member in an electrical wheelchair was able to move out there with ease. They also have outlets hidden in the fountain and trees so you don't have to worry about sound system issues. The servers had water and lemonade out for our guests pre-ceremony. Reception: Dinner went pretty well, it was served buffet-style. We had 150 guests and their small kitchen wouldn't be able to handle regular dinner service. The buffet flowed pretty well though and they served bread and salad on the table so people didn't have to wait to get called to the buffet before starting dinner. The bar line seemed to be running slow (2 bartenders, but still a fairly big line) so we asked the servers to pass red and white wine which they started doing immediately. Just to note, the barn does not have AC. Overall, there was good service, good food, etc. but the main thing you have to watch out for is getting nickel-and-dimed by Nancy. Nancy had us sign a basic contract that only included date, barn fee, fee for renting the house for 2 nights, and outdoor ceremony fee, which was basically a chair-set-up fee depending on the number of guests. We knew that the catering bill would be ++ so we assumed that all of the service would be included in the price of that or the venue fee. Not so! A month before the wedding she told us for the first time that there would be a dishwashing fee. That same day she also told us that there would be a per person fee for soda and mixers (okay not surprising) but also we would be charged for each bottle of soda used (seems like a double charge). Then, she told us 2 days before the wedding (when we were out there setting up and she talked final payment with my mom) that the venue/catering fee only included 3 hours of work for each server. So we had to pay her an hourly fee for each hour of work they went over that, depending on when they clocked out! Our wedding was at 5:30 with dinner at 7, and she said that staff comes in at 4 to start setting up. So basically she only included time for the servers to set up for dinner, not do anything after 7pm! Oh, also we bought our own liquor but underestimated so part of the way through the night they brought over supplies from the old feed mill (awesome!). The weird part was when she billed for that, she charged $4 for each beer (so like a full bar price) but just cost ($20ish) for each of the bottles of liquor. There were other add-ons, but frankly I'm trying to forget that nonsense now that it's over. Just try to make sure you talk about these details with her up front and get it IN WRITING so you don't have surprise add-ons to your budget when it's too late to plan another option. Nancy really loves to drop the "Oh, I'm sure we talked about that before" or total surprise/play dumb. She's not! The lucky thing is, none of these were issues that our guests had any clue about, and it was a great party and a beautiful setting!
---
Reviewed on

11/15/2017
Heather J
Sugarland was a beautiful place for an outdoor ceremony! The barn is beautiful with just the lights, so minimal decorations are needed. Staff was very friendly and accommodating, I would recommend this venue to anyone looking for a wedding venue!
---
Reviewed on

7/30/2017
Amy P
This venue seriously has it all, and made for the most perfect day despite the rain. The barn is huge and gorgeous, minimal decorations needed. Nancy and the staff are wonderful to work with and made the day go smoothly and without stress. Highly recommended!
---
Reviewed on

7/19/2017
Nicole F
I cannot say enough on how amazing this venue was! We rented the property for the weekend and it could not have been better. The ease of having all Friday to set up, having our rehearsal dinner on site and getting ready there the morning of was amazing! Big shout out to Nancy... Read More who helped make my wedding a stress free event! She was quick to answer my never ending questions and help me execute a lot of little details. My guests are still raving about how beautiful and unique the venue was. And the food... better than any wedding food you will ever have! I recommend this venue to any future bride.
---
Reviewed on

7/18/2017
Maureen M
I cannot say enough nice things about this venue. It is different from any wedding I have ever been to and the staff made everything so easy and stress free. From booking, to food tasting, to the night of the wedding, I could not have been happier. Nancy was great to work with.... Read More She was always on her game and patient with my many questions. She helped to make this process as stress free as possible. We had a truly wonderful experience.
---
Reviewed on

6/22/2017
Deanna S
Everything about Sugarland was just amazing! Our whole wedding day went perfectly with the help of their wedding coordinator Nancy. I would highly recommend Sugarland as a wedding venue and reception venue to anyone!
---
Reviewed on

5/09/2017
Hillary H
This barn is the most beautiful in the Madison area!! The cathedral type ceilings, the rustic/vintage vibe, the lighting and beautiful chandeliers are gorgeous. All the staff at Sugarland Barn were AMAZING to work with, especially Nancy Viste! Our wedding was in May and it was... Read More absolutely gorgeous. They had the grounds clean, grass trimmed and beautiful landscaping/flowers. The bride's bridal party stayed in the house and the groom's bridal party stayed in the newly renovated cottage (first ones to stay in it) the night before the wedding. Both residences are beautifully decorated and kept stocked with all essentials you could need (shampoo, conditioner, towels, sheets, pots, pans, etc). My hair stylist and makeup artist were in love with all the natural light and space in the house. The food is catered through the Old Feed Mill in Mazomanie and is absolutely DELICIOUS!! We had so many compliments from guests about how different yet tasty the dishes were (especially the honey glazed carrots and apples). The cook is so nice and present for your tasting, explains the different combinations and gives his recommendations. Nancy does an amazing job to help coordinate and organization the reception. She will go out of her way to bring your vision to life and make it the wedding of your dreams! The serving staff and bartenders were so sweet and helpful throughout the night so many guests commented how wonderful they were. You must consider Sugarland Barn as your wedding venue, I promise you will fall in love!
---
Reviewed on

9/24/2016
L S
We couldn't have had a more wonderful experience. What a special space that allowed us to create the day that we were looking for. Nancy's flexibility was so appreciated and we loved every minute of our wedding day-- especially the pies!!! We'll remember it forever, thank you... Read More for your amazing work and for sharing this special place with us!
---
Gorgeous Wedding Venue
Reviewed on

11/17/2014
Courtney J
We had our wedding ceremony and reception here. It was absolutely breathtaking! They have a beautiful old oak tree to get married under (perfect with or without leave on it)and a beautifully restored barn with high ceilings and handmade chandeliers. The service is excellent... Read More and everyone is so easy to work with! Highly recommended!
---