Home

Suite 115 Salon and Spa
About this Vendor
Wedding and Bachelorette Party Packages!
Suite 115 Salon & Spa staff has completed over 300 happy, beautiful, weddings. We can take care of every detail. We have a beautiful selection of unique, affordable hair pieces, the bride is also eligible for a gift certificate for referring the wedding party! Visit Facebook for more photos!
Details
Hair Stylists, Makeup Artists, Nails, Spas, Tanning
Contact Info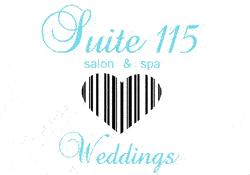 142 South Gary Ave, Bloomingdale, IL
Pin-worthy hair and best face make up
Reviewed on

8/23/2013
Laura S
What ever you can give Jen she can take it on. My hair was perfect and stayed that way all day and night. I did not want a simple style I could do myself like I see on so many other brides. I wanted something unforgettable and that's what I got, from color to advice on use of extensions hair to style. And while you are sitting there for a while you might as well spend that time with someone who is easy to get along with. This was also the first time my makeup brought out the green in my eyes and made me look illuminated for my wedding pictures and I didn't even know that the color combinations she chose would do that. Every hair detail from top to bottom, left to right was considered carefully and it showed in those pictures. My sisters also had their hair done as well as my nieces (ages 14 to 5); each style fit their personality and dress and they looked stunning! I am going back to this salon from now on for regular color and cuts. I'll also be booking Jen for the weddings I will be attending in the fall. I strongly recommend checking Suite 115 Salon out. They made this part of the wedding preparation process exciting and worth it.
---
The BEST!!!!
Reviewed on

8/24/2013
Jennifer C
I've Been a long time customer and had no doubt that this is where I'm getting my hair done for my wedding. Everyone looked and felt gorgeous. All of the hairdressers are wonderful. This is the place to go, you will not be disappointed. They carry beautiful clips and wedding accessories as well.
---
Absolute Perfection!!
Reviewed on

8/20/2013
Jennifer C
I highly recommend this salon for any future Brides out there! My hair artist was Jennifer, and my daughter used another excellent artist at the salon. Jennifer is incredible at being able to look at a picture and recreate or combine the look you like. I was going for a more simple up-do, but at the last minute, decided I needed a little more "elegant" added to the look. What Jennifer came up with was incredibly gorgeous, and far surpassed what I could have imagined I have very fine hair that has no volume to it. Since we were getting married outdoors, it was very important that the look she gave me, would stay - stay it did! It ended up raining during the reception, and my hair stayed perfect. Since we just had our children standing up with us during the ceremony, I brought my daughter with me for her to get her hair done as well. The style was gorgeous, and complimented my daughters personality to perfection - fun, flirty & classy. I was extremely pleased with the pricing as well - I would have paid double!!
---
Reviewed on

5/06/2015
christine p
I`m currently a client at Suite 115 Salon and had referred my niece to get her hair done along with the bridal party. I live close by and it was so convenient for everyone to get ready at the salon and have pictures back at my house. Not only did everyone looked fantastic but they were all ready on time! Which is of course a concern to every bride. The atmosphere was so fun for the girls along with their private breakfast bar!! Thanks Suite 115 Staff!
---
Horrible is an understatement
Reviewed on

12/13/2014
Shannon R
I was super excited that I found this place with it being right down the road from our hotel venue. The trial went okay, and I had planned on having both my hair and makeup done. After I got home from the trial my face was orange from what ever product the makeup artist used. Each time someone saw the pictures of my trial their first comment was "oh my gosh, you look like an oompa loompa!!" Needless to say, I changed my mind and decided to do my own makeup. The morning of the wedding when my bridal party and I got there, I informed them that I would be doing my own makeup, to which the entire attitude of the people working with us changed. I didn't try to screw anyone by not calling before, and given that the trial was only 2 weeks before the wedding, I simply forgot to call before hand. Every single one of my bridesmaids with the exception of 2, myself included, had to redo our hair after the appt!! We spent money and time only to have to do it AGAIN back at the hotel!! Then on top of that, 3 of my girls and my mom didn't even get the hairstyle they wanted!! The woman doing my moms hair was unbelievable and shouldn't be allowed near any other human beings! My mom has a perm, and requested that her hair simply be pinned up in an undo. This woman decides to start ripping a brush through my moms hair and then gets frustrated and throws the brush to another stylist and says "good luck". What the hell kind of service is that?!?! My mom was in tears!!! They ended up straightening her perm and then curling it with a curling iron. WTF?!?! Every person I talk to about the wedding I've made sure to tell them about our hellish service. My maid of honor ended up redoing her makeup before the ceremony. SO if you want to end up spending a bunch of money only to have to go and redo the crappy hair and makeup yourself...go for it.
---
Wedding party hair and makeup
Reviewed on

12/12/2014
My bridal party and I loved getting our hair done at Suite 115! Most of my party had both hair and makeup done and were very happy with it. The stylists were very talented with the updo's and made sure the girls were satisfied, if they were not, the stylist fixed it so it was just how the bridesmaids liked it. Our experience was very relaxing, we never felt rushed or hurried. We were able to enjoy and celebrate the morning. We enjoyed refreshments as we were waiting. I look back at my wedding pictures and love how my hair and the bridesmaids hair turned out. The mothers of the bride and groom also got their hair done and were very happy with it. The hair piece I wore also came from Suite 115 and I got so many compliments on it. I continue to go to Suite 115 for my hair cuts and love it! Highly recommended!
---
Wonderful, Beautiful, and Affordable Service
Reviewed on

11/14/2014
Kathleen S
The girls at Suite 115 did the hair for my five bridesmaids, mother-in-law, mother, flower girl (1 year old), and me (bride) for my October wedding. The girls were absolutely fabulous; up-to-date on the current styles, willing to work with or without pictures, and created beautiful up-dos and short hair styles for everyone. The prices are affordable and they provide snacks and drinks for the morning as well as emergency kits for each bridesmaid. I would highly recommend Suite 115!
---
With me all the way!
Reviewed on

10/28/2014
Despina C
Suite 115 is one of my favorite places to be so when it came to my wedding day the choice for my hair was obvious! Jennifer actually did my hair for every event of my wedding, my shower, bachlorette party, even a photo shoot I did for my wedding. She was with me all the way and everytime it was exactly what I asked for and more! I couldn't of been in better hands. They way the salon is set up for their wedding parties is the most welcoming, fun and friendly place you could think of! They had fruit bagels orange juice and champagne it was just adorable! You felt like you were right at home. The staff and other stylist were so friendly and took care of my bridesmaids and family and everyone looked gorgeous! If I ever have any other events it's not even a question as to where I am getting my hair done! Loved Suite 115 and it's very affordable!
---
Bridal Hair & Makeup
Reviewed on

10/28/2014
Sydney F
I chose this salon due to the location being near my church. After a trial run, I locked down the date with a $100 deposit. My mom, bridesmaids, reader & I came in and had a great morning getting ready. Everyone looked amazing & I was so pleased, especially with my airbrush make-up, lashes & updo! Everything was perfect and cost was very reasonable. Adorable salon, too with lots of fun products. Do yourself a favor & book here! They also provide coffee, juice & breakfast for you!
---
Excellent salon!
Reviewed on

10/28/2014
Amy A
Jen, Corrine, and the rest of her team are great! My bridal party and I went here for our hair and make up for my wedding in September and they were everything I hope for and more! Jen did my hair exactly how I imagined it and Corrine did my make up perfect so it looked natural. My bridesmaids were all happy with their hair and make up as well. Our hair and make up still looked good at the end of the night even after dancing for 5 hours straight!
---
Nothing less than PERFECTION
Reviewed on

10/28/2014
I am a client of Suite 115 and referred my cousin to have her wedding party get ready in the salon. A handful of stylist worked on us and everyone was awesome. Even with having a large wedding party, everyone was happy and we all left on time. I will keep recommending Suite 115 Salon to every bride =)
---
Loved my hair and make up!
Reviewed on

10/28/2014
Danielle G
I got my hair and make up done at Suite 115, and just loved it! Jen did my hair, and I wasn't really picky with it. My hair tends to fall flat very very fast. She was able to make it stay all day and night, through the pictures outside in the heat, and all the dancing all night long! I got my make up done by Corrine. She did such a great job! I hardly every wear make, so I wasn't looking for something to bold. She pulled it off, I was afraid that it would be to much, but it was just perfect and lasted all night! I am so glad that I choice here for my hair and make up! All the girls there are just wonderful!!
---
Wouldn't change a Thing
Reviewed on

10/28/2014
Tamara T
I cannot say enough good things about Suite 115. Jen (the owner) has been doing my hair and makeup for years so I knew that I could trust her with the most important day of my life and (as usual : ) ) I was right. I had a small bridal party so Jen was able to manage my hair and make up plus the bridesmaids on her own, however she made certain to analyze all the details well ahead of time to confirm who needed to participate from our timeline to what each person was looking for. Even going as far as having my sister, the maid of honor send her pictures and ideas for her hair and make up. Jen is punctual, professional and super flexible. She thought of things I didn't even realize could be a problem (like gently nudging me to NOT have my hair and make up done first as I had originally insisted in case I had any changes I wanted to make). I literally had people telling me I should quit my day job and start bridal modeling (and trust me, it's not because I was naturally blessed). In the past I've had some horrific hair/make up experiences and I can tell you with the utmost confidence, Suite 115 doesn't mess around. I've had the privilege of working with a few of their stylists as well and can say first hand they are excellent.
---
Love this place!
Reviewed on

10/28/2014
Amanda B
Suite 115 did my hair and makeup along with 8 other bridesmaids for my wedding! Everyone was kind, professional and helpful. I would definitely recommend this salon.
---
Bridal hair
Reviewed on

10/28/2014
Noelle L
Being a picky girl and a nervous bride sure enough my wedding hair was top priority on my list. I was able to book a trial and work through my style with my hair stylist until we created my perfect day of look-that decreased a lot of the anxiety of the unknown. The day of was amazing , my stylist, the owner,Jen Sorrentino, was nothing short of amazing. She had personalized bride banners, food and drinks for my girls and myself. It was a perfect environment to unwind and enjoy the moments with my bridal party. I couldn't of been anymore happy with the results, I wanted a retro wave and she nailed it, looked amazing all night. Definitely recommend to the bride that wants it done right in a great environment :)
---
Loved Suite 115!!
Reviewed on

10/28/2014
Flor R
I used Suite 115 Salon & Spa for my wedding hair and makeup. I could not have been happier with my choice! They did our services on site. Jennifer showed up at my house at 7:30 with a Starbucks coffee in hand for me ready to go! She had a makeup artist with her who did the makeup for everyone except myself as I had Jennifer do mine. Jennifer also did everyone's hair. She even did my niece's hair who came over frantic and crying because she hated what another salon had done with her updo. I love how comfortable they made us all feel. Everyone looked beautiful! I got compliments all day as well as my bridal party. Our makeup and hair lasted pretty much until the next day! I would highly recommend Suite 115 Salon & Spa to any bride looking for a place that will give you all your moneys worth and then some. Thanks again!!
---
Best salon around!!
Reviewed on

10/27/2014
Alexis N
Jen did an amazing job on my hair on my wedding day. She styled it exactly how I wanted it and it lasted through the next morning. Pricing was very affordable for the amount of work she did. Her other stylists are just as wonderful. I love the look of the salon. Cute decor and great selection of accessories for sale. Jen and her staff were very friendly and welcoming.
---
Cute!
Reviewed on

9/29/2013
Alexandra
The salon was adorable and they give you a little emergency kit for the day which was sweet! Our hair and makeup looked beautiful and the owner and Corinne are sweethearts! My only complaints were the I showed every hairstylist what I wanted my bridesmaids hair to look like and none came out the same, so none of them matched. And we were told we would be done by 10:30 but ended up leaving at 11:30 leaving me with an hour to change and take pictures. But overall they were great, I would definitely recommend.
---
Amazing!!
Reviewed on

9/14/2013
brit p
Jen did my hair for my wedding yesterday. It was absolutely stunning. She was so helpful helping me pick what I wanted to do. She has a way of suggesting hairstyles that fit your personality. I got compliments all night and all of the girls just had to know where I went. She did my mother and my maid of honors hair as well. They looked GORGEOUS. I will ever go anywhere else now. Corrine also did my makeup beautifully. Everything stayed perfect all night...even when I cried during toasts :) I could not believe how pretty I looked. The girls at suite 115 as awesome what they do and are so nice. I spent the morning laughing with them like old friends. And the best part? It's totally affordable :)
---
Truly memorable experience
Reviewed on

8/19/2013
Jennifer M
I had a remarkable experience with Suite 115 for my wedding day! Jen did my hair as well as my bridesmaids' hair. She met with me prior to the wedding day to do a trial run and discuss my vision for how I wanted my bridesmaids to look. Jen and her assistant were at my side while getting ready, doing touch-ups on all of us girls right up to the ceremony. She was so pleasant to work with from start to finish, and always offered expert advice on helping me achieve exactly what I wanted. Photographs from my wedding were published on Style Me Pretty and I believe that Suite 115's hand in polishing our bridal party through creating lovely updos contributed to a truly beautiful wedding. I highly recommend Suite 115 to complete the looks for your wedding!
---
looked Great on my wedding Day :)
Reviewed on

8/19/2013
angela m
Suite 115 Salon and Spa made my wedding day! As a bride I didnt want to go to a salon and feel like just another customer. Suite 115 salon and Spa made my bridal party and I feel like Family!! They were perfect on getting us ready in the time I needed to be done. Not only was the service great they made us look HOT lol they definitly have great ideas on new styles!!! I had people asking me where and who did my hair for weeks after our wedding.....i would recommend them to anyone..Thanks Suite 115 Salon and spa
---
Stunning
Reviewed on

6/17/2012
Courtney M
I originally found Suite 115 through The Knot...but I definitely did my research throughout the internet before even giving them a call. My original contact was Corrine and she was incredibly pleasant and helpful in terms of providing information regarding the salon and availability for our wedding day. The first time I went to the salon was for a hair trial...right away, it was clear that this was an adorable little salon with amazing stylists. They even had a selection of clutches, jewelry and hair accessories to make any special day (or just any day in general) even more special. By the end of the trial, my hair was set in a gorgeous style that I could never have predicted and I was thrilled that I was going have an entire day to show it off. I went back again a few days later for a makeup trial and I was able to work with the salon owner which was amazing. The makeup was gorgeous and they were able to cover everything that I had been worried about. The day of the wedding arrived, and I had six girls (myself included) who needed hair and makeup. The salon had breakfast food and delicious fruit waiting for us when we arrived, and they all quickly got down to business. Everyone was done in plenty of time and they were so gorgeous. Every girl had her own unique style and the hair and makeup was flawless. The girls at this salon are amazing, kind and knowledgeable about what they are doing. I highly recommend this salon for anything, but especially weddings and any other special event. They may not be an old business but they are definitely giving every other "high end" salon a run for their money. I will only go to this salon in the future!
---
Send Message