Home

Susan Peavey Travel
About this Vendor
Honeymoon and Destination wedding specialist
Susan Peavey Travel specializes in Destination Weddings, Honeymoons, & Vacation Packages. We are full service travel agency here to assist you and your guests with all aspects of travel during your ceremony abroad. Making memories happen and dreams come true! We provide personalized service for smooth planning & budgetary concerns. Susan Peavey Travel was just awarded the Best Of Cape Cod 2017 as well as the Best of the South Shore 2017
Details
Getting Engaged, Honeymoon, Wedding
Destination Wedding Packages, Destination Wedding Planning, Destination Weddings, Honeymoon Planning, Planning
Contact Info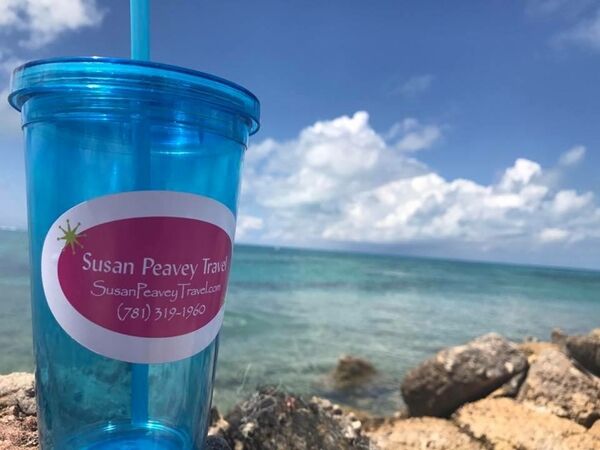 Reviewed on

7/06/2017
Becca B
Where do I start!? Susan Peavey Travel was a vendor that our wedding venue recommended. I ended up meeting Susan at a bridal show and was so glad I did because hands down, they're one of the best wedding vendors I used throughout the stressful planning process. Crazy that it was... Read More a free service, too, which was amazing! We weren't sure where we wanted to honeymoon but knew we wanted tropical, all inclusive and adults only. Samantha Kane was our agent and she was beyond helpful because we had no idea where to start. She sent along numerous options to choose from and her recommendations on the best spots and why which helped us whittle it down and pick our final honeymoon spot (which we loved!). Samantha was extremely responsive to all of my endless emails and questions and she was willing to go above and beyond to make sure all our questions were answered, and I had a lot. It was also nice that she would reach out directly to the hotel for us to book things and she even set up our private transfers. We enjoyed working with Samantha so much, that I am already planning my one-year anniversary trip and the first thing my fiancé suggested was to work with Samantha to figure it out. Great company that I'd highly recommend to any bride trying to make the planning process a bit easier!
---
Reviewed on

9/13/2017
Kristen G
My husband and I worked with Samantha Kane and she was exceptional at planning our honeymoon. She price matched for us, in the beginning to make sure we were getting the best price possible, changed our hotel a few times per our request, and was very fast to reply to all emails.... Read More We even had some airline issues on the way home (at no fault of Samantha) and she was up late at night on a Friday calling the airline to help fix our seating arrangements. Planning a wedding can be stressful and Samantha took all the stress away from planning a beautiful honeymoon. Can't wait to plan our next trip with her!
---
Reviewed on

10/31/2015
Mary B
I LOVED working with Susan Peavey Travel. We had the most wonderful honeymoon in Mexico. Susan took care of booking the entire trip, provided us with some great information about the area, and even a great travel pack and beverage tumbler! It was our first time out of the... Read More country, so her insight and suggestions based on her experience in the same areas we were going to be visiting gave us peace of mind. We felt well prepared thanks to her.
---
Reviewed on

2/14/2018
Lauren G
I truly can't say enough about Susan Peavey Travel! After a less than pleasurable experience with a different travel agent, Andrea from Susan Peavey saved the day! Our honeymoon is one of those expenses that we often wonder if we should even consider but Andrea made the process... Read More easy and worked with all of our ideas and most importantly, our budget! Highly recommend this travel company!
---
Reviewed on

10/17/2017
Jessica G
Susan recommended Unico, a new resort in Riviera Maya, Mexico and at first my husband and I were hesitant since it is so new. However after explaining exactly what we were looking for in our honeymoon (relaxing, great food, new/modern and authentic, on a beach, work out classes,... Read More excursions, activities and great drinks) we decided to take Susan's advice and chose the Unico...and boy are we glad we did. We had the most amazing honeymoon that we could have asked for. Susan also arranged the transfers to and from the resort (which was a Lincoln Navigator that picked us up). Susan was always very responsive and honest with her information and we would highly recommend booking your next vacation with Susan Peavey Travel! Thanks Susan we will definitely be going back to Unico and we look forward to booking with you again in the near future :)
---
Reviewed on

10/14/2017
Mary D
We worked with Samantha Kane and she was amazing!! We hit some bumps with using our online registry and guests ran into some trouble but Samantha was so great at handling anything that we needed! Thanks Samantha! We will definitely be reaching out to you again!
---
Reviewed on

6/27/2017
Valerie G
I have used Samantha Kane with Susan Peavy travel for my honeymoon and have kept using her since. She is so sweet and so easy to get in touch with. Her knowledge of the carribean is great and she is always willing to look into things for me! It's so nice to travel knowing I have... Read More someone who is pretty much available 24/7. She responds to email super vast and it's almost like texting! She can pretty much do anything so just ask. You will not regret letting Samantha help with you travel and take the burden off you. Give her a shout [email protected] Thanks for everything Samantha!
---
Reviewed on

6/27/2017
Lauren O
Ask for Samantha Kane. She did an amazing job planning our honeymoon!
---