Home

Susan Perrone Couture
Details
Bridesmaid Dresses, Mother of the Bride Dresses, Wedding Dresses, Alterations, Custom Designs, Fashion Services, Fashion
Contact Info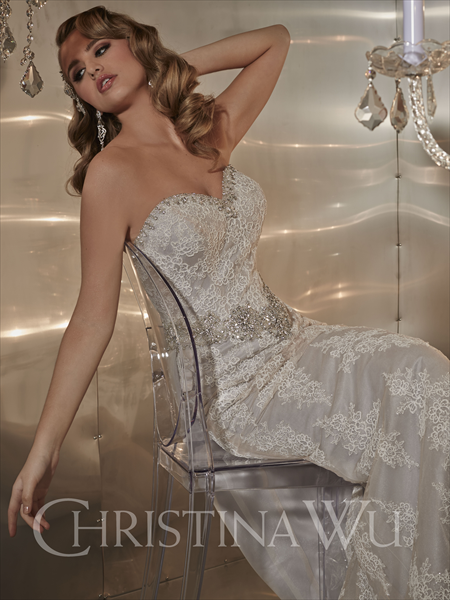 Reviewed on

9/28/2017
Natalie C
Taking me dress to Susan was the BEST thing I ever could of done with it! She made the dress come to life, and my dreams of how my dress fit and everyone raved that it looked like it was made for me! Susan also did my dress for the rehearsal dinner and I got as many compliments... Read More on that as my wedding dress!! Hats off to Susan, and looking forward to working with her in the future!
---
Reviewed on

8/12/2017
Michele M
Susan is SOOOO talented. She can literally make miracles happen. She is also very sweet and down to earth and reasonably priced. For me, she had to adjust my straps by making them thinner and from off the shoulder to on the shoulder. She had to add some lace, hem it and take it... Read More in around the hips. Her work is flawless and she is a perfectionist who won't stop adjusting until you are 100% happy. She adjusted my veil for me as well. She even helped fix my mom's dress after someone at Macy's messed it up. I felt very well taken care of with Susan and I'm looking forward to seeing her again. She can be very busy, so make sure you call soon to get your appointment on the calendar.
---
Reviewed on

5/13/2017
Lisa D
I found Susan by sheer lucky googling and am SO glad I did. I got married a few weeks ago and had been working with Susan on my wedding dress for the months leading up to the big day. Not only did she do a gorgeous job on my dress but I looked forward to seeing her at all my... Read More appointments because she was such a lovely person. I couldn't have been happier with how my dress looked and she made the process so easy and honestly, fun! Thank you Susan!!!
---
Reviewed on

3/30/2017
Jacqueline V
I had such an incredible wedding planning process and so much of it was due to the talented & special vendors who I worked with. I was so passionate about being able to recommend some of the people who made my day so very special. Susan Perrone Couture​ of Westwood not only... Read More completely altered and changed my dress to fit my size, but she also made a last minute hem to my second dress. She is an INCREDIBLE dress maker... and seamstress.. and so much more. She runs a timely and professional operation and adds her personal touch. She became a friend and mentor throughout the process. For any alterations or dress needs (for any occasion).. I would recommend her! Thank you Susan!
---
Love & care
Reviewed on

11/23/2015
Suzanne S
If you get your dressed altered here don't be alarmed by the price. It can get expensive depending on what you need for your dress. However, this shop specializes in gowns and wedding dresses. Your dress will be in the best hands possible. My dress was altered perfectly I would... Read More choose them again & again for dress alterations.
---
The Best
Reviewed on

8/22/2015
Nina T
If you live on the East Coast (or even if you don't) and need an excellent seamstress for your big day I highly recommend Susan Perrone. Susan was able to accommodate a very tight timelines to hem and take in my wedding dress. She even found time to alter a bridesmaid dress!... Read More Her and Mona are a dynamic team and they really display exceptional customer service to all their clients. I felt very much at ease that my wedding dress would look beautiful on the big day....and it did. Thank you to Susan!!
---
The Best!
Reviewed on

7/20/2015
Jenn L
I cannot say enough positive things about Susan Perrone Couture! Susan and Mona go above and beyond for their clients and truly treat them like royalty. They are the absolute nicest people to work with and will make you feel so comfortable! They bend over backwards for you to... Read More make sure you are beyond happy! Alterations on my mother's dress and bridesmaids are perfection. After working with them I would never go anywhere else! I sent my girls and my mom to get their alterations done by Susan and I could not be happier. My friends and mother also raved about their A+ experience. They were professional and so warm and friendly that they feel like family! Best place around for bridal, alterations, and beyond!!
---
Reviewed on

6/23/2015
Erica
I contacted Susan Perrone 12 days before my wedding in a panic. I had picked up my wedding dress from another tailor and was NOT happy with the final fit. It seems they had maxed out their abilities and said the only way to fix my dress was massive reconstruction that would... Read More leave ugly seams in it. I was distraught but decided to get a second opinion. I found Susan Perrone thanks to reviews like this one. She emailed me back within a couple of hours, fit me in the next morning and managed to have my dress done and perfect within five days. It's beautiful! I couldn't be happier. They were all so lovely and professional. I couldn't recommend them more.
---
Amazing Alterations & Accessories!
Reviewed on

12/08/2014
Amanda N
It was such a pleasure to work with Susan and Mona on the alterations of my wedding dress. I had bought my dress in Canada and needed to find someone to do alterations in NJ, I didn't know anyone but found Susan Perrone online and I'm so thankful I did! She did amazing work on... Read More my gown and was always reassuring that everything would come out perfectly, and it did! I felt so beautiful on my day and I owe that to the wonderful women at Susan Perrone Couture! They also sell beautiful accessories, I got a faux-fur wrap and 2 hair pieces, which Susan creatively sewed one of the hair pieces into the wrap as a broach, turned out stunning! Highly recommend this shop!
---
Fit to Perfection!
Reviewed on

11/29/2014
Alison T
I am amazed at the beautiful and perfected work that Susan and her team performed on my wedding dress. They were somehow able to add two inches in the bust in order to make my dress fit to perfection. In addition they were able to hem everything at my waist in order to preserve... Read More the detailed lace trim at the bottom and bustled my dress using a 'french bustle' which held up well to an entire evening of dancing. Susan and her staff were always pleasant and lovely to work with. I would certainly recommend them to anyone! Definitely one of my favorite vendors to work with! : )
---
Phenomenal Alterations and Service!
Reviewed on

3/19/2014
Franchette F
Susan and Mona are such a pleasure to work with. Other stores I visited stressed me out just by talking to their staff but here they helped and guided me through the whole process. As soon as you walk in their store, you know they are professionals in what they do and they love... Read More doing it too! I had different ideas to add on to my wedding dress which could have meant more costs but Susan was honest and had my best interest in mind. She suggested to keep the gown as designed by Vera Wang. She made sure I was comfortable with every detail. I had my mom's dress altered here too and Susan was able to create a custom wrap for her that perfectly matched her dress. Susan always goes above and beyond. I did not have the correct slip to go with my gown and without even asking her, she offered to switch my slip to one she had that was the correct one. Don't look anywhere else! If you have your wedding gown and other entourage dresses' alterations done here, you won't regret it. :)
---
GO TO SUSAN!!!
Reviewed on

10/09/2013
Gabrielle L
I purchased an expensive never-worn dress from a family friend and was soooo nervous about finding someone to alter it!!! The fabric was organza and I was terrified of it being ruined. I found Susan and all my fears disappeared. She is professional, has great recommendations for... Read More accessories, undergarments, anything your dress needs! She sells jewelry which we purchased for our bridesmaids. She makes clothes too! I would use her again!! Take anything to her! Really reasonable prices too.
---
Susan Perrone
Reviewed on

7/20/2013
Anne Marie W
Susan Perrone is wonderful! I met with her at least 4 times to make sure every aspect of my dress was perfect. She always took me on time and made my dress fit perfectly for my wedding day. She absolutely takes the time and has the expertise to work with all types of... Read More fabrics. Susan Perrone will make your wedding dress truly yours and make you feel comfortable and fantastic in your dress. I would absolutely recommend Susan Perrone.
---
My Dress Was PERFECT!
Reviewed on

6/19/2013
Lori W
I can't say enough good things about Susan. I had my civil wedding in 2010 and my church wedding in 2013. In 2010 I had a highly respected seamstress in Midtown, NY work on my dress. What a disaster. Not only was it hundreds of dollars, but the bottom was all uneven and I... Read More was stepping on the dress. So here we are 2013 and I am 4 sizes smaller and I have this mess of a dress, the top half entirely made of Chantilly lace from France and the bottom is French Silk. It was only two months till my wedding. Susan absolutely transformed the dress. It fit me like it was made for me. I also had a tear in my lace, Susan knew EXACTLY what to do... I could not find where the tear was after Susan worked on it. Every part of that dress had to be altered. Susan had even said it would have been easier to make the dress from scratch, and i'm sure she was right! Susan never lost her patience, if it wasn't right, it was done again until I was happy. Poor Susan, I had her change that dress at least three times... we removed sashes, bones, the horsehair rim around the bottom. Like I said, we worked on that dress till it was right and I was happy... we redid the hem, Susan remade the strapless top inside so it laid flat and flattered my figure. Something wasn't right with the dress and Susan could see it, so she adjusted the back seam around the back completely and took it in. I could go on and on, but honestly there isn't anything Susan can't do in my opinion because she had to do it to my dress! Susan, I can't thank you enough. I felt like a princess! I'm very grateful to you and thankful for all your hard work!
---
Susan is simply the best!
Reviewed on

8/01/2012
Maggie K
I purchased my gown at Pronovias, but heard terrible things about their alterations department, so through one of the Community Boards on the Knot I found out about Susan and I am so grateful I did! I had a beautiful gown with feathers in the bodice and tens of layers of fabric... Read More and Susan did a marvelous job of hemming it A LOT, taking it in while preserving the original look, and forming a beautiful bustle for a HUGE gown! She was patient & pleasant, took her time with me and had 4 fittings with me, and was extremely professional! You can tell she knows what she is doing and she does it incredibly well. I can't even begin to express how thankful I am for a job well done on a dress that was truly overwhelming! It fit me like a glove and I was complimented endlessly on my big day. Thank you, Susan!
---