Home

SwaLaRue Events
About this Vendor
We plan weddings for busy brides.
Our role is simple: to help you cultivate a memorable wedding experience that reflects your personalities and love story. With expertise in budget management and event designs that tell your love story, my team executes the intricate details of your wedding by collaborating with you to ensure your vision is carried out to the letter. Contact me for stunning event design and flawless Event Management.
Details
Ceremony, Cocktail Hour, Reception, Rehearsal, Wedding
Destination Wedding Packages, Destination Wedding Planning, Destination Weddings, Budgeting, Day-Of Coordination, Full Service Wedding Planning, Wedding Website, Planning
A True Godsend!!
Reviewed on

11/03/2015
I don't know where to start...Anshwa is simply a true professional who did everything and anything in her power to make our dream wedding a reality. We couldn't have made it do our special day without her! WE LOVE HER! Our wedding was 3 1/2 years in the making...and Anshwa... Read More was there for every minute of the planning. Warren, my husband, are both in the military and we went to West Point with Anshwa so we know her pedigree, firsthand! She does everything wholeheartedly, with passion and attention to detail. So, it SwaLarue Events was our obvious choice for coordinating our wedding, and it was the best choice we could have made. Anshwa has endured quite a bit with us during the planning of our wedding...two wedding date changes due to deployments to Afghanistan, my breast cancer diagnosis, six rounds of chemotherapy, my bilateral mastectomy...and on top of that me and Cleveland were in command of Soldiers at the same time, which is the most demanding job in the Army. So, when I say we gave her our thoughts and vision and she made it a reality that's exactly what she did. We trusted her completely with making decisions and selecting vendors, because she had a complete understanding of what we wanted and what we needed. Again, I can't say enough about her discernment and attention to detail. She knew us like the back of her hand, and that's what we loved the most about her...it's not just business with her, she wanted to know us as a couple and individuals. The love she has for her craft is unmatched and we would have been completely lost with out her. Words can't truly express how much she means to us! A gift from God is what Anshwa is! -Margaree King Richard
---
Reviewed on

10/07/2015
Jamie F
Anshwa and her team ensured that our wedding was memorable and unique! She provided awesome day-of coordination services to us for our 1920s themed wedding, bridal party and families. She covered the majority of the details for our wedding and any snags that ensued. There were... Read More several "incidents" that I learned about in the days and weeks following the wedding, but Anshwa was competent and handled them like a professional so that my husband and I could fully enjoy the day. I appreciate Anshwa's knowledge and the vendors she provided. She made the wedding planning process enjoyable at every turn. I'd use her again in a heartbeat, and you should too!
---
A true blessing
Reviewed on

12/28/2014
Anshwa has been a true blessing in planning my wedding. I now live in Hawaii, my fiance lives in Colorado, and the wedding is in Alabama….talking about obstacles! Before I hired her, I was very worried about how hard it was going to be to plan a wedding thousands of miles from... Read More where it would be held, but she immediately took the reigns and put me at ease. Even from Texas, she has done an extraordinary job of coordinating with all my vendors, keeping me in the loop via email and teleconferences, coming up with creative ideas, managing my budget, and even assisting my friends and family with tasks that have to be taken care of in person. So far, my overall planning experience has been like a well oiled machine, and I have no doubts that it will remain that way. Anshwa will make sure you settle for nothing but the best (within your budget of course), she will negotiate the best deals, keep you on schedule, and make the entire process stress free and enjoyable.
---
Reviewed on

10/31/2017
David M
We truly enjoyed our day. Talk about stress-free and living in the moment! The attention to detail, along with listening to what our vision, made for a flawlessly executed day. Anshwa and SwaLarueEvents were referred by our good friend Marci after she did her wedding in Cancun... Read More which we attended. We knew after that beautiful event when our time came to tie the knot; we could trust her and see our dreams come true.
---
Reviewed on

4/05/2016
Miss P
Anshwa was such a professional and sweet person to work with. I was definitely nervous about hiring someone I didn't know or have a personal reference for to handle the logistics of my big day, but Anshwa was absolutely clutch. I had nothing to worry about from the time I handed... Read More over my materials and notes a month out. She is very flexible about phone and in person meetings which was super valuable to me as finding time to take off work to do all wedding related activities was tough. Overall, Anshwa is excellent at what she does, is extremely professional, and offers a great rate for her superb service. Thank you, Anshwa!
---
Best Wedding Coordinator
Reviewed on

12/14/2015
Kristie M
Anshwa from SwaLaRue events was absolutely amazing! She is very knowledgeable, organized, calm, and so easy to work with! She made sure that my wedding day went off without a hitch and kept my groom and I and all the vendors on track and on time all day! Also, she brought my... Read More vision to life at the reception and it was exactly how I envisioned it! I highly recommend Anshwa! If she is your wedding coordinator, you will not be disappointed!!!
---
Reviewed on

10/27/2015
Sarah B
Anshwa is so amazing to work with. I was nervous about hiring a Day of Coordinator because I can be quite the control freak and I was concerned things wouldn't be done "my way", but I was SO wrong. From the time of our first meeting Anshwa listened to my wants and vision for our... Read More wedding day and completely made my dreams come true. She also does monthly checkin calls from the time of booking up until the wedding day and that really made me feel good so she knew what was going on during the planning process. Our wedding day went off without a hitch (or atleast if something did go wrong I never knew anything went wrong, and still don't!). I highly suggest Anshwa, she will make your wedding day seamless and amazing. p.s. As we were getting ready at the venue we realized they did not have an AUX cord for us to use to listen to music and before we even knew she was gone she came back and had gone all the way to the store and bought an AUX cord for us! Seriously, she is great!
---
100% Groom Approved
Reviewed on

10/19/2015
Tamara L
Anshwa was the best!! I could not have selected a better planner for my wedding. I would use her again and again. I was completely satisfied with how she handled everything that I threw at her. She always delivered. She exceeded my expectations and as long as my wife had a smile... Read More on her face I knew we made the perfect choice. She gave us her best and then some. I will recommend her and her team if you want nothing less than outstanding service.
---
God sent and lifesaver!!!
Reviewed on

10/01/2015
Amanda J
Let me just say how much I LOVE and appreciated Anshwa during my wedding planning. I was one of those brides that wanted to plan it all and didn't a planner..blah blah blah. I heard about getting a "Day Of Coordinator" to basicall help with the details towards the end. We met... Read More with Anshwa and we both loved her at that moment. It really meant a lot to hear that she does this purely for the love of weddings and people getting married. Well, I didn't realize how much really went in to planning a wedding and setting timelines and getting all the details of decor and othe vendors. I was so relaxed and stress free because I knew she was taking care of it all and I didn't have to worry about anyone calling me or anything. She seriously made this wedding for us the most amazing and fun wedding because I had no worries in the world! I HIGHLY HIGHLY recommend her for your wedding day. She loves what she does and she will not disappoint. Thank you Answha for EVERYTHING!! You truly are a God sent and I'm so thankful to have gotten to know you! :)
---
The Best Choice For Us
Reviewed on

12/31/2014
What can I say? Anshwa is a bride's best friend, her creativity, compassion, and love for what she does makes her the ideal wedding planner. Hiring SwaLaRue Events was the best choice for us!
---
Wonderful!
Reviewed on

12/28/2014
BIANCA H
I absolutely love working with Anshwa! She's an expert in her field. She's organized and a great resource for wedding planning! :)
---
Awesome Service
Reviewed on

12/28/2014
Anshwa and her team are simply awesome. I can't say enough about their professionalism and commitment to delivering a top of the line event for you and your guests. If you want your event to be a lasting memory that the folks will talk about for a good while, you definitely... Read More want Anshwa working for you. I would just say this, if you want to enjoy your event and your guests without worry, then just call Anshwa.
---
No one better!
Reviewed on

12/28/2014
Nichole F
Anshwa is the person to hire for your wedding day! If you are needing someone who will pull all the details together and someone who pays attention to details then you should choose SwaLaRue Events for your day of needs. I would recommend them to anyone needing wedding day... Read More assistance.
---
Meet The Owner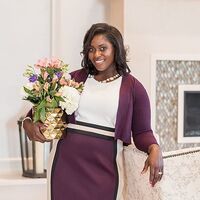 Anshwa Lewis
When you work with SwaLaRue Events, you'll experience one of the most professional planners in the industry. I am West Point Graduate who decided she didn't want to be an engineer anymore and chose to pursue a passion in event planning. I've served in Combat and know what it's like to experience high stress situations, making wedding day stress a breeze for me. With nearly a decade in event planning experience, I hold designations as both a Certified Wedding Planner (CWP), Project Management Professional (PMP) and Senior Human Resource Professional (SPHR).