Home

Taglyan Cultural Complex
Book Your Wedding with Taglyan Cultural Complex
---
A BALLROOM IN LOS ANGELES, CA
About Us
Taglyan Cultural Complex is a coveted wedding venue in Los Angeles, California. Built in elegant style with a European influence, the property offers over 12,000 square feet of total event space. The complex is a one-stop venue, meaning that from the ceremony to reception, couples can celebrate their entire wedding day there. The venue is well known among celebrity circles as a frequented site for entertainment industry events. This star-studded venue offers to-be-weds three distinctive settings to use:
Grand Ballroom. An extravagant space that is popular for its regal style and ethereal beauty, the 7,000-square-foot Grand Ballroom is available for ceremonies and receptions. This unique event space has been used as a set for many TV shows, as well as fashion shows and other Hollywood events. It has a breathtaking, circular stained glass ceiling of 5,000 square feet, with built-in colored lighting to create an ambiance that matches the unique theme of your wedding. The ceiling is also ornamented with seven tear-drop crystal chandeliers. You may completely personalize the ballroom's decor, and there's a stage of 200 square feet for your creative use. The room's capacity is 500 seated and 700 standing.
Foyer. Decked with stained glass skylights, marble flooring and luxe curtains, this event room is intimate and ornate. The Foyer is a versatile space, ideal for small wedding ceremonies and receptions, as well as pre-wedding cocktail hours. It also has a furnished patio.
The Gardens. Evoking a Mediterranean spirit, The Gardens are lush with Italian cypress trees and colorful blooms. Rennaissance-style fountains add grandeur to the manicured oasis. The Gardens may be used as a setting for ceremonies, receptions and photo-taking. At night, you can opt for vibrant lights to cast the gardens in vivid hues. The space totals 3,200 square feet, accommodating a maximum of 250 seated guests or 400 standing.
What You Should Know
Pre-arranged seating charts are available depending on guest count. Couples can contact Taglyan Cultural Complex about booking and availability via e-mail. The complex takes care of every detail of the wedding so the couple can enjoy a stress-free day. To ensure that to-be-weds have peace of mind on their wedding day, the venue's wedding packages include numerous services.
Wedding planners
Culinary managers
Full-service catering
Buffet, family-style or plated service
Organic, locally-sourced food ingredients
Hors d'oeuvres
Desserts
Wedding cake
Bar service
Artisanal cocktails
Specialty tables
Fog machine for your first dance
HD video projector
Spotlights
Surround-sound speaker systems
Microphones and other sound equipment
Furnishings, place settings, glassware and linens
Dance floor
A selection of decor
Event setup
Extra Perks
Special perks can be added to your wedding package for an additional fee. The Taglyan Cultural Complex offers popular extras such as:
Sound engineers
Lighting technicians
Presentation podium
Red carpet
Photo-backdrop banners
Extra decor and equipment rentals
Pre-reception cocktail hours with hors d'oeuvres
From the Vendor
Taglyan Cultural Complex
TAGLYAN COMPLEX has gained a reputation as being one of the most extravagant wedding venues in Southern California. It is a distinctive escape to entertain up to 500 of your guests (150 guest minimum Sunday through Friday, 250 guest minimum on Saturday). Come encounter unsurpassed elegance coupled with fine dining & impeccable service.
Amenities + Details
Amenities
Handicap Accessible

Liability Insurance

Indoor

Reception Area
For more details about amenities, please message the Venue.
Ballroom, Garden, Restaurant, Tented
Bar + Drinks, Cakes + Desserts, Food + Catering, Planning, Rentals + Equipment, Service Staff
Contact Info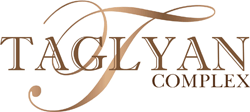 An Enchanted Evening at the Taglyan Cultural Complex
Reviewed on

10/31/2014
After seeing the Taglyan Cultural Complex I knew it was the ideal location for my wedding. Not only was the venue decorated and embellished beautifully, but the staff was more than accommodating. They surpassed my expectations and did all they could to make my guests feel... Read More comfortable. Beginning with the cocktail hour, the staff enchanted my guests with effervescent libations and exotic h'orderves. In the grand ballroom they served a grand feast fit for a king and queen. Later on in the evening, in the exquisite marble foyer, they laid out a colorful spread of tropical fruit and decadent dessert. It's difficult to put into words how magical the evening was. By the way people talked about my wedding, and still are to this day, I can tell that it will be held in the highest regards for a long time. I attribute all the credit to the Taglyan Cultural Complex and couldn't have been a happier bride. I can't express my gratitude enough. Thank you, thank you, thank you!
---
The most beautiful wedding venue in California
Reviewed on

10/31/2014
liana a
We had out engagement reception at Taglyan Complex last month and it was absolutely amazing. All our guests loved the venue and they are still talking about it. Everything was beyond our expectations!!!! The venue is not only stunning but it offers delicious food and... Read More outstanding service. We are planning to have our wedding at Taglyan next year. Thanks to the staff for providing excellent service. I highly recommend Taglyan for any occasion.
---
Perfection.
Reviewed on

10/31/2014
I am a wedding planner who has had the opportunity to work with the team at this gorgeous venue multiple times. I have been told in the past my expectations are too high...admit-tingly so I do expect a certain level of professionalism and quality from the vendors I work with.... Read More There are a handful of great venues out there but to some extent fall short in certain key areas... With that being said, There truly are no words to describe the experience my brides and I have had at Taglyan. From the very first time I did a walk through I knew this was going to be a completely different level of service we were going to get. Throughout the entire planning process of each and every event..they are always prompt with replies, accommodating and go out of their way to make sure their client is happy. No matter how big or small the request may be, they make it happen...with a BIG smile! It is rare to work with a team of truly great people who care about every detail as much as they do. Each event is handled as if it is their very last. I love that their quality, care and love for what they do only gets stronger with their success. THE FOOD!!! I can not rave enough about how incredible every dish is!! The quality of the food does not compare to any other venue in LA/ OC market! I have had brides disappointed at 5star hotels with the way their filet was cooked, the food not being the right temperature, not coming out on time etc etc... never in all this time have I heard any complaints even from the pickiest of them all about their food, timing and quality! I recently did an offsite wedding with this incredible team and had to write a review to show my gratitude for how fantastic they were! They helped us do things catering never gets involved with, true team players. Hovig manages most of the events and you could tell there is team camaraderie and so much respect and that is a recipe for success. When meeting with Gary Taglyan himself, it all makes sense why their team is as strong as it is. Don't think twice about doing your event here!!
---
Simply the best!
Reviewed on

10/30/2014
I had my wedding at Taglyan, and it was an amazing experience! I cannot say enough great things about the owner. Also the manager Hovig was so helpful, kind, and attentive. The venue is of course gorgeous. The service is excellent. The food is definitely not your typical banquet... Read More hall food; rather it is elegant, refined, varied, and delicious! All our guests were raving about the experience. I highly recommend Taglyan for any event!
---
Impeccable
Reviewed on

10/30/2014
An absolute gem. I had my engagement at the Taglyan and have attended many events there as well. Impeccable service, divine food, and stunning decor. I will have my wedding there as well! Hospitality at its finest. No need for a coordinator, because they coordinate for... Read More you! It's a one stop for the perfect wedding. I'm so excited!
---
Thank you Taglyan....
Reviewed on

10/30/2014
Brittany T
We were blessed to celebrate with 450 of our CLOSE family and friends on October 4th, 2014. The big day was an absolute dream, but it would not have been as wonderful without the delicious food and extraordinary service of Divine Catering from our friends at the Taglyan Complex.... Read More Our friends and family would not stop raving about how delicious everything was. From the cocktail hour, to the main entree, to the late night snacks, Divine Catering delivered whatever they promised! We are so pleased to have worked with them and would recommend them to anyone!!!
---
Wedding Bliss
Reviewed on

10/29/2014
We chose Taglyan Complex for our wedding and could not have been more satisfied. I want to first state that the management staff at Taglyan is one of a kind. They truly know what it takes to successfully make a customer happy. Everything was exactly what we had been promised... Read More and more. Gary is the most professional, and sincere person one can come across in this line of business. My family was a 100% pleased, and so were my guests. To this day, they keep talking about how delicious the food was and how impressed they were. Gary had every moment of the event planned, which made everything run smooth with no mishaps throughout the evening. Thus, Gary and his team of coordinators made it all work like magic. Our event began with a beautiful cocktail hour, which entailed a variety of hors d'oeuvres and cocktails that our guests truly enjoyed. The hall is majestic with beautiful lighting, and decor. I could go on and on about how amazing and magical this place is and how our vision became reality, thanks to Gary and his amazing staff. This place is perfect in every way, we highly recommend this venue for any event.
---
Thank you for making out Dream come true
Reviewed on

10/28/2014
Dina S
Our wedding was incredible! I'm very happy that we decided to go with this venue because Taglyan team were very accommodative and made sure everything went perfect. Food is amazing, garden and hall is breathtaking. Truly royal place. Thank you again from Alex and Dina
---
Exceeded all expectations
Reviewed on

10/27/2014
Nousha K
We had our wedding at Taglyan in January and we couldn't be more pleased! Following are the advantages of Taglyan for any wedding, especially a persian one: 1. The Complex itself is one of the most beautiful and elegant venues we had ever seen. 2. The food is exceptional.... Read More We are still getting compliments on how wonderful the food was; infact several vegetarians broke their diet and had kabab in our wedding! The service is outstanding. 3. Last but not least is the manager of Taglyan, Aram, who I put in charge of so many details of the wedding and I couldn't believe my eyes: he took care of our dessert table, our fruite table, our champaign station, our tea station and our cake table....I basically told him to do whatever he sees fit and he made the most beautiful stations that one can't even find in wedding magazines. Aram essentially plays the role of a wedding planner, but much better. We are so very thankful to Taglyan, specially Aram for making our special day so incredibly beautiful.
---
The Taglyan-Nothing Beats it
Reviewed on

10/24/2014
Christine Y
I was married on May 17. Where to begin...Lets start with the people. Aram and his team excel at what they do. It's very obvious that they're experienced. Very experienced. Trust me when I say, your wedding will go as planned with their help and dedication. Next the venue.... Read More Pristine. There's just nothing bad to to say about it. It's just pretty. Very pretty. BYOB and the stuff yourself stupid family style food. The food here is amazing!! Wedding steak? Wedding fish? Wedding Vegetarian plate? Please. Get outta here. The Taglyan starts with cold appetizers WAITING for your guests as soon as they enter the ballroom. Oh wait this is AFTER some of the best hors d'oeuvres served during cocktail hour. Then comes, hot appetizers, entree and dessert. I heard later that my guests asked for togo boxes...interestingly enough, they got their togo boxes! The service is awesome. Comparable to high end dining. I had 2 people dedicated to our sweetheart table and they made sure I was taken care of. Audio video system superb. My DJ and MC didnt have to bring much which meant lower costs for me! I can go on...My wedding was a beautiful blur and I know there wasnt a single moment I was unhappy. This venue did everything to contribute to my perfect day. Thank you. Thank you!
---
Fairytale come true
Reviewed on

10/22/2014
Noelle N
What a fairytale come true!!! We just had our wedding at the Taglyan and we can't say enough as to how amazing it was, from the professionalism of the staff, to the beautiful venue inside and out, the lighting, the incredible sound system, the DELICIOUS food, and the list goes... Read More on and on. Our family and friends are still talking about how it was the best wedding they have ever been to. Thank you Abram and the Taglyan for making our wedding dreams come true!
---
ONLY place where your dream wedding will become a reality!!!!
Reviewed on

9/23/2013
Eliz K
I want to start by saying thank you from the bottom of my heart to Gary and the staff at the Taglyan. We held our wedding reception here and there are absolutely no words to describe how amazing everything was. To start, from the minute our guests stepped into the venue the... Read More staff provided exceptional service to us and all our guests till the minute we stepped out. They knew how to help us and what we needed before we even had a chance to ask. The headwaiter, I don't know how he did it, being in a million places at once, but he was wonderful, thank you! Then the food! The food was incomparable!! Absolutely top-quality, our guests are still raving about it, saying it was the best they've ever had. And of course, the beautiful venue itself, the design and lighting system can not be described in words how stunning it is. Even after being there for hours, you still want to look up and enjoy the lighting... That day it wasn't just a venue provided to us, it was soooo much more! They helped our whole wedding run smoothly, even helping with things that they didn't have to help with... Again, thank you Gary for helping our dream wedding become a reality, without you and your exceptional staff it wouldn't have been possible!!! Gary & Eliz ~ 10.21.11
---
A Majestic Palace
Reviewed on

9/19/2013
S W
If I could give 100 stars that is exactly what the Taglyan and ALL their professional staff deserve! Attention all you lucky Brides & Grooms: If you are looking for a place for your special day that offers class, elegance, & uniqueness, with high attention to detail, with a... Read More staff that are very comfortable to work with and have no problem accommodating your every wish, LOOK NO FURTHER!! Taglyan is the venue you have been searching for! The standard of service at this beautiful paradise is to the highest level. Taglyan offers something that very few venues offer, it's like you get 3 different scenes in one place. The outside garden boasts a 2-part lavishly green area with beautiful flowing fountains and great night lighting that give your photos the impression that you could be in two very different tropical places on the same day! The inside Foyer charming and impressively elegant with its exquist wall to wall, floor to ceiling, marbled accents has everything that your second impression on your guests should be. And not that it needs anything to be done to its gorgeous works but you can do so much to customize this area just right for your special day. Then you have what could be described as one of the most beautiful ballrooms in Southern California. In fact to call it a Ballroom is almost insulting... This room is dripping in crystals that augment the stunning glass ceiling that you can change in color and brightness to set the perfect mood for your already perfect day... Again this room is a decorators, and florists heaven, because the of things you can do the sky is truly the limit! The in-house caterer "Divine Catering",offers a great variety of unique but extremely delicious dishes to dine on in abundance. The freshest quality, and again you can customize any particular dish to meet your desired needs. Food allergies not a problem here. The food was so amazing my guests are still craving the tastes but were so happy that the food seemed to never stop! Course after phenomenal course put the right finishing touch on our most perfect day! Abram, Aram, Mr.Gary Taglyan we thank you for providing a peaceful, perfect, magestic palace to host the Day of Our Love Celebration. It was like heaven adorned with the finest of everything, all tucked away on a littlle corner of Hollywood! The Taglyan Cultural Complex is a part of our life that will always be as special as the love my husband and I have for eah other.... Cheers and many blessings to you ALL! Shaherah & Roger married 7-2013
---
BEST wedding venue in LA!!
Reviewed on

10/09/2012
Christine B
Taglyan was simply gorgeous and amazing! I've attended many weddings in many different venues and have not come across anything like this. I first saw this venue on a television episode of "My Fair Wedding with David Tutera." Looked up this venue and my fiancé and I booked a... Read More date immediately. Aram and Gary are very pleasant to work with and they go above and beyond what you request to make you happy. On the wedding day, Aram and Gary were there making sure everything was perfect. Our guests were astonished at the venue and the quality of their food. If I could get married all over again, I would do it again here!!
---
Most amazing wedding Venue!!
Reviewed on

9/21/2012
Leor A
We are so happy that we had our wedding at the Taglyan. Its a beautiful venue, the ballroom is definitely the most amazing one I have seen and I did a lot of research. The food was so tasty! I never had that many guests come up to me and tell me how good the food was. The... Read More service was impeccable and most importantly the staff were so friendly and accommodating. In every aspect, we were extremely happy with our wedding. It was beautiful!
---
Everything we want in a venue - elegance + classy
Reviewed on

3/07/2011
JW D
We booked our wedding reception and so far, we have been very happy with everything. Our wedding is 8 months away but I just can't wait to have our wedding there. =) We were a bit hesitant in the beginning as we have never heard of this place. If you are looking for a venue... Read More with a 5-star hotel-like ballroom plus delicious food, I urge you to check this place out....you will not be disappointed. After 3 months of emailing back and forth with Gary (the event director @Taglyan), we decided to check it out in person. The place looks just as great in person! The ballroom with its integrated lightings looks so much better than most ordinary hotel ballrooms. Plus you get the whole venue for your entire party. So it's much more private and exclusive than a hotel ballroom or resturant. We have met with many event coordinators at other venues, Gary is by far the most easy-going and flexible. He is really there to make sure the couple is happy =). He won't nickle and dime you like other places would. We had our meal tastings last week and the food was very yummy too. I hope that the food will be just as good on our wedding day. According to our friend who went to a wedding there, the food was great! So far, this place ROCKS! We are so happy that we found this place. And did I mention that one of the episode of My Fair Wedding with david Tutera was filmed there? It's good enuf for Hollywood! It's classy, it's elegant, and it's so different.
---