Home

The Adolphus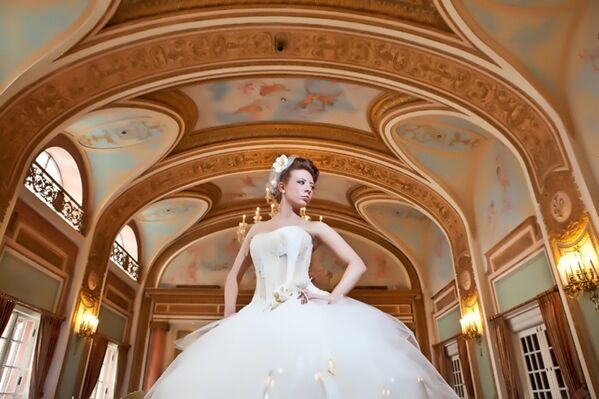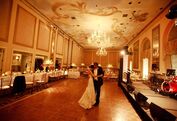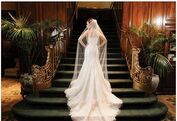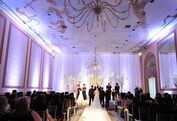 About this Vendor
Stylish. Iconic. Cool. Captivating.
The Adolphus is as timeless as the Louvre and as dazzling as the new downtown Dallas that surrounds it. Renowned for their fresh, innovative approaches, the hotel's wedding specialists ensure that every detail reflects your own original vision. Complementing the hotel's enchanting splendor is a culinary team that sets the standard for superb cuisine and extraordinary service. Menus can be tailored to any taste or theme. A new rooftop pool and bar provide a dramatic, artful retreat for refreshing cocktails and hors d'oeuvres. A full-service pampering salon and spa offer a unique luxe experience for any romantic getaway. It's a tradition generations of brides have relied upon….for memories that sparkle and endure like the diamond on your finger.
Amenities + Details
Amenities
Bridal Suite

Handicap Accessible

Liability Insurance

On-Site Accommodations

Indoor

Reception Area

Wireless Internet
For more details about amenities, please message the Venue.
Bar + Drinks, Cakes + Desserts, Food + Catering, Planning, Service Staff
Contact Info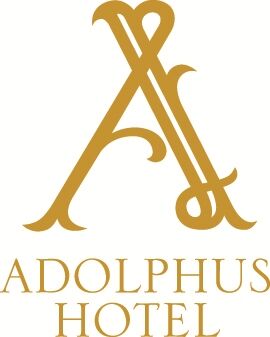 1321 Commerce Street, Dallas, TX
BEYOND EVERY EXPECTATION
Reviewed on

10/26/2011
delete d
I began my search for wedding venues in Uptown and made the rounds to all of the obvious choices: The Mansion, Arlington Hall at Lee Park, The Crescent and finally, The Adolphus. We knew we had found just the right space and the right price. We began working with Terri to create... Read More our wedding day. She was so pleasant and an absolute dream to work with. From the menu tasting to the meeting the week before – planning was a breeze with Terri. We were able to create a custom menu and drinks - pretty much anything we could think of, they were willing to accommodate. When it came down to the day, Terri and her staff remained on top of every little detail - they even steamed some wrinkled linens for us. I went down to check on things before the guest arrived and all of the vendors had arrived, checked in with Terri and had completely set up without a hitch. Our guests went on and on about how gorgeous the hotel was, how incredible the food was (do a traditional 5 course sit down dinner and you will NOT be disappointed) and how fabulous the wait service was. Terri was creative and so effective in translating our vision into a wonderful night. (And after she couldn't find my toss bouquet for the night, Terri made one of the floral arrangements in the foyer and I never realized anything had gone wrong - my mom told me AFTER we got back from our honeymoon!) Another staff member we received exceptional service from was Augustine, a personal assistant of sorts. Augustine has worked with the hotel for 20+ years and from the moment stepped out of the ceremony until we were set in our suite for the night, he was waiting by our sides to make us comfortable. He went with us outside for photos, carrying my train across the hotel and helping our photographers. He kept a full champagne glass waiting for me all night and he even went to the downstairs bar to get my husband a specific cocktail he had requested. When we went to have a moment to ourselves before the reception, I panicked because my maid of honor wasn't there to bustle my dress for the first dance. Augustine informed me that he'd bustled a dress or two in his long career with the Adolphus and perfectly bustled my wedding gown for me. After dinner, he let us know that the cake cutting was coming up and reminded me that I needed to reapply my lip gloss before photos (what a life saver!) – and when I went to grab my purse, he already had it and was ready to escort me to the ladies room. He was AMAZING. After the wedding send off, he escorted us to our suite, where the hotel had sent up all of our gifts, champagne and cake and made sure we were all set for the night. Augustine even went back downstairs for us to get my husband's bag from his parents for us. We were very well cared for all night. The amazing service more than made up for any minor issues we may have encountered, which included that some of our guest initially had problems booking under our wedding block and were told that it did not exist, which was a little frustrating but was quickly remedied. The Adolphus works so well with so many wedding vendors that every other company that we hired were thrilled to be working with the Adolphus again. It's a beautiful hotel with an amazing staff and we're so glad we chose them to host our big day!
---
Definitely exceeded my expectations!
Reviewed on

12/01/2012
Elizabeth B
I looked at almost every venue in Dallas, and was torn where to have my wedding. I chose the Adolphus Hotel based on cost, customer service and the overall look I wanted to achieve. Of all my vendors, this is the one, I can say hands down was absolutely perfect! I found a... Read More little fault with each vendor, but there were absolutely no faults with the Adolphus. Terri Hahn was amazing to work with and was able to carry out exactly the look and vibe I wanted for my wedding! Marcus Streziel was a fabulous chef and served increbily delicious courses. Everyone raved about how beautiful my wedding was and how delicous the food was. The guests that stayed at the hotel loved the accommodations. The customer service was top notch and far exceeded my expectations. I even had a butler that carried my lipstick, shoes, powder and kept refilling my drink before it was even empty. I would recommend the Adolphus to anyone . . . it was PERFECT!!!!
---
Glamorous Wedding
Reviewed on

10/15/2012
Jessica R
My husband and I chose this hotel for our wedding and reception because it came so highly recommended by other vendors we spoke to as soon as we mentioned that we wanted an upscale glamorous wedding. Not only did the venue's brilliance meet our expectations, but Paula, the... Read More director of catering, ensured that every detail involving all the vendors went perfectly. It also will accommodate over 250 guest comfortably, which the other upscale hotels in Dallas could not handle. Nearly every guest noted to us that the rooms were amazing, that the food was delicious, and that the ceremony was stunning. If we had it to do all over again, I would not have changed a thing. In fact, my husband and I are looking at spending our anniversary at the hotel with dinner in the French Room.
---
Fantastic Venue with Outstanding Service
Reviewed on

12/02/2013
Anna
My husband and I held our wedding at the Adolphus at the end of October and were absolutely thrilled with the experience. We were exceptionally well taken care of by our personal butler, who kept us well fed and the champagne flowing throughout the night. The staff was... Read More incredibly accommodating and succeeded in keeping the wedding flowing smoothly from cocktail hour to the last dance. The food was exceptionally prepared and enabled us to host a truly Texas style yet still elegant spread. The short ribs in particular were a stand out hit. I loved absolutely everything about having the wedding at the Adolphus. The staff and facilities are first rate. The location is incredibly convenient and enables your guests to stay right in the thick of downtown Dallas - walkable to the Kennedy museum, the DMA, and the Kyle Warren Park.
---
Perfection.
Reviewed on

5/23/2013
Bailey S
I can't imagine having our reception anywhere other than the Adolphus. Everything was executed to PERFECTION. The planning process and tastings were very enjoyable with Jessica. My bridemaids and I stayed in the Queen Elizabeth suite the night before—that room is unreal. We... Read More were treated like princesses the whole time. Our guests that stayed at the hotel said the same thing. And the day of the wedding… WOW. Andrew and I showed up for the reception and were immediately (and unexpectedly) greeted by Augustine. Augustine and the rest of the staff catered to our every need all evening. They fixed us plates (made sure that we actually got to eat), kept the tables clean and drinks refilled, and Augustine carried around my lip-gloss for me all evening. The level of personal service and attention to detail was exceptional. And the food… best I have ever had! I wish I could eat those mini beef wellingtons for every meal. Andrew and I look forward to spending our anniversaries and other special occasions at the Adolphus!
---
Great location and value
Reviewed on

4/30/2013
Brandi
The event coordinator made everything easy and provided a great price for our wedding guests. They handed out all the welcome bags and even made room for some last minute bookers.
---
Reception Venue
Reviewed on

8/12/2012
Shannon W
I can't say enough about how amazing my reception at the Adolphus was! The staff were not only professional and friendly, but they made sure my night went off without a hitch. The wedding coordinator, Jessica Cates, put all the wedding details both large and small together, and... Read More made my reception a dream come true! She was a HUGE help and I am so lucky I met her! My guests were raving about the venue and about how delicious the food was. My groom and I were taken care of the whole night, including always having our champagne glasses filled. The staff even made sure we had the top layer of our cake to take home with us. I'm so honored to have had my reception here and I can't wait to go back and stay at the hotel again in the future. I would definitely recommend the Adolphus for your wedding reception or any event really!
---
Dream of a lifetime
Reviewed on

7/25/2012
Sherien Z
When we first stepped into the Adolphus Grand Ballroom, we had a reaction. A knowing: this is it. It reminded us of romantic ballrooms in grand ships ...like the Titanic! The old world charm captured our senses. The ornately painted heavenly blue ceiling felt like we were... Read More outside under the stars in a magical place. It was perfect. The Adolphus staff was equally impressive. They were so easy to deal with and you could see that they've done this before and all would be under control. And it was. The food was to die for. They also made the delicious champagne flavored cake with fresh strawberries, looking exaclty like I'd imagined. We had our very own bridal butler, Augustine, who guided us through the entore night. We had so much fun! Then, we were blown away when we got to our beautiful bridal suite, and in the morning, we had the best breakfast ever, and a late checkout so we could head off to Hawaii!
---
Beyond Expectations!
Reviewed on

10/24/2011
Aimee F
I simply can not imagine another venue to have your wedding reception at. Everything was perfect from the planning process, ambiance, hospitality and more. Everyone at The Adolphus was kind and wanted to make everyone minute of your stay memorable. Guests were talking about the... Read More reception long after it was over.
---
Exceptional Service, Outstanding in Every Way!!!!
Reviewed on

11/27/2010
Cathey G
The Adolphus team made Michael(our daughter) and Scott's wedding ceremony and reception such an unforgettable evening. We received innumerable comments on what a joyous occasion it was. The food and service received rave reviews. Augustine, the butler assigned to the bride... Read More & groom for the evening, proved to be all that had been promised and more! He certainly contributed to making the evening memorable for the bride and groom as well as Cathey and me. Finally, Jessica Furlow, our wedding planer from The Adolphus; her knowledge, guidance, patience, experience, and especially good humor helped us through all the ups and downs of planning and executing a warm, magical, fun filled celebration. Almost every comment we received, whether by note or in person, mentioned how perfectly all the details of the evening were managed. Thanks to The Adolphus our daughter's wedding was truly an outstanding fun-filled event.
---
reception vendor
Reviewed on

11/23/2010
AMY N
The service and staff is absolutely superb. All of our guests enjoyed the service received by the staffs and enjoyed the food from the wedding. Adolphus has made our wedding dreams come true.
---
Fairy Tale Wedding Come True!
Reviewed on

11/22/2010
Lauren A
First off, I could not have imagined a more perfect venue for our wedding this past April. It was everything I could have dreamed of and more. Seriously. As an out-of-town bride from Chicago, my primary requirement was that I would find a venue that could take care of... Read More everything and anything that I would need. I was able to fully trust the Adolphus wedding planner (Jessica Furlow) with every detail of our wedding. She truly took care of us and literally saved my sanity! I didn't have to worry about a thing and for me that was the most valuable service the Adolphus provided. She was able to transform my ideas into a reality and I couldn't have asked for better service. Obviously, if you have ever seen a picture or visited the hotel, you will note that the atmosphere is exceptional. It was definitely the classy/eloquent vibe I was looking for. The most beautiful venue I toured (and believe me, I toured almost all of the potential locations in Dallas). From the minute guests check-in to the hotel, they are greeted with exceptional customer service and that only continued through our wedding. The ballroom was absolutely amazing and was the perfect size for our guest list of 200. It was easily transformed into our customized wedding theme and felt like it was built just for us. The food was incredible and to this day, I still get compliments from the guests about the gourmet macaroni and cheese. And yes. I had macaroni and cheese at our wedding and it was classy. As a picky eater, I was extremely pleased with the food and enjoyed knowing that everyone else was impressed too without having to spend an arm and a leg for it. Other wonderful features this hotel provides are the private room before hand that is just for the bride and groom to eat and regroup before the reception. They even provided me with a personal assistant so to speak that got me food and drink throughout the evening and even helped with my bustle. The bridal suite room was literally bigger than my apartment and was a wonderful retreat. I mean, the level of customer service is outstanding and I truly couldn't have asked for more. All in all, we were able to work with the Adolphus to create our dream wedding while staying within our budget (which my now husband was most concerned with). The attention to detail is incredible and I would strongly recommend this hotel to anyone and everyone that I can. It was the best day of my life and I know I have the Adolphus to thank for that. A perfect Happily Ever After.
---
Awesome Venue
Reviewed on

11/17/2010
Teresa W
I loved the Adolphus Hotel for my wedding reception. The hotel had such an old, antique, and classic look. I had my bridal photos taken there and they were superb. The staff at the Adolphus were great. They remembered every detail and kept the flow of the reception. You... Read More should really look into this hotel because they truly make you feel like you are in a fairytale.
---
My Dream Wedding!
Reviewed on

7/20/2010
Lauren O
My wedding at the Adolphus was more fabulous than I could have imagined! The staff is unbelievable and the hotel is absolutely beautiful. Everyone waited on me hand and foot the whole weekend and made the experience as enjoyable and stess-free as possible for me and my family.... Read More All my family and friends had so many great things to say about the service, the wonderful food, and the overall atmosphere. Thank you Adolphus! We will keep coming back every year!
---
WOW!!!!!!!!!!!!!!!!!!!!!!!!!!!!
Reviewed on

5/26/2010
Ed B
Dear Adolphus Team, Without reservation it has been an extreme delight to work with The Adolphus in Dallas for our daughter Sara's wedding in April of next year. Granted we just started organizing this momentous event and needless to say today we placed a reservation deposit... Read More with Jessica. Our Church is located in the Park Cities area so we wanted someplace close. After we met with The Ritz Carlton, The Mansion on Turtle Creek and The Crescent, it was evident that Jessica Furlow and The Adolphus was to be our location for Sara's wedding reception.We could have chosen any of these venues, however from the first time we met Jessica, and she made us feel at home instantly. Her warm smile and can do attitude should be treasured by your organization as I'm sure it is. You are very fortunate to have her on your team. We truly look forward to working with Jessica and the Adolphus in the next few months. If you are a Father or Mother please know that this is a trying time when your baby is leaving the nest. My comfort is Jessica being by our side in this process. Thank you for having such a beautiful hotel and wonderful staff. Sincerely, The Ballard's
---
Dream Wedding Come True!
Reviewed on

5/19/2010
Shari E
When we began looking for venues to have our wedding reception, I had a few "must haves" in my mind. I really wanted a place that was already beautifully decorated, offered five star service, and had a room where we could hold all of our guests (about 300 people). Not only did... Read More the Adolphus have a room big enough to accommodate our number of guests, but the room was BEAUTIFUL...it took my breath away. After seeing it only one time, I knew that was where I wanted my wedding to take place. After putting our deposit down, all of the planning began. My Mom and I did not have a wedding planner so we knew we would have to rely on the wedding coordinator at the Adolphus, Paula Fenner. From day one, she ALWAYS greeted us with a smile, responded to our thousands of questions as if I was her ONLY bride, and helped us get in contact with the most AMAZING vendors. At this point, I knew that the Adolphus was going to have five star service and that they were going to make sure I had the wedding I had always dreamed of. The BIG DAY was finally here and I wanted all of the bridesmaids, mothers, and myself to have a place at the Adolphus to get our makeup and hair done for the wedding. Paula gave us the most beautiful suite with a HUGE terrace and TONS of space so that we could all be together in one big room. It was amazing! Then, after the ceremony was over and my husband and I got back to the Adolphus from the church, Paula and her TOP GUY, Augustine (he was our personal butler for the night) greeted us with a glass of champagne and took us into a special candlelit room with rose petals and a table set for two, so that we could have our dinner BEFORE going into the reception (my biggest piece of advice to ALL of you is to please make sure you eat BEFORE you greet your guests otherwise you wont have time). This was AMAZING! We felt so special and had a moment for just the two of us newlyweds before entering the party. The food was to die for DELICIOUS and everything they had promised us at the food tasting! As we made our grand entrance, my jaw dropped at how BEAUTIFUL the room was. From the lighting, to the linens, to the place settings, top to bottom the room was like a dream! Augustine took service to a whole new level. The whole night he made sure our drinks were never empty, he took care of our parents and grandparents, and always had my powder and lipgloss ready so I could reapply. Both he and Paula kept us on track with all of the different events going on (the first dances, cake cutting, toasts, etc.). At the end of the night our guests tossed rose petals at us as we made our big exit. Paula had a BEAUTIFUL horse and carriage waiting for us which was so special. After the ride, Augustine met us in the back entrance of the Adolphus and escorted us to our Honeymoon Suite where he had a bottle of champagne for us and two HUGE slices of each of our cakes. They also had chocolate covered strawberries on a plate with a note of congratulations for us. It was so very special. The entire night felt like I was floating on a cloud as if it were all a dream. It was so unbelievably BEAUTIFUL-all I could ever want from a wedding and MORE. And to top it all off, they also brought us a gourmet breakfast the next morning! If you are looking for a place with five star service that will accommodate your every need and make sure that you have the wedding you have always dreamed of, you should consider the Adolphus. You will NOT be disappointed!
---
Elegance, Excellence and Old-Fashioned Service!
Reviewed on

5/18/2010
Alexis J
I chose the Adolphus because of it's beatiful, historical building and features as well as its prime location in the heart of downtown Dallas. Our wedding coordinator, Paula Fenner, was absolutely amazing! She was ALWAYS easy to get a hold of, was more than accommodating to any... Read More need or request I made as far as decorations, food, or ambiance went, and she was so helpful in making sure the rehearsal went smoothly and in an organized fashion. Every time I walked into the Adolphus I was always greeted by name and if I had any questions they were always answered. The food was excellent, service wonderful, and all of our guests couldn't stop telling us how gorgeous everything looked and how fancy and fun the reception was. All the details were perfectly aligned as I specified/requested. My only complaints were that our photographer was rushed so we missed some important large group family photos with my in-laws (LOTS of cousins came in from out of town), and they accidentally broke my grandparent's 60 yr. old cake topper we used on my cake. They were very apologetic and did their best to make up for their honest mistake/accident. Our suite was amazing and we loved our complimentary breakfast for two. When we got back to our room from the horse-drawn carriage ride we had champagne and leftover cake waiting for us--yum! We can't wait to go back and visit on our one-year anniversary. For old-world, old-fashioned charm, grace and service choose the Adolphus!
---