Home

The Allen Farmhaus
The Inside Scoop
---
FROM THE KNOT EDITORS
The First Look
This renovated historic Farmhaus is the ideal setting for a rustic farm wedding filled with charm and natural beauty. The Allen Farmhaus in New Branfels, Texas, is a family-run farm and event space steeped in over a hundred years of design and experience. The farm includes over 52 acres of immaculate land with both indoor and outdoor ceremony and reception spaces. The Bridal Suite is the original Farmhaus itself, featuring 12-foot ceilings, a wet bar, several delicate, cozy spaces for bridal party prep. Also, offering a private Grooms Suite separate from the Bridal Suite. Caterers can also feel fully equipped in the large food prep area located in the barn itself, allowing a seamless catering experience throughout the night. Ceremony and reception spots include:
Barn. This uniquely structured, 100-foot-long barn includes side-by-side sliding doors, opening up the event to the Texan night air. Up to 250 guests can celebrate in this space during a seated affair, and up to 299 friends and family can enjoy a standing cocktail reception. Groups of over 300 can be accommodated with special arrangements. The space's neutral architecture allows for any and all rustic wedding themes, giving couples free reign to realize their vision.
Ceremony Site. There are several outdoor ceremony options, including underneath a beautiful 300 year old oak tree that features an incredible natural canopy, throughout the grounds of the farm or in front of the scenic barn. All selections allow for stunning first-look and ceremony photos.
Tented Reception. Plenty of open space is available for an outdoor tented reception, incorporating the panoramic views of countryside and historic architecture. A stunning bar area is situated just next to the space, flanked by two towering trees and creating a natural reception ambiance in the landscape of the space.
What You Should Know
Both catering and alcohol can be provided by an outside vendor, pending the company follows all Texas alcohol regulations and provides a licensed bartender. The Allen Farmhaus is more than happy to provide a list of trusted clients and vendors that have worked with the farm in the past. Tables, chairs and benches are included in the venue rental.
Couples can rent the space from 11 a.m. to 11 p.m. and must begin setup in the morning. Extensions in either direction can be arranged with prior notice. The Allen Farmhaus allows bubbles for the sendoff moment, and other materials can be run by the staff for approval ahead of time. A nearby events company is available to provide rustic elements, such as church pews, hay bales and vintage tractors.
Extra Perks
Hospitality and charm make up the primary focus of this Texas venue. Couples seeking a farm-style celebration can find all they need at this historic spot. Additional perks include:
Endless views of farmland for peaceful seclusion
Stunning wildflower fields in spring and summer
Option to hold entire evening in one venue
Ample on-site parking
Close proximity to both Austin and San Antonio
From the Vendor
Vintage charm meets southern excellence
The Allen Farmhaus brings a fresh perspective to vintage charm. Located right outside of the New Braunfels city limits, these 52 acres of rolling hay fields provide an unparalleled backdrop for the perfect wedding. A majestic setting under a historic 300 year old oak tree, a perfectly framed view of the rolling land for miles, and custom made grand sliding barn doors are only a few of the many options for the ideal on site ceremony location. Our reception barn features sliding barn doors throughout the space, providing an unobstructed view straight through the structure. The focus on bringing the outdoors in has never been so perfectly captured.
Amenities + Details
Amenities
Bridal Suite

Handicap Accessible

Indoor

Outdoor - Covered

Outdoor - Not Covered

Reception Area
For more details about amenities, please message the Venue.
Farm + Ranch, Barn, Historic Venue
Contact Info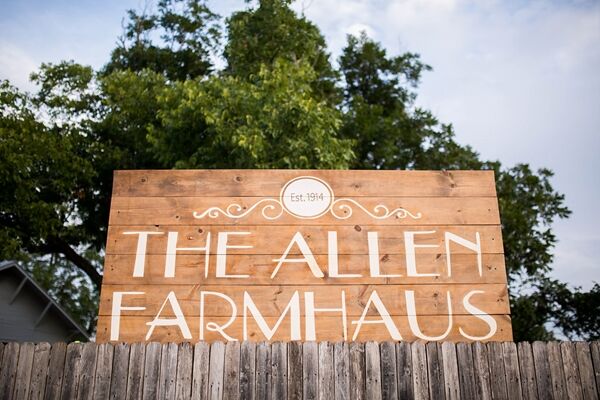 Reviewed on

10/31/2016
Stephanie C
When I first stepped foot on the property I automatically fell in love! As I walked in the huge bridal house I already saw my wedding come together! Then seeing the amazing barn and the doors took my breath away! After our tour I signed the contract to have my wedding there in... Read More December :-) and I couldn't be more happy!! Plus the Kraft girls and their parents are the sweetest people in the world ❤️
---
Reviewed on

12/25/2016
Gracie C
The owners are not in the business of making money- rather they are in the business of being part of people's special days. They go above and beyond to make events perfect. They are very accomodating, fun, and have made this the perfect venue for any event. My husband and I... Read More visited with the owners before the barn was built, and saw no floorpans, renderings, or even sketches of what they were envisioning, rather we just heard what they were envisioning, and their passion sold us! Once we saw the venue completely built it was better than what we could have imagined for our wedding reception.
---
Reviewed on

12/08/2016
Staci S
I was lucky enough to visit this site while they were still working on it. My boyfriend stayed late a few times to help with it all, so I decided to bring him dinner. After we ate he took me around the property and I just couldn't help but fall in love with it! The family that... Read More owns the venue is so kind and helpful! We have decided to have our wedding here in April and I just can't wait!!!
---
Reviewed on

11/04/2016
JG A
Amazing location and beautiful venue
---
Reviewed on

10/31/2016
Amy D
The Allen Farmhaus is an absolutely gorgeous venue! From the time you set foot on the property, your eyes will be drawn to so many unique and amazing details. This venue offers a rustic elegance with breathtaking views of the countryside. The owners are a family that have... Read More invested their hearts and souls into making this property a perfect place to have your event. They will go above and beyond to make sure each and every detail is taken care of with grace and dedication!
---
Reviewed on

10/31/2016
Landon F
Short story: great venue Long story: my fiancé and I were looking for a venue in the hill country that we could have both our ceremony and reception at and could been outdoors. This place completely fit the bill and was more than we could have even imagined ourselves. We said we... Read More wanted a barn ✔️ We wanted Edison bulb lights ✔️ We wanted outdoor space ✔️ We wanted a rustic feel ✔️ We wanted lots of outdoor space ✔️ We wanted it to feel like home for our guests ✔️✔️✔️ We couldn't have asked for more and the ladies working there were great too. If you are looking for a venue in the hill country that is actually reasonably priced- look no further.
---
Reviewed on

10/31/2016
Paul M
The Allen Farmhaus is an amazing venue! The scenery on the property is beautiful and the indoor areas are impressive. I liked the large dance floor and the overall fun atmosphere! The Farmhaus is selfie and picture friendly, everywhere you look is great photo opportunity.... Read More There is a lot of space to have lots of fun inside and out. The ladies at the farmhaus are very helpful and just the best!
---
Reviewed on

10/31/2016
Emily M
There's not a bad thing I can say about this venue or the family that runs it! The venue grounds, huge barn, and beautiful country backdrop will help make for a wonderful reception and celebration. The Kraft sisters made us feel so welcome the first time we saw the grounds, and... Read More we can't wait to have our special day at the Allen Farmhaus!!
---
Reviewed on

10/31/2016
Courtney F
The picturesque scenery and sisters make this venue absolutely perfect. You drive up to a beautiful home which has been immaculately refinished, 52 acres of beautiful farm land and a barn that shouldn't even be called a barn it's so stunning. We are getting married here in 3... Read More weeks and I literally can not wait to see how the pictures come out and just to show our friends and family the venue. The sisters have acccomodated all of our requests, no matter how off the wall, and have been a joy to work with. If you are looking for a rustic-esque venue that still provides touches of modern and a warm, inviting feeling- look no further!!! Can't say enough!
---
Reviewed on

10/31/2016
Mariana F
As mother of the bride , this place took my breath away. Knowing a venue which is on an amazing peace of farm land and the view outside is so beautiful . Wish my wedding was there!
---
Reviewed on

10/31/2016
Mariana F
As mother of the bride , this place took my breath away. Knowing a venue which is on an amazing peace of farm land and the view outside is so beautiful . Wish my wedding was there!
---
Reviewed on

10/31/2016
Deanna D
I cannot wait to have my wedding at the Farmhaus! We had been searching forever and as soon as we stepped on the property I felt like it was going to be our final stop, and it was! Not only was the bridal suite amazing, they also have an incredible space for my fiancé to spend... Read More the day. I seriously think they thought of everything. The barn is stunning and we are thrilled we will have the option to use the ac, although the breeze out there is perfect so I highly doubt we will need it. We are so excited for our wedding and will be counting down our days till we say I do at the Farmhaus!
---
Reviewed on

10/31/2016
Olanna N
Very impressed by this place!! Everything was so picturesque. The staff was also so warm and helpful.
---
Reviewed on

10/31/2016
Adrien E
They are truly my favorite venue out there! The family who owns Allen Farmhaus goes over and beyond for their clients and vendors. We scheduled a Styled Wedding Shoot for the month of September and it turned out BEAUTIFUL! As a photographer, I appreciate venues who think about... Read More their details in a creative aspect. Literally every detail they offer, looks absolutely stunning in photos. I will always recommend The Allen Farmhaus to all of my clients and friends. Not to mention, I will be using them for my own wedding!
---
Reviewed on

10/31/2016
Liz L
Really charming location! We got so many great photos that night. The Allen Farmhaus is so gorgeous and scenic! Ideal spot for a large dancing crowd ;)!
---
Reviewed on

10/31/2016
Katrina B
A stunning venue with a beautiful farmland background. We knew this was the place we wanted to get married. I have know the Kraft sisters for over 10 years and they are wonderful people. They have been so helpful and easy to work with to make sure or day is special.
---
Reviewed on

10/31/2016
Ashley M
The Allen Farmhaus is absolutely stunning and the perfect venue for any wedding. I've had the pleasure of knowing the Kraft sisters for close to ten years and they are two of the hardest working girls I have ever met. Their attention to detail is second to none. They've done an... Read More amazing job transforming this venue into a dream wedding location. Their communication skills are excellent and they will guide you through the process from start to finish. They are passionate about making your specia day the most magical day of your life. I highly reccomend this venue to anyone considering it.
---
Reviewed on

10/31/2016
Susan T
The most original and beautiful venue I have had the opportunity to visit! The staff was amazing, the reception barn was gorgeous and had an incredible breeze paired with a/c, and the wide open spaces were a breath of fresh air. I was actually sad when the reception was over... Read More and I had to leave! I would have stayed in the rocking chairs on the back porch forever. I would highly recommend this venue to friends and family. Who knows, maybe one day I will renew my vows there!
---
Reviewed on

10/31/2016
Kristen H
Wonderful property with magnificent views of wide open farmland! Convenient location and super helpful staff!
---
Reviewed on

10/31/2016
Brandi W
What a charming place! Love it
---
Reviewed on

10/31/2016
Gilberto C
I knew this was the place my daughter wanted to get married in, her eyes lite up when she saw the venue. The owners were very nice and made me feel welcomed. The farmhouse is big, open and looks very well done. The rooms for the bride and groom get ready are very nice. I am... Read More very pleased with everything. The price is also very reasonable for a wedding. The view is nice and it is good that it is not close to other houses so you can have a great time and not worry about the noise.
---
Reviewed on

10/31/2016
Gloria C
The family in charge are the sweetest people and they make you feel like family walking into their venue. The bridal sweet is beautiful with a home feel to it, the groom suit is so fun and will defiantly keep the guys entertained. We fell in love with it the moment we walked... Read More around the venue. My husband and I could not have picked a better place for our daughters wedding! The surrounding view is breathtaking as well. This is defiantly a venue that will be sure to make any bride and groom have the time of their life.
---
Reviewed on

10/31/2016
This was a charming South Texas venue and I was very impressed. I just loved that it had separate places for the groomsman and the bride to chill before the big event. The men really liked being able to play games and relax. The bride and her entourage had the quaint old... Read More farmhouse to get ready in. The air-conditioned barn was such a pleasant surprise on a hot July day. We really enjoyed the ambiance of old wood, tin and metal. They somehow managed to pull off a combination of casual elegance and rustic charm. It is a beautiful venue to get married in!
---
Meet The Manager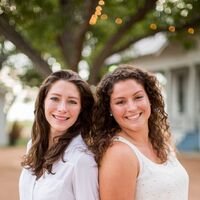 Cassie and Maitlyn
Raised on a farm not too far from The Allen Farmhaus, sisters Cassie and Maitlyn had always dreamed of getting back to their roots and working together. After discussing the idea of starting a wedding venue together for years, the two decided to finally take a leap of faith together. In October 2015, the sisters traded in their pen and paper for power tools and started to renovate the Bridal Suite. Since then they have worked on numerous other projects at The Allen Farmhaus and never looked back. It brings them joy to share the property, its history, and its future with others.