Home

The Balcony Ballroom
About this Vendor
Still madly in love with the business of love.
Couture-like elegance. Because your event should be as original as you are. With elegant open spaces, a brand new high-end lighting system with projections you can customize, and cuisine tailored-made to accommodate an array of dietary needs, your day will be just that – yours.
Amenities + Details
Amenities
Indoor Ceremony Area

Kosher Available

Liability Insurance

Liquor License

On the Water

Onsite Catering

Onsite Overnight Accommodations

Onsite Parking

Onsite Wedding Consultant

Outdoor Ceremony Area

Outdoor Reception Area

Outside Caterers Allowed

Site Fee

Tented Area

Valet Parking

Wheelchair Accessible
For more details about amenities, please message the Venue.
Contact Info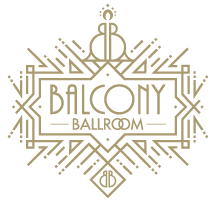 4738 Utica Street, New Orleans Area, LA
Two Fantastic Weddings
2/01/2014
My husband and I had our reception at The Balcony in 1981. It was fantastic. So it's only natural that when our daughter said she was getting married we hoped to return to The Balcony, but the decision was hers to make. She wanted to look at other venues and we did. We saved The Balcony for last in our reception shopping. When she saw the room, the foods you would get, the price and how nice the people were she was sold. The staff gathers all of the necessary details from you, then a week before the wedding you can bring in everything that you have to deliver to be used at your reception, (guest book, photos, cake knife, etc.) so you don't have to rush around the day of your wedding making sure everything gets where it has to go. Everything went very smoothly. Our daughter's wedding reception was at The Balcony on February 1, 2014. We were extremely satisfied with the venue, very elegant; the food was plentiful and delicious, the service was fantastic. Your drink wasn't quite empty when they were asking if you would like another drink or something to eat. We really like that they feed the bride and groom, parents and bridal party upstairs when you arrive. Once you get downstairs they will get you anything you want but you are so busy greeting your guests that you don't take the time to eat...and you really don't want to miss out on that good food! You get so much BANG for your BUCK at The Balcony. You show up the day of your wedding without a worry. Our phone didn't stop ringing after the wedding. Guests were calling to say that it was the best wedding they have ever attended. The said the food and drinks were delicious and plentiful. There is something for everyone at The Balcony. If we had another daughter we would return for a third time!
---
My Wedding at The Balcony
1/18/2014
Sunnie L
I got married at The Balcony on January 18th. It was absolutely beautiful!! Vanessa, Mike and all the amazing staff made our dream wedding come true:) Also, the food was the BEST!! Wish we could do it all over again. Highly recommend The Balcony.
---
Mike is the best wedding planner
10/20/2013
Robinique H
My wedding went through without a stitch! Perfection!
---
LOVE the Balcony!
6/01/2008
jennifer s
From the moment we walked in to see the venue, we were in love with the place. Everything was perfect. The staff were always willing to help with anything I needed all the way through the reception. The food was amazing and the music was great. Everyone we have talked to since the wedding have raved about what a great time they had and how good the food was. I would recommend The Balcony to anyone that asked.
---
Great Day!
10/25/2014
Nicole S
The Balcony was an excellent choice for our big day. They made it so easy and seamless. All we had to do was show up and enjoy the party. I loved the renovations and everyone is still talking about the abundance of amazing food they received. It you want a stress free venue for your reception, I highly recommend The Balcony!!!
---
LOVED having our wedding at The Balcony Ballroom
10/26/2014
Jennifer C
My husband and I, as well as ALL of our friends and family, were extremely happy with our wedding at The Balcony. It is a beautiful atmosphere for such a special day. The service was phenomenal, the food was absolutely delicious and the list goes on. We enjoyed every moment of our wedding and received countless compliments on the venue we chose for our wedding. Our wedding day was worry/stress free thanks to the staff ~ we felt we were very important to them and they catered to all of our needs and desires for an amazing wedding. We highly recommend The Balcony for a wedding venue. We were so happy and thankful to have such a beautiful and amazing wedding. The memories are priceless!!! Jennifer and Christopher Riecke Married October 26, 2014
---
Awesome Venue!!
9/12/2014
Lyndsay L
We had our wedding reception at The Balcony on 9-12-14!! We could not have chosen a better place! Vanessa along with all the other staff did everything they could to make our night the best it could be!! We were so happy with all of the food as well!! Overall I wish I could rate more than 5 stars!!
---
Pure Elegance
8/31/2014
Mary B
This venue was absolutely amazing!!!! We had our wedding + reception here and when I say it was like a dream, that's an understatement. Sheer class and elegance. I felt like we were on a wedding reality show on tv. The food was impeccable! The atmosphere was enchanting and the staff was incredible! I wish I could do it all over again!!! There was soooo much food! All inclusive and no menu to choose items because You get everything! Best bang for your buck is definitely @ the balcony ballroom. I highly recommend this venue!!! A+++++
---
Elegant Venue, Amazing Service, The Best in Town
7/19/2014
Where do I even begin? My reception venue was one of the most important things on my list when I was planning our wedding. I went to several venues in the area but as soon as I met with Vanessa at The Balcony I just knew that this is where I wanted my reception to be. From the time we walked into the door to plan she was there to assist us in making our night special. We met several times over the course of the planning year and even the week of the wedding. We went over table linens, lighting, food, drinks and more. The best part... ITS ALL THERE FOR YOU!!! No searching for different vendors... its a one stop place and everything they have is TOP NOTCH! The night of our wedding Mike was there always making sure we were having a good time and that helped us truly enjoy ourselves! They take pictures for you and post to facebook, instagram, twitter and even youtube! It was great to see pictures the night of the wedding! After the wedding I received SO MANY compliments from friends, family and even other brides who had recently got married that said "this place is awesome"... and I TOTALLY agree! Everything was truly amazing and they made it a night to always remember! Thank you to The Balcony Ballroom for being the best! - Jen & Lance
---
Daughter's Wedding
8/11/2014
My daughter got married there on a Sunday night in June 2014. The Balcony was great. They do everything for you. Mike was the best. You just show up and enjoy yourselves, they keep everything organized for you. We were also lucky to be there right after they got the new gold chairs, wall lights and linens to match your colors, and they repainted over the murals on the walls. Beautiful place. You won't regret your decision.
---
Perfect Reception
5/17/2014
Erica O
From the moment we toured the Balcony Ballroom until the end of our reception, we were treated like more then a number with money. They really catered to and anticipated our every need. We highly recommend this place to anyone. Very accomadating! Great food!
---
500 stars
7/12/2014
Janie g
The Balcony did an amazing job for my wedding! I'm from out of state and they took care of anything and everything I didn't even think of. They were so attentive to the guests and everyone had an amazing time!!!!
---
Review of the balcony
6/18/2015
I have been to a couple of weddings/ receptions at the Balcony and I have been very impressed by the venue in particularly the food and the wait staff . They are very attentive and give excellent service .
---
Wedding Reception/Anniversary Party
6/21/1986
My husband and I will celebrate our 28th wedding anniversary on Saturday. I can still remember my special day which included a grand reception at The Balcony. When the wedding party arrived, they were escorted upstairs for photos and delicious food. Of course, our guests downstairs were well taken care of. Walking down the staircase as the bride and groom was just magical. The staff and service catered to us like royalty. Our first dance on the upstairs balcony was very special with everyone having a view of the happy couple. In 2013, my parents celebrated their 50th wedding anniversary with a party at the Balcony. It was like walking back in time since I visited in 1986. Everything was just as I remembered--the delicious food, the excellent service, and the attention to every detail. I have been fortunate to experience 2 major life events at The Balcony.
---
The Balcony is Awesome!
5/04/2014
Tawatha S
I loved everything about the venue, service, and food at the Balcony. Vanessa was awesome - organized, thorough, and friendly. She definitely understands her business and knows how to put the bride and her bridal party at ease. From the time we arrived at the venue until the time we left, Vanessa and the entire staff catered to me and my parents. She thought of everything! I give the Balcony 5 stars! You won't be disappointed :)
---
GREAT VENUE!!
4/11/2014
Amanda B
Our wedding is February 21, 2014. Out of all the places I have looked at The Balcony was the ONE. The staff at The Balcony was so nice and they work with any budget you have. I've been to one place that told me "You don't need a candy buffet, no one will remember it.", the Balcony told me they can work with whatever I want. Also heard the food was wonderful. I CAN NOT wait to have our wedding there in February it so elegant(if that's the look you are wanting).
---
PURE EXCELLENCE!!!
7/13/2013
I usually don't write reviews for services; but in this case I have to. All I can say is that from the first day we sat down to discuss the details of our wedding with The Balcony staff, I felt a sense of professionalism from EVERY person we spoke with. They love questions, pay attention to detail, and absolutely know what they are doing. I never had a second though about the way they would/did handle our wedding. The Balcony is a beautiful place and their staff were on point with everything they did. The food was fabulous and the DJ was OUTSTANDING (especially the way he announced our wedding party)! We could not have asked for anything better. They accommodated us in EVERY way and our signature "SHELLSHOCK" drink :). They were even prepared for the things that "we" didn't think of and our ceremony flowed effortlessly. We ABSOLUTELY recommend this establishment for anyone that is planning to get married in the New Orleans area! You can't go wrong with The Balcony. They love what they do and it shows. THANK YOU! THANK YOU! THANK YOU! Terrific job :D George Shell
---
TOTALLY EXCEPTIONAL!!
12/18/2012
e w
Dear Balcony staff, Please excuse my delay in this review. I want to thank you guys for such an AWESOME job!! I am the mother of the bride, and my daughter's wedding reception was on March 23, 2013. I can not say enough about your venue. If you are a mother of the bride, you can not go wrong with this establishment. They are worth their weight in gold. Thank you Mike, Vanessa, Jay, and everyone who made my daughter's wedding day a memory to cherish. May god continue to bless you and your business. The Balcony is truely THE BEST!!!
---
Beautiful, Amazing, Perfect.
4/13/2013
Elizabeth D
I recently had my wedding reception at The Balcony on April 13, 2013. I want to first start off by saying that everything was absolutely perfect. From the food to service to ambiance, to this day my guests rave about how much of a wonderful time they had and how great everything was, especially the food. We had our ceremony at St. Joseph in New Orleans, and because of the Balcony's familiarity with ceremonies in churches, they were very accommodating and were knowledgeable of timelines for every aspect of my day. Mike was the one helping us on our special day and he was absolutely amazing. He made sure that my husband and I were comfortable and enjoying ourselves, and made sure our guests had the best time too. We had the perfect day and all of my guests mentioned how much of a dream wedding it truly was. I would definitely recommend that anyone have their wedding at the Balcony. You will definitely be pleased and not regret having your wedding at The Balcony. Even today, my husband keeps saying how much fun he had and how we hope one of our friends will get married and have their reception there. It really was that great.
---
Nothing Surpasses the Balcony Experience!!
5/24/2013
Courtney M
Try as you might, you will not find another venue in the Greater New Orleans Area that tops the service, staff, quality, and incredible attention to detail that we experienced upon using the Balcony for our Reception, and at a much more affordable cost than - I would dare to say - ALL other area venues. The food was outstanding, and many of our guests commented on how delicious and plentiful it was! You do not have to worry a bit about food running out at your wedding when you choose the Balcony as your venue. You also do not have to pick and choose from a pre-set menu; rather, you simply get it ALL, from countless passed hors d'oeuvres to dozens of entrees and not to mention New Orleans Bananas Foster made practically table-side and a 4 ft. tall chocolate fountain with hand-dipped fruit and other items. We had many special requests for our wedding including specialty drinks, an ongoing slide-show using a new SmartPhone App of pictures taken that evening, and many others. The staff at the Balcony covered it all for us, and we did not worry a single bit. As they say at the Balcony, "Dare to Compare" - they invite you to visit their venue and gather information on what they offer to see for yourself that there is no comparison anywhere else in the city. Our 300+ guests thoroughly enjoyed themselves and are still commenting on how it was one of the best weddings they've been to. I would hands down recommend the Balcony to ANYONE looking to get married in NOLA! Their recent remodel is an added plus, the venue is absolutely gorgeous inside. Thank you to the team at the Balcony who made our special day so much more than we could ever have imagined! We are so grateful to your for your knowledge, expertise, and organization. You all were absolutely fantastic!!! ~ Morris-Elmer, May 2013
---
Awesome!
5/17/2013
Lauren T
The balcony is awesome. First, the food is delicious. We got so many compliments on it. It's very beautiful with high ceilings and a balcony which we did our first dance at. They worked hard to ensure that we got everything we wanted and packed everything away for us at the end. It's a great place to have a reception at!
---
Fantastic!!
5/25/2013
Nadia L
The Balcony is the epitome of elegance & class! They treated my husband, family & I like royalty!! Plus the food & music was great!! I recommend everyone who's planning a wedding to consider The Balcony they won't let you down!!
---
Stress Free Wedding Reception
5/04/2013
Amy M
Oh my goodness where do I start. . . the food was fabulous and enjoyed by all of my guests, it was very clean and the service was wonderful! I didn't have to worry about anything but cakes, a guest book/ pen, and toasting glasses. The Balcony provided everything else including table centerpieces! Highly Reccomend!
---
BEST WEDDING EVER
6/10/2005
Kelley S
The Balcony is the BEST WEDDING venue in New Orleans. I always knew I wanted to have my reception at the Balcony. My parents had their reception there in 1976 and always talked about how wonderful it was. When I found out Mr. Johnny still owned it, there was no question where I was having mine. My husband and I were married on June 10, 2005 and my friends and family still talk about how great my reception was. The food is FABULOUS and the selection is like no place else! I have been to many many weddings since mine and the food at other venues does not even compare to The Balcony! There is so much to choose! I have been to three weddings at The Balcony since mine and it is still incredible. The Balcony accommodated to everything I needed and I loved that not only did I have a personal attendant the entire evening, but my parents and in-laws did as well. We always had food or a drink in hand! Mr. Johnny and his team are AMAZING!! Thank you for an unforgetttable wedding!
---
Great venue!!!
2/02/2013
Jennie S
I cannot express how much I LOVED this place!!! Not only is it beautiful but Jay, Mike, and the Balcony staff were amazing. They took care of our every need including making sure we ate! The food was amazing. Our wedding attendant was right by our side all night asking if we needed anything, same for our parents and bridal party too. It was wonderful! I heard compliments from our guest about the food and atmosphere that night plus throughout the next month. The DJ was included in the price and kept the guest on the dance floor all night. I couldn't ask for anything better! They even sent us home with a little package of cake, food, wine, etc. AMAZING!!!
---
Send Email