Home

The Barns At Wesleyan Hills
About this Vendor
Discover the Barns at Wesleyan Hills!
Enjoy panoramic views of our gorgeous willow trees, to dancing the night away in our authentic 150 year old dairy barn! You get the use of The Big Barn, Little Barn Wedding Suite & Tented Patio, all equipped with heat and air conditioning! We provide a 6 hour reception with no ceremony fees.
Amenities + Details
Amenities
Handicap Accessible

Liability Insurance

Indoor

Reception Area
For more details about amenities, please message the Venue.
Ballroom, Barn, Waterfront, Historic Venue, Loft, Park, Tented, Vineyard
Food + Catering, Planning, Service Staff
Contact Info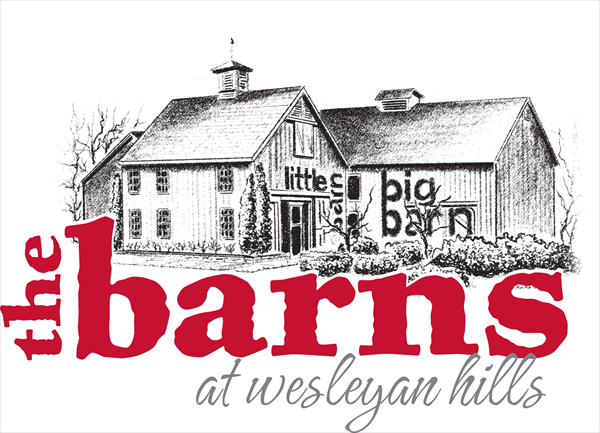 616 Long Hill Road, Middletown, CT
Absolutely Amazing!
Reviewed on

7/29/2014
Allison C
I held my wedding at the Barns at Wesleyan Hills the first weekend in June and it was nothing short of amazing! Everyone from the CT Wedding Group was super helpful, from the moment I called to set up an appointment to view the grounds, to discussing details. They made the planning process effortless which was a big deal for me since I was planning the wedding from Indiana. Laura was my coordinator for the day of, and leading up to, the wedding and she was absolutely amazing! She kept the wedding on track while still keeping the laid back atmosphere I was looking for and made sure everyone was comfortable and having a good time. She really helped with all of my last minute questions and requests and really helped to make my special day perfect! The grounds are GORGEOUS, the venue is AMAZING, the staff is WONDERFUL and oh my goodness....the food. It really is to die for, and there is a lot of it. They also made sure my family, bridal party, and I were served hor dourves and beverages while doing photos during cocktail hour which was fantastic. Almost two months later I am still getting compliments on how wonderful the food was, how gorgeous the venue was, and how awesome the wedding was. I know I could have never pulled it off as well as I did if it hadn't been for all of the help and the beautiful venue Laura and everyone at the CT Wedding Group provided. I would highly recommend this location to anyone looking for that perfect place for their special day.I wish the party had never ended!
---
AMAZING!!!
Reviewed on

6/29/2015
Jennifer L
I cannot even begin to explain how thankful I am that we chose The Barns for our wedding venue. The CT Wedding Group owns the barn and all they do is weddings. They have one wedding a day, so it is all about you and your husband/wife-to-be! They provide you with a day-of coordinator, which is amazing and sooooo much more helpful that you can imagine. Ours was Melinda Pratt and she was ABSOLUTELY AMAZING! They have TONS of decorations that go with the rustic theme of the barn! All of these decorations are soo beautiful and unique! Melinda spent the day-of setting these decorations up for us - so we only had to concentrate on ourselves and having a blast. She did an amazing job and i cannot even explain in words how beautiful the barns looked when she was finished, and especially in pictures! The staff at the barns was so sweet and accommodating - I'm pretty sure i never had to go to the bar to get a drink. I told them what kind of wine i liked and there was always a full glass on my table. When i asked for anything during the wedding - it was provided to me immediately! This is truly a one of a kind place! My (now) husband and i were dancing the entire night that we missed the ice cream bar (that we picked specifically). I think that i or my husband had briefly mentioned this to Melinda or another staff member and they went out and bought me a pint of chocolate ice cream. That example in itself shows their devotion to make your special day - an incredibly amazing day. All of our friends and family said that they never sat down because they were dancing all night. I can literally go on and on about how much i love this place. My husband and i come from New Jersey and we found this venue online. It was the first place we visited. We saw 2 venues in total, and on the way home from the 2nd, we said "lets do the barns." It was and will always remain the best decision we ever made! They made our special day one we will never forget!
---
Amazing, Beautiful and Helpful Venue
Reviewed on

5/15/2015
Emma G
Working with CT Wedding Group and their staff at the Barns at Wesleyan Hills was an amazing experience and completely exceeded all of my husband and I's expectations. The Barns at Wesleyan Hills was my one and only wedding venue that I looked at, once I saw its uniqueness and beauty, there was no where else that I knew would compare. Mary-Beth and the CT Wedding Group staff were beyond helpful and there to answer my questions almost 24/7. My emails and phone calls were answered almost immediately every time I contacted. I found the entire wedding process to be easy and stress-free by working with this venue. On the day of the wedding there was literally not one thing that went wrong. The wedding coordinator Jack was exceptional, always present when we needed something but never in the way. The food was exceptional and the decorations exactly what I envisioned (and more)! I could not have higher praise for the Barns at Wesleyan Hills.
---
Reviewed on

7/23/2015
Lauren M
Our wedding day was an absolute dream at The Barns from start to finish..my only complaint is how quickly it went by! Other than the fact this place looks like the pictures from a Pinterest board, the staff at CT Wedding Group were/are amazing. They are the friendliest, most organized and efficient team. Our coordinator of the day was Melinda who went above and beyond our expectations. She was so thoughtful about our needs and made special touches displaying our decorations and making them even more beautiful than we envisioned. Our guests raved about the venue, food and how nice and professional the waiters and bartenders were. I've always wanted to get married outside and couldn't have imagined a more special place to do it beneath the willow trees. It's easy to get lost in all the details trying to find a venue, but you must at least visit this place if it is on your list and you will know.
---
Amazing Rustic Wedding Venue!
Reviewed on

7/13/2015
Michelle S
I was looking for a non-traditional wedding venue, and The Barns was the perfect fit. The grounds, barn, and tented patio are gorgeous and well-maintained, giving a cozy, rustic, and intimate feel. We LOVE food so it was important to us to have good food at our wedding, and again, we wanted non-traditional wedding fare. The CT Wedding Group does an absolutely amazing job with the menu...everything is farm to table, fresh, and delicious. Our guests raved about the food, and there was a LOT of it. I am so glad we picked this venue, since everything (food, tables, table settings, chairs, etc, etc) was included. It made planning a breeze. The wedding planners I worked with were very helpful, and did an amazing job coordinating the day of. I didn't stress at all. A bit on the pricey side, but it was worth it.
---
My daughters wedding on July 3rd, 2015
Reviewed on

7/09/2015
Dee H
The bride and I (her mom) are your typical Type A personalities. We had a very clear vision of what her wedding day would look like. Her style fit the Barns to a tee - warm and rustic yet elegant and classy. From the moment we visited the Barns on a cold January Sunday we knew it was the place. Everyone from Mary-Beth to Michelle to Melinda to Laura made her dream become a reality. I wanted to say something different in this review than all the other ones. To all you future brides out there - whatever your vision is and no matter how many boxes and spreadsheets you drag in there these folks will make sure your decor and day is EXACTLY what you want. It was hard for us to "let go". It was hard to believe that everything we brought would be set up exactly like we wanted (see type A personality comment again!). But I am here to assure you it was. The end result was even better than we planned. And we brought in a TON of stuff! Melinda - our deepest thank you's and gratitude go out to you. Whether it was making sure you knew exactly where the 100 candles were to go - to keeping my daughter calm and on schedule to allowing my son time to loop back up the aisle.....you were the consummate professional (with an awesome sense of humor!) You were behind the scenes but totally in charge. Cannot thank you enough - and how we got that place emptied out in 30 minutes took some REAL magic. So to all you brides and grooms out there - JUST DO IT. The food was phenomenal (both cocktail hour and dinner), the service was impeccable and all of our needs were taken care of. These people are in the Wedding business for a reason. Let them make your day something you will never forget.
---
Awesome from start to finish!
Reviewed on

7/01/2015
Alexandra B
The Connecticut Wedding Group was phenomenal from the first tour we got of the venue to the hour and even days after the wedding was over. They are incredibly organized, efficient, and helpful in every single way. My day-of planner (Laura Shipman) was so calm and easy-going that it brought every one of us to a more relaxed level, and that's saying something for our family! Even though I am naturally a complete control freak, I was entirely comfortable leaving my wedding day in their highly capable hands, and I am so glad that I did. They made sure that not only the two of us had an incredible time, but also all of our guests. The food here is phenomenal and they put in a solid effort to make the ingredients as much farm-to-table or at least local as possible. I am a vegetarian and they were completely willing to change around hors d'oeuvres and other elements of the menu to make sure that I was happy and able to enjoy as much of the food as possible. Our guests raved about every course of the meal, and those raves were well-deserved. I was sorry not to personally have had time to enjoy more of it! Also, how could I not point out the spectacular beauty of the Barns themselves! The historical barn is gorgeous and has that perfect rustic charm that I always wanted for my wedding. There decor packages, while a bit pricey, enhance the beauty even more. We went with a single, very simple but well worth it decoration of the Garden Lights and were very happy with that choice. We also had our ceremony outside under the willow tree and could not have asked for a more picturesque cite. Everyone was talking about how beautiful it was long after the wedding was over; in fact, they still are talking about it now. We are so thankful and honored to have been fortunate enough to have our wedding at this gorgeous venue. Thank you all for the support and warm welcome that you have given us! Connecticut Wedding Group is well worth the investment, and I would strongly recommend any of their sites -- of course, particularly the Barns -- to any bride.
---
Reviewed on

6/29/2015
We recently got married at The Barns at Wesleyan Hills and wanted to take a moment to send a big thank you to Melinda and everyone at CT Wedding Group. From the moment we said "I do" to The Barns, their team was so helpful and readily available every step of the way. A major reason we chose The Barns was not only because of the amazing space but what they do with the space to make it so amazing – it's all the details! Melinda listened to our vision/ideas and displayed all our DIY wedding crafts, favors and accessories perfectly. She used their own inventory of gorgeous antique pieces and rustic embellishments to decorate every food station to beautifully complement our theme. It didn't stop there, the food was also amazing and there was plenty of it. From the array of apps at cocktail hour to the delicious entrées and our over the top dessert station (best of both worlds dessert station – get this!!) - Guests did not stop raving! And we can't forget the Watermelon Sangria, YUM! Throughout the night the staff paid attention to everything, especially us - did we need another drink, more water, had we eaten etc, they made sure we had everything we needed. Everything was truly wonderful, thank you again for such an unforgettable day! Brides, if you're considering The Barns as your wedding spot, stop thinking, book them!
---
Reviewed on

6/25/2015
CJ B
The Barns was the first venue that we visited. Not only did we immediately fall in love with the space but we also knew immediately that we were in great hands with Mary Beth – our wedding planner. The Barns at Wesleyan Hills was a beautiful canvas but we wanted to really make it unique with our own individual style. We knew that the Connecticut Wedding Group and Mary Beth were going to help us make it happen. Mary Beth went above and beyond in order to make our dream wedding happen. She helped us through multiple sessions with the designer, offering her feedback and tips. We demanded a lot (building a new entrance way structure, unique trees/lights) but the team was always willing to work with us. She made the planning portion truly enjoyable and we were confident knowing we had an expert on our side. On our wedding day, it was amazing to finally see it come together. Despite all the planning, there is always some anxiety on how the venue will look once everything is finally put in place. The Barns looked exactly as we had envisioned it. Well not exactly, there were small pieces and details that we had not even thought of that the staff knew tied the theme together. Many of our guests (even some who had been to the Barns for a previous wedding) were in awe of how the Barns looked. The food was diverse, unique, and delicious. Our guests raved about the options available during the cocktail hour and the entrees matched the cocktail hour food in their quality. The staff was extremely attentive – never allowing the bar to have a large line and ensuring that the needs of all of our guests were met. We are beyond happy with our choice to have our dream wedding at the Barns at Wesleyan Hills. The team at Connecticut Wedding Group – especially our experience with Mary Beth - will really work with you to put your own personal touch on your day!
---
Reviewed on

5/30/2015
Tara C
We got married over Memorial Day weekend at The Barns. All I can say is, you MUST have your wedding there. It was spectacular, enchanting, and magical. The decor inside the Barn is breathtaking (we did garden lights and pin lights on the columns). The food was excellent and the service is impeccable. Melinda helped us in the days preceding our wedding as well as on the big day. She set the Barn up perfectly in the vision we had dreamed of. There were old trunks, old books, a dresser, and so much more that she put together. We got so many compliments! Also, Melinda ensured that the day ran smoothly for us. We felt so at ease knowing that Melinda was in charge. The rest of the staff at CT Wedding Group is also fantastic. All of the preparation work during the last year was handled by multiple people (Mary-Beth, Traci, Irene and others). They were amazing. The Barn is beautiful and the staff is spectacular. I can't recommend this place enough. We almost want to do it all over again because we had such a great experience!!
---
Wedding of our dreams!!
Reviewed on

5/22/2015
Eugenia N
We got married at the Barns at Wesleyan Hills this past Sunday, May 17th! Everything was absolutely wonderful: 1) Michelle, Mary-Beth, and Shelli were all there on wedding day, and they are all amazing! They are so friendly, warm, helpful, and attentive - I did not worry about a thing. They were a joy to work with from the moment we visited the Barns for the first time. All my questions during the planning process were answered quickly by phone or e-mail, and I knew I was in good hands the entire time. I will truly miss our back and forth emails! 2) The grounds are BEAUTIFUL. We had many photos taken outside with our photographer, and we had our chuppah ceremony outside as well. The grass and trees were crisp green, and the ponds and garden bridges were so beautiful and romantic. So many of our guests told us how beautiful it all was. 3) The decor was beautiful - exactly how we envisioned it! They have a large collection of vintage & rustic items (i.e. lace runners, books, etc.) that were placed everywhere - under the tent for cocktail hour, in the Barn for reception, etc. The barn itself is the most beautiful barn we saw during our venue search... It is so warm and cozy inside. There are many decor options for the barn based on your style (we chose garden lights, and it was just perfect). As far as decorating place card tables, guestbook, and cake tables, we left it completely in the hands of Shelli, Michelle, and Mary-Beth. They arranged the decorative items I mentioned before so tastefully - we just loved how everything looked. 4) The service was wonderful through-out cocktail hour and dinner. I was in "hiding" during cocktail hour and a few waiters and waitresses brought us many plates of food right into the bridal suite! 5) The food was AMAZING! SO many guests raved to us about it! We loved our wedding here. It was our dream come true, for sure. We are so grateful!!
---
Reviewed on

5/19/2015
Sarah K
My husband and I got married at The Barns at Wesleyan Hills on 4/24/15. From start to finish this venue, our wedding coordinator, Melinda and the staff were amazing! When we went to look at The Barns for the first time we did not plan to make a decision that day. We actually didn't plan to have our wedding in Connecticut, but when we saw the grounds at The Barns and inside the venue my husband and I instantly fell in love and booked our wedding that day. There aren't words to describe how beautiful this venue is. On the day of our wedding when we saw all of our decor and everything come together we were speechless. Melinda, who we met for the first time on the day of our rehearsal, took the time to listen to us and really get a feel for how we wanted the venue to look and she along with her team set up all the decor spot on to our vision. We all know when guests come to a wedding they are looking for good food and great drinks. Our guests cannot stop talking about how phenomenal the food was! Friends and family did not want cocktail hour to end due to all the amazing appetizers that were served. Our signature drink was Sangria and it was such a hit that all of our friends who are strictly "beer guys" chose to drink sangria all night! My husband and I had the pleasure to meet the Chef at our tasting and not only is he extremely talented but he is incredibly kind and personable. I can't say enough good things about this venue, CT Wedding Group and the staff at The Barns at Wesleyan Hills. Our special day truly was perfect! I highly recommend The Barns at Wesleyan Hills.
---
Late Fall Perfection
Reviewed on

12/30/2014
Stephanie V
My husband and I got married this past November and had the most WONDERFUL, AMAZING night, thanks to the team at The CT Wedding Group! Throughout the entire planning process, they were incredibly helpful, attentive, and a true pleasure to work with. Mary-Beth was my coordinator and responded to every question or request with lightning speed, and was really flexible when it came to the personalized elements we wanted to include for our big day. It was great getting to know her, she really made us feel comfortable throughout the craziness of wedding planning! Everything was personal, beautiful, and delicious, even more so than we could have envisioned. Our family and friends continue to rave about the great time they had, that the food (particularly cocktail hour) was incredible and filling, and that it was a very unique, cozy venue. Thank you!
---
Fairytale Sunday Wedding at the Barns
Reviewed on

11/25/2014
Erica D
I had my wedding at The Barns recently and it was a rustic fall fairytale. Everything was amazing AND our wedding coordinator, Laura, was absolutely fantastic. She was friendly, organized and on point with everything we discussed regarding décor and set up. As a nervous bride, all my fears were washed away when I saw how beautiful the ceremony looked outside and no detail left un-turned for cocktail hour and the reception. The atmosphere was magical and the food... exquisite. The staff was friendly and the day couldn't have gone any smoother. Everyone on the CT Wedding Group team was readily available via email and always quick to respond with any questions. We had our wedding coordinators personal cell too in case any issues came up. They are extremely dedicated. It was worth ever dollar spent. Our families raved about it and the memories we have from our perfect day are priceless. I would recommend this to any bride looking for amazing service and a gorgeous atmosphere. Wedding of my dreams :)
---
The Barns Are The Best
Reviewed on

10/20/2014
Lydia S
We did not have our own wedding planner, and were coordinating our wedding from 6,000 miles away. The Barns made it easy, beautiful, and perfect the day of. Laura made us feel completely at ease as we put together last minute details. Everyone at the venue was incredibly responsive to all of our questions -- even on weekends and after hours. Wonderful service, and absolutely stunning location, especially for a New England wedding in the fall. Absolutely worth it.
---
Simply Amazing!
Reviewed on

10/14/2014
I had my wedding at The Barns at Wesleyan Hills this past weekend (Sat., October 11th, 2014). I cannot say enough amazing things about the venue, the staff, the food, or the location. Everything was exactly how I imagined my wedding day to be, if not more! I envisioned a fall barn wedding, romantic and fun, and that is exactly what I got. The staff was always available to field any questions I had leading up to the day & they were extremely accommodating, friendly, and helpful! We had Melinda as our wedding coordinator. She is wonderful! She checked on us throughout the evening to make sure that we had everything that we needed and to make sure that our night was going the way we had planned. She was so friendly and very professional. I had absolutely no stress because she oversaw every detail and made sure that the night ran smoothly. Thank you, Melinda! The food was incredible. Every single guest commented about how impressed they were with it and how delicious each course was, from the appetizers to the dessert! The other staff on hand that night was extremely courteous and accommodating. I had an amazing time and would recommend this venue to any bride looking for the perfect wedding day!
---
AMAZING!
Reviewed on

10/06/2014
sherri f
We cannot say enough about the barns at Wesleyan hills and the CT wedding group staff! Our wedding was perfect!! We had numerous comments from guests about the venue, food and service! Mary-Beth was AMAZING! So laid back but very efficient and so, so sweet...we all love her! I highly recommend the barns for your wedding venue, there isn't a single thing we would change! Sherri & Jared
---
This venue is a perfect 10!
Reviewed on

10/06/2014
melissa s
I had my reception at the barns about a month and a half ago and I cannot say enough good things about my experience with the barns and everyone involved. From the start of booking the venue Mary beth was informative, on top of everything and had everything in line and organized making the entire experience next to stress free. The day of the wedding, everything went smoothly. People are still raving about the high end restaurant quality food and how unique and beautiful the venue itself was. In addition, they offer add on wedding features including a ben and Jerry's ice cream bar which everyone of all ages loved! I would 100% recommend Mary beth, the barns and ct wedding group to anyone getting married in the area!
---
Great venue!
Reviewed on

8/29/2014
We had a lovely, fairy tale wedding at the Barns. From day one of wedding planning, we knew we wanted a unique venue and the Barns fit the bill. Everyone at the Barns was incredibly helpful and professional and while the day of you may not work with the same coordinator whom you complete the planning process with, they all transition in seamlessly, never missing a detail. We grabbed one of their last dates of the season and received a discount, which placed the Barns within our budget (otherwise, it wouldn't have been). Everything was incredibly beautiful, organized, and worked out so well. We even looked at each other after our wedding and said we never thought this would happen, but it truly went off without a hitch. Once you book with the Barns, you receive top notch service, an incredible package of food/bar, and a beautiful setting. If you're looking for the full package and a low stress planning process, then this is the venue for you!
---
Rustic Chic
Reviewed on

8/21/2014
Linda I
I know Rustic weddings seem to be the range recently, but I couldn't imagine mine another way. I just couldn't see myself in your typical wedding hall, country club, banquet hall. While many of them are really nice, they just didn't feel like they could represent us. The Barns was able to capture our personality in a way I can only try to explain. Yet all of our guests were saying, "this wedding is so you". We had our ceremony outdoors in front of the willow trees, which I highly recommend. I look at pictures and they seem like a postcard. The little unique details like the signature drink and their rustic decor details that they incorporate with whatever you bring, make you feel like your at someone's home - but one that fits 225 people :-) We worked with Mary-Beth and from day one meeting her, I felt like we made a friend. She truly loves her job and it shows. She is so good at it. She has a way of making you feel like you are the only bride she is working with. She answers emails quickly and efficiently, she goes out of her way to make suggestions and work with your budget, and she does it all with a calm and cool demeanor. The food is excellent. We had a hard time narrowing down our meals options after the food tasting. A LOT of our guests raved about the food which I think is a rarity at a wedding. We did a non-traditional dessert station instead of a wedding cake and I think it was a huge success. They had so many different options that you could put together to create what you want. No one had to wait long for a drink - they were very well staffed. I could go on and on about this place. The one thing I will say is that it isn't cheap BUT you totally get what you pay for. I wouldn't change a thing. If I'm comparing it to venues that charged more $ per head, I think The Barns offers far and away more for their price AND the food and service will be beyond your expectations!
---
Love Love Love
Reviewed on

8/13/2014
Chanel
We are so happy we had our wedding at the Barns! It was everything we dreamed of and more. The entire staff of CT Wedding Group is incredible. They were always quick to respond, worked with us for our specific wants/needs, and made our day perfect. We had the pleasure of having Michelle as our day of coordinator and we absolutely adored her! She herself had recently gotten married and she gave me amazing recommendations (most of which I ended up using). She was there to help every step of the way leading up to the wedding. The day of, she and her staff ran the show seamlessly, and the Barn looked gorgeous! They dressed it with vintage props, lace, and their awesome apple press. My husband and I were able to sit back, relax, and actually enjoy our wedding because we knew she and the team had it under control. Not to mention, the food is DELICIOUS. Seriously. Everything from the passed hors d'oeuvres, the sit down dinner, the signature cocktail – so yummy. All of our guests had such a blast. We are so grateful to The Barns and CT Wedding Group for making our wedding so special.
---
Fantastic wedding venue
Reviewed on

7/27/2014
We are so pleased we chose to have our wedding at the Barns. The lake and willow tree made a beautiful setting for our ceremony and for our photos. The staff are so friendly and helpful and made me feel at ease on my big day. The catering was phenomenal and all of our guests are still talking about how great the food was! Couldn't have asked for a better wedding day.
---
They made it easy!
Reviewed on

7/17/2014
Elizabeth K
My husband and I had a beautiful wedding at the Barns at Wesleyan Hills. The venue makes it easy - you can go as elaborate or as simple as you want, and they give you a list of trusted vendors. We used only their recommendations, and everything worked out really well. The venue is perfection - it is beautiful and modern, but has a rustic quality. The food is great, and they worked with us to make sure we had a menu that met our needs and the needs of our guests. On the day of the wedding, I didn't worry about a thing. I trusted Laura, my planner, and she made everything happen the way I had hoped. Also, we had a double rainbow that day, which made for great pictures.... not sure the venue had anything to do with that, but if they did, they are truly amazing. :)
---
Flawless!
Reviewed on

7/17/2014
Chelsea L
We had our wedding at the Barns at Wesleyan Hill on May 24 with Laura. She was incredible, always available to answer any and every question, even the silly ones! She was an absolute joy to work with, styled my wedding perfectly! They truly go above and beyond for their brides, and the food. Well that's a whole other story. It's incredible. Every detail is so perfectly tied together and treated with the utmost care, you can not go wrong with having an event hosted by the CT Wedding Group. The Barns Venue was simply stunning, it's charm has ben retained since it was first built and is in impeccable condition. The food was to die for, I still dream of my meal! Every aspect of the CT Wedding Group and the Brans at Wesleyan Hill is a 5 star rating.
---
flawless day
Reviewed on

5/15/2014
Allison E
The CT Wedding Group team was incredible. From the time we booked the venue to the final hour of the wedding the team was on point, courteous, and did their job to perfection. Food and service were impeccable.
---
Send Message