Home

The Boogie Men
About this Vendor
New Orleans' Classiest Wedding Band
If you feel that creating a fun and energetic atmosphere is an important part of one of the biggest days in your life, The Boogie Men is the band for your wedding reception. The Boogie Men are a versatile 10-piece dance band, powered by a horn section capable of performing for any type of occasion.
Details
Live Music, Sound Equipment, Music
Contact Info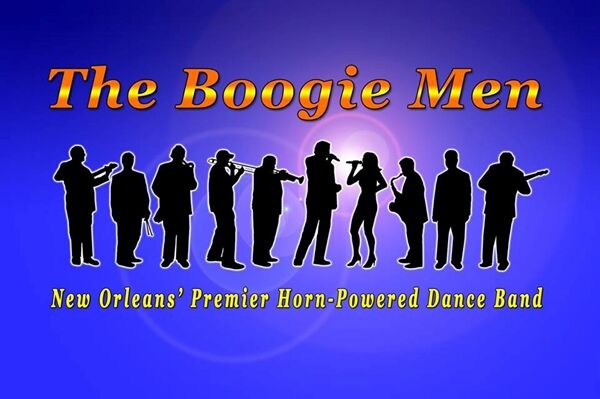 Reviewed on

4/15/2016
Lindsey Z
Wow! This band was amazing! We hired them for our wedding reception and gave them a general idea of what vibe we were trying to create and what genre of songs to play. They executed our style perfectly. They were high energy the entire night, and the quality of the music and... Read More singing was excellent. We received an overwhelming amount of feedback from out guests about how incredible the band was at our wedding. We had a huge dance floor and it was full the entire night - everyone was dancing! They were also very friendly and professional. Wonderful to work with. Thank you Boogie Men for making our wedding a truly incredible one in a lifetime experience! xoxoxo
---
We got SO many compliments!
Reviewed on

1/17/2016
Sarah C
We have seen the Boogie Men at several other weddings, and they have always been awesome! No surprise that they were equally amazing for our big day! The dance floor was full the entire time. Several people told us that they were the best wedding band they had ever heard. They... Read More also did a great job personalizing their performance by including a few of our more enthusiastic guests, and serenading us throughout the night. You will not regret working with them!
---
Outstanding
Reviewed on

10/04/2015
Michelle A
Love love loved the band!! I had seen them perform at several other weddings and knew I had to have them. People raved about the band all night!! You cannot go wrong with them!
---
Reviewed on

1/12/2017
Aimee
The Boogie Men were fantastic at our New Year's Eve Wedding. People were on the dance floor all night. The high energy of the band was great and we especially loved the horns! SO MUCH FUN! It was a pleasure working with them ahead of time. Scott was professional and easy to... Read More work with. I recommend checking them out before hand if you are interested. We saw them at Rock-N-Bowl and had so much fun that night we called the next day to book.
---
Reviewed on

12/20/2016
Rebecca F
This band was PERFECT! The Boogie Men were a huge hit at our wedding! They kept everyone on their feet the whole night. They played a wonderful variety of music that made all the wedding guest shout "that's my favorite song" at least once. Weeks later and we are still getting... Read More compliments about the band! They are easy to work with, responsive to emails and organized. Book them for your wedding, your party, for anything...you will not be disappointed!
---
Reviewed on

10/09/2016
Darby B
Fantastic. They sounded amazing, were interactive, had a great range of song options and easy to work with while planning! A large group ( I think around 10?) but it made everything that much better. Awesome horn section and kept us all on our feet! Hours after our reception I... Read More had already received an email thank us for inviting them to play!
---
Reviewed on

10/01/2016
Stephanie U
It doesn't get any better than this!!! The Boogie Men had our guests on the dance floor all night. We got so many compliments on the band and music choices. Choosing the band was one of our first decisions and certainly one of our very bests. Would do it over again in a... Read More second!
---
Reviewed on

9/06/2016
Allison H
BEST WEDDING BAND IN NEW ORLEANS!!! My husband and I are both professional musicians and wanted to hire a large band for our wedding. We went and listened to them in advance at one of their gigs at Rock and Bowl, and they were fabulous. It's been two months, and our family has... Read More not stopped talking about them! Everyone was up and dancing, and the whole night was perfect. Thank you for making it so special!
---
Reviewed on

7/01/2016
Abby L
The Boogie Men were absolutely amazing! They had everyone at our wedding dancing and really kept the energy up! They also have a new female singer permanently with the band and she was phenomenal! I would highly recommend this band to anyone!
---
Reviewed on

5/31/2016
Rachel B
The Boogie Men were excellent at my recent wedding! They are professional while keeping the atmosphere fun! Definitely a class act! They play music that span the decades, and inspire all ages to have fun and get out on the dance floor! I cannot say enough good things about... Read More Scott and his crew! Even the planning portion ran smoothly--Scott was quick to respond to emails and very organized in his approach to paperwork, planning, etc. Would use the Boogie Men again and again!!!
---
Reviewed on

5/26/2016
Mary Kay B
I have nothing but amazing things to say about this band we hired for our wedding reception! They were phenomenal and all of our guests agree! We had a blast and they certainly know how to keep a crowd entertained!
---
Reviewed on

4/30/2016
Ashley J
Less than impressed. We made an entire set list of songs from their website, and emailed them a set list in advance. The band showed no regard for what we wanted. The groom's brother had to ask them halfway through the wedding to play what we had requested, and they still did... Read More not play the majority of what we wanted
---
Everyone Danced!
Reviewed on

11/22/2015
The Boogie Men had a huge part in making our wedding reception memorable and fun for everyone!! Everyone was dancing -- from literally 4 years old to 84! They can really play a big variety which is why we chose them. With that said, I was a little disappointed with a couple of... Read More things, albeit minor in the scheme of things. For one, they brought pink and blue lights which I hadn't been asked about and it really changed the visuals of the room. I had planned all the details of my reception and that really changed my vision of the room and my reception photos. I also chose them in part, as I'd specifically mentioned to them, because of their covers of my favorite 70's/80's horn band. Unfortunately I don't think they played any of theirs songs. Otherwise, they really did a wonderful job.
---
Reviewed on

5/13/2015
Gabrielle P
WOW! The Boogie Men really showed our guest a good time! There was a nice mixture of music and they kept our guests dancing all night long. The band made it a point to interact with everyone including my husband and I. I was thoroughly impressed with their production and would... Read More highly recommend them to anyone looking for a true New Orleans experience!
---
SO Much Fun!
Reviewed on

2/18/2015
Lindsey H
Our friends and family can't stop raving about how great the Boogiemen were. They literally made the reception. We had a blast and they played the best dance music. I feel like not one person did not dance. They were pretty easy to work with which helped out since we did not... Read More have a wedding coordinator. I would recommend this band to everyone!
---
Versatile, Professional, and Entertaining
Reviewed on

12/29/2014
Courtney P
After growing up listening to The Boogie Men, I knew that they would have to be the band to play at my wedding reception. They helped to set the mood from the beginning of our four hour reception, all the way through to the second line to end the night. From jazz standards, to... Read More classic New Orleans, to current hits, The Boogie Men played a variety of songs that appealed to our guests of all ages. They also did a great job at setting the flow of the reception and helped with leading into events such as the first dance, the cake cutting, and the bouquet/garter toss. I did not have to worry about a thing during the reception! When speaking to guests about our wedding, I have received numerous compliments on how fun the reception was - thanks to the band! When I first began planning the wedding, I only considered dates when The Boogie Men were available and I have not regretted that decision for one minute!
---
Great Choice for our wedding
Reviewed on

11/12/2014
Caroline G
very energetic and talented! All our guested danced the entire night at our wedding reception!
---
INCREDIBLE!
Reviewed on

7/08/2014
Sarah F
The Boogie Men were amazing! Everyone danced the entire night and we constantly were told that we had the best wedding band that they had ever heard. I had the time of my life and The Boogie Men were a huge part of that fun!
---
This band was awesome!
Reviewed on

2/07/2014
Natalie B
The boogie men were unbelievable! They kept people on the dance floor the entire time during our 4 hour reception and only took 1 break. They interacted with the crowd and the music they played was wonderful. They had a wide variety, and were happy to accolade what we had... Read More asked them to play. We would highly recommend this band!
---
Awesome job
Reviewed on

6/27/2013
Krista S
The Boogie Men did an excellent job at our wedding! Everyone at our wedding wanted to dance and the Boogie Men made sure of that. They played great songs for the entire 4 hour reception! I would recommend them for a fun wedding.
---
Kept the dance floor full
Reviewed on

6/03/2013
Katie A
The Boogie Men were the perfect band to set the mood for our wedding reception. They played all of the favorites we wanted to hear and did a great job of keeping the dance floor full. They are incredibly talented musicians with great stage presence, and I highly recommend them... Read More to any bride and groom!
---
Excellent
Reviewed on

4/19/2013
Danielle K
They were so much fun and kept the dance floor full the entire night!!
---
Made my wedding fun and exciting!
Reviewed on

12/12/2012
Amie M
They did a phenomenal job at the wedding...All of my guests said they played great music and they all had a great time dancing the night away!
---
PUT ON MY BOOGIE SHOES!
Reviewed on

5/04/2012
Erin M
I love this band and knew I had to have them at my wedding the first time I heard them at a school fair. Everybody danced all night!
---
So much fun!
Reviewed on

4/09/2012
Frances B
These guys were perfect! They read the crowd and played songs they knew we would enjoy! People were dancing all night long. They play a great mix of classics and new songs.
---