Home

The Chimneys at Big Canoe
Book Your Wedding with The Chimneys at Big Canoe
---
A BALLROOM IN JASPER, GA
About Us
The Chimneys at Big Canoe is a mountain destination wedding venue offering breathtaking views, indoor and outdoor spaces and flexibility in planning just the wedding you want. Located in Jasper, Georgia, just one hour north of Atlanta, The Chimneys at Big Canoe is a secluded recreational community that serves as a backdrop for beautiful, rustic celebrations all year long. Even if you aren't the outdoorsy type, choosing this hidden gem among Georgia venues is the ideal location for a DIY wedding in the mountains.
The Chimneys. This indoor banquet room hosts wedding receptions for up to 260 people. This charming space has an upscale mountain cabin feel with its beautiful dark wood paneled walls and lovely chandeliers that give the room a soft glow. The stone fireplace is another highlight and is sure to be a prime spot for snapping pictures. The exterior porch is also a nice backdrop, offering a relaxed, welcoming spot for guests to mingle.
Chapel. The simple but elegant design of the chapel makes it beautiful as it is or it mixes well with just about any color scheme for indoor ceremonies. The wooden seats and matching crisscrossed beams of the high ceilings are striking, especially when seen with the large arched windows. The chapel has a very respectful tone while still having the light and charm of a mountain retreat.
Stone Patio. This outdoor space is adjacent to the chimneys and is ideal for ceremonies and outdoor receptions. It's surrounded by trees, including dogwoods and cherry trees, which are especially photogenic in the spring. the stone patio overlooks the golf course and the serene lake and has a towering outdoor fireplace. Parties of up to 260 guests can be hosted outdoors at The Chimneys at Big Canoe.
The Grounds. Photographers love working weddings at this venue due to the endless picture opportunities. Popular areas couples choose at The Chimneys at Big Canoe include the old historic chimneys—all that remains of what once was an administrative building of a school, the marina at Lake Sconti, the beautiful fairways of the golf course and the lake itself. You can't take a bad picture at The Chimneys at Big Canoe.
What You Should Know
Couples love the flexibility they find when planning their weddings at The Chimneys at Big Canoe. Outside decorations are welcome and the helpful staff even sets them up for you according to your specifications. However, many couples choose to let the natural scenery of The Chimneys at Big Canoe speak for itself and keep decor simple or have none at all.
Couples will find lots of variety in the exclusive in-house catering offered through The Chimneys at Big Canoe. You'll work with the catering coordinator to customize a menu that works for your budget and the theme of your wedding. Treat guest to a barbecue buffet with all the standard sides, as well as other specialties such as the Smoked Salmon Cucumber Focaccia. They'll be thanking you for it long after the reception ends.
Extra Perks
The Chimneys at Big Canoe has a professional staff eager to serve couples in the entire wedding planning process. Other perks offered at The Chimneys at Big Canoe:
Chocolate fountain
Wedding coordinator included in rental
Home rentals available in community for out-of-town guests
From the Vendor
The Chimneys is the perfect venue for you wedding!
It is your destination wedding close to home! Give us a call to come see our unique facilities and beautiful setting in the mountains. Invite all of your friends and family to come for your wedding and stay for the weekend! With the most incredible views and warm atmosphere and the finest event staff and catering you could imagine, The Chimneys at Big Canoe warms hearts year after year!
Amenities + Details
Amenities
Handicap Accessible

Liability Insurance

On-Site Accommodations

Indoor

Reception Area
For more details about amenities, please message the Venue.
Food + Catering, Planning
Beautiful Site
Reviewed on

5/16/2014
Lisa G
The Chimneys at Big Canoe is an absolutely beautiful setting!! We got married in April at Big Canoe and the site was amazing. The flowers in bloom, the weather was perfect, and our outdoor wedding was perfect. Even if the weather had turned south, the reservation included the... Read More option of an indoor wedding, and Talk of the Town was prepared to move everything. The site was ours for the entire day and was perfect. I would recommend this site to anyone looking for a wedding in the Appalachians!
---
Beautiful place for a wedding
Reviewed on

11/14/2013
Chelsea D
We loved the wedding and reception at the Chimneys. An outside wedding there is so beautiful. Peggy was so easy to work with and the food they served was great. We were able to bring our own alcohol which saved us some money.
---
The Perfect Venue
Reviewed on

7/16/2013
Arianne B
This was a fabulous venue! Peggy is amazing and truly went above and beyond for my wedding. She was flexible, professional, and extremely helpful! This is a beautiful venue on its own and the set up is so stress Rees. We had a small wedding and instead of looking too small it... Read More looked wonderful! Talk of the Town catering was amazing and everyone raved about the food. Peggy gave me a list of preferred vendor and I used all of them except the photographer and they were all wonderful! I loved all of my vendors. If you are looking for an affordable and beautiful place to get married you have found it! I can't stress how great my wedding turned out and a large part of that was due to Peggy, Michael, and the wait staff! Thank you!
---
Reviewed on

8/26/2017
Jen D
The Chimneys at Big Canoe was the absolute perfect choice for my wedding! My husband and I knew we wanted a venue that had water - a lake, a river, a waterfall, something - and ideally in the mountains. On the other hand, almost all of our family was coming in from out of... Read More state, so we didn't want to be too far from Atlanta. When we came up to visit the Chimneys, we were instantly in love. The venue was gorgeous, the food was amazing (still hearing about how much everyone loved it 90 days later), and Karen helped make sure that every single thing ran smoothly. The Chimneys is semi-all-inclusive, but totally you can change things to match exactly what you want. Bringing in your own alcohol was also a HUGE cost savings! We rented houses for the bridal party, and most of our family and friends also rented houses for the weekend. We had our Rehearsal Dinner at the Swim Club and were able to spend a weekend relaxing and having fun. I can't say enough wonderful things about this venue choice. All of the preferred vendors/ included vendors were top-notch. Karen made sure we kept on track with planning everything, and our wedding ran so smoothly. If there were issues, I certainly never learned about them! We had about 110 people at our wedding and the space was perfect for us. We had an outdoor ceremony and then took full advantage of the air conditioning for the reception indoors. One thing that stood out to me was that as I was talking to other vendors, every single one had a similar reaction to hearing that we were going to be at The Chimneys. Every reaction was a variation on "Oh that's such a wonderful place to get married" or "They are so great to work with" or "We love working with the Chimneys! It's so beautiful there!" One of the best things about The Chimneys is that we can go back to Big Canoe for anniversaries and quick weekend getaways. In fact, part of our bridal party is already talking about planning another trip back!
---
Reviewed on

12/21/2016
Jamie N
This was the perfect setting for my July, summer wedding. The atmosphere is relaxed and serene which made the big day more calm as well. The staff is beyond helpful from beginning to end. After my family setup the reception pieces, I came back to find extra tweaks and added... Read More pieces that made everything just that much more beautiful. This location was ideal for my out of town guest who had many cabins to rent from and then the community to enjoy before and after the wedding.
---
Reviewed on

10/12/2016
Kim B
The chimneys is a beautiful place to get married!!! They have a great outside venue and a beautiful inside reception/ dinning area!! They are very helpful when planning your wedding. Karen is fantastic. Would recommend them for anyone wanting a mountain/ outdoor wedding. They... Read More also have a wide variety of food options for your wedding. The hamburgers and hotdogs are great.
---
Reviewed on

6/09/2016
Alicia W
I am beyond happy that I chose this venue. They were easy to work with and always available for questions. The coordinators are topnotch and helped put my frazzled mind at ease. Everything ran smoothly on the day of (even though i was a wee bit late). They did such a great job... Read More with the catering as well. The food was sublime! Thank you for being a part of my day! Perry/Whyte
---
Reviewed on

4/30/2016
Becca W
The Chimneys at Big Canoe was the perfect venue for our wedding day. We knew we wanted a destination wedding just outside of Atlanta and Big Canoe was exactly that. The Chimneys is a beautiful venue with a gorgeous patio covered by a large cherry tree. Indoors is a grand dining... Read More room and ballroom. Their caterer is Talk of the Town Catering who provided delicious food with an incredible staff. Karen, the on-site coordinator, was extremely helpful throughout the entire planning process. She was always available to answer questions and give advice. On our wedding day everything was perfect. Every detail was taken care of and looked amazing. The staff took great care of us and made sure everything we needed was taken care of. I couldn't have asked for anything more.
---
Reviewed on

8/26/2015
Anna Catherine T
The Chimneys is affordable and fantastic! The indoor and outdoor accommodations are beautiful, full of light and charm! We got married in the chapel at big canoe and had our reception at the chimneys. It was the Fourth of July and it it wasn't too hot, the sun was shining and... Read More the mountain was green! The Talk of the Town staff who you work with are so accommodating and professional, I wouldn't have asked for more! And their food was fantastic! Everyone loved it! Stop searching for a venue, this is the hidden gem of GA wedding venues!
---
Everything and More
Reviewed on

4/07/2015
Jacquelyn B
I can't think of a single less-than-glowing thing to say about the Chimneys. Not only was the price better than any venue we looked at within a 50 mile radius of Atlanta, but the service, attention to detail, and atmosphere were all excellent. The venue also includes Talk of... Read More the Town catering which was incredible and something our guests couldn't stop talking about (especially the shrimp and grits)! Tara was amazing to work with and was constantly in communication with me throughout the planning - I don't think I ever had to wait more than a day for a response (if that). The planning and actual event were all seamless - couldn't have asked for anything better for our perfect day.
---
Stunning rustic backdrop
Reviewed on

10/09/2014
Andrea A
After much research The Chimneys of Big Canoe in Jasper, Georgia was a perfect fit for my vision, budget and guest count. One of my main requirements for the wedding weekend was to find a venue that was either local to hotels or held accommodations for all of my out of town... Read More guest. Much of my family was traveling for out of state or out of country. The Big Canoe community offered several options for home rentals, which were equally priced with the cost of a hotel. The second most important detail to my wedding was the theme. I chose a rustic theme for the ceremony and reception. The outdoor ceremony was located on a stone patio that overlooked the golf course. The receptions was held indoors, with room that had giant chandeliers. There was plenty of room for the 115 guest that we hosted. Tara Welch, Talk of the Town coordinator, was absolutely wonderful. She was extremely responsive via email. I chose not to outsource a coordinate, however Tara did an amazing job running through the detail and rehearsal with us. The venue is owned by the catering company, Talk of the Town. They provided us with an extensive menu with exceptional pricing and taste. I am absolutely thrilled that we chose The Chimneys of Big Canoe as our venue. We spent the weekend relaxing in the mountains and the venue met all of the vision requirements. Our September wedding weekend was absolutely beautiful!!!
---
Love this place!
Reviewed on

9/09/2014
Dena S
I 100% recommend this venue. Peggy and Tara and the rest of the staff were so helpful and everything went smoothly for our July wedding.
---
More than I could imagine!
Reviewed on

7/11/2014
Samantha C
The Chimneys at Big Canoe was a HUGE hit! The scenery is spectacular. We had an outdoor ceremony with an indoor reception. With the view from outside, we didn't need any decorations because the view was enough (which saved us some $$!) On the inside, it's very spacious and... Read More was accommodating for our 75 guests. They have a beautiful set-up of everything you need (tables, chairs, tablecloths, silverware, plates, urns, etc) all included in the price (which saved me a lot of stress!) If you love the outdoor country/rustic look, then this is the place for you. It is absolutely beautiful, and AFFORDABLE! Not to mention, (also included in the price) is a wedding coordinator. Peggy was our coordinator for the wedding, and might I say, if you can snag her to help with yours, DO IT! She is beyond amazing. I never had to worry about anything because she was on her game the entire time before and during the wedding. I don't think a full 24 hours went by that she did not answer one of my million questions in email or by phone. She is literally there to help and wants to make it the best day for the bride. I cannot thank her enough. The Chimney's at Big Canoe is blessed to have her.
---
Happy with The Chimneys
Reviewed on

4/09/2013
Jessica G
We loved The Chimneys. It is a beautiful place to have a reception, and the staff is great. Peggy Echols took care of everything and made the whole evening worry free.
---
Gorgeous and affordable
Reviewed on

4/05/2012
Leslie L
The chimneys at big canoe is beautiful year round. We got married in March about 2 weeks before the trees bloomed and it was so beautiful! The porch overlooks the patio and the patio is perfectly framed between the trees overlooking the lake. I knew as soon as I stepped onto the... Read More patio that we had to get married here. I wouldn't change a thing!!!
---
Wedding at Big Canoe
Reviewed on

12/20/2011
Shannon S
Big Canoe is a wonderful place to get married. Set in the mountains of North Georgia it is gorgeous. Rustic and charming
---
The perfect setting!
Reviewed on

12/13/2011
Melissa S
The Chimneys was the perfect setting for our rehearsal dinner. With a wedding in Big Canoe, we loved that we were able to have our rehearsal in the same location but not at the same place as our reception. Peggy and her team were wonderful throughout the entire process, and... Read More the food was amazing!
---
Mountain wedding in the Spring
Reviewed on

5/05/2011
Stacy H
The Chimneys is an amazing venue for a wedding. I had an outside wedding in April and the cherry blossom trees were gorgeous. Our ceremony overlooked the lake and golf course. Everything was perfect.
---
Wonderful Day!
Reviewed on

1/26/2011
Sandra A
My experience with Peggy (Talk of the Town- Catering & venue) and jB JAMS Entertainment (Dj/MC/Coordinators) was unbelievable. After I saw Big Canoe, I KNEW we had to get married there. It is a bit out of the way, but well worth the trip! Both of my main vendors worked... Read More well together and Jack & I didn't have to worry about a thing. The ceremony was perfect on the patio with great music and coordination by jB JAMS. Afterwords, we were directed inside to enjoy cocktails and awesome appetizers. They were all true professionals who delivered EVERYTHING we wanted from announcements, to direction, great food, and FUN dancing all night long! Big Canoe is beautiful, if you haven't been there, please visit before you choose your venue!
---
Get married here!
Reviewed on

11/16/2010
Kimberly C
We got married at the chimneys this fall. Peggy Echols with talk of the town catering runs it, and she does a fabulous job! She took care of everything and it really lead to a relaxed atmosphere the day of the wedding. The food was great, and everyone loved coming up to rent... Read More cabins and stay during fall!
---
Meet The Manager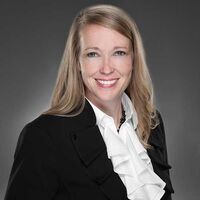 Shelby McMichael
Shelby's goal is to make your wedding or social event go perfectly, so that you and your guests can enjoy an unforgettable event!