Home

The Inn at St. John's
About this Vendor
Timeless. Romantic. Enchanting.
Let us help you create your dream wedding! The Inn at St. John's features four distinctive ballrooms, each offering a unique experience to meet the needs of the most discerning bride. Meticulously maintained outdoor courtyard areas provide a refreshing atmosphere for mingling, cocktails
Amenities + Details
Amenities
Bridal Suite

Handicap Accessible

Liability Insurance

On-Site Accommodations

Indoor

Outdoor - Covered

Outdoor - Not Covered

Reception Area

Wireless Internet
For more details about amenities, please message the Venue.
Bar + Drinks, Cakes + Desserts, Food + Catering, Planning, Rentals + Equipment, Service Staff
Contact Info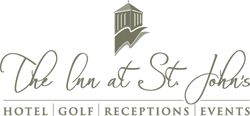 44045 Five Mile Rd, Plymouth, MI
St. John's is the best!
Reviewed on

11/15/2012
Liz M
I had the most beautiful wedding at St. John's. The chapel is stunning all by itself. The Atrium room is so unique and cool. The staff was incredible. Everyone was so organized and easy to work with. My guests were blown away by how beautiful the venue was for both the ceremony and reception. I kept hearing how amazing the food was and how great the servers were. My guests were treated like they were at a fancy restaurant. Being able to stay at the Inn is so convenient as well. We had a lot of out of town guests. I would absolutely recommend St. John's to anyone getting married in the area!
---
The Inn at St. John's
Reviewed on

11/14/2012
Adrienne G
I was married in the church which was beautiful.It was perfect having everything in one space so guests didn't have to drive between venues. The only issue I had was with the rather unfriendly wedding coordinators provided by the Inn. Luckily I only had to interact with them at the rehersal and the day of. Otherwise, the staff was extremely friendly and more than willing to help with any issue we had. Definitely worth the cost.
---
Wonderful Experience
Reviewed on

11/02/2012
Heather H
The professional staff at St. John's made my wedding day (and preparation) so smooth. I would recommend them to anyone that is looking to have wonderful wedding reception experience and is willing to pay for the level of detail St. John's provides.
---
2 stars only because the place is beautiful
Reviewed on

11/15/2014
Emily
Many of my friends got engaged/married before me, I always told everyone to check out this venue because it's beautiful! I finally got engaged and was looking for a venue for my reception. I first ONLY looked at The Inn at St. John's because I've always liked the venue. It was the only place I ever pictured having my wedding. It's beautiful. However, my experience working with the staff was terrible and impersonal. First, the coordinator replied to all my emails right away, until my first meeting there. We had an appointment but still waited for over twenty minutes before anyone helped me and my family that came with me. After seeing the venue, that was the last time anyone talked to me from there. I called and emailed the coordinator twice....I'm still waiting for a reply. It's been over three weeks... I've now had to look for other venues since they clearly didn't want me to have my reception there. I will never recommended the place again. So impersonal and unprofessional.
---
Absolutely Perfect!
Reviewed on

10/20/2014
Sarah L
I truly do not even know where to start when describing how amazing The Inn at St John's was for my wedding! I had my wedding shower there as well. The service is exceptional! I was on a very strict budget and our event coordinator worked magic. The hotel room that is given to the bride and groom was awesome! If I had to plan my wedding all over again, one of the few things that I would not change is having my wedding at the Inn at St. John's. Highly recommend!!
---
appalled
Reviewed on

8/31/2014
I was hoping to have my special day at the Inn at St. John's in Spring of 2016. I spoke with a wedding professional by the name of Ella G.. (unsure of spelling of last name). She took the excitement of my planning and ripped it out of me. She was condescending and quite frankly, just plain rude. She spoke down to me and made me feel that my money was not worthy of the Inn at St. John's. I understand that they have multiple weddings a year, but my $40,000 budget wasn't good enough? I will and would never recommend them or that sales person. She ruined the process for me. I will take my business elsewhere.
---
Wonderful experience
Reviewed on

8/14/2014
Nicole Q
First and foremost The Inn at St.John make it so easy to plan your wedding! You get assigned to a coordinator that is extremely helpful and really take what your vision is and make it into real dream. Secondly the food was by far the best food I have ever had at a wedding. It was warm and tons of great taste! All of our guests kept raving on oh great the food was! Thirdly the staff that work the venue the night of your big day are such a great help! They treat you like you are the most important people. We felt so blessed to be able to have it at this beautiful location. The grounds are wonderful, there are to a of gardens and beautiful and enchanting waterfalls for great pictures. Nothing but the best!!
---
Wedding
Reviewed on

8/13/2014
Stephanie B
When I first heard about the Inn at St Johns I made a trip to stay there and try their restaurant with my boyfriend. I was blown away with the hotel, food, and the chapel. I knew this was the place I would want to get married right away. A couple years later when I got engaged I visited here and only here and booked that same day. It was one of the best choices I made. The staff, especially Ella was so great to work with. They answered all of my questions, it did not matter if my wedding was still a year out or in a week. I had my ceremony in the chapel and my reception in the atrium. The whole thing was beautiful and the staff was very helpful the day of. The staff catered to my husband and I. They always made sure everything was going right and made sure we had everything we needed. When the food came out I was shocked. Servers came out in rows so everyone was served at once, not table by table. People still talk about that to this day. They made sure my requests were answered and that they happened. I wanted to do things in a bit of a different order, I wanted to wait until after dinner to cut my cake, have my first dance, and wanted my cake linen moved to the table that my cake would be served on. They made sure all these things happened and informed me when they would be happening. The staff was so nice to everyone, even made sure our parents were taken care of the whole night. I could not have asked for a better wedding, they excited my dreams!
---
Wedding 6/14/2014
Reviewed on

8/11/2014
Natalie S
The Inn at St. John's is a beautiful place to get married and have a reception! The chapel is gorgeous and the garden is beautiful for pictures. The garden is picture perfect, literally! The wedding coordinator and the staff are very helpful and always there for anything you need. The planning process was smooth and the price is average when compared to other venues. The Inn at St. John's exceeded our expectations and we highly recommend this venue!
---
Lovely!
Reviewed on

8/07/2014
Kari H
I would highly recommend having a reception at The Inn at St. Johns! We worked with Linda Johnson, and she was amazing! We were married Jan 31st, 2014 at Greenmead, then held our reception in the atrium at St. Johns. It was gorgeous, amazing, wonderful, and exceeded expectations. Our guests all commented on how beautiful it was! We didn't really need to do too much for the centerpieces or decorations because the room was beautiful all on its own. The staff here was so helpful and nice. Throughout the evening, they were checking in with me to make sure everything was going smoothly and to see if I needed anything. The planning process was a breeze with Linda. I didn't feel there were any 'hidden' fees or surprises. The price lists made it easy to understand and additional costs for anything extra we wanted. The tasting you are invited to after booking is a reason it itself to pick them, haha. It is a gorgeous sit-down dinner where you try pretty much anything they offer for your reception. The bride and groom's spots are complimentary, there is a fee for 4 add'l guests. My parents and my groom's parents came and it was a wonderful evening. They all said it was totally worth the money. My husband's mom hosted the wedding shower there, too, and it was beautiful. It was in the room overlooking the atrium. I believe her experience with planning that was a breeze, too. I cannot say enough good things about The Inn at St. Johns. To be honest, we were looking for something less traditional, and we looked at a few other places. A few people mentioned St. Johns, so to appease them, we went and took a look. As soon as I walked into the atrium, my mind was made up! It is a stunning location, and it was as least just not a normal banquet room (which St. Johns does have many of and they are also beautiful, haha). It was the one place we went to that my fiance was just was excited about! Do yourself a favor and at least go check it out!
---
Out of state wedding-perfection!
Reviewed on

8/06/2014
Theresa S
I have nothing but great things to say about the Inn at St. Johns! We were planning a long distance wedding and were trying to find a place that had everything we wanted: not much transportation required, place for our guests to sleep, delicious food, and organization so we would not have to be stressed. This provided everything we needed and our guests absolutely loved everything about the place. This place is a wedding machine. This might seem bad to you and I was hesitant at first because of that but honestly, it was the best decision I made in planning our wedding. Since they do weddings all the time, they know exactly what you need and how to run every single detail without a hitch. Everybody told me something was going to go wrong and not to worry, but I literally had the perfect wedding. The inn was so friendly, super attentive, and very much on time for everything. I did not see another bride the whole night, and the staff made me feel special even though I know they had probably worked a wedding the night before. It is not your typical ballroom in a hotel, every room they set up is beautiful. Besides having our ceremony and reception there, we had the rehearsal dinner and a brunch the next day at the Inn. You would think that we would get sick of the place, but we were just so relieved that we did not have to travel anywhere, and our guests could enjoy a beautiful stay at a beautiful venue. All the food for each meal was unique and different, and ALL delicious. My wedding was last December, and if you are planning a winter wedding, BOOK THIS PLACE! It has all the charm of an inn, decorations, and just plain gorgeous trees. It was a winter wonderland, and we got some amazing pictures because of it. If you have a summer wedding, I am sure the use of the Golf center and everything else would definitely be a hit! Again, I think this place is fantastic if you want convenience, great food, and the charm of something other than your everyday hotel. The price was reasonable and my guests are still to this day raving about how much fun they had and that everything was so easy! Definitely had the most amazing day, and I would love to come back and visit!!!
---
Beautiful venue, attentive staff, great value
Reviewed on

8/06/2014
Courtney M
I got married (ceremony and reception) at St. John's in January and everything was wonderful. The grounds, the chapel and the atrium are obviously breathtaking but the best part about having my wedding here was how easy Andrea Hansen on the reception side and the chapel staff made the whole planning process for me. They could answer nearly every question I had immediately, and if not they were prompt in getting back to me. Like every bride, I had a thousand questions and concerns but they never made me feel like I was bothering them. Because I was in good hands, I felt relaxed and confident everything was perfect on my wedding day. The wedding day itself was phenomenal. Every detail was perfect. The hotel management was friendly and helpful. They were even able to fulfill my request for an early check in for my reservation. Being able to get ready in the immaculate presidential suite with my bridesmaids is still one of my fondest memories of that evening. The banquet staff was also great! I had two day-of cancellations and one add-on and they quickly and effectively cured my table arrangement dilemma. This saved me a great deal of stressing about who would sit where, how we would change the tables, and if everyone would still get the right meals. And of course, everything went smoothly. The amount of compliments I received about the beautiful atrium, the delicious food and the attentive (and funny!) bartenders was innumerable. Knowing that St. John's was able to not only give me the day of my dreams but also provide my guests with a beautiful evening was everything I could have hoped for on my wedding day. We held a brunch at Five the morning after which was also amazing. They cleared a section for us which my family and friends really enjoyed. Most importantly, the food and service was great! I cannot say one bad thing about my experience. Another thing I didn't realize was going to be so great about St Johns until the day of was how convenient it was for not only me and my bridal party, but also my guests (especially out of towners) to not have to shuttle around to different locations. It really is the perfect spot for a gorgeous ceremony, reception and overnight stay all in the same place!
---
Wonderful!
Reviewed on

6/17/2014
Michael W
The atmosphere and environment were wonderful and the staff that provided and serviced the food were courteous and prompt.
---
Very convenient venue, excellent wedding day service!
Reviewed on

6/10/2014
Karla F
You have to spend a minimum of 19K on food and drink, therefore with all the other costs it ends up being around 25K. The wedding was amazing. I stayed at the hotel, the ceremony, cocktail hour, and reception were all in the same place. Food was incredible also. Only complain is the planning staff, not very flexible and since it's a popular venue they don't seem to try to make you feel like you are special.
---
Amazing
Reviewed on

5/21/2014
Carrie D
The Inn at St. John's did an amazing job. They went above and beyond for us. The food was great, and we received so many complements from our guest with how beautiful this venue is. The atrium is the most amazing room that you could possibly have your wedding at.
---
The MOST amazing venue
Reviewed on

1/21/2014
Kimberly R
Living in Texas, this was an out-of-state wedding for us, but The Inn at St. John's made it SO easy. We (and our guests) loved being able to go from the ceremony, to the reception, to the hotel - without having to step outside. The entire space is so beautiful. Also, the service exceeded expectations! They were so helpful and would get you things before you even asked for it. I am so thankful to have been able to have our wedding here.
---
awesome!!!!!!!!!!
Reviewed on

12/09/2013
Stacy S
the people at st. john's are amazing and I did not have one thing to worry about at all prior to the wedding or on the day off. Food was awesome venue is beautiful.
---
Wedding
Reviewed on

11/19/2013
Alison Z
Our wedding was here and everything was perfect. I know they say things go wrong but the only thing that went semi wrong was that the priest went a little long leaving us with limited time for pictures in the chapel. Our coordinator Linda Johnson was absolutely amazing. The staff was very professional and everything was wonderful.
---
The Inn at St. John's is the BEST!
Reviewed on

9/28/2013
Lindsay B
We recently had our wedding here, and I can't say enough nice things about their service. From the front desk, to the chapel coordinators, wedding coordinators, to the servers, every single person you ever interact with is extremely accommodating, friendly, and professional. I worked with Ella for my reception, and she was great. Very thorough and attentive, I didn't feel like I needed a day of coordinator. The women in the Chapel are exactly the same. They have this all down to a science, you don't have to worry about anything. I busted my hook and eye in my dress 10 minutes before my wedding, and the Chapel coordinators whipped out a safety pin and fixed it in a snap. It stayed all day. The grounds are gorgeous, the Chapel is so beautiful (no need for decorations) and their ballrooms have a very elegant feel. Nothing like the other venues we looked at that were cheap looking or dated. The food is amazing, the hotel rooms are a lot nicer compared to those in the area. We got so many compliments on how beautiful our wedding was from our guests, it was worth every penny. By far one of the best choices we made during planning, I can't think of a single negative thing to say about them.
---
Enchanted evening of my dreams
Reviewed on

9/24/2013
Jessica B
The Inn at St. John's made the wedding of my dreams a reality!! The food was AMAZING!! People are still talking about the whole night!! Andrea was such a huge help and so understanding! Love this place!!!
---
Thanks for the stress free wedding and planning
Reviewed on

9/03/2013
Natalie M
The Inn at St. John's was such a wonderful vendor. They made the whole planning and execution of my wedding day stress free and easy. The staff was on top of everything from the ceremony plan, timing, rehearsal,and music to the pre-marital counseling and down to every detail of the reception setup and take down. I was so relaxed on my wedding day, knowing that I could trust The Inn at St. John's staff and recommended vendors to take care of everything. Everything was on schedule and set up to perfection. I felt like all I had to do is show up and enjoy my wedding day. All my guests had such a great time and loved the beautiful setting of the Atrium room. All of my other vendors worked so well with The Inn at St. John's staff and having everything at one location (ceremony, reception, hotel) was amazing and so convenient. The Inn at St. John's is the perfect location to have a wedding if you want a classy, organized, beautiful, and stress free one-stop-shop affair.
---
August 2013 Wedding
Reviewed on

8/31/2013
Katherine Claire P
Getting Married at St. John's Catholic Chapel in Plymouth, MI, provided my husband and I the opportunity to be transported to an entirely unique & romantic place to commence our union without traveling across the world to achieve the same serenity as you would find in the historic cathedrals in Rome, Italy. We thoroughly recommend this Chapel & venue !
---
Beautiful day!
Reviewed on

8/30/2013
My husband and I had our first date at St. John's...he later proposed to me in the atrium and we couldn't think of a better place to have our reception! The wait staff was amazing! The food was so good, many people complimented me on the menu. We were thrilled with the gardens and the many gorgeous photos we have that will lace our special day with sweet memories. The wedding coordinator went above and beyond to work with both our budget and time frame. We couldn't have been more pleased with our day!
---
Classy Venue
Reviewed on

8/30/2013
Emily T
I had my wedding at the Inn at St. Johns in July of 2012. While it isn't an inexpensive place to have a wedding, the convenience of it is worth every penny. The chapel is a gorgeous, sacred place with very experienced music coordinators and assistants to help with the timing of everything. Our consultant at the Inn was Linda and she was so caring, kind, and accommodating. By the wedding day, she felt like a good friend and made us feel so special. The food was delicious and we had numerous compliments on the dishes and on the bananas foster that we had for dessert. The servers were so attentive to me, as the bride, finding me to make sure I had a drink or to make sure I had gotten dessert before they put everything away. They took into account how busy the night is and tried to make things easier for us. The Inn is efficient and experienced and thinks of every detail so that on the day of the wedding you don't have to worry about a single thing and can just enjoy the day. We would highly recommend having your wedding there! All of our guests commented on how wonderful and beautiful the wedding day was.
---
Just Wonderful
Reviewed on

8/28/2013
Kristen W
The Inn at St. John's threw a flawless wedding for me. They are very good at making special accommodations, as my mother is in a wheelchair and gave her a bigger table, as well as provided a special table for my grandparents to eat at in a separate room as she has had oral surgery and feels conspicuous. They had no problem handling special requests and did so beautifully, graciously and flawlessly. And the venue is, how can I say this, absolutely breathtaking. We were married in the chapel and had our reception in the Atrium. Both sites give a huge "wow" factor. AND - they are all onsite - including the hotel. Made everything very convenient. Delicious food. What else can I say? Linda (banquet manager) was excellent. The only complaint I can give is that, after we had signed our contract, we had barely gotten her on the phone - email was a much better way to contact her. I remember ALWAYS getting her voicemail, and seldom getting a callback (email much more assured way to contact - and you heard back in 2-3 business days). However, she is also very busy getting the 7-8 weddings that are occurring every weekend - so take that with a grain of salt. Also the week of our wedding she was much more available. Lastly, the cost was on the higher end, but I suppose you get what you pay for! :)
---
Send Message